Center for Curatorial Studies and Art in Contemporary Culture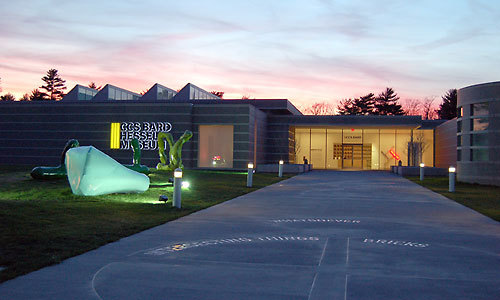 The Center for Curatorial Studies at Bard College (CCS Bard) is an exhibition, education, and research center dedicated to the study of art and curatorial practices from the 1960s to the present day. The original 38,000-square-foot facility was completed in 1991 through the generosity of Marieluise Hessel and Richard Black. In addition to the CCS Bard Galleries and the Hessel Museum of Art, which opened following major expansion in 2006, CCS Bard houses the Marieluise Hessel Col lection of more than 2,000 contemporary works, as well as an extensive library and curatorial archives that are accessible to the general public. In 2012, one of the main galleries in the Hessel Museum was named in honor of photographer Robert Mapplethorpe, in gratitude for the Robert Mapplethorpe Foundation's support. Exhibitions are presented year-round in the CCS Bard Galleries and Hessel Museum, providing students and the public with an opportunity to interact with world-renowned artists and curators. The museum café and outdoor terrace are open Monday through Friday, from 9 a.m. to 5 p.m., and on Saturdays and Sundays, from 1 to 5 p.m.
Click here for more information
Campus Location: South
Facility Type: Academic,Community
Tour this Facility
* Tour videos require the free Quicktime plugin for viewing.