Reem-Kayden Center for Science and Computation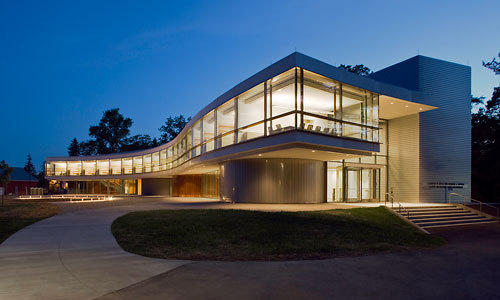 The Gabrielle H. Reem and Herbert J. Kayden Center for Science and Computation—a state-of-the-art, 70,000-square-foot science facility—opened in 2007 and is home to the Biology, Chemistry, and Computer Science Programs. The Lynda and Stewart Resnick Science Laboratories wing opened in 2009. Designed by Rafael Viñoly Architects, the dramatic two-story building includes nearly 17,000 square feet of dedicated laboratory space. Biology equipment in the facility includes DNA and protein electrophoresis instruments, a digital gel imaging system, an array of standard PCR machines, a Real-Time PCR machine, two fluorescent microscopes, and a wide range of ecology field equipment. Chemistry equipment includes an advanced 400 MHz nuclear magnetic resonance spectrometer (NMR), a liquid chromatograph–mass spectrometer, two gas chromatograph–mass spectrometers, and more. The computer science space includes a cognitive systems lab, robotics lab, and hardware teaching lab. The building also features the László Z. Bitó '60 Auditorium, which seats 65; seven high-tech classrooms for multimedia presentations, two of which are set up for videoconferencing; faculty offices; and a series of open spaces for studying, computer work, and informal meetings.
Click here for more information
Campus Location: Main
Facility Type: Academic
Tour this Facility
* Tour videos require the free Quicktime plugin for viewing.