Bard CEP first year graduate students attended NYSERDA's Environmental Monitoring, Evaluation, and Protection in New York: "Linking Science and Policy" conference in Albany yesterday. It was a jam-packed day of presentations, discussion and networking covering a range of topics such as alternative
energy technologies, modeling/mapping tools, biomass heating and natural gas extraction. Presentations included an overview of the recently released ClimAID report, highlighting effective climate change adaptation strategies for New York, and proposed DEC regulations for hydrofracking in the Marcellus Shale.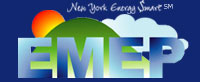 The conference provided students with an opportunity to make connections with professionals in the environmental field and pursue internship opportunities for next year.