By Alicia Caruso '14 and Sara DiNovi '14
The National Climate Seminar recently hosted Jeremy Osborn, the Director of Operations at 350.org, an environmental advocacy group focused on building grassroots movements for environmental initiatives, namely climate change, worldwide.
350 is both a number (350 ppm) and a symbol. It stands for the concentration of carbon dioxide in the atmosphere that many scientists argue is a safe level to preserve our planet – we are currently at 392 ppm – and it represents the target we, collectively, can aim for. However, the issue of climate change seems to have disappeared from the national dialogue. Mr. Osborn laid out the organization's plan for getting climate change back on the political agenda in the United States as well as internationally.
Getting climate change on the political agenda in the US of A:
We've all noticed the general lack of discussion in political and major media circles on this incredibly important issue. 350.org has been working tirelessly in the last few years to help the public understand the connection between extreme weather and our greenhouse gas emissions. To do this, they outline the following steps:
Push people to see the big picture and work both incrementally and in big ways to move away from fossil fuels and towards a sustainable future
Establish healthy relationships and connections with the opposition by respectfully informing all communities and making connections between climate change and local impacts
Make the fossil fuel industry realize the effects their operations have on the quality of human and natural life, and find ways to move business towards a basis of renewable energy and sustainability
Foster excitement and enthusiasm about a complicated problem that needs to be solved with creative and dedicated action
Getting media attention helps!
Perhaps unique to 350.org, and arguably successful in keeping the issue of climate change on people's radar at home and abroad, the organization has focused on large-scale events to get media attention. Their events are always community-based, a tactic that helps to make the issue bipartisan. Examples of these such events include:
Keystone Pipeline:  The keystone pipeline was thought to be a done deal, but 350.org worked with local groups to announce a "day of protest" in Washington, D.C. They called on people to wear their Sunday best, and specifically requested that people born during Eisenhower's presidency, go to the White House in protest and be willing to get arrested. The protest was so successful that the next day President Obama announced that the EPA needed to conduct an environmental impact statement for the northern leg of the pipeline.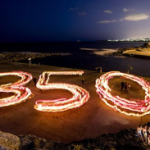 Global Days of Action: These events bring communities together, help them confront the implications of climate change, and come up with very visual ways of showing their officials and the world how global climate change will affect every corner of earth. Using photographs and images to convey the widespread urgency of the issue in all regions of the world.
What's next?  Join 350.org on November 10th for a Day of Action for the India Beyond Coal Initiative. More information can be found here.
To listen to Jeremy Osborn on the National Climate Seminar, as well as other speakers, please visit our website at www.bard.edu/cep/ncs.