On-Campus Housing
The Bard campus has over 40 residential buildings for student housing. All have Internet access, common rooms, and kitchen and laundry facilities, and many have beautiful views of the Catskill Mountains. Most residence halls are co-ed, and roughly one-third of the rooms are single occupancy.
Graduate students at Bard are typically housed in buildings set aside for graduate students, either apartment-style suites and/or in small dormitories with single-occupancy rooms. There are also "Graduate Rooms" in undergraduate dormitories (most of these rooms have bathrooms, along with other amenities). While housing for graduate students is generally available, it is not guaranteed.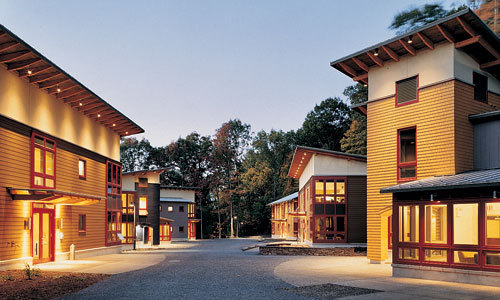 Off-Campus Housing
Many Bard graduate students choose to live off campus. Most graduate students select off-campus housing in the Villages of Red Hook and Tivoli. Both villages are within three miles of the College and are served by hourly shuttle bus service to and from campus.

Red Hook: The Village of Red Hook is located three miles from Bard College and is served by an hourly Bard Shuttle bus. The village has many housing options as well as restaurants, movie theaters, and markets.
Tivoli: The Village of Tivoli is located about 2.5 miles from Bard College and is served hourly by the Bard Shuttle. There are a number of restaurants and small shops.
Rhinebeck: The Village of Rhinebeck is located about seven miles from the College and is not served by the Bard Shuttle. There are many restaurants and shops as well as an independent movie theater. Students who choose to live in Rhinebeck are advised to have access to a car. While not served by the Bard Shuttle, it is served by the Dutchess County Loop Bus (route C).

Kingston: The City of Kingston is located about 12 miles from the College. The Bard Shuttle makes trips twice weekly to the main shopping center.
Bard students also choose to live in Barrytown, Germantown, Claremont, Elizaville, and Rhinecliff. These locations are not served by the Bard Shuttle.
There are weekend shuttle buses from Bard College to the nearby train stations at Poughkeepsie (Metro-North Railroad) and Rhinecliff (Amtrak). Bus service to other cities is available at the Kingston Trailways station.