Bard Team Wins Northeast Season Opener Debate Tournament
The Bard Debate Union had an impressive showing over the weekend of September 17–19 at the Northeast Season Opener Debate Tournament at the University of Rochester. The team of Nathaniel Carlsen '18 and Hannah Hutchinson '20 came in first place in the tournament, arguing in favor of the resolution, "Resolved: democrats and republicans should accept a border wall in exchange for full legalization of immigrants currently residing in the United States." Carlsen also won the ninth overall speaker award and Hutchinson won the fifth novice speaker award. Templeton Kay '19 and Matt Caito '20 ended the tournament as semifinalists, tied for fifth place.
More than 100 two-person teams participated from colleges and universities including Brandeis, Colgate, Cornell, Hobart and William Smith Colleges, Ithaca College, King's College, Middlebury, Rochester Institute of Technology, and University of Vermont. Bard High School Early College Cleveland also attended.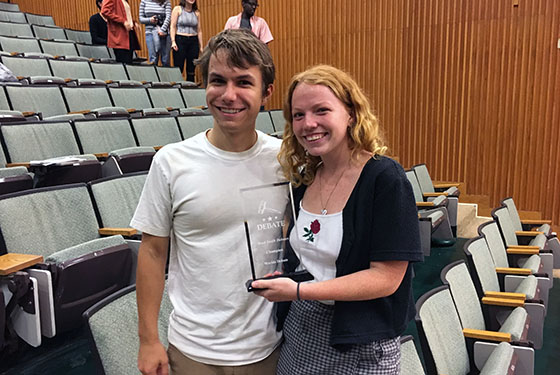 The Bard Debate Union has upcoming tournaments at Hobart and William Smith Colleges (September 29 – October 1), Hart House (October 13–15), Yale (October 27–29), and the University of Vermont (November 4–5). Public debates are slated for the Hannah Arendt Center Conference (October 11) and Family Weekend (October 21). An Intra-Bard-Network Online Debate is scheduled for November 13. Visit the
Debate Union website
for a full list of tournaments and events.
Post Date:
09-19-2017