Freehand New York: The Art of Hospitality
By James Rodewald '82
In
the Bardian
If, during your time in Annandale, you lived in a dorm full of extremely creative people (or napped in one of the art studios) you may have had the good fortune to wake up to great Bard art. If not, you now have your chance. All you have to do is check in to the recently opened
Freehand New York
hotel, where all 395 guest rooms have murals on the walls—a few even have them on their ceilings—hand-painted by Bard students and alumni/ae. You'll also see one of those murals in the ground-floor lobby, surrounded by beautifully restored original millwork. That conversation, between the building's history and young artists' creativity, continues throughout the property.
The newly renovated building, on the corner of 23rd Street and Lexington Avenue in Manhattan, began life in 1929 as the George Washington Hotel. Over the years it has been home to writers, musicians, and artists as diverse as W. H. Auden, Dee Dee Ramone, and Keith Haring, who lived in the building when it served as a School of Visual Arts residence hall. Andrew Zobler, a member of the
Fisher Center
advisory board and CEO and founder of Sydell Group, which also owns Freehand hotels in Chicago, Miami, and Los Angeles, wanted to cultivate an ongoing artistic community in New York City, so he partnered with the Fisher Center, the
Bard MFA Program
, and the Office of Development and Alumni/ae Affairs to commission original artworks for the public spaces and guest rooms.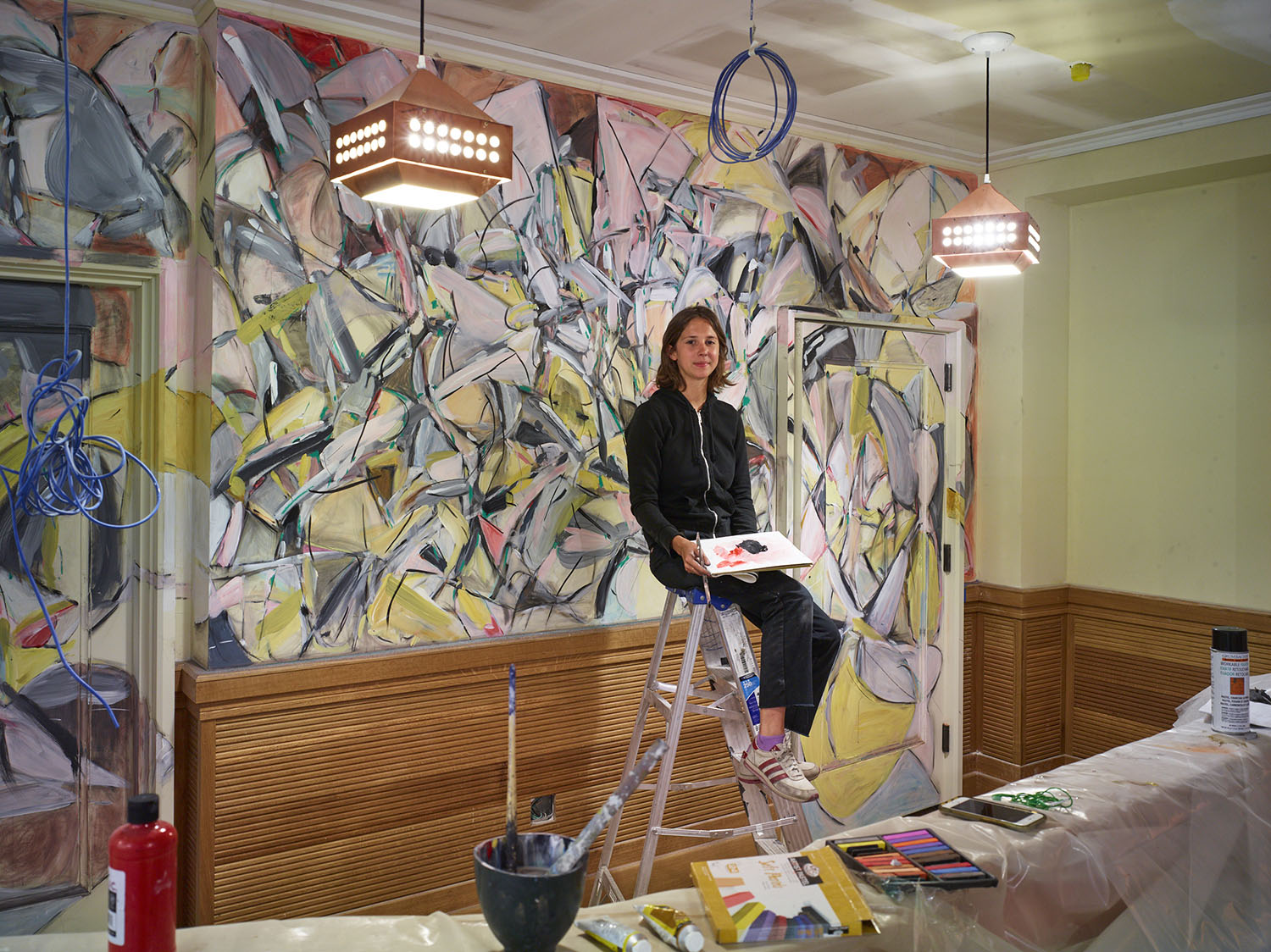 "The challenge in New York, given the size of the project, was to make sure it remained true to the Bohemian spirit of Freehand," says Zobler. "I think using the building as a blank canvas for young artists was the perfect way to give life to that spirit."
The first Freehand, which opened in an art deco building in Miami in 2012, sought to capture the ethos of a hostel, where social interactions are more frequent and less predictable, while still providing a high-quality hospitality experience. "The culture of the hostel remains core to the Freehand in New York," says Zobler. "The idea is to create places for people to mix and get to know each other and exchange ideas. Art and performance help stimulate that interaction."
A panel made up of the hotel's designers, Roman and Williams, and representatives of Freehand New York and Bard chose the artists after an extensive application process and blind portfolio review. The hotel's guest room mural painters were Marty Abbe-Schneider '14, Hannah Berger '16, Kira Buckel '16, Lukas Geronimas MFA '11, Martin Katzoff '19, Elizabeth Marshall MFA '14, Isabelle Sigrid Marshall '18, Louise Smith '13, Scott Vanderveen '16, and Rowan Willigan '15. Leslie Fry MFA '93, created sculptures for the Mezzanine Gallery, Lia Lowenthal MFA '14 made framed tile panels as well as a piano installation, Vanderveen also painted the colorful gym mural and a mural on the ground floor, while Katzoff did a mural leading to the bar from the elevator on the roof. Several of those artists, along with Jordan Segal '14 and Sarah Bastacky '19, have framed pieces scattered throughout the hotel. Photographer Isaac Diggs MFA '03 documented the project, which was managed by Zia Affronti Morter '12 and Sean Leo '14.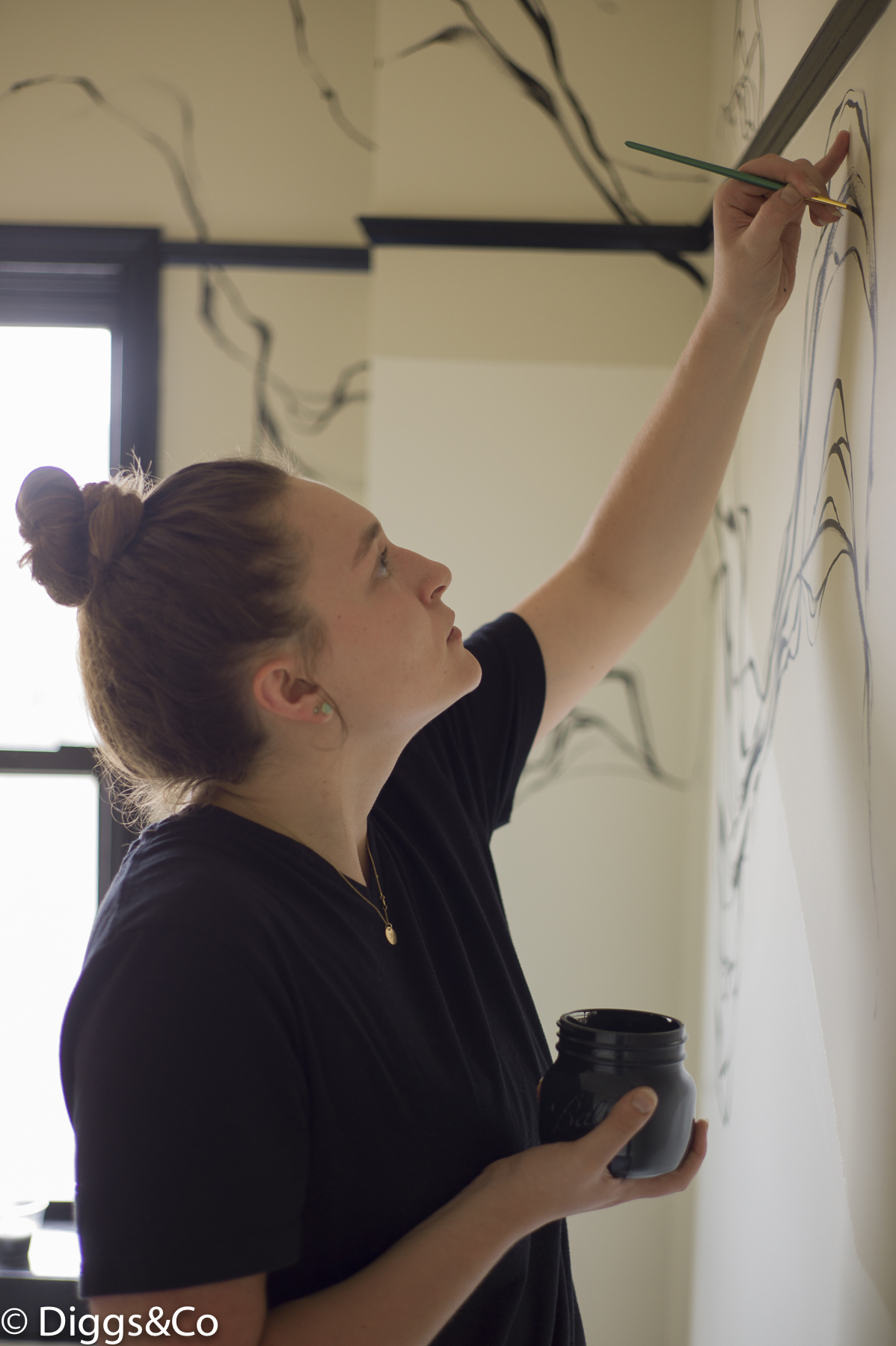 Berger painted murals in some 45 rooms, an experience that has changed her attitude toward her own work. "More than anything, this project has taught me to step away and let go of my work after it's complete," she says. "Doing so many murals in such quick succession forbids attachment to any one of them. I hope to carry this impact into my personal studio practice."
The artists had to deal with logistical issues imposed by the spaces—furniture placement, windows, corners—but there were few specific guidelines for the artwork itself (no neon colors, not too much red, murals should have a gestural quality). "Constraints can be helpful," says Berger. "I imposed more constraints upon myself—limiting the palette to one color, using one brush size—than anyone from the design team at Freehand did."
A visitor might experience a slight shock upon walking into a crisp, clean room and seeing unmistakably handmade markings on the walls. No matter how lovely the images, all those years of being told to keep that crayon on the coloring book makes its own mark. For Berger, however, that didn't present a problem. "I've definitely drawn, painted, and stuck wads of gum onto plenty of walls and ceilings," Berger admits. "But holding a brush up to a pristine hotel room wall still felt like an unfamiliar thing to do. With all the other construction going on throughout the hotel, however, it seemed less invasive and strange."
Handing over the keys, not to mention the bare walls, to a group of young artists shows a level of trust that perfectly reflects the Freehand culture. There's a refreshing optimism to embracing the unknown, giving up control, and encouraging artistic freedom. Such an attitude goes hand in hand with trusting that people who are attracted to a place that seeks to go beyond the ordinary will want to interact with others who feel similarly.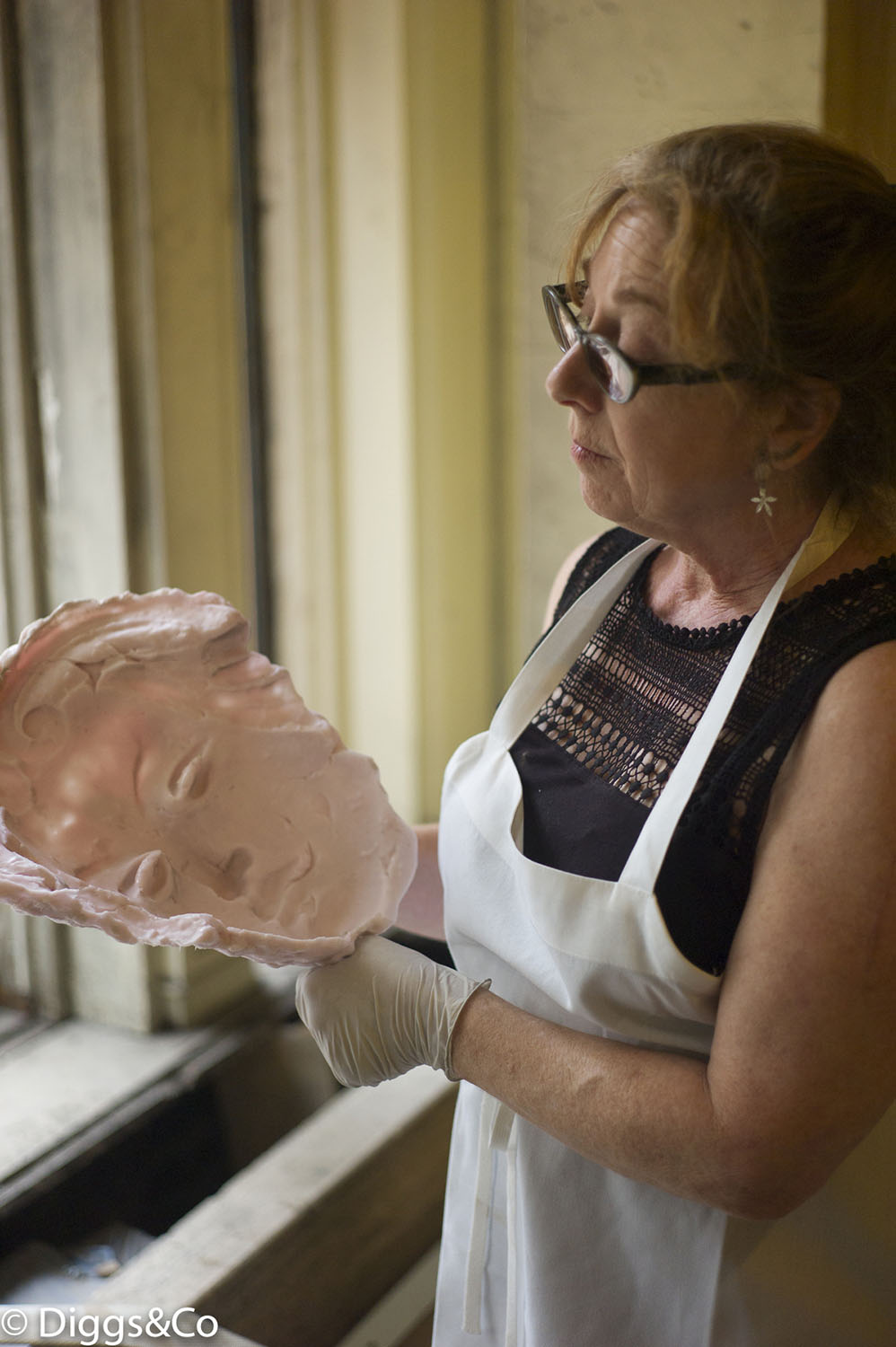 Each hotel has its own identity, and they all have a mix of room styles, from bunks to sprawling penthouse suites. They also share variety in their eating and drinking establishments. Freehand New York includes two restaurants from the king of the West Village, Gabriel Stulman; a rooftop bar that is an outpost of the phenomenal Broken Shaker, whose Miami location has made the World's 50 Best Bars list four years running; the third location of Smile to Go from the owners of popular Bond Street café the Smile; and the George Washington Bar (also run by Stulman), in the former library room, where another remarkable piece of art can be seen: a portrait of our first president that was commissioned for the original hotel and has somehow survived the Great Depression, bankruptcy, the wounding and capture by F.B.I. agents of a fugitive on the most-wanted list, a drug raid in the early '80s, and even the threat of demolition (averted with the help of a local historical society). Zobler says they considered introducing new art into that bar, but decided against it. "We wanted one space where you would really connect with the history of the building without modification. I think that room makes you feel rooted, and that is a good thing."
Iconic architecture from New York City's history—with significant and playful modification—is on display on the same floor as the bar. Fry installed plaster sculptures in arched niches in the Mezzanine Gallery. "I meld forms from architecture, human anatomy, and plants," Fry explains. Each sculpture is around four feet tall. In one, a classical male bust with a condensed cityscape atop his head is supported on a column covered in a whir of modes of urban transport, from bikes to VW bugs to high heels. In another, a large plant grows out of a heart cradled in human hands and is topped by that icon of the New York City skyline the Chrysler Building. "Some of the other architectural references are the Empire State Building, Guggenheim Museum, Washington Square Arch, and the hotel building itself," says Fry. "The sculptures depict transformation, growth, and energy." Much like the pulsating city itself, not to mention the kinds of guests the hotel will attract.
One other ingredient in the hotel's cultural stew is the
Freehand Fellowship
. Zobler's Sydell Group engaged
Live Arts Bard
—the Fisher Center's residency and commissioning program—and the Bard MFA Program to create an ongoing fellowship for multidisciplinary artists in residence at the hotel. The residencies offer alumni/ae of the MFA program and affiliated artists of Live Arts Bard a paid, yearlong fellowship; three months' use of the hotel's 520-square-foot rooftop studio; accommodations at the hotel; and opportunities to curate public programs and exhibitions in the hotel's public spaces. Four fellowships will be awarded each year.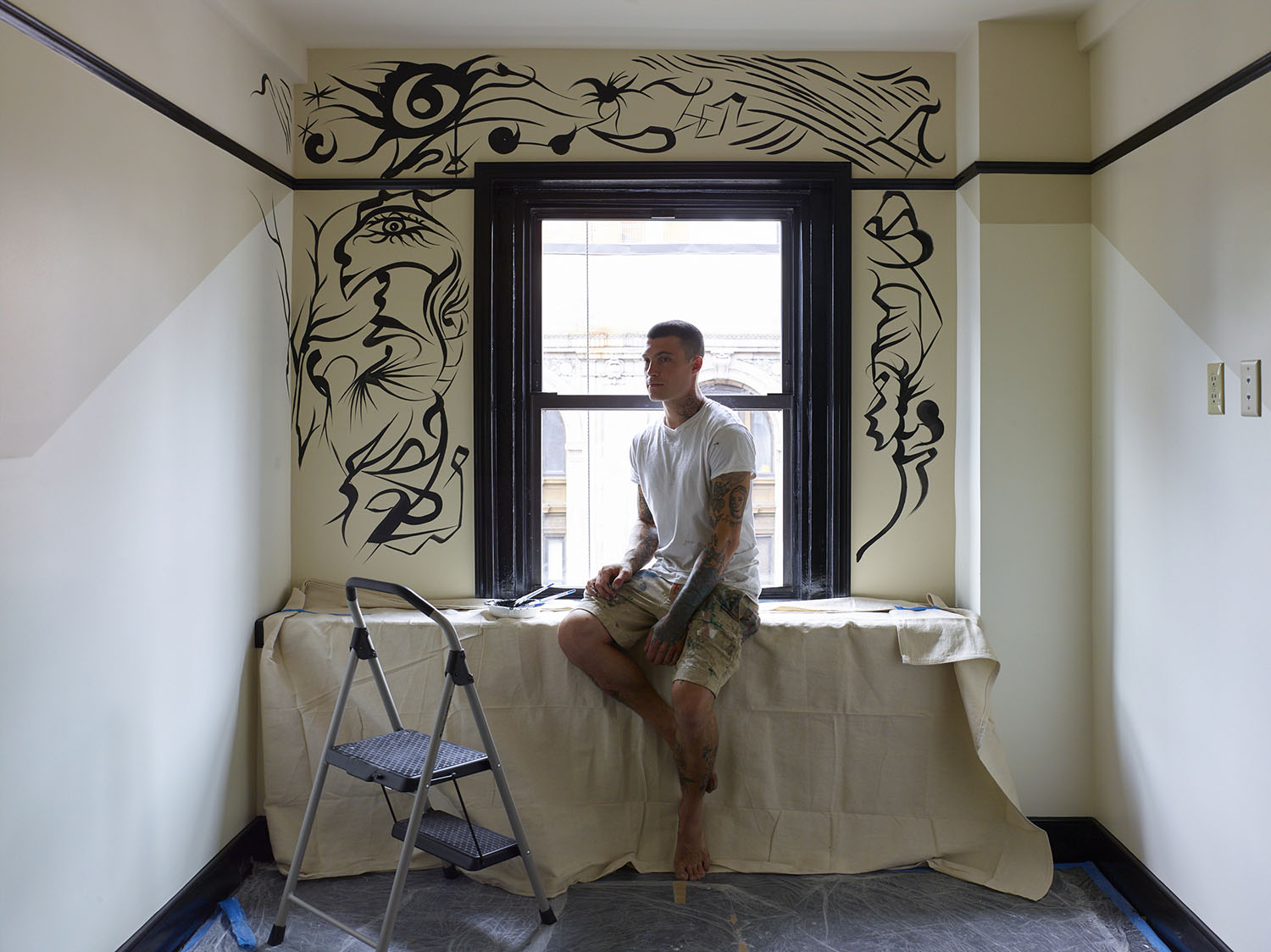 Abraham McNally '97 MFA '03, one of the first fellows, incorporates into his work fabric from worn-out clothes that belonged to his three young children and poplar from trees he cut with his father on the family Christmas-tree farm in northern Vermont. "Both the wood and fabric are pieces of history, reminders of time past," he says. "The materials are naturally distinct and often hard for me to control. My history and personal associations with these materials are critical, pulling me into an active conversation with the material, the past, and the present." The other inaugural fellows are composer, pianist, and singer Dane Terry; performance artist Miguel Gutierrez; and installation artist Fawn Krieger MFA '05.
Zia Affronti Morter '12, who administers the partnership, says it "brings the creative force of Live Arts Bard and Bard MFA to New York City by providing artists the time and space to create—a rare luxury in our current cultural climate—and a unique environment in which to share and workshop new work."
For discounted room rates, Bardians can go to freehandhotels.com/newyork and enter promo code BARDCOLLEGE.
Read the Spring 2018 Bardian
Post Date:
09-29-2018