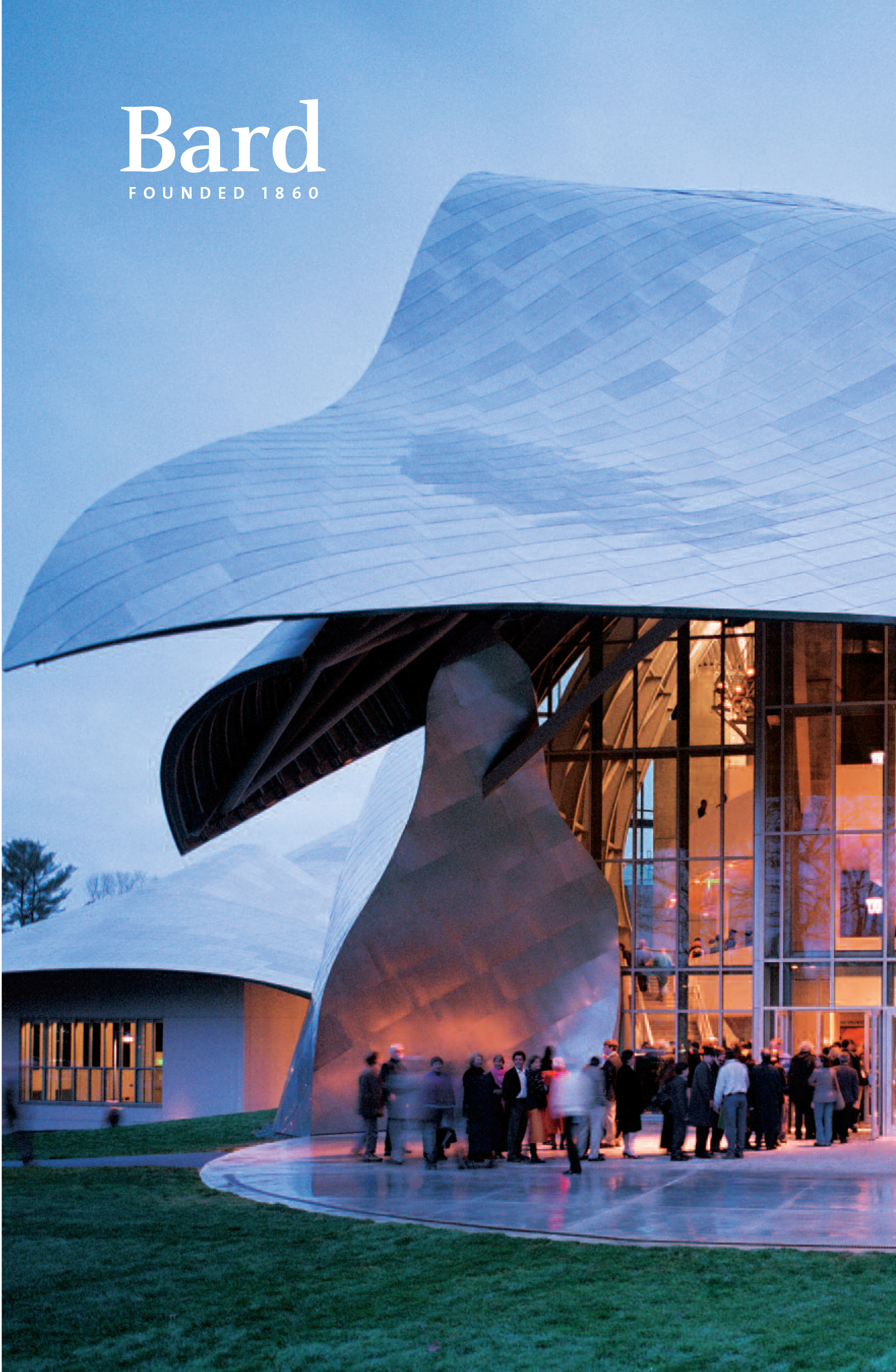 Bard College Catalogue, 2018–19
Student Life

Activities and Events
Activities on campus reflect academic, social, artistic, athletic, recreational, and purely casual pursuits. From garage-band concerts at SMOG, a student-run music venue, to language tables, where students share meals and practice Arabic, Chinese, French, German, Hebrew, Italian, Japanese, Russian, or Spanish conversation, a full range of activities enriches student life. Clubs, committees, publications, and other student-sponsored initiatives are described in further detail below.

Distinguished scholars, artists, and performers visit Bard regularly as featured guests in the John Ashbery Poetry Series, Anthony Hecht Lectures in the Humanities, and the Bard Center's Distinguished Scientist Lecture Series and Lecture and Performance Series. The conferences and lectures sponsored by the Levy Economics Institute, Bard Center for Environmental Policy, Center for Curatorial Studies, and Hannah Arendt Center for Politics and Humanities are open to undergraduates, as are the concerts of the Bard College Conservatory of Music, Bard Music Festival, and The Orchestra Now.

Staff, faculty, and students also bring to the campus a variety of speakers and artists, arrange movie screenings nearly every night of the week, and present their own work in drama and dance, recitals, musical theater, art shows, poetry and fiction readings, lectures, and films. Working with the Office of Student Activities, staff and students also organize hikes, concerts, dances, parties, comedy nights, substance-free entertainment alternatives, and athletic events. The Student Publicity and Activities Resource Center (SPARC), located in the Student Activities Office, serves as a resource for all clubs and individual students looking to plan and publicize events on campus
Student Government and Clubs
All students are members of the Bard Student Government (BSG), a democratic forum with three main functions: to raise issues and take action on those issues or recommend action by the College; to provide student representation on administrative and faculty committees in all matters of concern to the College community; and to administer allocated funds for student-run organizations.

The Educational Policies Committee makes recommendations to appropriate faculty committees and to the dean of the College. The Peer Review Board and Student Judiciary Board deal with violations of the College's regulations regarding behavior. The Student Life Committee meets with the staff of Student Activities and the Dean of Student Affairs Offices, College administrators, health services personnel, and other student services offices to obtain information and represent BSG in all policies that concern student life. Two students are elected by other students to represent them at Board of Trustees and Board of Governors meetings. The Fiscal Committee is directly responsible for the allocation and disbursement of student activity fees. A large portion of the funds goes to entertainment-based clubs that provide extracurricular campus events such as concerts and other musical activities. The Fiscal Committee also allocates funds to more than 150 clubs and organizations, which have included the Asian Students Organization, Bard Film Committee, Bard Free Press, Bard Musical Theater Company, Black Student Organization, Latin American Student Organization, Queer Student Association, WXBC radio station, and print and online magazines and journals. Students form new clubs every semester, depending on interest.
Athletics and Recreation
The Office of Athletics and Recreation offers a wide range of programs to meet the needs of a variety of active lifestyles and sporting interests, from traditional inter-collegiate competition to intramural sports and fitness. The College sponsors intercollegiate programs for men and women in soccer, cross-country, volley-ball, swimming, squash, tennis, lacrosse, track and field, and basketball. Men also compete in baseball. Athletic teams compete under the auspices of the National Collegiate Athletic Association (NCAA Division III). Bard is also a member of various athletic conferences, including the Liberty League, United Volleyball Conference, Eastern College Athletic Conference, and College Squash Association.

The Stevenson Athletic Center and outdoor venues provide the setting for many intramural and recreational offerings. Intramural programs include soccer, basketball, tennis, volleyball, kickball, badminton, and squash. At the club level Bard offers rugby, fencing, equestrian, and Ultimate Frisbee. Classes are offered in lifetime pursuits ranging from advanced fitness to yoga. Aerobics classes include Zumba, Combat Cardio metafit, and TRX training. Certification courses in CPR/AED, Water Safety Instructor training, and lifeguarding are also available. In addition, the College's rural setting makes it easy to engage in outdoor activities such as running, cross-country and downhill skiing, snowboarding, snowshoeing, hiking, cycling, mountain biking, rock climbing, and ice skating. Facilities for golf, bowling, and horseback riding are nearby. Details at bardathletics.com.
Spiritual and Religious Life
The Center for Spiritual Life at Bard College actively promotes and develops a richer understanding of what we believe and how to use our beliefs to transform the world. The College chaplaincy offers spiritual support to all students and members of the Bard community, and values the varied ways students can explore faith academically, often with a focus on social issues, and always with an emphasis on diversity and openness. All are invited to learn more about the diverse perspectives of Buddhism, Christianity, Hinduism, Islam, Judaism, and other traditions. The chaplaincy includes an Episcopal priest, rabbi, and Buddhist chaplain, and an adviser to Muslim students. The chaplains are available to meet with students, staff, and faculty in times of crisis or whenever an attentive and sympathetic ear is needed. They also work closely with the Counseling Service, Office of the Dean of Students, and others in the Bard community who focus on the physical, mental, and spiritual well-being of students, faculty, and staff.

The College holds a weekly Christian service on Sundays, Shabbat services every Friday, and Buddhist meditation twice a week. The chaplaincy also coordinates a series of interfaith events during the academic year and supports and advises various student groups such as the Bard Christian Fellowship, Buddhist meditation group, Jewish Students Organization, and Muslim Students Organization. The Chapel of the Holy Innocents is open at all times for prayer, reflection, and meditation, and hosts classes, concerts, student projects, and other events. A meditation garden is located next to the chapel. The Center for Spiritual Life (located at Resnick Village A) comprises the Beit Shalom Salaam House of Peace meeting room, a kosher and halal kitchen, Buddhist meditation room, and Muslim prayer room. To learn more, visit bard.edu.chaplaincy.
Diversity
Bard College is committed to the maintenance of an educational community in which diversity—in race, ethnicity, religious belief, sexual orientation, gender, gender identity, class, physical ability, national origin, and age—is an essential and valued component. Bard students, faculty, staff, and administration stand united in support of an inclusive environment in which freedom of expression is balanced with a respectful standard of dialogue. The Office of Multicultural Affairs acts as the primary contact for students regarding cross-cultural communication, intercultural engagement, and campus climate. It also oversees the Difference and Media Project, which features collaborative learning, tutorials, workshops, seminars, and conferences. The Project's focus on difference is balanced with a strategic investment in interconnectedness, both in terms of building relationships to the world outside Bard—which can produce connections to graduate schools, jobs, and internships—and within Bard. The Council for Inclusive Excellence provides vision, direction, and support to diversity initiatives focused on the classroom experience, campus climate, training and recruitment, and community support.