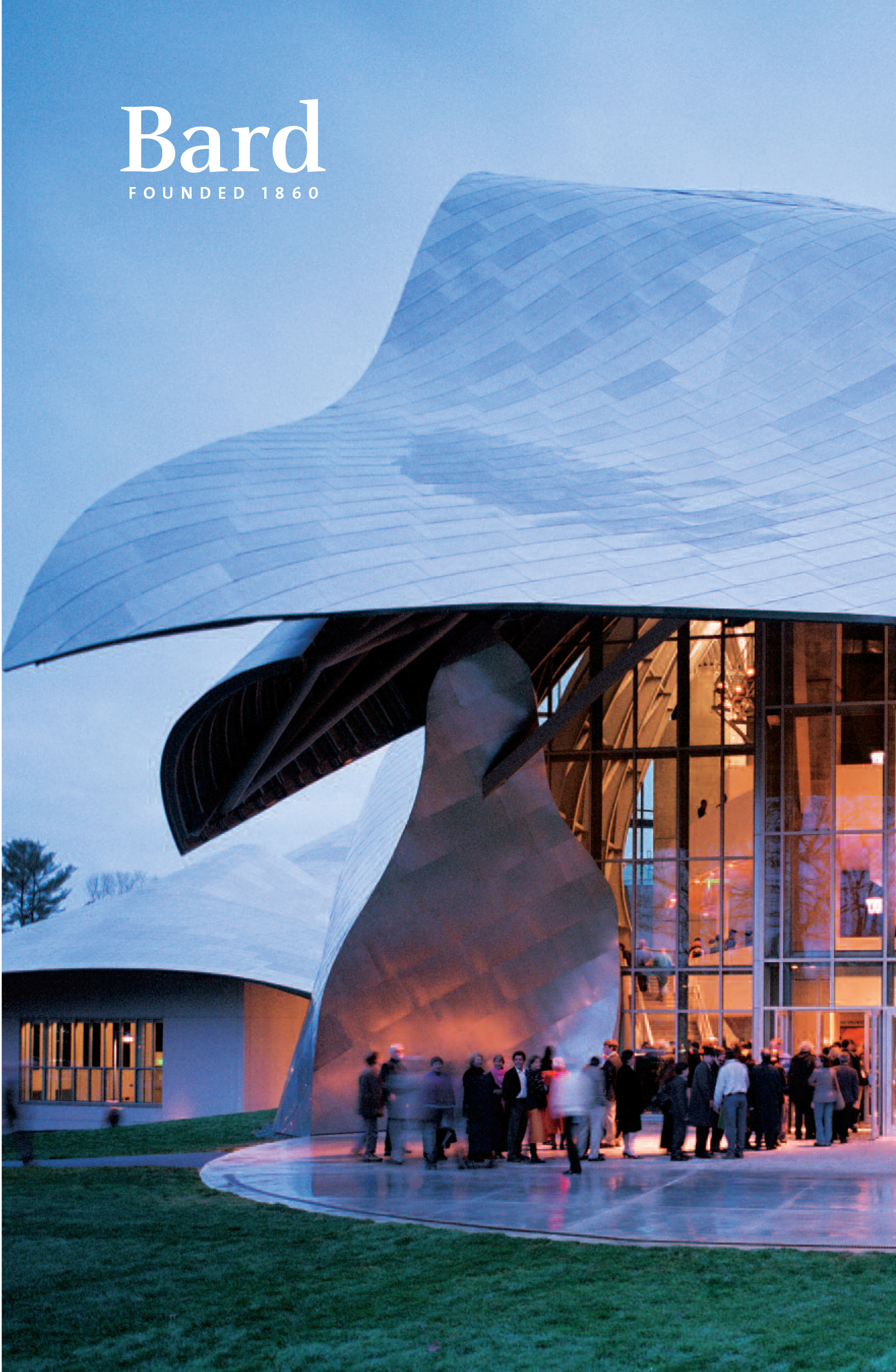 Bard College Catalogue, 2018–19
Global and International Studies
Faculty
Jonathan Becker and Michelle Murray (directors), Richard Aldous, Omar Cheta, Robert J. Culp, Sanjaya DeSilva, Omar G. Encarnación, Helen Epstein, Frederic C. Hof, Thomas Keenan, James Ketterer, Peter Klein, Christopher McIntosh, Sean McMeekin, Walter Russell Mead, Aniruddha Mitra, Gregory B. Moynahan, Miles Rodríguez, Sophia Stamatopoulou-Robbins, Yuka Suzuki, Pavlina R. Tcherneva, Drew Thompson
Overview
The Global and International Studies (GIS) Program offers a problem-based and interdisciplinary path for the study of global and international affairs. GIS begins from the proposition that the growing interconnectedness and complexity of global affairs is such that it cannot be studied within the narrow boundaries of traditional disciplines. Designed to draw attention to how global forces affect and shape local conditions (and vice versa), GIS emphasizes the importance of language, culture, and society to the study of international affairs and asks all students to complete an international experience. The GIS curriculum draws on faculty strengths in anthropology, economics, history, political science, sociology, and area studies to foster connections among interdisciplinary approaches to global phenomena and facilitate new and innovative perspectives on international affairs.
Areas of Study
The Global and International Studies Program is organized into three thematic subfields: transnationalism; global economics; and international relations. Students choose one of these subfields as the primary focus of their major, and take at least one course in the remaining two fields. In addition, students complete course work that focuses on the history, politics, and/or culture and society of a particular geographic area.
Transnationalism:​​​​​​ Courses in this field take up issues and activities that operate across the borders of states. Covered themes include political and cultural globalization, transnational social movements, immigration, nongovernmental organizations, global media, human rights, the environment, and infectious diseases.
Global Economics: Courses in this field focus on the global economy. Covered themes include microeconomics, macroeconomics, international economics, political economy, economic development, trade, and international economic institutions.
International Relations: Courses in this field take up issues related to the theory and practice of interstate relations. Themes include international history, international relations theory, security studies, state sovereignty, and international institutions.
Area Studies: Area studies courses focus on the history, politics, and/or culture and society of a particular geographic area, or the comparative study of two geographic areas. It is recommended that the geographical focus of the area studies courses correspond to the language used to fulfill the language requirement.
Requirements
Students majoring in Global and International Studies are required to complete a total of 10 GIS or GIS cross-listed courses and two semesters of the Senior Project; obtain competency in a foreign language; and study abroad or at the Bard Globalization and International Affairs Program (BGIA) in Manhattan. Two of the courses, excluding the research design/methodology course, must be at the 300 level. A single course may not fulfill more than one requirement.

Prior to or concurrent with Moderation, a student must have taken at least four GIS courses, including one core course; identified their primary thematic field; and made progress toward the language requirement. To moderate into GIS, students are required to submit a one-page plan of study to the program directors and Moderation board that demonstrates a coherent vision of their academic interests within Global and International Studies, and how they relate to their Senior Project. The plan should address how the study of different disciplines would benefit the student's research interests and Senior Project.

The two-semester Senior Project must address a global and international problem or question and incorporate the interdisciplinary lessons and approaches students have learned in their GIS course work. An example of a recent Senior Project topic in Global and International Studies is "The Origins of the Chinese Communist Party's Early Marriage Laws."
Courses
GIS core courses introduce students to, and serve as a model of, the interdisciplinary study of global affairs. Each course adopts a problem-based approach to issues of contemporary global importance and draws from an interdisciplinary set of course readings and approaches to international affairs.
Topics in Global and International Studies: Nuclear Proliferation and Global Security
GIS 101
While only nine nations possess nuclear weapons, more than half the world's population lives in one of these states, and many more nations have nuclear materials and facilities that could be converted to a weapons program. This course provides an overview of the problem of proliferation, looks at global efforts to manage the spread of nuclear weapons, and concludes with a daylong simulation of international negotiations in response to a nuclear crisis.
Topics in Global and International Studies: Climate Change
GIS 102
CROSS-LISTED: EUS, POLITICAL STUDIES
Climate change is one of the most pressing problems facing the global community in the 21st century. From shifting weather patterns that affect food production, to changing patterns of vector-born disease transmission, to more frequent and extreme weather events that destroy communities, the impacts of climate change are global in scope and require a coordinated, global response. This course provides an overview of the problem of climate change and global efforts to respond to it.
Gender and the Politics of National Security
GIS 206 / Political Studies 206
An introduction to major theories and issues concerning gender and international security affairs. These theoretical frameworks are then applied to security issues such as the cultural effects of nuclear weapons, targeting of civilians during armed conflict, sexual violence in war, torture and the war on terrorism, human security and development, and postconflict societies, among others. Discussions draw from anthropology, sociology, philosophy, politics, and rhetoric in order to highlight the interconnections among states, societies, and individuals.
Global Citizenship
GIS 207 / Political Studies 207
See Political Studies 207 for a full course description.
Humanitarian Military Intervention
GIS 231 / Political Studies 231
The international states system is built upon the principles of sovereignty and nonintervention. Yet over the past two decades human rights have emerged as an increasingly accepted justification for the use of force. This tension between the respect for state sovereignty and the inevitable violations that result from the use of military force is at the center of the debate over human rights in the field of international relations. This course explores these dilemmas and controversies.
Global Inequality and Development
GIS 269 / Sociology 269
Why does global inequality persist and why does a large share of the world's population continue to live in abject poverty, despite tremendous efforts made over the last half century? Through the lens of topics such as unequal impacts of environmental change, informal urban settlements and economies, and growing energy demands, this course examines such questions and pushes students to think critically about the meanings and consequences of development, as well as the challenges and possibilities we face in addressing the major social problems of our time.
Diplomacy in International Politics
GIS 273 / Political Studies 273
Students gain an understanding of the goals, constraints, and structures of diplomacy: diplomatic corps, embassies, consulates, aid missions, attachés, envoys, and the use of nontraditional diplomats. The course examines the evolution of these components and contexts to include public diplomacy, cyber diplomacy, diplomacy in combat zones, and the use of international development as a foreign policy tool. Videoconferences with students across the Bard international network explore the roles played by different actors in addressing immediate crises and longer-term diplomatic issues.