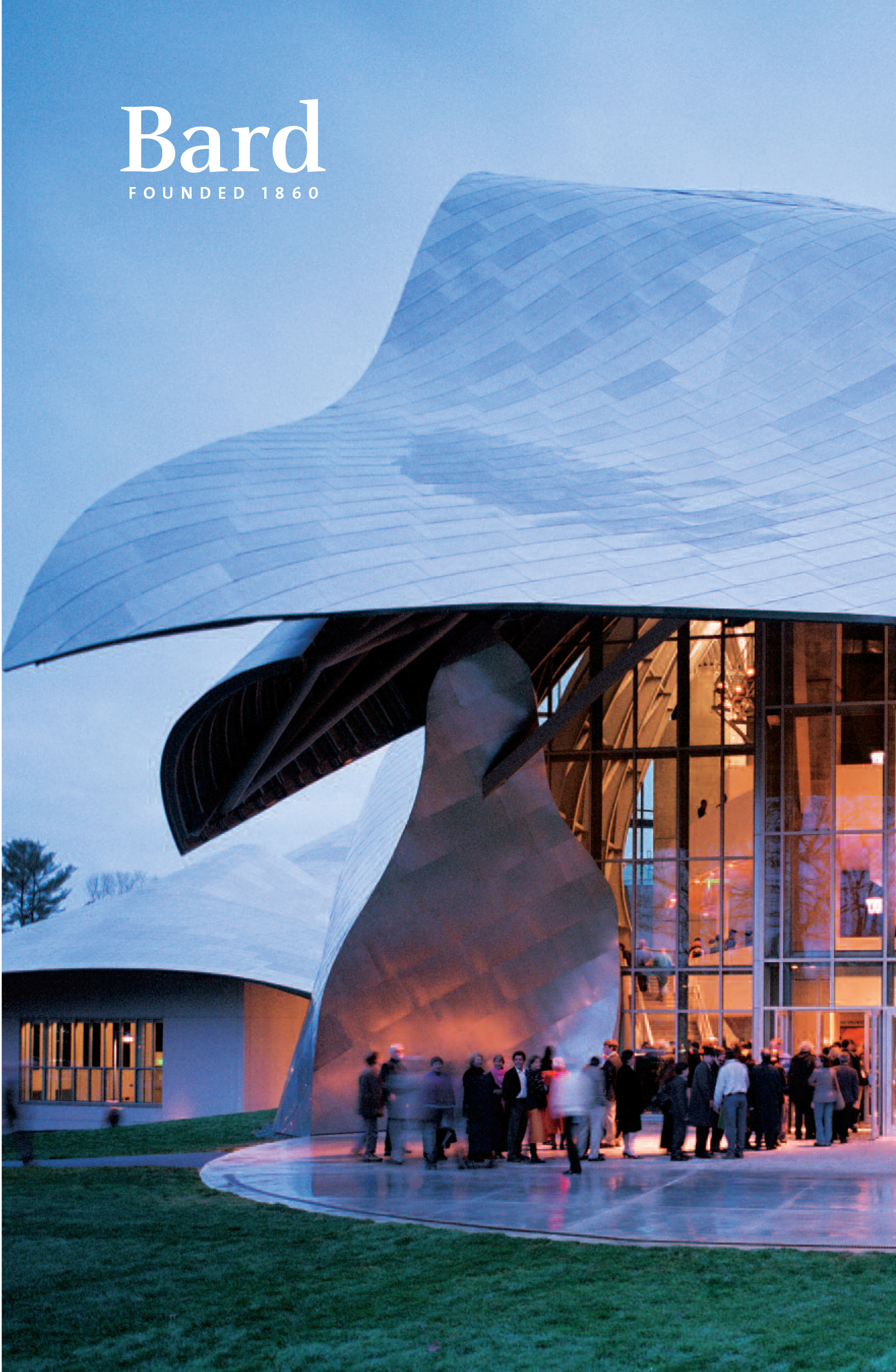 Bard College Catalogue, 2018–19
Environmental and Urban Studies
Faculty
M. Elias Dueker (director), Myra Young Armstead, Mike Aziz, Alex Benson, Daniel Berthold, Katherine M. Boivin, Kenneth Buhler, Adriane Colburn, Cathy D. Collins, Robert J. Culp, Matthew Deady, Sanjaya DeSilva, Michèle D. Dominy, Ellen Driscoll, Gidon Eshel, Kris Feder, Brooke Jude, Felicia Keesing, James Ketterer, Peter Klein, Cecile E. Kuznitz, Peter L'Official, Susan Merriam, Jennifer Phillips (BCEP), Bruce Robertson, Susan Fox Rogers, Julia Rosenbaum, Lisa Sanditz, Monique Segarra (BCEP), Gautam Sethi (BCEP), Robyn L. Smyth, Sophia Stamatopoulou-Robbins, Alice Stroup, Yuka Suzuki, Olga Touloumi, Susan Winchell-Sweeney (BCEP)
Archaeologist in Residence: Christopher R. Lindner
Overview
Environmental and Urban Studies (EUS) is an interdisciplinary program that examines the interdependence of human societies and the physical environment. The program strives to ensure that students have a substantial background in the physical and social sciences, humanities, economics, and policy, while enhancing their understanding of the relationship between built and natural environments.

The program calls for students to engage both intellectually and empirically with urban and environmental issues. EUS students gain theoretical and scientific grounding in the field as well as valuable experience, through practicums and internships, in addressing urban and environmental challenges. Students complete a series of core courses, as well as courses that engage interdisciplinary methods; pursue an internship in the area of their interest; and complete the practicum.

To balance transdisciplinary breadth with depth in a particular discipline, students also select intermediate and advanced courses in their chosen focus area. Expertise developed through problem-driven focus area studies prepares the student for the Senior Project.

The scope of EUS is regional, national, and global. EUS takes advantage of its immediate surroundings, using the campus and the region as a laboratory for natural and social science research and interpretation through language and the arts. The Hudson River estuary, with its wetlands and watershed, is framed by the Catskill Mountains to the west; its valley communities offer a variety of historical and natural resources. On campus, the Bard Water Laboratory, Bard Archaeology, the Bard College Farm, the Bard Arboretum, and the unique landscape, architecture, and history of Montgomery Place offer academic and cocurricular activities. The Bard College Field Station is home to Hudsonia, an independent environmental institute; and the Saw Kill Watershed Community brings campus and community members together for science, stewardship, and education. Other place-based partners include the American Eel Research Project in partnership with the New York State Department of Environmental Conservation, Franklin D. Roosevelt Presidential Library, Cary Institute of Ecosystem Studies, Scenic Hudson, Riverkeeper, and Hudson River Sloop Clearwater. Students can also explore international affiliations and institutions through a rich variety of internship and study abroad programs, and take courses with leading practitioners at the Bard Globalization and International Affairs Program in New York City.

EUS majors with a strong foundation in science, policy, and/or economics may apply to the 3+2 program with the Bard Center for Environmental Policy, earning in five years a BA and a master of science in environmental policy or in climate science and policy.

Senior Projects have addressed questions pertaining to a wide variety of topics, including environment and population growth; sustainable development; environmental effects of globalization; international efforts to protect the environment; land ownership and the distribution of wealth; the environment and human health; environmental racism; alternative energy; urban sprawl; land-use planning; land and tax policy; wilderness and watershed protection; habitat loss; agricultural subsidies; organic farming; pollution control policy; transportation policy; ecotourism; the viability of small communities; and environmental politics, art, and education.
Focus Areas
The following focus areas suggest the breadth of possibilities for advanced study within EUS: Environmental Science; Global Perspectives on Environment, Society, and Culture; Urban and Regional Studies; Environmental Humanities and the Arts; Agriculture and Food Systems; and Economics, Policy, and Development.
Requirements
By the sophomore year, an EUS major should have an academic adviser who is an EUS core faculty member. To moderate into the program, a student must have successfully completed the core courses EUS 101 (
Introduction to Environmental and Urban Studies
) and 102 (
Introduction to Environmental and Urban Science
), as well as one 200-level EUS course in one of the following areas: economics, social/historical analysis (other than economics), and laboratory science (environmental science, biology, chemistry/biochemistry, or physics). In addition, the student needs to prepare in advance and provide the Moderation board with three document:
• A reflective paper reviewing the first two years of academic study.
• A paper that sets out a plan for successful completion of the degree requirements, while also defining the student's focus area. The focus area plan should clearly articulate a particular research agenda with suitable advanced courses in preparation for the Senior Project.
• An assigned essay set by the EUS faculty that addresses a contemporary issue from the perspective of EUS-related course work and a set of assigned article..
Graduation requirements include one 200-level EUS course in economics; one 200-level EUS course in social/historical analysis (other than economics); one 200-level EUS course in laboratory science; EUS 305, EUS Practicum, which includes fieldwork (some study abroad programs may satisfy the practicum requirement); one EUS internship or service project (0 credits); 14 additional credits in a well-defined focus area, with at least two courses at the 300 level and an additional methods course relevant to the focus area (e.g., GIS, biostatistics, econometrics, qualitative or quantitative methods); and the Senior Project. See the EUS website for additional details on program requirements.
Recent Senior Projects in Environmental and Urban Studies
"Food Access in Kingston, New York: An Evaluation of the Role of Farmers Markets in Food Assistance Programs"
"Lifeguarding the Hudson: Microbial Agents of Concern in Puddles, Tide Pools, and the River"
"Outside the Frame: Mapping and Urban Space in the United States, c. 1920–2014"
Courses
EUS offers a wide variety of courses in each focus area every semester. Because of the interdisciplinary nature of the program, EUS courses are offered in the program and as cross-listed courses in other programs across the four divisions of the College. EUS students can also take graduate-level courses at the Bard Center for Environmental Policy. A full list of the offerings can be found on the EUS website.
Introduction to Environmental and Urban Studies
Environmental Studies 101
This course explores how climate disruption, species extinction, and depletion of fossil soils, fuels, and waters are interlinked with one another—and with social problems such as financial instability, widening economic inequality, food insecurity, intensifying conflict and militarization, and declining public health. The class reviews the empirical evidence of major environmental problems, considers which disciplines and practical skills are required to tackle them, and contemplates alternative political options open to governments and communities.
Introduction to Environmental and Urban Science
Environmental Studies 102
The course provides a systems-oriented approach to biological, chemical, physical, and geological processes that affect earth, air, water, and life. Students gain a solid understanding of the fundamental scientific principles governing environmental systems, including the cycling of matter and the flow of energy, and develop their ability to predict potential outcomes of complex environmental issues.
Geographic Information Systems
Environmental Studies 203
This course provides a comprehensive review of various spatial analysis methods as they are used in a variety of social and environmental science applications. Through lectures, readings, and hands-on exercises, students acquire an understanding of the structure of spatial data and databases, basic cartographic principles, and data visualization techniques. They also learn how to conduct spatial analysis as well as methods for developing sound GIS project design and management practices.
Planetary Consequences of Food Production
Environmental Studies 205
Can one produce local organic food with relative environmental impunity? Life-cycle analyses repeatedly show that, on a national average, transportation is relatively unimportant in food production's overall environmental footprint. While this appears to cast doubts on the "local food" notion, the picture may change dramatically with organic food production because of the absence of environmentally adverse agrochemicals. The course makes use of an innovative campus greenhouse.
Environmental Monitoring Lab: Quality on the Saw Kill
Environmental Studies 214
To get hands-on experience with the nuts and bolts of monitoring water quality in the Hudson River estuary, students plan and implement a sampling program on the Saw Kill to be integrated into Riverkeeper's tributary monitoring program. In addition to building a monitoring program from the ground up, students become proficient in field and lab methods for monitoring basic water quality. They also become familiar with governmental regulations and policy concerns. Prerequisite: EUS 102, Biology 202, or permission of the instructor.
The Dust Bowl: Lessons on How Not to Prepare for and Respond to Natural Perturbations
Environmental Studies 220
The Dust Bowl—the prolonged, sustained, and widespread drought that ravaged the southern Great Plains throughout the 1930s and early 1940s, and the blowing sand and soil that accompanied it—is arguably the single most devastating environmental catastrophe in U.S. history. It is also a nearly perfect example of how a natural, entirely expected phenomenon can be turned into an unmitigated regional catastrophe by ill-conceived human action. Students review the physical elements of the Dust Bowl and place them in historic/economic context.
Water
Environmental Studies 221
This course explores the earth's hydrosphere and its interactions with the biosphere, lithosphere, and atmosphere. Topics include origins of the hydrosphere, origins of life, the global hydrologic cycle, anthropogenic influences on that cycle, and pressing environmental issues such as climate change, protection of drinking water resources, ecosystem degradation, and wastewater treatment.
Air
Environmental Studies 222
DESIGNATED: ELAS COURSE
Topics covered in this course include origins of the atmosphere, origins of life, anthropogenic influences on the atmosphere, and connections and exchanges with the hydrologic cycle. Pressing global environmental issues associated with the atmosphere are also discussed, including climate change, air pollution, acid rain, and depletion of the ozone layer. Prerequisite: EUS 102, Biology 202, or permission of the instructor.
Environmental Modeling
Environmental Studies 226
This course exposes students to a variety of modeling techniques used in environmental decision making. For example, how rapidly should the switch to renewable energy generation be made? Other policy issues discussed include developing simple predator-prey models to predict changes in populations of keystone species and modeling the sustainability of fisheries under various regulations of regional U.S. fisheries councils. Students are expected to have some basic knowledge of regression analysis and be proficient in calculus. Prerequisite: Mathematics 141.

Environmental Politics
Environmental Studies 228
CROSS-LISTED: POLITICAL STUDIES
Environmental politics intersects with debates over economic development, the value of conservation, and concerns regarding the impact of industrial and agricultural practices on human health and the environment. This course introduces the political forces that influence environmental policy formation and outcomes, and covers such topics as risk, sustainability, regulation, conservation, and environmental justice, within the United States and through comparative analysis of countries in Latin America, sub-Saharan Africa, and China.
Buddhist Views of Nature: A Vast Net of Interconnected Diamonds
Environmental Studies 231
cross-listed: religion
Interconnection is a central teaching in Buddhism. In the Flower Ornament Scripture (Avatamsaka Sutra), the image of Indra's Net is depicted as a world in which everybody and everything is a diamond, mirroring each other. This course draws from traditional Buddhist views of nature, with readings including ecological appeals in Engaged Buddhism, classical texts, and reflections by modern poets. The goal is to recognize the Buddhist view of an environment where our "inside" nature and "outside" nature are not separate.
Advanced Readings in Environmental Science I, II
Environmental Studies 240-241
While prohibitively technical at times, some fundamental advances in environmental science can be translated into English and made at least partially palatable for the curious, motivated student. This seminar-style course explores several key papers of recent years covering climate change, water resources, and agriculture.
EUS Practicum
Environmental Studies 305'
DESIGNATED: ELAS COURSE
The Environmental and Urban Studies Practicum connects theory with practice through a combination of theoretical and site-specific learning. The course extends beyond the classroom to local communities and ecosystems, and challenges students to complete field-based projects. The practicum provides students in an interdisciplinary major such as EUS with a range of academic and professional possibilities by illustrating potential internships, Senior Project questions, or careers. The EUS Practicum addresses a new topic each semester, recently including climate change, urban ecology, food systems, urban planning, and green architecture.
Culture through Nature: Landscape, Environment, and Design into the 21st Century
Environmental Studies 308
This interdisciplinary course expands on Art Through Nature: Landscape, Environment, and Design in America (Art History 225) from the perspective of landscape planning and design, and with a focus on Montgomery Place. The class addresses the way we make sense of sites—questioning conventional conceptions, methods, and processes that can distance the actor from the landscape—and considers ways of organizing the landscape that disregard artificial boundaries between art, ecology, and design. Prerequisite: Upper College status.
Climate and Agroecology
Environmental Studies 311
This graduate-level course, offered to a limited number of undergraduates, examines the linkages between agroecosystems and the climate system, beginning with projections for climate change impacts on crop production. The class looks at expectations for the influence of elevated CO2 on yield; the role that agriculture can play in climate change mitigation, given the large greenhouse gas emissions associated with farming systems; soil carbon management; and various strategies regarding climate change adaptation, including the role of genetically modified crops, biodiversity, and system resilience.
Environment and Climate Policy
Environmental Studies 315
This course focuses on the legal, political, cultural, and ethical dimensions of the climate policy–making process. Students evaluate climate change responses, including incentive-based regulatory approaches (e.g., carbon taxes and cap-and-trade and cap-and-dividend systems with offsets); command-and-control approaches; direct promotion of clean technology through regulation and subsidy; and voluntary agreements. They also examine critical issues of monitoring and enforcement as well as the relationships among local, state, federal, and international policy. This is a graduate course offered to a limited number of undergraduates.
Waste
Environmental Studies 316
The class takes a close look at the long-term implications of our standard approaches to handling human waste as well as innovations in waste treatment. Students learn the science behind current waste treatment technology (water, air, land-based) and are exposed to new alternative approaches (water reclamation, living machines). Field-based labs introduce the bacteria and biogeochemical processes we rely on for most current and cutting-edge waste-treatment approaches. Prerequisites: EUS 221 and Biology 202, or permission of the instructor.
Land
Environmental Studies 318
CROSS-LISTED: BIOLOGY
Students in the course explore the relationship between land use and water quality, using the Saw Kill Watershed as a living laboratory. Three broad areas of human-environment interaction are covered: soils and soil management, land-surface vegetation impacts on energy and water balance, and variation in stream water quality and quantity as a function of land use. Prerequisite: a 200-level laboratory course or permission of the instructor.
Hudson Valley Cities and Environmental (In)Justice
Environmental Studies 319 / Sociology 319
CROSS-LISTED: AMERICAN STUDIES
How do urban processes of growth, decline, and revitalization affect different groups, particularly along dimensions of race, class, and gender? This research seminar examines the historical, political, and social landscape of Hudson and Kingston, using these nearby communities as case studies to explore theories on urban transformation as well as the contemporary challenges that face small urban centers. The course also addresses issues of environmental inequality, food justice, pollution, access to resources, and environmental decision-making processes. Students develop and carry out their own research project about one or both places.

The Politics of Solutions
Environmental Studies 322
Despite the withdrawal of the United States from the Paris Agreement, innovative solutions to mitigating and adapting to climate change are emerging at a rapid pace, from both the private and public sectors. The course examines a range of climate solutions—e.g., renewable energy technologies, urban planning, changing individual and social behaviors— whose viability is shaped by ideas, interests, and institutions that facilitate or impede their moving onto policy agendas or to large-scale adoption. Cases are drawn from the United States, China, South Korea, and Latin America.

Environmental Law for Policy
Environmental Studies 324
An introduction to the core concepts of environmental law in the context of interdisciplinary policy making. Students examine responses and solutions to environmental problems that rely on legal and regulatory instruments, judicial decisions, and voluntary agreements, while exploring the interaction between environmental law and policy. They also consider the nature of international, federal, state, and local relationships in developing and applying the law; the role of technology and science; and tensions between private and public interests.

Climate Change and Water Resources
Environmental Studies 410
Climate change is altering the global hydrologic cycle and impacting aquatic ecosystems and water resources available for human use. This course draws upon the physical science of hydrology, the biological science of ecosystem ecology, and the social science of water resource management to build interdisciplinary understanding of complex climate-ecological-social systems related to water.

EUS Colloquium
The colloquium is an invited speaker series that meets once weekly and addresses key contemporary questions of environmental and urban studies. Speakers address such questions from multiple disciplinary perspectives. EUS majors must enroll in EUS COL at least once and may enroll twice for credit. Space permitting, all members of the community are welcome to attend lectures.