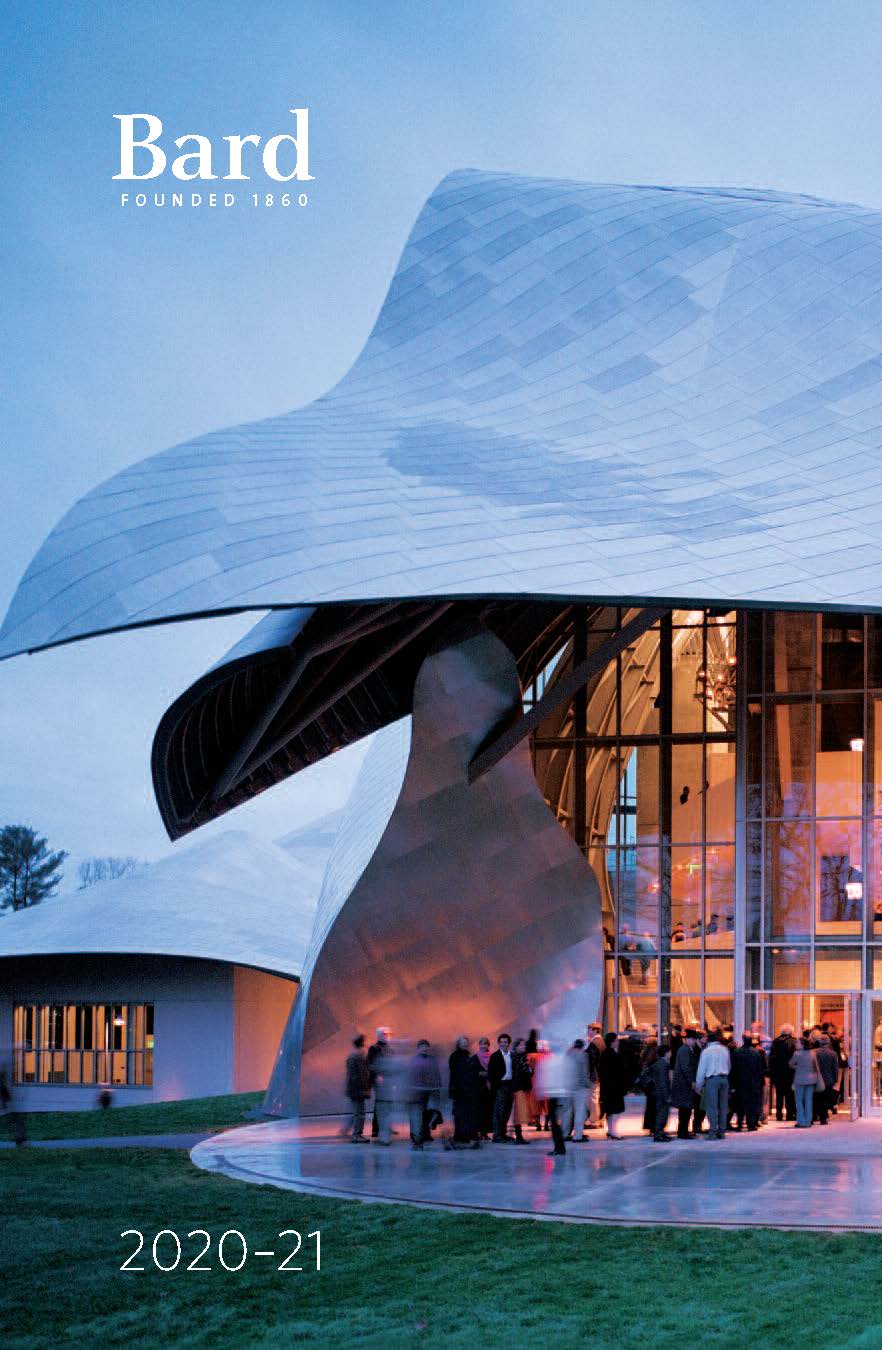 Bard College Catalogue 2020-21
Cultural Programs
Bard Music Festival
fishercenter.bard.edu/bmf
Since 1990 the Bard Music Festival (BMF) has been presented on the Bard campus each summer over two consecutive weekends in August. In 2020, the festival's 31st season, the scheduled celebration of composer Nadia Boulanger was postponed until next year due to ongoing concerns about the coronavirus. Also rescheduled for summer 2021 were related opera, film, and dance programs. Instead, BMF and the Fisher Center for the Performing Arts presented a series of outdoor concerts celebrating works from Beethoven to Duke Ellington. In addition, a new virtual stage, Upstreaming, offered never-before-seen-and-heard recordings of curated content from the BMF archives, SummerScape operas, and new commissions specially conceived for the digital sphere.
The Bard Music Festival, which moved into the Fisher Center in 2003, offers an array of programs whose themes are taken from the life, work, and world of a single composer. Concerts presented in the Fisher Center's 800-seat Sosnoff Theater and 200-seat LUMA Theater, as well as in the 370-seat Olin Hall, offer both the intimate communication of recital and chamber music and the excitement of full orchestral and choral sound. Through a series of preconcert talks and panel discussions by eminent music scholars, composers are examined within the cultural and political contexts of their careers. Recent featured composers include Erich Wolfgang Korngold, Nikolai Rimsky-Korsakov, Fryderyk Chopin, Giacomo Puccini, Carlos Chávez, Franz Schubert, Igor Stravinsky, Camille Saint-Saëns, Jean Sibelius, Alban Berg, Richard Wagner, Sergey Prokofiev, Edward Elgar, Franz Liszt, Dmitrii Shostakovich, and Aaron Copland. Related articles and essays are published in a companion book edited by a major music scholar.
Bard Music West (BMW), a project of the Bard Musical Festival, debuted in 2017 with the goal of exploring the music and influences of 20th-century contemporary composers. The inaugural festival, held in San Francisco, focused on Hungarian composer György Ligeti. In 2019, the festival honored Polish composer and violinist/pianist Gra.zyna Bacewicz and debuted Bard Music West Plays, a concert series that explores the work of emerging composers with "pay what you can" performances throughout the Bay Area. In spring 2020, the BMW website provided Shelter In Music, a guide to livestreamed music by local musicians, ensembles, and music organizations. For more information, see
bardmusicwest.org
.

Lecture and Performance Series
The Bard College Conservatory of Music in 2019–20 presented master classes, chamber music, and concerts by students, faculty, and guest artists. Conservatory events at the Fisher Center for the Performing Arts and László Z. Bitó '60 Conservatory Building included performances of Mahler's Symphony No. 3 conducted by Bard president Leon Botstein and Schubert's Winterreise (Winter Journey); Sing, Bard!, a cabaret-style musical journey of song, from opera to popular tunes by Gershwin, Porter, and Berlin, featuring mezzo-soprano Stephanie Blythe; and a screening of excerpts from the films Crouching Tiger Hidden Dragon, Hero, and The Banquet, with a live accompaniment conducted by composer and Conservatory dean Tan Dun. The Orchestra Now presented Beethoven's Eroica, Verdi's Requiem, and programs featuring works by Copland, Strauss, Sibelius, and Shostakovich, among others.

The John Ashbery Poetry Series, named for the late Charles P. Stevenson Jr. Professor Emeritus of Languages and Literature, brings leading poets to campus for readings and discussion in an intimate setting. Artists recently featured include 2019 Kingsley Tufts Award winner and Distinguished Writer in Residence Dawn Lundy Martin, Tamas Panitz '14, Sophie Strand '16, Hoa Nguyen, Alice Notley, Anselm Berrigan, Roberto Tejada, and Jennifer Moxley.

Hudson Valley Chamber Music Circle
Founded in 1950, the Hudson Valley Chamber Music Circle (HVCMC) has attracted a loyal regional following that has enjoyed annual June performances by some of the finest classical ensembles and soloists in the world. The 2020 June concert was canceled due to the COVID-19 pandemic, but the HVCMC website featured videos by the scheduled performers: the Kalichstein-Laredo-Robinson Trio, with guests Nokuthula Ngwenyama, violist and composer, and Harold Robinson, double bass; the Omer Quartet; and Matt Haimovitz, cello, and Andrea Lam, piano.

Conjunctions
Founded in 1981, Bard's influential literary journal Conjunctions publishes innovative fiction, poetry, translations, essays, and interviews by contemporary masters and exciting new voices from the United States and around the world. As its slogan, "Read Dangerously," suggests, the journal brings fearless writing to risk-taking readers. Edited by Bard professor and novelist Bradford Morrow, winner of PEN America's prestigious Nora Magid Award for excellence in editing a literary journal, Conjunctions appears biannually. The spring 2020 issue, Conjunctions:74, Grendel's Kin: The Monster Issue, investigates the ways in which monsters are sublime and horrifying and an important part of the human legacy from one generation to the next. Contributors include James Morrow, A. D. Jameson, Julia Elliott, and Joyce Carol Oates, among others. The fall 2019 issue, Conjunctions:73, Earth Elegies, celebrates our fragile, indispensable world while also addressing the ecological crises that imperil its oceans, rainforests, arctic glaciers, flora, and living beings of all kinds. Contributors include Rob Nixon, Rachel Blau DuPlessis, Arthur Sze, Francine Prose, and Robert Macfarlane in conversation with Diane Ackerman.

Conjunctions also publishes an online magazine at conjunctions.com, and maintains an online multimedia vault of exclusive recordings of readings. The journal has a robust online following, with social communities at Twitter, Facebook, and Instagram. Ebooks of current and selected past issues are available from all major online retailers.