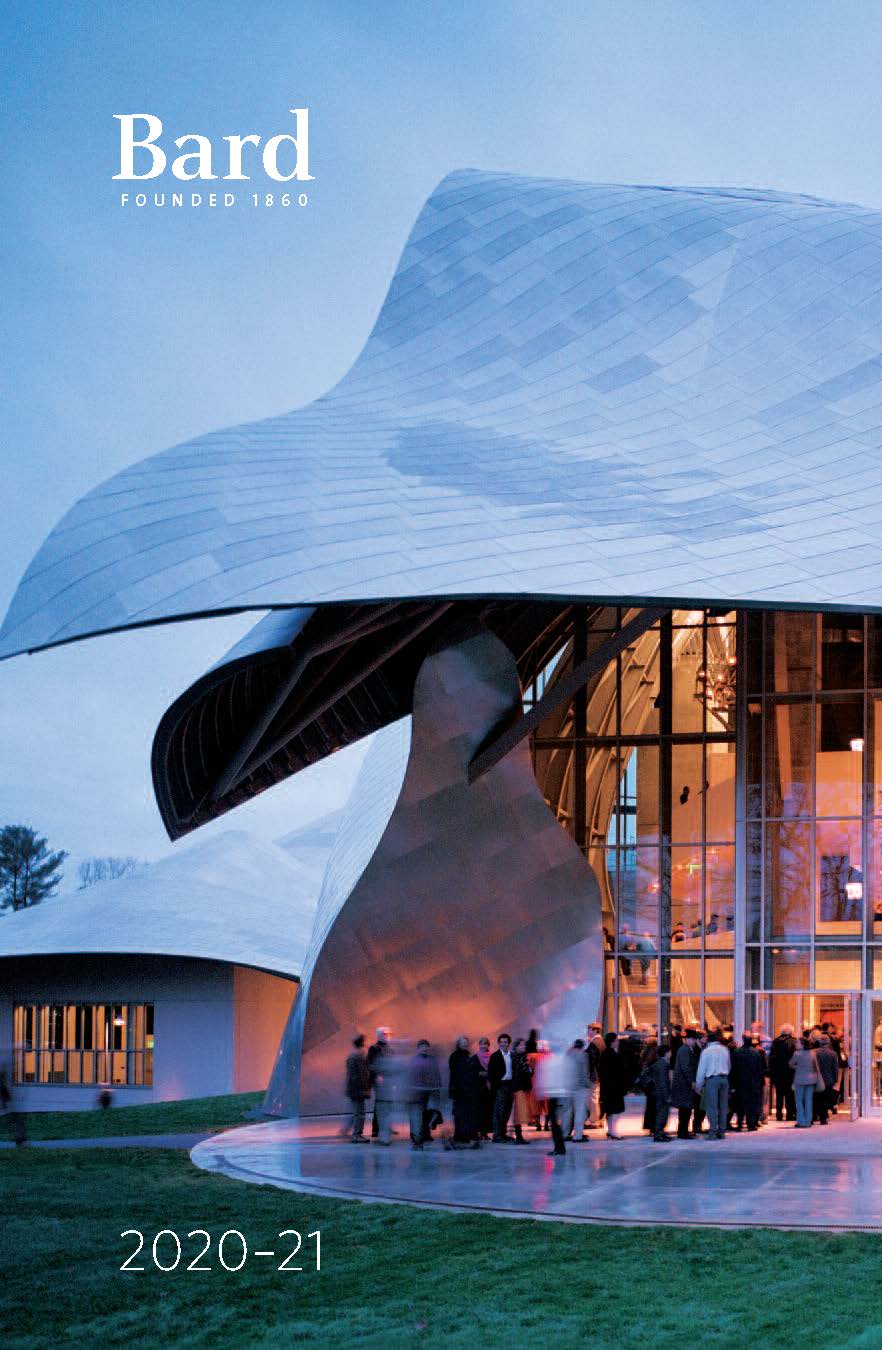 Bard College Catalogue 2020-21
Theater and Performance

Faculty
Gideon Lester (director), Tania El Khoury, Miriam Felton-Dansky, Jack Ferver, Neil Gaiman, Lynn Hawley, Chiori Miyagawa, Lindsey J L Rockett, Emilio Rojas, Jonathan Rosenberg, Geoffrey Sobelle, Nilaja Sun, David Szlasa, Jean Wagner
Overview
The Theater and Performance Program aims to develop innovative thinkers and artists who use theatrical ideas from the past and present to imagine and instigate the theater of the future. Theater and performance are intrinsically collaborative art forms, and collaboration and devised theater making are at the heart of Bard's program. Students study and perform in the landmark Fisher Center for the Performing Arts, designed by Frank Gehry. The program is run in close partnership with Live Arts Bard (LAB), the College's professional residency and commissioning program for the performing arts. LAB introduces students to a wide range of professional artists through courses, workshops, master classes, performances, open rehearsals, and opportunities for collaboration.
The Theater and Performance Program trains well-rounded theater makers who study the history, theory, and contemporary practice of theater and performance; hone their technical abilities as writers, performers, and directors; and create their own productions and performances under the mentorship of master artists and teachers. Students are encouraged to explore the intersection of theater and performance with dance, music, the visual arts, film, and literature, as well as with the sciences and humanities. They work side by side with a faculty of leading professional theater and performance artists; in addition, a wide range of visiting artists from this country and abroad bring a global perspective of cutting-edge theater and performance to the Bard campus.
Areas of Study
Theater and Performance offers courses in context, technique, and creative practice and research. Students who major in the program are expected to take classes in all three areas of study. Context courses include the history of theater and performance, contemporary practice, theories of theater and performance, dramatic literature, dramatic structure, and world theater. Technique courses include skills-based classes in playwriting, directing, acting, voice, movement, performance, and composition. Creative practice and research comprises productions, performance laboratories, master classes, and specialized workshops.
Requirements
The program's curriculum emphasizes courses in context and technique, ensuring that a strong foundation is built in the first two years of study. The following courses are required before Moderation: Introduction to Playwriting; Introduction to Acting: The Actor and the Moment; Introduction to Theater and Performance; Introduction to Theater History; and Introduction to Theater Making. Students also participate in the creation and performance of a group-devised Moderation project.

After Moderation, students are required to take two courses from a menu of options in each of the three areas of study—context, technique, and creative practice and research (for a total of six courses)—and complete a Senior Project.

For the Senior Project, students choose from one of the following three categories.
Participation in the Senior Project Festival:
Proposals are considered for a limited number of 25-minute slots in the Senior Project Festival, which is produced at the Fisher Center with budgetary and technical support from Fisher Center staff. Proposals must include two to four collaborators who are senior Theater and Performance majors and who intend to use the work as their Senior Project. Collaborators may propose a production of an existing play (whole or in excerpt), a new play to be written by one of the collaborators, or a performance created through some other collaborative process. In this third category, the proposal must set out a clear plan for the creative process and give a detailed description of each collaborator's role in that process. For all of these categories, each collaborator should submit their own proposal, written in consultation with their fellow collaborators and advisers.
The artistic project must be accompanied by a 15- to 20-page paper, in which the student analyzes the project's artistic goals and accomplishments and situates the project in relation to its theoretical and/or historical contexts. Individual collaborators on a project must each produce their own written component, with clear analysis of the roles they played in the creative process.
Independent theater/performance project:
Students may self-produce theater/performance projects in the Old Gym or another space on or off campus. Students forgo technical support from the Fisher Center, but still receive budgetary support. These proposals may represent one Senior Project or the work of multiple collaborators, and the proposed performance should be 25 minutes in length. Each independent project must also be accompanied by a 15- to 20-page paper, in accordance with the guidelines listed above.
Research paper:
Students may write a 50- to 60-page paper on a significant aspect of theater and/or performance: theater or performance history or theory, dramatic literature, or contemporary or historical practice.
Recent Senior Projects
"Adaptation, Clowning, Collaboration: An Evening at the Kit Kat Klub"
"Camera Obscura: Exposing, Framing, and Staging the Implicit Politics of Christopher Isherwood and the Various Adaptations of His Work"
"Near Never," a performance exploration of police brutality against Black men in America
"VOX MACHINAL: Voice in the Machine," a performance of puppetry, movement, and sound
Facilities
The Theater and Performance Program is located in Bard's Richard B. Fisher Center for the Performing Arts. The Center's state-of-the-art facilities include studios, workshops, and two theaters, including the flexible LUMA Theater, which seats up to 200.
Courses
Program courses emphasize the truly inclusive nature of theater, which encompasses performance, literature, design, history, artistic community, and intellectual rigor. Stu­dents are expected to acquire a solid familiarity with ­dramatic literature and to develop the ability to research the historical context and dramaturgy of a play and to write about it.
The descriptions below represent a sampling of courses from the past four years.

Acting for Nonmajors
Theater 101
This course introduces scene preparation and beginning scene technique, with an emphasis on relaxation, breathing, and concentration. The new actor learns to make choices and implement them using sense memory and to integrate this work with the text. Group and individual exercises and improvisations. Texts include poems, monologues, stories, and scenes.
Introduction to Playwriting
Theater 107
CROSS-LISTED: WRITTEN ARTS
Through writing exercises based on dreams, visual images, poetry, social issues, found text, and music, students are encouraged to find their unique language, style, and vision. The class learns elements of playwriting through writing a one-act play and through reading assignments and class discussions. Additionally, a group project explores the nature of collaborative work.
Introduction to Acting: The Actor and the Moment
Theater 110
This course analyzes how an actor brings truth to the smallest unit of performance. The richness of the moment is created by the imaginative, physical, psychological, intellectual, and emotional qualities that the actor brings to it. Students explore ways to gain access to richly layered authenticity through games, improvisations, individual creations, and exercises in given circumstances.
Introduction to Theater and Performance
Theater 145
Class discussions are based on primary and secondary texts and modes of performance from 2,500 years of theater, starting with Aristotle and the Greek tragic playwrights and approaching the cutting edge of contemporary practice. Students investigate how great artists from across the centuries have controlled the experience of theatrical time and space, and explore such topics as the representation of reality on stage, the relationship between performance and audience, and the ­evolving interplay of theater and democracy.
Introduction to Theater History
Theater 146
How did premodern models of theater change as successive societies revised, rejected, and appropriated the forms that had gone before? This course begins with the communal festivals of ancient Greece and culminates in the philosophical upheavals of the Enlightenment. Paying close attention to connections between drama, stagecraft, and modes of spectatorship, the course considers how the theater has shored up political power and how the stage has served as a scale model for the known world.
Directing Seminar
Theater 203
This course introduces students to fundamental practical and theoretical concepts in directing. The art and craft of the director involves the close analysis of texts, the conceptualizing of a production, the translation of the text into the language of the stage, and work with collaborators, including actors and designers. The class also examines the work and writings of seminal directors.

Intermediate Playwriting
Theater 208
CROSS-LISTED: WRITTEN ARTS
Students initially experiment with different forms and then focus on developing a one-act play, with sections of the work in progress presented for class discussion. Participants also read a wide range of dramatic literature, from the 20th century to today. Prerequisite: Theater 107, or a screenwriting or poetry workshop.
Intermediate Acting: Scene Study
Theater 209
Students discover their unique process as an actor through rehearsal and performance of scenes primarily from modern and contemporary American theater. The course also explores the different ways an actor approaches—and mines—a text; effective rehearsal methods; and how to ask questions about character, develop circumstances, and tell a story through action. Prerequisite: Theater 110.
Writing Plays Using Facts and Data
Theater 213
CROSS-LISTED: WRITTEN ARTS
Students are encouraged to find inspiration in facts and theatricalize them rather than adapting already fictional materials such as novels and period plays. They read works by journalist Susan Faludi, psychologist Thomas Joiner, and astronomer Neil deGrasse Tyson, and write ­several short plays using the books as resources. Students choose their own nonfiction inspiration to write the final one-act play. Prerequisite: one creative writing workshop.
Design Studio
Theater 224
An introduction to the development and implementation of design techniques for the stage. Through a series of case studies, students explore the history and semiotics of scenic, lighting, and new media design, and watch production recordings from Ralph Lemon, Julie Taymor, Big Art Group, Robert Wilson, and others. In parallel practical units, the class studies the basics of scenic design, from rigging and carpentry to rendering, lighting, and projections.
Power and Performance in the Colonial Atlantic
Theater 236 / History 236
CROSS-LISTED: AMERICAN STUDIES, EXPERIMENTAL HUMANITIES
Societies in different historical periods have habitually used performance to stage, reinforce and reimagine the scope of political and colonial power. The history of the theater, therefore, is inextricably connected with the history of how societies have performed conquest, colonialism, and cultural patrimony. This interdisciplinary course disrupts habitual assumptions about both the disciplines of theater and history. Students read Baroque plays, study their historical contexts, and experiment with staging scenes, in order to uncover the links between imagined and actual Atlantic expansion and the impact of colonialism (1492–1825).
Performance Composition
Theater 241
A creative practice course in which students develop original movement- and text-based performances, using a series of exercises to locate and deepen self-expression. The semester begins with stretch and placement techniques and core work to develop a neutral and ready body, followed by impulse-based improvisation techniques that enable students to find authentic movement and push past their physical limitations. The second half focuses on writing exercises designed to free the creative voice.
Voice and Text
Theater 243
An introduction to the fundamentals of voice work and text analysis. Students develop their vocal apparatus by applying several techniques (Fitzmaurice Voicework, Linklater, and yoga) to access greater range and vocal character, rid the body of ­tension, and free the authentic voice. Students are also taught to approach text by seeking out dynamic phrasing, operative words, and arc, creating a profound connection between body, breath, voice, and language.
Introduction to Theater Making
Theater 244
This course follows Introduction to Theater and Performance: Revolutions in Time and Space as the second in a sequence of courses exploring the intellectual and creative methods of making theater. All students take turns working collaboratively as performers, directors, writers, dramaturgs, and designers. The work created in this class is presented at the end of the semester and serves as the Moderation project for students intending to major in the program.
Chance in Performance
Theater 247
The notion of chance has been used to describe a wide range of artistic practices, including the ready-made, collage, participatory work, and indeterminacy in composition and/or performance. This course covers the major historical, theoretical, and practical issues surrounding the use of chance in artistic production. Students explore distinct and overlapping movements in which chance has figured, beginning with Dada and Duchamp, and including Cage/Cunningham, Fluxus artists, Nature Theater of Oklahoma, and Eve Sussman.
Dramatic Structure
Theater 250
CROSS-LISTED: LITERATURE
This seminar looks at the dynamics, mechanics, and fundamental building blocks of drama, as well as how analysis of a play's structure can be revelatory for theater artists and scholars. The class investigates models of dramatic structure from Aristotle through Shakespeare, neoclassicism, modernism, and contemporary experimental and "postdramatic" theater. Also considered are practical methods for putting structural discoveries to use in rehearsal and production.
Clown
Theater 252
In each performer there is a clown. It exists on the other end of the tether that begins with generosity, honesty, vulnerability, and desire to be up on the stage and give to the audience what you value. The clown cannot be crafted but must be discovered. This course uses a pedagogy developed by Jacques Lecoq in his Paris school that helps the performer become more physically alive, grandly expressive, and ferociously honest on the stage. Prerequisite: Theater 110.
The Politics of Interactive Performance
Theater 253
CROSS-LISTED: AFRICANA STUDIES, HUMAN RIGHTS
What is the difference between creating art with communities and creating art about communities? Does a socially engaged artist necessarily produce socially engaged art? This seminar explores the political potential of contemporary interactive and socially engaged performance. Students read and present in class on the subjects of participatory art, relational aesthetics, social practice, and interactivity, studying the work of artists and collectives such as Hiwa K, Guillermo Gómez-Peña, Center for Political Beauty, and Rirkrit Tiravanija, among others.
Physical Theater
Theater 255
This course gives students the tools to find truthful physical expression of their characters, and to build strength and mobility as they create nuanced performances. Participants learn to slough off habitual behavior and postural "holds" through a warm-up that uses aspects of Graham, Alexander, and Release techniques. Improvisation exercises build kinetic awareness and hone intuitive prowess, and, finally, the class explores scene work to find a character through movement and remain present at each moment of a performance. Prerequisite: Theater 110.

Making Theater Out of Trash
Theater 256
This course approaches theatrical creation through the plastic arts: how does the material world open new spaces of response, new bodies, new worlds, new narratives? From keen observation (how does a plastic bag move?) and precise movement analysis (how does the reflective body respond to the natural world?), students learn the fundamentals of corporeal mime to mix with rudimentary puppetry and mask making, and a movement vocabulary largely inspired by the work of Jacques Lecoq.

Arendt in Dark Times
Theater 257
CROSS-LISTED: HUMAN RIGHTS, POLITICAL STUDIES
DESIGNATED: MIGRATION INITIATIVE
This interdisciplinary studio course investigates the writings and philosophy of Hannah Arendt on and around the questions of refugees, racism, and nation-states, and uses them as the basis for the creation of collaborative performance-based projects. Using Arendt's archives and philosophy, alongside related texts, the class seeks to understand the current dark times through the lens of the refugee crisis. Students are divided into cross-disciplinary groups and create original performances using her texts.
Gender Theater
Theater 261
CROSS-LISTED: GSS
How can we use the tools of theater to interro­gate the way we perform gender—our own and other people's? This creative practice course explores and challenges normative notions of gender. Through improvisation and performance exercises, students examine overt and covert societal rules surrounding the gender binary.
Advanced Playwriting
Theater 306
Students write a full-length play during the semester, with sections of the work in progress presented in class for discussions. Students focus on developing characters and themes that are sustained through a full-length play. They also read contemporary and current dramatic literature and make a field trip to see a production. Prerequisites: Theater 107 or any other playwriting workshop, and permission of the professor.
Advanced Acting: Acting Shakespeare
Theater 307-308
Students build on skills acquired in earlier courses of the acting sequence to focus on the particular challenges of acting Shakespeare. The class reads and analyzes the plays as scores for performance, considering the structure and progression of thought, and seeking clues about character, experience, relationships, and social codes.
Survey of Drama
Theater 310
Survey of Drama courses, which study the major styles and periods in drama from a ­literary, ­stylistic, and performance perspective, are at the center of the Theater and Performance Program. They are practical courses, applying text to scene work.

Recent Survey of Drama courses have included American Melodrama, Minstrelsy, and Vaudeville; Beckett; Birth of Tragedy and the Death of Tragedy; Black Comedy; Büchner and Strindberg; Chekhov and His Predecessors; Dangerous Theater; Dissent and Its Performance; Euripides and Nietzsche; Feminist Theater; French Neoclassicism; German Theater; The Greeks; Grotesque in Theater; Ibsen; Jacobean Theater; Japanese Theater; Musical Theater; New Works on Stage; Performance Art in Theory and Practice; Philosophies of Acting; Shakespeare; Solo Performance; Stanislavsky, Brecht, and Grotowski; Tennessee Williams; Theater of the Absurd; and Yiddish Theater.
Theatrical Adaptation
Theater 316
Adapting classic and contemporary fiction to a theatrical form is a creative process that integrates the original intention of the material with the theater artist's imagination. This advanced studio course explores the process of adapting nondramatic sources for the stage. The first half of the semester focuses on improvisations and composition exercises. Students then select a contemporary or classical text as the basis for a longer adaptation, which they write and stage.
20th-Century Avant-Garde Performance
Theater 317
CROSS-LISTED: ART HISTORY, EXPERIMENTAL HUMANITIES, LITERATURE
"Set fire to the library shelves!" wrote the Italian futurists in their manifesto of 1909. With their revolutionary politics, audience provocations, and enthusiastic embrace of the new, the futurists inaugurated a century of avant-garde performance. This course investigates that century, tracing the European and American theatrical avant-gardes from 1909 to 1995, including movements and artists such as expressionism, surrealism, and Dada; John Cage, Allan Kaprow, and Happenings; utopian collectives of the 1960s; and Peter Handke, Heiner Müller, and Reza Abdoh.
Brecht and His Legacy
Theater 326
Few modern theater artists have been as pathbreaking in their own time—or as influential for future generations—as German playwright, poet, director, and theorist Bertolt Brecht. This seminar explores Brecht's writings for the theater and his theatrical legacy, and locates his aesthetics in arenas such as feminist and queer performance texts, documentary and political drama, postcolonial drama, and contemporary critiques of capitalism. Other writers and artists investigated include Heiner Müller, Peter Weiss, Caryl Churchill, and Augusto Boal.
One-to-One Performance
Theater 330
One-to-one performance—a single performer engaging with a single audience member—has been a popular trend in the last decade, raising questions about the politics and aesthetics of spectatorship and participation. In this advanced studio, students create one-to-one performances on the subject of borders, in conjunction with the Live Arts Bard Biennial on borders and migration. Artists studied include Adrian Howells, Franko B, Leena Kela, Oreet Ashery, and Brian Lobe.
Devised Theater Lab
Theater 331
Through practical exercises, including improvisations, games, and ensemble techniques, students learn how to generate ideas and research, and shape, organize, and create new works for the stage. The course also examines how several contemporary artists and ensembles generate new works. Assignments include experiential essays, a research paper, and active participation in collaborative creations.
Contemporary Performance and Theater by Women
Theater 336
CROSS-LISTED: GSS
The course begins with an investigation into the roots of feminist theater and then explores contemporary practices through the lens of gender and performance theories. Writers and performers studied include Virginia Woolf, Gertrude Stein, Adrienne Kennedy, María Irene Fornés, Suzan-Lori Parks, Caryl Churchill, Sarah Kane, Lisa Kron, Karen Finley, Ann Liv Young, and Marina Abramovic.
Advanced Acting: Rehearsal Technique
Theater 344
Students in this studio class explore techniques tailored to specific acting opportunities. How does preparing an audition monologue differ from rehearsing a scene for audition purposes? How does the style of a play dictate the choices made in approaching rehearsal? Students prepare material from a wide variety of theatrical texts to rehearse with the instructor and perform in scheduled showings.
South African Theater
Theater 352
CROSS-LISTED: AFRICANA STUDIES, HUMAN RIGHTS
The theater of contemporary South Africa is inextricably linked to its history and politics. This course divides that history into two periods: the years of apartheid from the election of the National Party government in 1948 to the release of Nelson Mandela from prison in 1990; and the postapartheid years. Theater makers studied include Athol Fugard, Mbongeni Ngema, Percy Mtwa, Barney Simon, Pieter-Dirk Uys, John Kani, Mpumelelo Paul Grootboom, Zakes Mda, Aubrey Sekhabi, Lara Foot, Yaël Farber, and William Kentridge.
Performing Queer
Theater 353
CROSS-LISTED: GSS
Theater and performance artists interested in upending heteronormative constructions of gender have long used an array of performance strategies such as camp, cross-dressing, cabaret, disidentification, and radical reimaginings of both private and public sex acts. After close study of critical readings grounded in feminism, postcolonialism, and queer studies, the class explores how the texts illuminate and complicate the work of artists such as Justin Vivian Bond, Split Britches, Taylor Mac, Nao Bustamante, and Charles Ludlam.
Activating Public Space through Pageant Puppetry
Theater 356
A parade, a festival, a happening, though momentary, can shape our perception of a shared space and alter how we see ourselves as part of a community. This course explores how artists can animate public space through performance, imprinting a neutral site with lasting narratives, memories, and microhistories. In addition to exploring hands-on techniques for creating an art parade in a public space, a major focus of the class is the conceptualization, design, construction, and staging of a community-based procession.
New Play Development: The Writer and the Director
Theater 357
Playwrights are often paired with directors who are tasked with helping them realize their vision, although other collaborative models exist. In this workshop, playwrights and directors are paired up to develop new works generated by the writer, with students exploring the rules of engagement and the collaborative nature of the process, as well as its limits. The course culminates in stage readings of new work generated in the course. Prerequisite: Theater 107 or Theater 203.

Performing Resistance / Resistance as Performance
Theater 359
This advanced course interrogates the theory and practice of resistance in body-based performance. Working from the proposal that artists need to be versed in social and political as well as aesthetic skills, the class explores performance as a practice that blurs the lines between art, life, and politics, and studies the history of participation, dialogue, and direct action as expressed in performance. Through a series of exercises, students also investigate practices of resistance, including public intervention, lecture performances, food-based projects, reenactments, and the use of archives.

Reclaiming Time
Theater 365
Students explore the limits of their practices through time, space, site, repetition, and gesture. How do we prepare our bodies physically, mentally, and spiritually to engage in durational works? Artists studied include Tehching Hsieh, Regina José Galindo, Chantal Akerman, Ernesto Pujol, and Marina Abramovic.
Junior/Senior Seminar: Creative Producing for the Performing Arts
Theater 370
CROSS-LISTED: DANCE
This course provides students with the knowledge and skills to evolve their creative imaginations and launch a creative practice after graduation. Topics include budgeting, grant writing, and crafting an articulate artist's statement. Guest speakers and the producing resources of Bard's Fisher Center for the Performing Arts offer a range of perspectives. (The course is identical to Dance 350, Junior/Senior Seminar in Dance, and alternates with it annually.)
Junior/Senior Colloquium: The Zócalo
Theater 405
The Zócalo, the biweekly colloquium for the Theater and Performance Program, is a forum where students and faculty share news and ideas of relevance to the field, and meet visiting artists and other guests. Students present work-in-progress performances and receive structured feedback from faculty and peers.