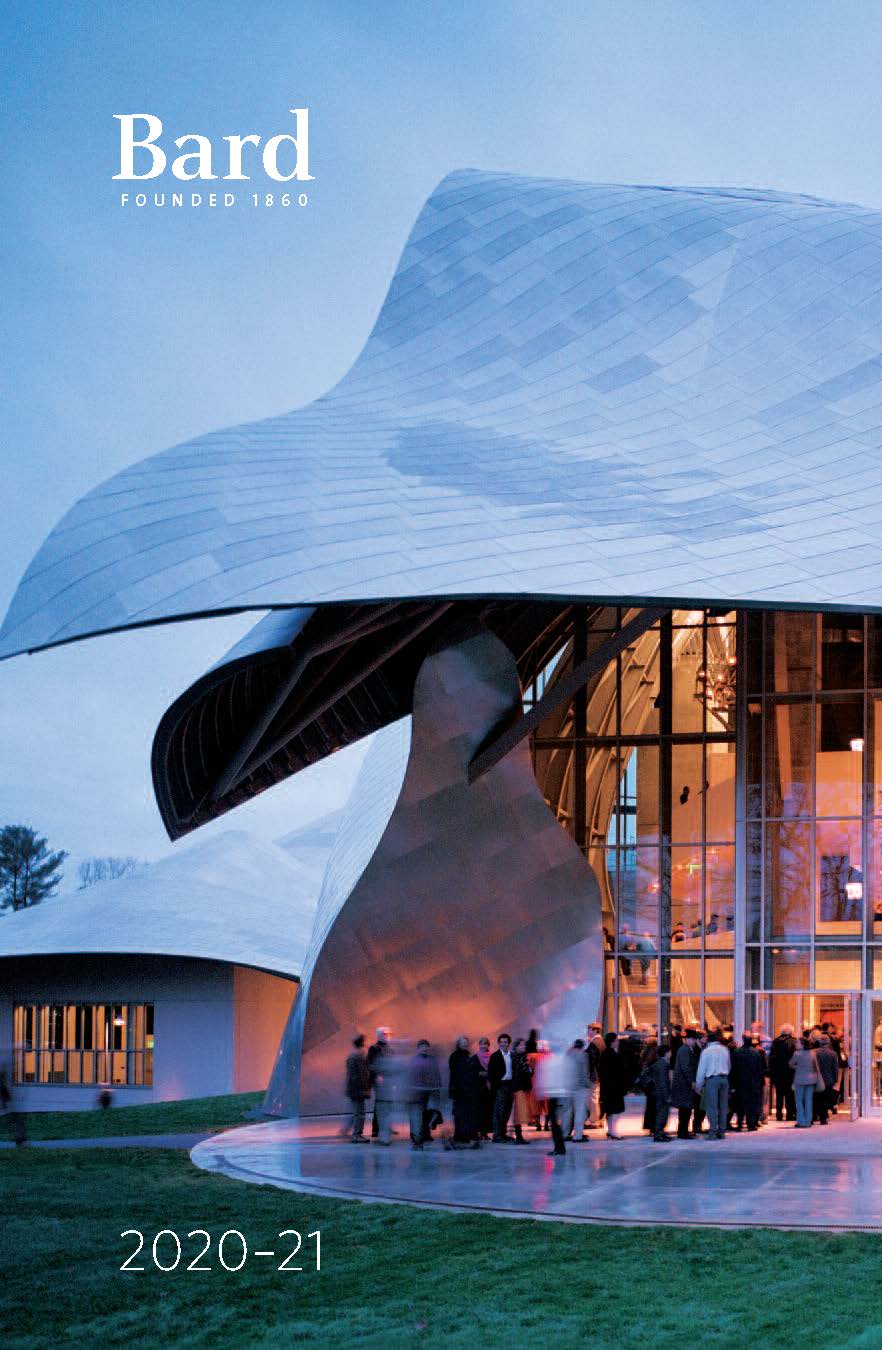 Bard College Catalogue 2020-21
Dance

Faculty
Maria Q. Simpson (director), Souleymane Badolo, Jean Churchill, Lindsay Walker Clark, Peggy Florin, Tara Lorenzen
In residence:
Select faculty from Gibney, a Manhattan-based dance and theater organization
Overview
The Bard Dance Program sees the pursuit of artistry and intellect as a single endeavor and the study of the body as a cognitive act, demanding both physical practice and exploration of the broader academic contexts in which the art form exists. The program fosters the discovery of a dance vocabulary that is meaningful to the dancer/choreographer and essential to his or her creative ambitions. This discovery leads students to cultivate original choices that are informed by a full exploration of their surroundings and to find expression in new and dynamic ways. Through intensive technique and composition courses, onstage performance, and production experience, dance students are prepared to understand and practice the art of choreography and performance.
In fall 2020, the Dance Program began a multiyear partnership with the Gibney Company. The partnership brings cutting-edge and diverse dance artists to Bard through undergraduate courses, artist residencies, interdisciplinary collaborations, campus-wide events, and public performances..
Areas of Study
The Dance Program offers technique courses in ballet, modern dance, and West African dance as well as courses in composition, dance history, dance science, performance and production, and dance repertory.
Requirements
Prior to Moderation, students must take a minimum of 4 credits in technique and 6 credits in composition. All moderating students must submit choreography for consideration in one of the year's two Moderation dance concerts. Each moderating student must present performance work for acceptance into the major. Once accepted, students may choose to concentrate in creative work, performance, or both.
Once a student moderates, requirements for the major include two courses in movement practices per semester, including three ballet courses; at least one course in a dance form or practice of the African diaspora; Dance 317,
Dance Composition III
(unless concentrating in performance); Dance 355,
Materials of Movement
; Dance 360,
Dance History
; one course in a practicing arts discipline outside of dance; a writing and/or criticism course (e.g., Philosophy and the Arts); a full year of technique under the Dance Program professional partnership; and the Junior/Senior Seminar. Additionally, attendance at Dance Workshop is required of all majors. Held each semester, the workshop helps students prepare for any one of four annual productions. For the Senior Project, students prepare choreography, a performance, or other material of appropriate scope for public presentation. All Senior Projects include a 20- to 30-page paper that synthesizes interests in areas outside of dance where appropriate and relates these processes to the development of the specific work presented.
Recent Senior Projects in Dance:
"Black w(H)ole Theories"
"Enforced Sitting and Authoritarianism in Schools: The Myth of the Body-Mind Divide"
"In Fullness and Most Time," two dances and a year of writing
"The Lying Archive: A Work in Three Parts"
Facilities
The Dance Program is located in The Richard B. Fisher Center for the Performing Arts, where facilities include two studios and a fully equipped, 200-seat theater.
Courses
The Dance Program offers 100-level -studio classes for first-year students and other beginning dancers; 200-level classes, which are open to all students at the intermediate level of technique; and 300-level classes, open to all students with the experience appropriate for an advanced-level course. All dance studio classes have live musical accompaniment. Tutorials arise out of a student's interest in delving deeply into a subject that is not generally covered in the curriculum. Topics have included dance pedagogy, partnering technique, pointe work, and specific elements of dance history and dance science.
The descriptions below represent a sampling of courses from the past four years.
Introduction to Dance: The Expressive Body
Dance 103A
For students who want to engage in an intense experience of modern-rooted dance forms influenced by those of Western Europe and of the African diaspora. Classes cultivate kinesthetic sophistication, physical creativity, strength, stamina, and collaborative skills, and place equal emphasis on developing skills in improvisation and composition alongside "dancerly" capacities. Part of the Bard/ADF partnership.
Introduction to African Dance
Dance 103B
Rooted in contemporary African dance, this course explores movement over/under/inside and outside the tradition. By listening to internal rhythms of the body and the beat of the music, dancers can discover their own musicality and movement language.
Beginning Dance
Dance 104
Ballet and modern dance technique classes for the beginner. No experience is necessary.
Advanced Beginner Dance
Dance 105-106
Courses in modern dance and ballet for students with some experience. Fundamental issues of anatomical alignment are emphasized through the development of basic vocabulary.
Dance Composition I, II, III
Dance 117-118; 217-218; 317-318
Three levels of composition courses are required of all dance majors. The 100-level classes introduce the fundamentals of movement, including timing, energy, space, balance, and phrasing. Viewing other students' work and learning to articulate constructive criticism serve to hone the dancer's aesthetic eye. Classes at the 200 level address questions of phrase development, form, and relationship to sound/music. At the 300 level, composition classes address production elements in dance performance, including lighting, costumes, and sound.
Hip-Hop
Dance 122
This introduction to hip-hop dance includes a survey of the history, theory, and literature of the genre. Students learn to execute hip-hop groove techniques and styles within social dances, as well as apply these elements to freestyle.

Movement as Deep Listening
Dance 124
Students explore movement improvisation as a practice for deeply listening to and engaging individual and collective perception, imagination, expression, and presence. The 2-credit course challenges the premise that improvisation requires individuals to invent movement and instead fosters the ability to skillfully use the movement that is already happening in and through our bodies as a valuable source of creative expression. Various improvisational practices are explored that enable the class to improvise alone as well as in duet and ensemble configurations.

Dabkeh: Palestinian Stomp
Dance 135
Dabkeh, a popular dance form that emerged in Palestine, Lebanon, Syria, Jordan, and Turkey, comes from the Arabic for "stomping the ground." It has historically been, and continues to be, danced at community celebrations, but in the past several decades it has also become more stylized for performances on stage and in dance competitions. Students learn traditional versions of dabkeh, danced in a line or a circle, as well as more contemporary choreographies.
Alexander Technique
Dance 141
An introduction to the principles and applications of the Alexander Technique (AT), a method of psychophysical reeducation developed by F. Matthias Alexander in the early 20th century. AT pays close attention to functional anatomical organization and to how thought, on the sensory and neuromuscular level, plays a crucial role in an individual's "use" of his/herself.
Intermediate/Advanced Studios
Dance 211-212, 311-312
Intensive technique studies are essential to a serious dance student's training. Intending and current dance majors must register for 2 credits of dance technique each semester. Classes are also open to nonmajors with experience, inclination, and permission of the instructor.
Intermediate/Advanced Modern Dance:
With and Beyond the Solo Body
Dance 215-216
Classes generate new understandings of what dance can do; hone collaborative skills; and
cultivate the ability to sustain intense, in-depth physical investigations in form. Readings, viewings of videos, and/or attendance at live performances are also required. Other Dance 215-216 courses have dealt with finding common ground between hip hop and modern/postmodern dance forms.

African Contemporary Dance
Dance 232
CROSS-LISTED: AFRICANA STUDIES
Students are guided through a series of isolations, progressions, and concepts that are found in African dance styles. Emphasis is placed on the principal of polyrhythm, the positions of the head, torso, and legs and arms, as well as articulation. Cultural, philosophical, and aesthetic concepts help the dancers to embody the technique. Open to intermediate and advanced dancers, or with permission of the instructor.
Moving Consciously
Dance 240
Intended for experienced movers, both dancers and athletes of all kinds, this course dives into the principles of Alexander Technique within a studio setting. Through floor exercises, standing warmups, and game-like structures, the class explores how habitual patterns of thought and movement are intimately connected, paying attention to what can be shed in order to allow for more wholeness, efficiency, and support of their three-dimensional selves.
Dance Repertory
Dance 315-316
Designed to expose students to the real life demands of a professional dancer, class time is spent in the development and rehearsal of a dance in preparation for a public performance at semester's end. Choreographers consist of faculty and outside guest artists.
Cultural Studies of African American Dance Forms
Dance 322
An exploration of African American dances that have captured the imagination of the American public over the last century, focusing on three sites where the dances are routinely found: the club, the stage, and the screen. Using a historical overview of various styles and sites, the class considers who dances, how they move, and how movement constructs identity. Coursework includes critical engagement with readings, photographs, and videos, as well as movement sessions.
Problems in Dance and Performance History:
The Postmodern Shift
Dance 335
CROSS-LISTED: THEATER AND PERFORMANCE
What is postmodern performance, how does it relate to modern dance, and how does it extend to current performance practices? The 1960s saw a marked shift in creative practices that opened up who could perform and create performance. In this course, the artists and trends that helped usher in that new level of cross-disciplinary collaboration are explored. Also discussed: modernism and postmodernism's philosophical developments, modern and postmodern characteristics of other art forms, and significant political and cultural developments influencing the modern/postmodern distinction.
Junior/Senior Seminar in Dance
Dance 350
This course provides students with the knowledge and skills needed to begin a professional practice. Students prepare a portfolio of their work, delve into development, explore the range of jobs that allow for a continuing creative practice, and learn how to interact with professionals in all aspects of the performing arts. Rotating guest teachers address issues relevant to artists entering the field and discuss their own roles within the professional dance/theater world.
Materials of Movement
Dance 355
The course addresses musculoskeletal anatomy in detail and considers its relationship to movement generally, and dance specifically. Emphasis is placed on the systematic relationships within our moving bodies as we shift between the local and global perspectives. The goal is to present a scientific basis for the human body that enhances the technical and aesthetic growth of dance performance. Prerequisite: For moderated students (in any discipline) with an active dance practice.

Dance History: Right to Dance
Dance 360
Dance is perhaps the most basic form of art, needing only the body for its creation. The course traces dance history, looking at Western court dances, folk dances across different continents, Native American cultural celebrations, and theatrical and social dance, while acknowledging that historical documentation goes only so far. Students are encouraged to write their own dance history—drawing connections across time and space through essays and creative projects.

Dance Writing Lab
Dance 400
Led by a member of the dance faculty, students meet weekly to explore research questions and engage in writing practices required as part of the Senior Project in dance.