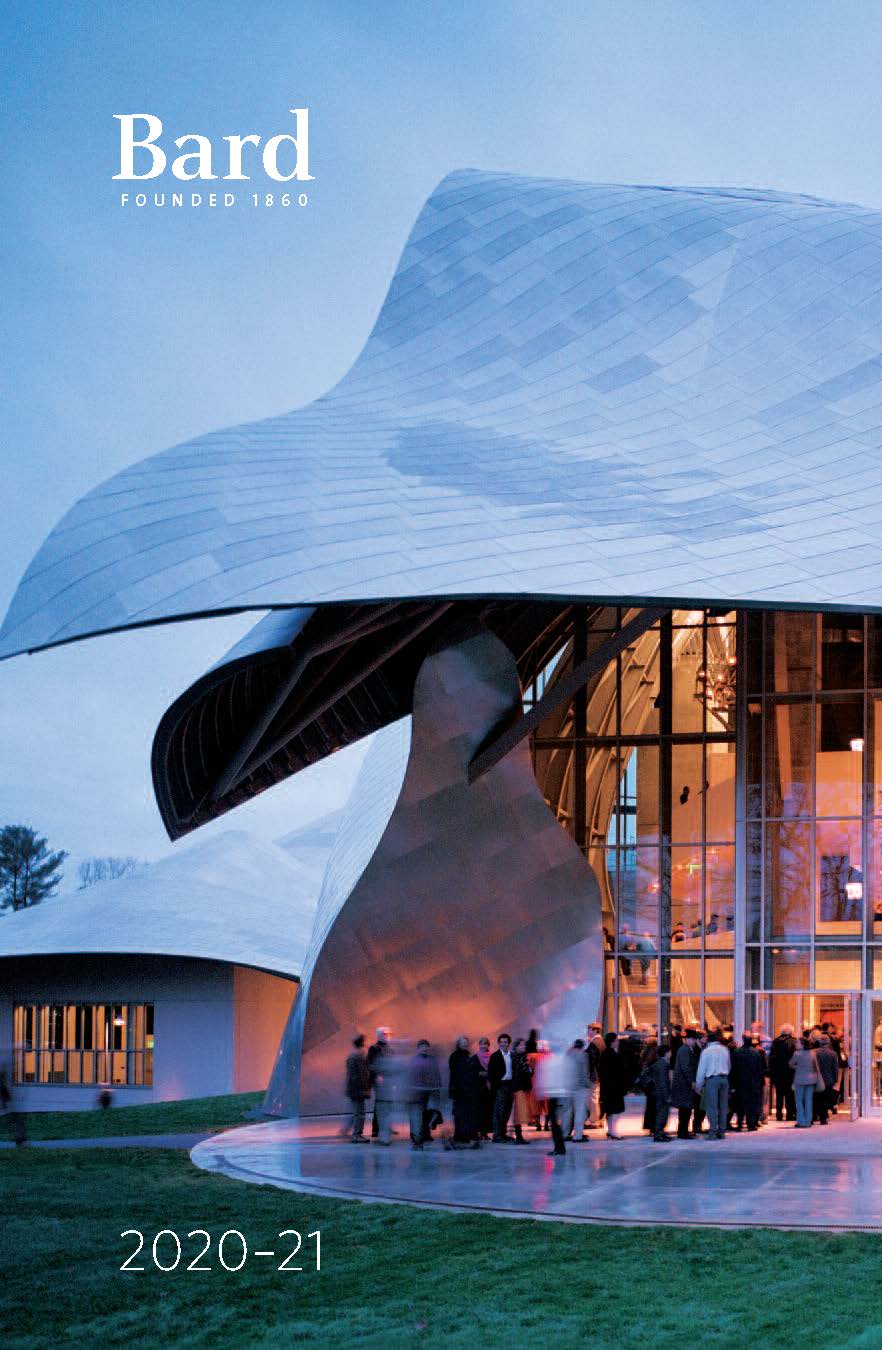 Bard College Catalogue 2020-21
Human Rights
Faculty
Thomas Keenan (director), Ziad Abu-Rish, Roger Berkowitz, Emma L. Briant, Ian Buruma, Nicole Caso, Christian Ayne Crouch, Mark Danner, Omar G. Encarnación, Helen Epstein, Tabetha Ewing, Nuruddin Farah, Kwame Holmes, Laura Kunreuther, Susan Merriam, Gregory B. Moynahan, Michelle Murray, Gilles Peress, Dina Ramadan, Chiara Ricciardone, Peter Rosenblum, John Ryle, Sophia Stamatopoulou-Robbins, Drew Thompson, Éric Trudel, Robert Weston, Ruth Zisman
Overview
Human Rights is an interdisciplinary program spanning the arts, natural and social sciences, and languages and literature. Human Rights courses explore fundamental conceptual questions, historical and empirical issues within the disciplines, and practical and legal strategies of human rights advocacy. Students are encouraged to approach human rights in a spirit of open inquiry, challenge orthodoxies, confront ideas with reality and vice versa, and think critically about human rights as a field of knowledge rather than merely training for it as a profession.
Requirements
Students moderate into the Human Rights Program alone or in combination with another program (usually through a joint Moderation), by fulfilling the other program's requirements and the following program requirements. All students, whether joint or stand-alone majors, must anchor their studies of human rights in a disciplinary focus program of their choice (e.g., anthropology, biology, art, history, etc.). Prior to or concurrent with Moderation, students are required to take at least three human rights core courses, one additional course in human rights, and two courses in the disciplinary focus program. Following Moderation, students take at least three additional 4-credit courses in human rights, at least one of these at the 300 level; the junior research seminar (Human Rights 303); and two further courses, including one at the 300 level in the disciplinary focus program. The final requirement is completion of a Senior Project related to human rights. To concentrate in the Human Rights Program, students must take two core courses and three additional elective courses, including at least one at the 300 level.
Recent Senior Projects in Human Rights
"How Undocumented Youth Perform Citizenship"
"Politics and Human Rights: Reading Rancière and Arendt"
"Thinking of Doggerland: Experiments in Climate Fiction and Narratives of Human Rights"
Internships and Affiliated Programs
Students are encouraged to undertake summer internships and participate in programs off campus, including the Bard Globalization and International Affairs Program, Central European University, Smolny College, American University of Central Asia, and Bard College Berlin.
Courses
Core courses include Human Rights 101, Introduction to Human Rights; Human Rights 105, Human Rights Advocacy; Human Rights 120, Human Rights Law and Practice; Human Rights 213, Gay Rights, Human Rights; Human Rights 218, Free Speech; Human Rights 226, Women's Rights, Human Rights; Human Rights 234, (Un)Defining the Human; Human Rights 235, Dignity and the Human Rights Tradition; Human Rights 240, Observation and Description; Human Rights 2509, Telling Stories about Rights; and Human Rights 257, Human Rights and the Economy. Core courses offered through other fields of study include Anthropology/GIS 224, A Lexicon of Migration; Anthropology 261, Anthropology of Violence and Suffering; History 2356, American Indian History; History 2631, Capitalism and Slavery; Political Studies 245, Human Rights in Global Politics; and Spanish 240, Testimonies of Latin America.
Introduction to Human Rights
Human Rights 101
What are humans and what are rights? Students consider the foundations of rights claims; legal and violent ways of advancing, defending, and enforcing rights; documents and institutions of the human rights movement; and the questionable reality of human rights in our world. Readings are drawn from Hannah Arendt, Nuruddin Farah, Michael Ignatieff, Kant, David Rieff, and Rousseau, as well as Human Rights Watch and the American Civil Liberties Union.

Human Rights Advocacy
Human Rights 105
CROSS-LISTED: GIS
Half of the course focuses on the history and theory of human rights advocacy—What is it to make claims for human rights, or to denounce their violation, especially on behalf of others? How, when, and why have individuals and groups spoken out, mounted campaigns, published exposés?—and half involves hands-on work with Scholars at Risk. The class researches specific events and individuals, communicates with families and advocates, writes country and case profiles, proposes strategies for pressuring governments and other actors, and develops appeals to public opinion.
Human Rights Law and Practice
Human Rights 120
This is a core course on the origin, evolution, and contemporary state of human rights law and practice. The first half explores the rise of international human rights law and the transnational human rights movement. The second half is devoted to case studies in contemporary human rights, focusing on issues of migration, criminal justice, labor, health care, and inequality. Authors include Louis Henkin, Samuel Moyn, Lynn Hunt, and Kathryn Sikkink. Case studies are prepared from contemporary materials from courts, activists, and critics.
Eleanor Roosevelt
Human Rights 153
CROSS-LISTED: AMERICAN STUDIES
Eleanor Roosevelt, first lady of the United States from 1933 to 1945, was a campaigner for social, economic, and civil rights; one of the most influential public diplomats of the 20th century; a journalist; and a teacher. She was also keenly interested in the Bard College curriculum, and particularly approved of Bard's public engagement activities. Students use archival material, available through the FDR Library, to investigate the ways Eleanor Roosevelt deployed the media forms of her day to "educate" the broader public and to further examine her views on liberal arts education.
Gay Rights, Human Rights
Human Rights 213
CROSS-LISTED: GSS
An in-depth survey of historical and contemporary struggles for LGBT rights, including the right to association, repeal of antisodomy statutes, privacy rights, equal protection, military service, employment discrimination, same-sex marriage, adoption rights, and transgender rights around restroom access and incarceration. The course focuses on LGBT rights in the United States, but broader contexts in American history and international human rights law are also considered.
Free Speech
Human Rights 218
What is "freedom of speech"? Is there a right to say anything? Why? This course investigates who has had this right, where it came from, and what it has to do with literature and the arts. Debates about censorship, hate speech, the First Amendment, and Article 19 of the Universal Declaration of Human Rights are starting points, but less obvious questions—about surveillance, faith and the secular, confession and torture—are also explored.

Mapping Police Violence
Human Rights 219
CROSS-LISTED: AMERICAN STUDIES, EUS
DESIGNATED: ELAS COURSE
Questions addressed include: What can we know about police violence, and what are the barriers to data transparency and distribution? What are the political, legal, economic, and cultural means through which Western societies authorize the use of deadly force? Can we measure the impact of police violence on factors like public health indices, property values, educational opportunities, and the distribution of social services? In pursuit of answers, the course engages political theory, history, sociology, economics, and cultural studies.
Epidemics and Human Rights
Human Rights 223
CROSS-LISTED: ANTHROPOLOGY, BIOLOGY, GIS, GSS, PSYCHOLOGY
Epidemiologists study how diseases spread through populations. They track down the sources of outbreaks, explore disease trends, and try to understand the social forces that influence sexual behavior, weight gain, and other complex human phenomena. Because the spread of disease is frequently influenced by economic conditions and/or government policies, epidemiology also serves as a powerful forensic tool for human rights activists. The class looks at research on public health emergencies such as Ebola and AIDS, and recent mysterious increases in specific mental illnesses.
Women's Rights, Human Rights
Human Rights 226
CROSS-LISTED: GIS
Following an overview of first-wave feminism, the course engages students with second-wave feminism, including the critical appropriations and contestations of Marxism, structuralism, and psychoanalysis that were characteristic of post-1968 feminist theory; poststructuralist theories of sexual difference; écriture féminine; '70s debates surrounding the NOW and ERA movements; and issues of race and class at the center of third-wave feminism.
Dissent, Ethics, and Politics
Human Rights 227
CROSS-LISTED: LITERATURE, RES
Václav Havel, in his essay "The Power of the Powerless" (1978), defines Eastern European dissidents as those who decided to "live in truth." This course, part of the Courage to Be series, examines various conceptions and strategies of political resistance in former Soviet Bloc countries, with a focus on the role of intellectuals and writers. Central to this inquiry is the question of what it means to say no to power—and the relevance of this question today. Texts by Havel, Patocka, Kundera, Solzhenitsyn, Sakharov, Kis, and others.
Problems in Human Rights
Human Rights 233 / Anthropology 233
CROSS-LISTED: AFRICANA STUDIES
The course approaches a set of practical and ethical human rights issues through the study of historical and contemporary rights campaigns. These include the antislavery movement in Britain in the 18th and 19th centuries (and later campaigns against human trafficking); the adoption of the Universal Declaration of Human Rights after World War II; the fight to ban antipersonnel landmines in the 1990s; ongoing debates around female genital cutting; and campaigns for LGBTQIA rights.
(Un)Defining the Human
Human Rights 234
CROSS-LISTED: GSS
At least since Aristotle, philosophers have sought to delineate the contours of the human. To define what it means to be human is at once to exclude those modes of being deemed to be not human—a process of exclusion that produces various categories of otherness: thing, animal, savage, slave, other, foreigner, stranger, cyborg, alien. Students engage with a range of theoretical discussions that attempt to situate the human being vis-à-vis its varying "others."
Dignity and Human Rights Traditions: A New Law on Earth
Human Rights 235
CROSS-LISTED: POLITICAL STUDIES
Lawyers in Germany and South Africa are developing a "dignity jurisprudence" that might guarantee human rights on the foundation of human dignity. Is it possible to develop a secular and legal idea of dignity that can offer grounds for human rights?

Observation and Description
Human Rights 240
The observation and description of reality is a fundamental problem for human rights. The process of trying to understand what we see, how we see it, and how we describe it brings us closer to a resolution. This seminar sets out to reappropriate reality, to see images in the heart and eye before they harden as categories, styles, and definitions.
Constitutional Law: Theory and Comparative Practice
Human Rights 243 / Political Studies 243
See Political Studies 243 for a full course description.

Can We Retire from Race?
Human Rights 249
In 2012 the conceptual artist and philosopher Adrian Piper famously "retired" from being Black. This 2-credit workshop takes its inspiration from Piper's provocative gesture and growing skepticism about racial categorization. It aims to challenge students' thinking about the racialized identities we inhabit/inherit and concerns itself with two questions: to what extent do we create ourselves and to what extent are our identities passively received? Authors may include Piper, Paul Gilroy, James Baldwin, Albert Murray, and Thomas Chatterton Williams.
Telling Stories about Rights
Human Rights 2509 / Literature 2509
See Literature 2509 for a course description.
Far Right Populism
Human Rights 252
This course explores the rise of far-right populism in Europe and the United States by examining the literature (in history, sociology, political theory, and journalism) of this ferocious, sprawling movement. Also considered is how the right has reconfigured itself, adopting (or making peace with) such traditionally liberal causes as gay and women's rights. Readings by Jan-Werner Müller, Étienne Balibar, John Judis, Arlie Hochschild, Ta-Nehisi Coates, Sindre Bangstad, Édouard Louis, Michelle Goldberg, Ian Buruma, and Michel Houellebecq.
Human Rights and the Economy
Human Rights 257
This course explores the history of "economic and social rights" before looking at efforts to bring human rights considerations into the project of development and use human rights in battles with investors and global corporations. Texts include works by Amartya Sen, Philip Alston, Peter Uvin, Jeffrey Sachs, Paul Collier, William Easterly, Abhijit Banerjee, and Esther Duflo; and case studies of activist engagements with Nike, Shell Oil, the World Bank, and others. Also considered is the United Nations' engagement with business and human rights.
How to Change the World: Theories and Practices
Human Rights 258
Whether we are campaigning for civil rights, environmental justice, refugee rights, or LGBTQIA and women's rights, a prerequisite to success is a theory of social change that guides the methods employed. Protest tactics are plentiful, from direct action in the streets to ballot initiative, but if the theory of change underlying the activism is false, then protests are bound to fail. This course looks at four theories of change—voluntarism, structuralism, subjectivism, and theurgism—through case studies from ancient Greece to the modern world.
Epidemiology of Childhood
Human Rights 261
CROSS-LISTED: GIS, GPH
Childhood has always been treacherous. In many parts of the world, infants and toddlers still succumb in vast numbers to pneumonia, malaria, and other killer diseases; in the West, doctors are flummoxed by soaring rates of developmental and learning disabilities like autism and attention deficit disorder, and psychological conditions like depression and psychosis. The course examines how researchers study the major afflictions of childhood, and how the public health and human rights communities have attempted to protect children's health, often successfully, over the past 200 years.
Trump Abroad: America First and the End of Human Rights
Human Rights 262
President Trump has moved quickly to undermine the alliances that have anchored U.S. foreign policy for decades and brushed aside the human rights ideology that animated it. This seminar takes an unsparing look at this momentous, real-time phenomenon. The class examines Trump's vision—its roots and evolution—and analyzes his efforts to impose it, with special attention paid to the fate of the U.S. human rights agenda.
Capitalism and Slavery
Human Rights 2631 / History 2631
See History 2631 for a full course description.
Research in Human Rights
Human Rights 303
What does it mean to do research in human rights? What are the relevant methods and tools? How do political and ethical considerations enter into the conduct of research? The seminar explores a range of theoretical and methodological approaches to the field, with readings from a variety of interdisciplinary perspectives.
Food, Labor, and Human Rights
Human Rights 311
This seminar looks at domestic and international efforts to regulate and improve the conditions of workers who produce food. The class first studies the history of agricultural labor, the role of plantation economies, and contemporary analyses of the relationship between labor and the economics of food production. It then considers private and public mechanisms to improve conditions, including social-certification programs and fair trade. Case studies include migrant workers in the Hudson Valley, tomato pickers in Florida, and tea plantations in India.
History of Human Rights
Human Rights 316
International human rights is both young and old: the core ideas stretch back to the Enlightenment, but the founders of the modern movement are just reaching retirement. And there is still considerable debate over what human rights is—a movement, an ideology, a set of laws? Texts by founding figures of the modern movement (Louis Henkin, Aryeh Neier); journalists (Adam Hochschild); and historians (Lynn Hunt, Samuel Moyn, Carol Anderson, Elizabeth Borgwardt, and Ken Cmiel.
Evidence
Human Rights 3206
Evidence would seem to be a matter of facts, far from the realm of literary or artistic invention. But, whether as fact or fiction, we are regularly confronted by all sorts of signs and we need to learn how to read the traces of things left behind. This seminar explores the theory and practice of evidence, with special attention paid to the different forms evidence can take and the disputes to which it can give rise, especially when violations of, and claims for, human rights are at stake.
Pax Americana in the Movies
Human Rights 333
CROSS-LISTED: FILM AND ELECTRONIC ARTS
Hollywood played an important role in telling ordinary Americans why World War II had to be fought to its conclusion. A new world order, shaped by the United States and its allies, and protected by American power, was designed to promote the ideals of freedom, democracy, international cooperation, and human rights. This course examines those postwar ideals by analyzing some of the popular movies that promoted them, as well as films that showed how these ideals affected the outside world.
Photography and Human Rights
Human Rights 343
Human rights today is unthinkable apart from photography. Without photography—the vector by which NGOs generate knowledge, evidence, and funding, based on a sense of empathy and urgency—there would probably be fewer human rights and no humanitarian movement. Starting with historical accounts by Lynn Hunt and others, the class explores the ways in which visual appeals have played a defining role in the establishment of human rights, both as consciousness and as constitutional and international law.
Anti-Semitism: Anatomy of Hatred
Human Rights 350
CROSS-LISTED: JEWISH STUDIES
For as long as there have been human beings, there has been hatred, and anti-Semitism is one of its oldest and most persistent forms. What is anti-Semitism, and how has it manifested itself in different eras, regions, and cultures? What insights can we gain about other forms of hatred (homophobia, racism, Islamophobia) from the study of anti-Semitism? Readings include selections from contemporary experts; historical figures such as Peter Stuyvesant, George Washington, and Adolf Hitler; religious figures; newspaper articles and social media postings; and Nazi and neo-Nazi literature.
Reproductive Health and Human Rights
Human Rights 354
CROSS-LISTED: GIS, GPH, GSS
Beginning in the 13th century, a radical shift in attitudes and norms concerning family life began to spread from one society to another. It changed relationships between women and men, and parents and children, as well as how people saw themselves. Scholars call this shift the Demographic Transition, narrowly defined as a progressive reduction in the size of families and an increase in the survival of children. This course addresses the consequences of the Demographic Transition on women, children, men, societies, and nation.
Curating within Obscurity: Research as Exhibition Structure and Form
Human Rights 356
What happens when the research behind a posthumous curatorial subject influences the structure and form of an exhibition? This course examines key concepts such as authority, authenticity, preservation, and circulation, by retracing the steps taken to produce the artistic and curatorial-based work of Essex Hemphill, Brad Johnson, and Julius Eastman—three important yet obscured artists. Students are expected to produce a research project about an artist that they feel has been obscured posthumously.
Violence, Sovereignty, and the Image: Analyzing ISIS Media
Human Rights 357
CROSS-LISTED: GIS
Boris Groys has suggested that video art is the medium of choice for the contemporary warrior, and that Osama bin Laden was the king of video artists. The warrior/terrorists of the Islamic State (ISIS) are both iconoclasts and masters of spectacular image creating, editing, and distributing. Bin Laden once reminded Mullah Omar that "media war" was "90 percent of the total preparation for the battles." This course looks at what happens when violence becomes the permanent expression of sovereignty and the state of exception becomes the norm.
LGBTQ+ Issues in U.S. Education
Human Rights 358
CROSS-LISTED: GSS
An overview of both the history and contemporary landscape of lesbian, gay, bisexual, transgender, queer, and related (LGBTQ+) issues in U.S. education. Students explore the legal, political, pedagogical, and empirical questions that have been central to this field over the last three decades, such as: What are the rights of LGBTQ+ students and educators, and what are the obstacles to their being realized? What do LGBTQ+ supportive school environments look like, and what does research tell us about their effectiveness?
Language of History and Politics: Human Rights and the Bosnian War
Human Rights 359
CROSS-LISTED: EXPERIMENTAL HUMANITIES, GIS
Many consider the breakup of Yugoslavia and, particularly, the war in Bosnia (1991–95), as the birthplace of contemporary human rights discourse and practice. One hundred thousand died there in what courts later judged to be a genocide, and phrases like ethnic cleansing, humanitarian intervention, and international criminal justice entered our lexicon. This research workshop, linked to the production of a book, explores the concepts and narratives in which the conflict played out, through intensive work with documents, historical accounts, political analyses, and images from the war.