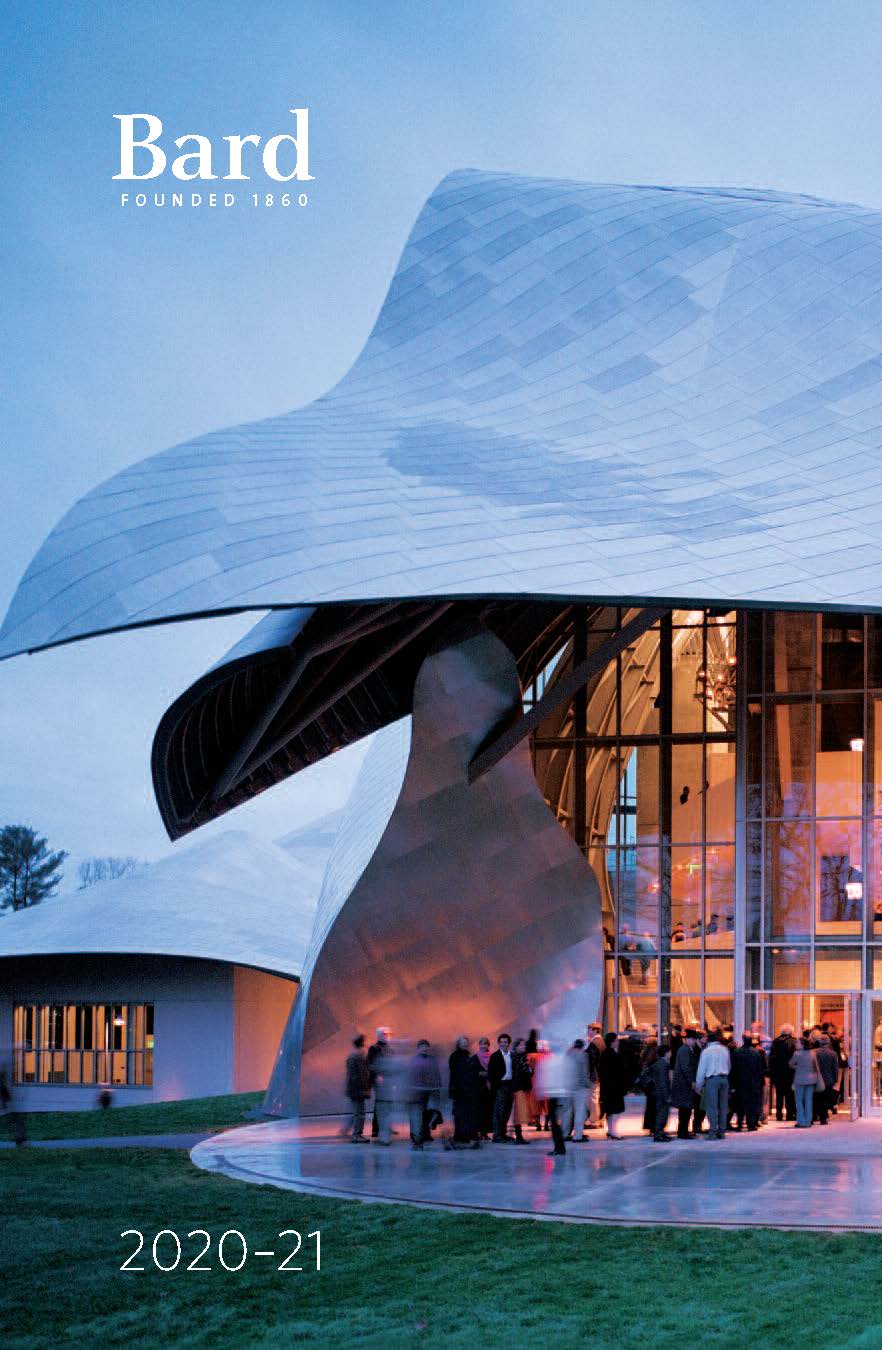 Bard College Catalogue 2020-21
Foreign Languages, Cultures, and Literatures
Faculty
Li-Hua Ying (director, fall), Melanie Nicholson (director, spring), Stephanie Kufner (coordinator), Matthew Amos, Franco Baldasso, John Burns, Nicole Caso, Odile S. Chilton, Robert L. Cioffi, Lauren Curtis, Elizabeth N. Holt, Franz R. Kempf, Marina Kostalevsky, Lu Kou, Patricia López-Gay, Oleg Minin, Karen Raizen, Dina Ramadan, James Romm, Nathan Shockey, Wakako Suzuki, Éric Trudel, David Ungvary, Olga Voronina, Marina van Zuylen, Thomas Wild
Overview
At Bard, the study of a foreign language provides students with the opportunity to acquire a critical appreciation of foreign cultures and literatures in addition to language skills. Integral to the process is the mastery of the foreign language and its use in the study of written texts—not only literature, but also texts from such fields as philosophy, history, and theology—and of nonverbal expressions of culture such as art history, music, and cinema.

Languages currently taught at Bard include Arabic, Chinese, French, German, Hebrew, Italian, Japanese, Russian, Spanish, and ancient Greek, Latin, and Sanskrit. Bard maintains a state-of-the-art language facility, the Center for Foreign Languages and Cultures, at the F. W. Olin Language Center, which offers the Bard community many different ways to explore foreign languages and cultures outside the regular language and literature classes. See flcl.bard.edu/language-lab for more details.
Most of the languages taught through the Foreign Languages, Cultures, and Literatures (FLCL) Program offer an intensive format that allows students to complete the equivalent of one and a half years of language study within just a few months. Such courses include a one- or two-month summer or winter program in a country where the target language is spoken. After studying abroad, students demonstrate an impressive increase in linguistic capacity. They also gain cultural knowledge, and the exposure to different manifestations of cultural activity makes them aware of the interrelatedness of diverse disciplines. Most students choose to continue their path toward linguistic and cultural fluency by taking courses at the intermediate and advanced levels.
Requirements
While each area of language study has its own intellectual and academic plan, all are connected by the study of literature and other cultural expressions through the medium of language. Students are free to work with the languages and texts of more than one culture; thus they can combine the plans of more than one language for Moderation and in their Senior Project. Moderation requirements may vary depending on the focus language; students should refer to information provided by the specific area of study. For all FLCL students, a Senior Project can be a purely literary project (typically involving critical interpretation and translation) or any combination of literary and nonliterary expressions of a given culture.
Recent Senior Projects
"Bodies Inscribed in the Landscape: Poetic 'Exhumations' of Chile and Argentina's Desaparecido"
"Love, Loss, and Liminality: Classical and Medieval Perspectives on Orpheus and Eurydice"
"The Lover's Way: Reevaluating Proustian Desire" (French Studies)
"Seize the Means of Reproduction! Gender War in Zamyatin's We" (Russian and Eurasion Studies)
Courses
The descriptions below are a sampling of courses from the past four years.
Arabic
Beginning Arabic
Arabic 101-102
This course focuses on speaking, reading, writing, and comprehension skills in Modern Standard Arabic, the form of Arabic shared by all Arab countries. Classroom time is devoted to conversation and grammar exercises stemming from DVDs and other materials. Emphasis is also placed on authentic resources that derive from current cultural contexts, realities, and creative work of the Arab world.
Intermediate Arabic
Arabic 201-202
The class focuses on the functional use of Arabic in a natural communication setting. The basic language skills—reading, speaking, listening, and writing—are dealt with simultaneously. Aspects of Arab culture and differences between Modern Standard Arabic and the spoken language are highlighted.
Advanced Arabic
Arabic 301-302
Students read selections from Arabic literary journals, with a focus on the poetry and prose of the 1950s and 1960s; develop their literary and critical vocabularies in Arabic; and refine their writing. The primary textbook is The Connectors in Modern Standard Arabic.
Chinese
Beginning Chinese
Chinese 101
Modern (Mandarin) Chinese is introduced through intensive drilling in oral and written forms. Emphasis is placed on speaking, basic grammar, and the formation of characters. This course is followed by an intensive course (8 hours per week) in the spring and a summer immersion program (6 weeks) in China.
Intensive Beginning Chinese
Chinese 106
The course focuses on both the oral and written aspects of the language, giving students a basic understanding of standard Chinese and the ability to engage in simple conversations. A summer immersion program in China follows (financial aid is available to cover part of the costs).
Intermediate Chinese I-II
Chinese 201-202
For students who have taken one year or more of basic Chinese and want to expand their linguistic proficiency and cultural knowledge. Audio and video material that presents real-life situations supplements the primary textbook. Daily practice, frequent quizzes, homework assignments, and tutorials are built into the course. Chinese 202 emphasizes communicative activities and language games. Texts also include newspapers, journals, and fictional works.

The Chinese Novel
Chinese 215
It has been said that The Story of the Stone has the critical acclaim of James Joyce's Ulysses, the popular appeal of Margaret Mitchell's Gone With the Wind, and is twice as long as the two combined. Students read, in its entirety, a beautiful, scholarly, and complete translation of a work that one fifth of the world's population considers to be the best novel ever written. They also learn something about the cultural history of China, in particular attitudes and conceptions of gender.
Exotic Landscapes: Travel and Travel Writing in China's Borderlands
Chinese 216
CROSS-LISTED: ASIAN STUDIES, EUS, HUMAN RIGHTS, LITERATURE
Representations of China's borderlands (Mongolia, Tibet, Xinjiang, Yunnan, etc.) and its ethnic minorities are explored through Western and Chinese travel writings. The focus is on two periods, the first between 1850 and 1911, a time of extensive and often violent encounters between China and the West; and the early 1980s to the present. Authors include Sven Hedin, Isabella Bird, Archibald J. Little, Alexandra David-Neel, George E. Morrison, Ma Jian, and Sun Shuyun.
Advanced Chinese I-II
Chinese 301-302
These courses are for students who have taken the equivalent of five semesters of basic Chinese at Bard or elsewhere. The goal is to expand students' reading and speaking capacity and enrich their cultural experiences. Texts are mostly selected from Chinese newspapers.
Theater and Performance in the Chinese-Speaking World
Chinese 311
An introduction to Chinese-language theater from the early modern period to contemporary times in China as well as the diaspora, centering on avant-garde performances. The class examines the interwoven relationships among the state, politics, identity, and performance, and in particular it investigates how, despite the state's efforts to define artistic creativity, the theater has always defied the status quo.
Reflections of China in Film
Chinese 403
With the primary goal of enhancing speaking, listening, reading, and writing skills, this course examines films from China, Taiwan, and Hong Kong, exploring such topics as the origin of Chinese cinema, nationalism and revolution, cinematic representation of contemporary and historical themes, the search for roots in the post-Mao era, the Fifth Generation and experimental fiction and film, Hong Kong popular culture in the commercial age, feminism and sexuality, and representations of exile, diaspora, and the new immigrants. Conducted in Chinese.
Popular Culture in Contemporary China
Chinese 405
The course examines contemporary Chinese popular culture and asks how it represents, reflects, and negotiates the drastic social and political changes that happened in China from 1949 to 2019. It also focuses on the politics of popular art in China: how popular culture becomes a "weapon" wielded by the proletariat to instigate revolution; how it embraces global capitalism; and how it serves as a propaganda machine to shape collective mentality. Taught in Chinese.
Performing Chinese: Culture, Identity, and Politics
Chinese 415
How does performance in everyday Chinese society shape one's identity, culture, and political affiliation? Can a person of non-Chinese origin who speaks and writes the language claim to be Chinese? How does one perform "Chinese-ness"? This course examines the relationship between the individual, state, and society, with a focus on the ways that language, politics, and culture shape identity. Texts include newspaper articles, films, political treatises, and plays that have shaped and/or divided Chinese communities.
Classics
Introduction to Greek Tragedy
Classics 111
An introduction to the texts and traditions of Greek tragedy, which flourished in Athens during the fifth century BCE. Close study of the major plays of Aeschylus, Sophocles, and Euripides (in English translation) gives students familiarity with the genre of tragedy as a complex art form and, in particular, as a vehicle for the transmission of core Western values—moral, political, and aesthetic.
The Greek World: An Introduction
Classics 115
This introductory course explores the social, cultural, and political history of the Greek world from its earliest beginnings in the Bronze Age to the "renaissance" of Greek literature and culture under the Roman Empire. The class examines the creation of political forms (from democracy to tyranny), contacts and conflicts between Greece and the East, the rise and fall of world empires, and the invention of literary genres. Materials studied include vase paintings, inscriptions, and texts by Aeschylus and Aristophanes. All readings in English.
The Roman World: An Introduction
Classics 122
An exploration of the social, cultural, and political history of Rome from its earliest beginnings as a small city-state to the dominant imperial power that still influences the language we speak, the art we make, and the laws we follow. The class considers a range of literary, visual, and material primary sources: inscriptions, coins, wall paintings, archaeological data, and texts such as Vergil's Aeneid, Livy's history of Rome, and Pliny's Letters. All readings in English.
Vergil for Beginners
Classics 142
What is the greatest long poem in the Western tradition? Far more voices, over far more centuries, have spoken for Vergil's Aeneid than for Homer's Iliad, Dante's Commedia, or Milton's Paradise Lost. The class reads the Aeneid twice; the first time in Robert Fitzgerald's 1983 translation and, after a break, in the 2017 translation by David Ferry. Between readings, students consider the historical background of the poem's composition and read Vergil's earlier works, the Eclogues and Georgics.
Gender and Sexuality in the Ancient World
Classics 211 / History 211
See History 211 for a full course description.

Herodotus and Thucydides
Classics 232
CROSS-LISTED: HISTORICAL STUDIES
Herodotus and Thucydides are generally called historians, but the word only begins to describe them. Herodotus uses the chronicle of the Persian Wars to explore geography, anthropology, religion, and ethical philosophy; Thucydides weaves into his account of the Peloponnesian War debates on foreign policy, political science, justice, and morality. The two address themselves to timeless concerns of democracies and hegemonic powers. Works are read in their entirety, with attention paid to the questions they raise in both ancient and modern contexts.
The Fall of the Roman Empire
Classics 236
At the end of the third century AD, the Roman Empire stretched from Spain to Asia Minor. It was so vast that its administration was divided into eastern and western zones. Two hundred years later, the empire lost control of most of its western provinces. The events associated with these losses constitute the "Fall of the Roman Empire." This course explores the causes behind the collapse and assesses the afterlife of Roman culture in the "Barbarian" West. Readings (in English) from Gregory of Tours, Boethius, Augustine, and Sidonius Apollinaris.

The Classical Epic
Classics 237
Epic poetry was the most prestigious form of poetic expression throughout antiquity, and a grasp of its history, techniques, themes, structure, and ideologies is essential to understanding the classical and, indeed, world literary tradition. This course examines the evolution of the epic in the Greek and Roman worlds from its origins as an oral genre in the Archaic Greek period to its final efflorescence in the Late Antique period (late fourth/early fifth century CE). Readings from Homer, Apollonius, Lucretius, Vergil, Lucan, and others.
Classical Mythology
Classics 242
What is the meaning of our mythologies? How do we understand and interpret traditional stories about the past? What is the relationship between mythology and history? This course seeks to answer these questions by examining selected myths of ancient Greece and Rome and applying to them theoretical approaches to interpreting myth. Topics include origin myths, Greek gods and heroes, war, the human-divine relationship, madness, divine love and lust, death and the afterlife, and Greco-Roman mythology in its wider Mediterranean context. Readings in English translation.
Poetry and Athletics
Classics 275
The meanings to be seen in athletics have stirred the meditations and praises of poets in many cultures and genres. This course looks at the strange intersections of the physical, social, and sacred we still recognize in sports. Readings include case studies of the wedding of poetry to athletics in still thriving Oceanic cultures; victory odes for the ancient Greek games, principally those of Pindar; and sports poetry in Europe and the Americas, ranging from bullfighting and capoeira to baseball.
The Invention of Difference
Classics 322
The literatures of the classical world—the Persian Empire, Egypt, Ethiopia, and India—were concerned with the representation of other peoples, places, and cultures. How did ancient writers think about difference? What is the relationship between structures of power and the literature of difference? This seminar explores the invention of difference in texts such as the Odyssey, Aeschylus's Persians and Suppliant Women, Euripides's Helen and Iphigenia among the Taurians, and Aristophanes's Acharnians, among others.
Roman Arts of Self-Improvement
Classics 327
CROSS-LISTED: RELIGION
Behind every self-help book lies the supposition that reading and self-formation are inextricably entwined. This assumption raises a host of questions about the self and its reinvention. How do we change through reading and writing? What are we endeavoring to change (a mind, a belief, a soul)? From where did we inherit these ideas, and how have they changed over time? This course explores such questions in the context of the Roman world, through readings from Seneca, Marcus Aurelius, Apuleius, Boethius, and Augustine.
Ancient Greek
Basic Greek I-II
Greek 101-102
This two-semester sequence is designed for students with no experience of ancient Greek to read authors such as Homer, Sophocles, Euripides, Plato, and Herodotus in the original language. Grammatical exercises and drills are combined with developing skills for translating, reading, and interpreting Greek literature: students begin reading short selections from classical authors by the end of their first semester, and longer passages throughout the second semester.
Intensive Greek
Greek 106-107
This course makes it possible for students with no background in ancient languages to read Homer, Plato, Greek tragedy, Herodotus, and other classical texts after one semester. Daily drills and frequent quizzes, together with ample access to tutoring and extra help, ensure that students stay on track as they master Greek grammar and vocabulary. In Greek 107, the focus is on consolidating knowledge of forms and syntax, and gaining exposure to a variety of classical authors.
Intermediate Greek I: Herodotus
Greek 201
Students finish learning the fundamentals of ancient Greek, using the combined reading and grammar-based approach from Greek 101-102. The class then reads selections from Book 3 of Herodotus's Histories, the earliest work of historical writing in the Greco-Roman tradition, with a particular focus on the story of Cambyses, the Persian king who invaded Egypt, went mad, and killed his brother. Prerequisite: Greek 102 or its equivalent.

Intermediate Greek II: Euripides's Alcestis
Greek 202
A close examination of Euripides's tragicomic play Alcestis, which explores themes such as gender dynamics, the nature of sacrifice, and the possibility of cheating death. Students read extensive passages in ancient Greek and the entire play in English translation. Along the way, they also review essential points of grammar and syntax, investigate poetic meters, and develop an understanding of the social and political environment in Classical Athens.
Advanced Greek: Plato's Phaedrus
Greek 301
The course explores one of Plato's most enigmatic dialogues, the Phaedrus (375–365 BC). Socrates and his interlocutor begin their conversation with a review of a speech by the orator Lysias, but their discussion swiftly evolves in the pursuit of definitions for love, memory, rhetoric, and truth itself. The Phaedrus therefore compels readers to confront the self-reflectivity of ancient Greek literature, classic Platonic models of anamnesis and the Forms, and the enduringly problematic relationship between writing and knowledge. Prerequisite: Greek 202 or permission of the instructor.
Advanced Greek: Euripides's Bacchae
Greek 305
Performed posthumously in 405 BCE, the Bacchae narrates the return of Dionysos, the Greek god of theater, wine, and ecstasy, to his birthplace in Thebes. The tragedy is both a traditional story of homecoming and vengeance and an innovative exploration of the nature of divinity and myth, self and society, and tragedy itself. The class further develops reading fluency while gaining a range of critical approaches to the play. Prerequisite: Greek 201-202 or permission of the instructor.

Homer's Iliad
Greek 312
Students read selections from Homer's Iliad, which ancient Greeks considered their most important literary document and whose resonances today—especially its themes of trauma, loss, bravery, and forgiveness amidst the fog of war—are just as powerful. They develop reading fluency in Homeric Greek while exploring a range of critical approaches to Homer, including theories of composition and transmission (the so-called "Homeric Question") and questions about narrative, storytelling, and Iliad's place in the history of epic. Prerequisite: Greek 201-202 or permission of the instructor.
Advanced Greek: Aristophanes's Frogs
Greek 315
Aristophanes's comedies, at once bawdy and wordy, revolutionary and reactionary, combine mass entertainment with social commentary on Athens in the fifth century BCE. Students read (in the original Greek) Aristophanes's Frogs, in which the god Dionysus descends to the underworld to choose one of the recently deceased tragic playwrights, Aeschylus or Euripides, to return to help the city in crisis. The class also develops further reading fluency in Greek and research skills in the classics. Prerequisite: Greek 201-202 or permission of the instructor.
Latin
Beginning Latin
Latin 101-102
This two-semester sequence brings students with no prior knowledge of Latin to the level of reading ancient poetry and prose. The first semester focuses on grammatical exercises and drills, but the class gradually works toward reading short selections from a wide range of Latin literature.
Basic Intensive Latin
Latin 106
Students learn to read authors such as Vergil, Ovid, Cicero, and Augustine in the original language after one semester's intensive work (the equivalent of two semesters of college Latin). Daily drills and frequent quizzes are combined with readings: students begin with short selections and read longer passages by midterm.
Intermediate Latin: Love and Politics in Republican Rome
Latin 201-202
Designed for students reading continuous Latin for the first time, the course focuses on readings from the poetry of Catullus and from Cicero's defense speech of 56 BCE, the Pro Caelio. Composed in the same literary and cultural environment of Rome in the last days of the Republic, these works offer insights into the intersection of political power, gender relations, and shifting morals in the first century bce. Prerequisite: Latin 102 or 106 or the equivalent.
Advanced Latin I: Remaking the Classics
Latin 301
CROSS-LISTED: THEOLOGY
In the fourth century AD, citizens of the Latin West underwent a profound intellectual and identity crisis. The spread of Christianity, especially among the Roman elite, not only instigated reflections on theology and cosmology, but also triggered reconsiderations of canonicity, authority, and authorship in the fields of education and literature. This course examines two works that embody those emergent tensions between the classical and the Christian in the late Roman world: Proba's Cento and Augustine's Confessions. Prerequisite: Latin 202 or permission of the instructor.
Advanced Latin II: Roman Medea
Latin 302
An examination of how the mythic figure of Medea was reimagined and reinterpreted by the Romans, in particular Ovid and Seneca. The class reads works of both authors in Latin, together with their Greek sources, Euripides and Apollonius of Rhodes, in English.
Ovid in Exile
Latin 310
In 8 CE, Rome's most famous poet, Ovid, was banished by Augustus to the furthest frontier of the Roman Empire, the Black Sea. There he embarked upon his final work: a series of texts that grapple with the fraught relationship between the artist and imperial power, and express his state of geographic, political, and cultural exclusion. The class reads the third book of Tristia ("Lamentations") in Latin, along with as many selections from the rest of the corpus as time allows. Prerequisite: Latin 201-202 or permission of the instructor.
Horace's Odes
Latin 312
The class reads a selection of Horace's Odes, four books of Latin lyric that range from the funny to the philosophical, and considers the poetry's relationship to Greek and Roman literary traditions, Horace's other works, and his cultural and historical contexts. Prerequisite: Latin 201-202 or permission of the instructor.
Sanskrit
Sanskrit I, II
Classics 140, 141 / Religion 140, 141
See Religion 140 and 141 for course descriptions.
French
Basic Intensive French
French 106
For students with little or no experience of French who wish to acquire a strong grasp of the language and culture in the shortest time possible. Students complete the equivalent of three semesters of college-level French in a semester course that meets 10 hours a week and is followed by a four-week stay in France.
Intermediate French I-II-III
French 201-202-203
This introduction to contemporary French civilization and culture is for students who have completed three or more years of high school French or who have acquired a solid knowledge of elementary grammar. Students reinforce their skills in grammar, composition, and spoken proficiency through the use of short texts, newspaper and magazine articles, and video.
French Translation
French 215
This course helps students fine-tune their command of French and develop a good sense of the most appropriate ways of communicating ideas and facts in French. The course emphasizes translation as an exercise, as well as a craft in its own right, and addresses grammatical, lexical, and stylistic issues. Translation is practiced from English into French (and vice versa) with a variety of texts from different genres.

French through Film
French 220
This course explores major themes of French culture and civilization through the study of individual films ranging from the silent era to the present, and covering a wide variety of genres. The class considers the interaction between the French and their cinema in terms of historical circumstances, aesthetic ambitions, and self-representation. Conducted in French.

Comic Literature in the French Tradition
French 228
Laughter, an essentially humanizing behavior, can be as much a release of tension as a form of malice. Its ambiguity has been exploited in literary works over the centuries, from Rabelais's fart jokes to Flaubert's digs at bourgeois values, and from Molière's critique of hypocrisy to Vian's mockery of philosophical fads (Jean-Sol Partre!). This course delves into examples of humor in French and Francophone literatures, and explores several texts of a theoretical nature dedicated to the mechanics and messages of comedic writing.

Quarrels of the Ancients and the Moderns: Past, Present, and Future in the French Literary Tradition
French 235
The "querelle des anciens et des modernes," the conflict that raged at the heart of French letters from the late 17th century to the early 18th, pitted those who found the ancient Greeks and Romans to be untouchable in terms of artistic merit against those who considered contemporary innovations to be a progression beyond the inheritance of antiquity. This course explores the roles played by the past, present, and future in the French literary tradition, with a focus on several authorial oppositions: Corneille/Racine, Voltaire/Rousseau, Balzac/Flaubert, and Sartre/Blanchot.
Topics in French Literature
French 240
The class explores the ways in which, over the past three and a half centuries, literature (novels, short stories, poems, plays, essays) has attempted to grasp its own essence. Why literature? How can literature serve as a response to a problem (be it personal or political), or, taken from another angle, why is the questioning at the heart of literature often seemingly the sole solution? Readings from Diderot, Rousseau, Stendhal, Balzac, Nerval, Baudelaire, Mallarmé, Breton, Sartre, and Duras. In French.
Advanced Composition and Conversation
French 270
Students consider a diverse selection of writings (short works of fiction, poems, philosophical essays, political analysis, newspaper editorials, magazine articles) loosely organized around a single theme. The readings provide a rich ground for cultural investigation, intellectual exchange, in-class debates, in-depth examination of stylistics, and vocabulary acquisition. A general review of grammar is also conducted.
"Passions du Réel": Literature and Tyranny of Fact
French 315
CROSS-LISTED: LITERATURE
For the last few decades in France, the "call of the real" (Forest) has presented itself to many writers as nothing less than an ethical imperative. But how does one write the real? How can one reconcile the desire to document, to bear witness to what is there or memorialize what is already vanishing, with the formal and aesthetic issues at the core of what we consider to be properly literary? The class examines "factographic" texts by Augé, Bailly, Bove, Clerc, Ernaux, Perec, Rolin, and Vasset, among others.
Survey of 20th- and 21st-Century French Poetry
French 324
This survey of major trends in modern and contemporary French poetry provides students with the opportunity to practice close reading, examines the precarious nature of modern French verse, and considers the many accounts of a "crise de vers" (crisis) in 20th- and 21st-century poetry, as well as the fate of a rather emaciated and breathless lyrical "I." Works by Alferi, Apollinaire, Aragon, Bonnefoy, Breton, Cadiot, Cendrars, Collobert, Éluard, Guillevic, Jaccottet, Michaux, Ponge, Roche, Roubaud, Tarkos, and many others. Conducted in French.
Autrement Dit: Paroles des Femmes
French 325
This course introduces a variety of women's voices in 20th-century French literature and cinema. Texts by Colette, Simone de Beauvoir, Maryse Condé, Marguerite Duras, Annie Ernaux, Anne Hébert, Catherine Millet, Amélie Nothomb, and Nathalie Sarraute. Screenings of films by Chantal Akerman, Catherine Breillat, Claire Denis, Marguerite Duras, and Agnès Varda. Prerequisite: four years of French.
Baudelaire, Rimbaud, and Mallarmé
French 335
A poetic revolution was brought to the theory and practices of 19th-century French poetry by three of its most illustrious figures: Charles Baudelaire, Arthur Rimbaud, and Stéphane Mallarmé. As Victor Hugo's age of lyric romanticism came to an end, these poets took full measure of a modern subjectivity in crisis by making it a crisis of form, with increasing disenchantment, irony, self-reflexivity, and obscurity. Readings: Les Fleurs du Mal and Le Spleen de Paris (Baudelaire), Illuminations and Une Saison en enter (Rimbaud), and Poésies (Mallarmé).

Theorizing the French Novel
French 342
CROSS-LISTED: LITERATURE, PHILOSOPHY, SOCIOLOGY
How have philosophy and critical theory bestowed on French fiction and film a new ethical and aesthetic vocabulary, moving novelists and filmmakers to rethink their positions? Bourdieu, Rancière, Derrida, Balibar, Cixous, Levinas, and
de Fontenay, among others, have made a significant mark on French literature and cinema. This seminar explores issues including the aftermath of colonialism (Glissant/Fanon), reproductive politics (Foucault/Ernaux), social and cultural issues of secularism and identity (Plenel/Houellebecq), the clash between Paris and the banlieues (Balibar/Bon/Mathieu), and citizenship and migration (Chamoiseau/Daoud/Slimani).

The Lost and Found Art of Conversation from Montaigne to Beckett
French 344
Since Socrates, conversation has been admired for its seamless ability to integrate knowledge into society, and supplement savoir (knowledge) with savoir-vivre (the art of living). But conversation has often been condemned as merely artful, dangerous for its proximity to the decadent and the idle. This course examines how these tensions are played out on rhetorical and thematic levels. Texts by Montaigne, Beckett, Aristotle, Marx, Nietzsche, Pascal, Lafargue, Stendhal, and Proust.
Literature of Private Life
French 354
The representation of private life in the 19th- century French novel coincided with the advent of realism. Realism described both the institutions that shaped private life (marriage, education, religion) and the discrete dramas occurring backstage—the solitude of the spinster (Flaubert's Un Cœur Simple), plight of the child (Vallès's L'Enfant), despair of domesticity (Maupassant's Une Vie), and nature of neuroses (Zola's Nana). The course examines writings (novels, stories, journals, correspondence) previously considered too personal to be viewed as literature.
German
Intensive German
German 106
The course enables students with little or no previous experience in German to complete three semesters of college German within five months: the spring semester at Bard, plus four weeks in the summer at Bard College Berlin. Students progress from learning the language for everyday communication to reading and discussion of classical and modern texts by, among others, Goethe, Heine, Kafka, and Brecht. In Berlin, they further explore German language and culture, and participate in guided tours that introduce the city's history, architecture, and vibrant cultural life.

Accelerated Transitional German
German 200
An accelerated course for students with varied backgrounds in German. Emphasis is placed on a review of elementary grammar and the sharpening of all four language skills (speaking, comprehension, reading, writing), as well as cultural proficiency. Extensive reading, speaking, and vocabulary training exercises are combined with conversational practice, reading and dramatization of short classical and modern German texts, and weekly writing of simple compositions. Successful completion of this course (covering three semesters' worth of material) allows students to continue with German 202 in the spring.
Intermediate German
German 201-202
Designed to deepen the proficiency gained in Intensive German, this course increases students' fluency in speaking, reading, and writing, and adds significantly to their working vocabulary. Selected 20th-century literary texts and films include the cinematic classic Der blaue Engel and Friedrich Dürrenmatt's play Die Physiker.
Madness
German 220/ Literature 220
See Literature 220 for a full course description.
The Ring of the Nibelung
German 287
A study of Richard Wagner's cycle of four music dramas—a story about gods, dwarves (Nibelungs), giants, and humans that has been called a manifesto for socialism, a plea for racialism, a study of the human psyche, and a parable about the new industrial society. As we travel down the Rhine, across the rainbow, and through the underworld, our tour guides are the Brothers Grimm, Schopenhauer, Nietzsche, and the anonymous authors of the medieval Nibelungenlied and the Old Norse Poetic Edda.
Grimms' Märchen
German 303
Unfortunately, we seem to know the fairy tales of the Brothers Grimm only in adaptations that greatly reduce their power to touch our emotions and engage our imaginations. Through a close reading of selected tales, this course explores the tales' poetics and politics, and their origins in folklore and myth. The class considers major critical approaches (Freudian, Marxist, feminist); creative adaptations (Disney, classical ballet, postmodern dance); and other fairy-tale traditions.

Weltschmerz: Old Style, New Style
German 311
Goethe's early novel Die Leiden des jungen Werther (1774) and Ulrich Plenzdorf's Die neuen Leiden des jungen W., published in 1972 in East Germany, are more than scandal-filled successes about a love triangle between a couple and an odd man out who dies in the end. They are variations on the theme of weltschmerz, a phenomenon that can be defined as the inability of a young eccentric genius to adapt to the hard realities of the world. Analysis of these works focuses on the central issue, as well as literary style and concepts such as Sturm und Drang and Empfindsamkeit.

Life and Other Dreams
German 314
There is waking life, and then there is another "stage" on which dreams take place, as Sigmund Freud wrote in The Interpretation of Dreams. Students read influential and compelling dream narratives, with a focus on German-language literature and culture. How are dreams narrated, and how is their relation to the rest of life conceived? What is the logic of dreams according to Freud? Texts range from Genesis to works by Freud, Kafka, Adorno, Mann, and Benjamin.

Modern German Short Prose
German 320
A survey of great works of mainly 20th-century prose, including Novellen, Erzählungen, parables, and other short forms. Detailed literary analysis is combined with discussion of the social, political, and historical contexts of each work and interspersed with frequent creative writing assignments. Readings from Hoffmann, Kafka, Musil, Mann, Kleist, Benjamin, Bachmann, Dürrenmatt, Aichinger, Handke, Erpenbeck, Tawada, others. Conducted in German.
Words and Flowers: The Poem between Myth and Botany
German 322
Literature draws on the world of flowers and trees to create meaning. What kinds of lives do these neglected protagonists lead in literary texts? When one names a flower, what kind of knowledge is tacitly imparted? How do folklore, local life, mysticism, and observation of the natural world interact in literature? The course focuses on modern German-language poetry, and includes close readings of poems by Celan, Goethe, Heine, and Hölderlin. In German.
Confronting Injustice
German 324
CROSS-LISTED: HUMAN RIGHTS
This course looks at literary representations of and confrontations with injustice in the 19th and 20th centuries. Texts include works by Heinrich Heine, Rosa Luxemburg, Else Lasker-Schüler, Franz Kafka, Gerhard Hauptmann, Bertolt Brecht, Paul Celan, and the Book of Job in conversation with selections from Margarete Susman's study of Job's legacy. Topics discussed also include representations of perseverance against anti-Semitism, workers' struggles, and the relation of the individual to the law.
German Theater between Moral Institution and Participatory Happening
German 325
After an overview of pivotal moments in the history and poetics of German theater (Lessing, Schiller, Hauptmann), the class examines specific developments in modern and contemporary theater. These include the new aesthetics of expressionist theater and Max Reinhardt's work at the Deutsches Theater, Bertolt Brecht's development of the epic theater before and during World War II, and postwar efforts to stage Vergangenheitsbewältigung ("coming to terms with the past" of the Third Reich and Holocaust). Conducted in German.
Poetry and Philosophy
German 331
Is there something like sensory reasoning? Who has the capacity to formulate the unspeakable? Is humor a thought or a sentiment? Poetry and philosophy have for centuries offered fascinating responses to such questions—not least in the German tradition. Poets, philosophers, and poetic thinkers have addressed these concerns, including Goethe, Kant, Schiller, Hölderlin, Heidegger, Rilke, Benjamin, Brecht, and Arendt. The beauty and precision of their language(s) provokes a semester of conversations with these thinkers of and in the German language.

Life of the Mind: Hannah Arendt
German 337 / Philosophy 337
See Philosophy 337 for a full course description.

Heinrich Heine
German 408
For Nietzsche, Heine was "the highest conception of the lyric poet.... He possessed that divine malice without which I cannot conceive of perfection." Acquiring an appreciation of both the music and malice of Heine's artistry is the seminar's primary goal. In addition to reading the collected poems and selected prose works, attention is paid to the cultural and political contexts of Heine's works, with readings drawn from Marx, Hegel, Feuerbach, and Madame de Staël. In German
German Expressionism
German 418
Less a style than a Weltanschauung of a rebellious generation, German Expressionism—flourishing roughly between 1905 and 1925—is generally seen as an artistic reflection of a common feeling of crisis, the disappearance of individualism in burgeoning urban centers, the hypocrisy of Imperial Wilhelminian Germany, and the soulless materialism and (self-)alienation of increased industrialization. Texts by Wedekind, Benn, Heym, Lasker-Schüler, Kafka, Kaiser, and Trakl. Painting, music, and film are also considered.
The Experience of the Foreign in German Literature
German 421
An exploration of foreignness in modern German literature and opera (Lessing, Mozart, Novalis, Heine, Kafka, Frisch); contemporary films (Bohm, Fassbinder, Akin); and works of non-natives writing in Germany today (Tawada, Ören, Özdamar, Schami). Students discuss issues such as multiculturalism, homogeneity, and xenophobia with the goal of approaching cultural difference in what Claire Kramsch calls "a spirit of ethnographic inquiry rather than in a normative or judgmental way." Conducted in German.
Contemporary German Literature and Film
German 422
What is at stake for contemporary German writers, filmmakers, and intellectuals? What topics do they address in their movies, novels, poems, and plays? How do these artworks reflect Germany's multiethnic society and its pivotal role in a rapidly changing Europe? Discussion centers on texts by Herta Müller, W. G. Sebald, Hans Magnus Enzensberger, Terézia Mora, Ingo Schulze, and Emine Sevgy Özdamar, among others; and on films by Fatih Akin, Hans-Christian Schmid, and Michael Haneke.
Baroque Mourning and Melancholy: Text and Image
German 428
Writers in 17th-century Germany inherited and transmitted medieval and Renaissance theories of affect during a time of political and religious tumult. Twentieth-century readers of Walter Benjamin's decisive study, The Origin of the German Mourning Play, have looked to the Baroque as a primal scene of modernity—and yet few have read Benjamin's sources. Class readings include works from the German Baroque period in dialogue with passages from Benjamin's study, as well as texts by Gryphius, Lohenstein, Luther, Benjamin, Panofsky, and Sebald.
Correspondences: Figures of Writing
German 467
"One alone is always wrong; but with two involved, the truth begins," reads an aphorism by Friedrich Nietzsche. He also proposes an alternative mode of thinking and writing to the isolated genius: creative collaboration. This seminar explores several such collaborations: Hannah Arendt and Hilde Domin, Bertolt Brecht and Walter Benjamin, Paul Celan and Ingeborg Bachmann.
Hebrew
See Jewish Studies.
Italian
Intensive Italian
Italian 106
This course enables students with little or no ­previous knowledge of Italian to complete three semesters of college Italian in five months: 8 credits at Bard and 4 in Italy, where students continue daily intensive study of the language and culture while living with Italian families. The course methodology is based on a communicative approach, which includes grammar drills, guided compositions, oral practice, role-playing, and readings and analysis of authentic material.
Intermediate Italian I-II
Italian 201-202
Designed for students who have completed the equivalent of one year of college Italian, the course ­offers practice in writing and conversation. Students engage in discussion and must complete compositions and oral reports based on Italian literary texts and cultural material.
Italian Crimes / Italian Fictions
Italian 222
Crime fiction in Italy is called il giallo, after the color of the popular books that invaded the Italian market in the 1930s. The genre has become a major player in Italian self-representation even beyond Hollywood clichés. The course approaches modern Italian novels, including Sciascia's A Ciascuno Il Suo and Moravia's Il Conformista (and their filmic adaptations) with a focus on the fascist mentality, the evolution of mafia as a modern global enterprise, social and gender exclusion, and other issues. In Italian.
Sicily and Writing
Italian 227
South of Europe but at the center of the Mediterranean world, Sicily has been at the crossroads of cultures and peoples since Homer. The majestic, skeptical, bitter narratives of Sicily's writers, from Giovanni Verga to Luigi Pirandello and Giuseppe Tomasi di Lampedusa, trace a philosophical counternarrative to Italy's modernity. Filmmakers such as Luchino Visconti and Francesco Rosi amplify the tensions of Sicilian narrative through visually striking cinematic interpretations. Prerequisite: Italian 202 or permission of the instructor.
Renaissance Theater
Italian 232
The course aims to enhance students' oral and written production in Italian through an exploration of the Renaissance's diverse theatrical traditions—from Harlequin's mask to learned comedy, operatic gesture to tragic endings. Through texts, music, and performance, the class puts the Italian Renaissance into dialogue with broad theatrical traditions, ancient and modern. Texts include Machiavelli's La Mandragola, pastoral plays, excerpts from epic texts, and stage directions for commedia dell'arte productions.

Imagining Italian Cities
Italian 235
CROSS-LISTED: EUS
Unlike other European countries, Italy has no central stage in the construction of national culture. Instead it grounds its multifold identity on the difference and peculiarities of cities such as Florence, Venice, Naples, Trieste, and Milan. With a multidisciplinary approach from poetry to visual arts, this course constitutes an introduction to Italian civilization for students who have completed Intermediate Italian. Authors and filmmakers discussed may include Dante, Boccaccio, Machiavelli, Marinetti, Calvino, Ferrante, De Sica, Fellini, Pasolini, and Benigni.
Italy and Exile
Italian 236
Students enhance their oral and written production in Italian through the lens of exile, a crucial aspect of Italian consciousness from the medieval period to today. The course explores the idea of exile broadly, as both exile from a place and exile to another place, in selected works ranging from Dante to the 21st century. Texts include excerpts from Dante's Comedy, Machiavelli's The Prince, Antonio Gramsci's political writings, the prison letters of Nicola Sacco and Bartolomeo Vanzetti, and Igiaba Scego's novel La mia casa è dove sono.

Italy and Baroque Mediterranean
Italian 237
An exploration of Italian literature and theater at a critical juncture of Mediterranean culture. Trade routes, technological imports, and political conquests shaped the Baroque period and immersed Italy in cultural exchange, impacting Italian figurations of selfhood and the self's relation to others. Texts include excerpts from Torquato Tasso's Gerusalemme liberata, various iterations of the Don Juan narrative, and Wu Ming's novel Altai. Also considered is Italian popular theater as it related to theatrical traditions from the Ottoman Empire. Prerequisite: Italian 202 or permission of the instructor. In Italian.
Love and Death in Dante
Italian 3205 / Literature 3205
See Literature 3205 for a course description.

Pier Paolo Pasolini
Italian 322
A survey of the works of Pier Paolo Pasolini (1922–75), poet, filmmaker, journalist, theorist, and intellectual. He is elevated as a gay icon despite resisting the status; cast as sometimes communist, sometimes Catholic, sometimes both, and sometimes resolutely neither; charged with being an iconoclast; and touted as a pillar of postmodern Italian intellectualism. The course moves chronologically through his life and works, from early literary and filmic attempts at neorealism to his investment in auteur cinema. Prerequisite: Italian 202 or permission of the instructor. In Italian.
Democracy and Defeat: Italy after Fascism
Italian 331
CROSS-LISTED: HUMAN RIGHTS
This seminar takes an interdisciplinary approach to the cultural and intellectual history of Italy from 1943 to 1950. The heterogeneous aspects of the Italian cultural field after World War II are considered in a wide-ranging framework, in which postwar histories are informed not simply by the external context of the Cold War but also by preceding wartime discourses. Readings from Italo Calvino, Curzio Malaparte, Carlo Levi, Primo Levi, and Rosetta Loy. Prerequisite: Italian 202 or permission of instructor.

Japanese
Introductory Japanese I-II
Japanese 101-102
This two-semester sequence introduces the ­fun­da­mentals of modern Japanese. Students ­sys­tematically develop listening, speaking, writing, and reading abilities. Because fluency in Japanese requires sensitivity to the social setting in which one is speaking, the course also provides an introduction to basic aspects of daily life and culture in contemporary Japan.
Intermediate Japanese I-II
Japanese 201-202
The first part of this two-semester sequence builds upon the foundational knowledge acquired in the first year of Japanese language study. Students develop their abilities in the four primary skills: listening, speaking, writing, and reading. Coursework consists of extensive study of basic grammar, language lab work, conversation practice, and simple composition exercises. The second semester accelerates the acquisition of Chinese characters and introduces more complex grammatical patterns and expressions.
Advanced Japanese I
Japanese 301
The course introduces more complex grammatical structures, especially those common to written material, and accelerates character acquisition and advanced vocabulary. Students learn the fundamentals of dictionary use and acquire the skills necessary for speed-reading and accurate composition of written material. Prerequisite: Japanese 202 or the equivalent.
Advanced Japanese II
Japanese 302
In this continuation of Japanese 301, students concentrate on complex grammatical patterns while further accelerating the acquisition of characters and advanced vocabulary. They build oratory skills through debate on relevant social topics and through individual research presentations. Composition is also emphasized. Conducted in Japanese. Prerequisite: Japanese 301 or equivalent.
Reading and Translating Japanese: Theories, Methods, Practice
Japanese 315
For students who have had at least three years of Japanese and who can read at the advanced level. The class considers the nature and limits of translation within the Japanese context. While focusing on the techniques and craft of translation, students are also introduced to translation theory, both Western and Japanese, and examine well-known translations by comparing source and target texts. Prerequisite: Japanese 302 or equivalent.
Russian
Beginning Russian
Russian 101
An introduction to the fundamentals of the spoken and written language as well as Russian culture. Creative expression is encouraged through autobiographical and fictional compositions.
Russian Intensive
Russian 106
Designed for beginners who have had little or no prior knowledge of Russian, the course focuses on the fundamentals of the spoken and written language, and introduces students to Russian culture. Creative expression in autobiographical and fictional compositions is also encouraged. In addition to regular class meetings, students are required to attend a weekly one-hour tutorial.
Intermediate Russian I-II
Russian 201-202
The focus of this sequence is on the continuing acquisition of advanced grammar, pertinent vocabulary, and reading and conversational skills that enable students to communicate effectively. Advanced grammar constructions are introduced through a wide variety of adapted texts and contexts. In addition to textbook material, students read literary and journalistic texts.
Continuing Russian
Russian 206-207
Students continue refining and engaging their practice of speaking, reading, and writing Russian. Advanced grammar topics are addressed through a variety of texts and contexts.
An Appointment with Dr. Chekhov
Russian 220
While studying to become a doctor at Moscow University, Chekhov began writing in order to earn money. Students analyze how his "general theory of objectivity" had an impact on his writing and how his "treatment" of human nature and social issues brought an entirely new dimension to Russian literature. Readings include Chekhov's prose, plays, and letters.

Art of the Russian Avant-Garde (1900–34)
Russian 225
This multidisciplinary course addresses major developments in Russian modern and avant-garde art in the first three decades of the 20th century. It looks at particular movements, ideas, and seminal names, from Vrubel and symbolism to Tatlin and constructivism. The course also offers a methodology and context for the appreciation of the evolution of Russian visual culture and its contribution to the international art arena.

Stalin and Power
Russian 233/ History 233
See History 233 for a full course description.
Russian Opera: Staging History, Shaping Myths
Russian 327
CROSS-LISTED: MUSIC
An exploration of Russian history through the medium of Russian opera, which absorbed and confronted, transformed and blended the creative achievements of the Old World with the unique Russian experience. In the 19th century, opera became a powerful agent in Russia's search for national identity. Operas studied: Glinka's A Life for the Tsar, Mussorgsky's Boris Godunov and Khovanshchina, Rimsky-Korsakov's The Tsar's Bride, Tchaikovsky's The Queen of Spades and Eugene Onegin, Prokofiev's War and Peace, and Shostakovich's Lady Macbeth of Mtsensk.
Between Friends: Letters of Russian Writers
Russian 328
This advanced-level course looks at everyday life, literature, and the culture of the times through the letters of famous Russian writers of the 19th century, including Pushkin, Gogol, Tolstoy, Dostoevsky, and Chekhov. Conducted in Russian.
The Grammar of Poetry: Advanced Russian in Analytical Context
Russian 329
This course offers a practical approach to the fundamentals of Russian grammar and syntax through reading and analyzing poetic texts by Pushkin, Lermontov, Tyutchev, Blok, Akhmatova, Mandelstam, Tsvetaeva, Pasternak, Mayakovsky, Brodsky, and others. Also addressed: the history of Russian versification, the technical aspects of poetry, and translation of selected poems. Special attention is paid to principles of phonetics, intonation, and poetry recitation.
Russia and Its Theater
Russian 330
CROSS-LISTED: THEATER AND PERFORMANCE
Designed for students with at least two years of study in Russian or for heritage speakers who wish to practice reading, writing, and speaking the language. With a focus on select 19th- and 20th-century prose and poetic texts, the course builds vocabulary and improves students' ability to communicate in Russian. Texts by Pushkin, Gogol, Turgenev, Dostoevsky, Tolstoy, Chekhov, Sologub, Bunin, and Blok.
Translation: Russian to English
Russian 390
A practical and theoretical course consisting of regular weekly readings and translations of a variety of literary texts. Students also work on an independent project throughout the semester. Texts include short stories and poems by Bunin, Chekhov, Babel, Tolstaya, Dovlatov, Akhmatova, Pasternak, and others.
Kino Po-Russki: Advanced Russian through Film
Russian 418
This creative exploration of the Soviet cinematic canon also offers an in-depth study of Russian idiom, grammar, and syntax. Films discussed include Grigoriy Aleksandrov's Circus, Nadezhda Kosheverova and Mikhail Shapiro's Cinderella, Vladimir Menshov's Moscow Does Not Believe in Tears, Eldar Ryazanov's The Irony of Fate, and Andrei Tarkovsky's The Mirror. Listening comprehension, reading, and writing assignments alternate with discussions and reenactment exercises.
Spanish
Basic Intensive Spanish
Spanish 106
This course enables students with little or no previous knowledge of Spanish to complete three semesters of college Spanish in five months (8 credits at Bard and 4 credits in Mexico). Students attend eight hours of class per week, plus two hours with a Spanish tutor. Oral communication and reading and writing skills are developed through a variety of approaches.
Accelerated First-Year Spanish
Spanish 110
Designed for the student with prior exposure to Spanish or command of another Romance language, the course covers major topics in gram­mar with intensive practice in speaking, comprehension, reading, and writing. Practice with a Spanish tutor and work in the language lab are required. The course prepares students for summer language programs abroad or for Spanish 201.
Intermediate Spanish I
Spanish 201
This course is designed to perfect the command of all four language skills (speaking, comprehension, reading, writing) through intensive grammar review, conversation practice, reading of modern Spanish texts, writing simple com­po­sitions, and language lab work. Prerequisites: Spanish 106 or 110 (or equivalent), and permission of the instructor.
Intermediate Spanish II
Spanish 202
In this course, students continue to refine their mastery of the four basic skills: reading, writing, speaking, comprehension. The textbook offers an integration of literature, culture, and film. The study of visual and written texts focuses on critical thinking, interpretation, speaking, and writing skills. Prerequisite: Spanish 201 or the equivalent.
Spanish for Heritage Speakers
Spanish 212
Designed for students who have been exposed to Spanish at home and wish to achieve confidence in speaking, writing, and reading the language. Grammar study capitalizes on prior contact with the language and allows more rapid progress than in a standard setting. Written ­composition, grammar review, and discussion of issues pertinent to Hispanic ­cultures are emphasized.
Cultures and Societies of Latin America and Spain
Spanish 223
The Spanish-speaking world comprises a rich variety of cultures that have historically been in dialogue, as well as resistance, over the centuries. This course focuses on key moments and events that have defined the multifaceted societies of Spain and Latin America. Special emphasis is placed on elements such as social movements, questions of race and ethnicity, postmodernity, constructions of gender and sexuality, and national and diasporic identities. Prerequisite: Spanish 202 or permission of the instructor.
Short Narrative / Latin American Literature
Spanish 230
This course traces the development of brief narrative forms from the Modernista period at the beginning of the 20th century to the present. Expanding the boundaries of the traditional short story, the class reads the stories of Jorge Luis Borges and short novels by Juan Rulfo, Elena Poniatowska, and Antonio Skármeta. Texts also include works by Horacio Quiroga, Julio Cortázar, Rosario Castellanos, Rosario Ferré, and Roberto Bolaño, among others. Conducted in Spanish.
Reading the Beast: Bestiaries and Beast Fables in Modern Literature
Spanish 240
DESIGNATED: THINKING ANIMALS INITIATIVE
What place do animals hold in our conception of the world in the 21st century? How do cultural representations of animals, particularly in literature, reflect (or fail to reflect) our interactions with the flesh-and-blood creatures that have inspired them? The bestiary and the beast fable are two traditional ways humans have used animals to tell stories about themselves. This course examines the surprising reemergence and reconfiguration of these modes in texts by Apollinaire, Borges, Cortázar, Lispector, Monterroso, Neruda, and Sedaris.
Testimonies of Latin America
Spanish 240
CROSS-LISTED: GSS, HUMAN RIGHTS
How best to represent memories of violence and pain? What are the ultimate effects of ­mediations of the written word, translations to hegemonic languages, and interventions of well-intentioned intellectuals? Students engage critically with texts that serve as a public forum for voices often silenced in the past. The course integrates diaries, testimonial narratives, and films.
Intermediate Spanish for Heritage Speakers
Spanish 248
This course is for students who have been exposed to Spanish at home and wish to achieve confidence in speaking, writing, and reading the language. Grammar study capitalizes on prior contact with the language and allows more rapid progress than in a standard setting. The intermediate level assumes some prior study of Spanish.
The Afterlives of Federico García Lorca
Spanish 266
Federico García Lorca is Spain's most widely read 20th-century poet and playwright. His works are virtually untranslatable and hermetically personal, and yet they continue to draw the interest of loyal readers around the globe. This course looks at Lorca's work from his early classicist texts to his late avant-garde production, including Gypsy Ballads, Poet in New York, and plays like Blood Wedding and The House of Bernarda Alba. Also addressed is Spain's culture and politics in the years leading up to Lorca's assassination in 1936.
Introduction to Spanish Literature
Spanish 301
This course explores some of the major literary works produced on the Iberian peninsula from the Middle Ages to the present day. Students become familiar with the general contours of Spanish history and study in depth masterpieces by Cervantes, Colón, Teresa de Jesús, Don Juan Manuel, Calderón de la Barca, Larra, Galdós, Unamuno, Lorca, Laforet, Llamazares, Orejudo, and Vila-Matas, among others.
Introduction to Latin American Literature
Spanish 302
This course covers a broad range historically—from ­pre-Conquest times to the present—and explores all literary genres, including poetry, short stories, novels, essays, and plays. In order to make sense of the broad chronological and geographical span of this literature, the class focuses on seven ­separate modules, each ­highlighting a core moment or key figure in the development of Latin American culture.
Perceptions of Reality in 20th-Century Latin American Literature
Spanish 320
This course addresses different mechanisms that representative Latin American writers of the 20th century—Vicente Huidobro (Chile), César Vallejo (Peru), Alejandra Pizarnik and Jorge Luis Borges (Argentina), Carlos Fuentes (México), Gabriel García Márquez (Colombia), and Cristina Peri Rossi (Uruguay)—have used to perceive reality, rethink the limits of language, and experiment with new forms of representation.

Rebellious Poets of the Spanish-Speaking World
Spanish 321
CROSS-LISTED: LAIS
Readings include late 20th- and early 21st-century Spanish language poetry defined by a sense of rebelliousness. How do these poets situate their work as markedly oppositional? What norms, expectations, or limitations are they fighting against? With a focus on work by writers from Chile, Mexico, and Spain, the class studies the poets' distinct national contexts and the ways in which their writing enters into dialogue with the broader poetic traditions of Spanish America and Spain. Prerequisite: Spanish 301 or 302, or permission of the instructor.
20th-Century Latin American Novel
Spanish 323
With the publication of Cortázar's Rayuela (Hopscotch, 1963) and García Márquez´s Cien Años de Soledad (One Hundred Years of Solitude, 1967), the Latin American novel achieved an international reputation and readership. This course analyzes several novels of the "boom" period to determine the reasons behind their critical acclaim and popular appeal; post-boom works are also examined. Authors may also include Allende, Arenas, Asturias, Carpentier, Cortázar, Fuentes, Peri Rossi, Puig, Skármeta, and Valenzuela. In English, with concurrent reading tutorial in Spanish.
The Broken Voice: Surrealist Poetry and Crisis in Spain
Spanish 324
Spanish poetry in the late 1920s and early 1930s—between the Great War (1914–18) and that somber prelude to the Second World War, the Spanish Civil War (1936–39)—was torn between its allegiance to the dehumanizing principles of the avant-garde and the growing pressures of political commitment. Against this backdrop, surrealism emerged as the last expression of the European intelligentsia and its promise to suture all wounds. Readings include works by Lorca, Alberti, Cernuda, and Aleixandre.
Engaging the Other in Latin American Theory
Spanish 345
Encounters among multiple cultures have made Latin America a fertile terrain for theorizing about the self and the other. This seminar traces various ways in which the other has been addressed in 20th- and 21st-century writings by a vast array of thinkers, including Fernando Ortiz, Ángel Rama, Néstor García Canclini, Antonio Cornejo Polar, Walter Mignolo, and others.
Spanish Literary Translation
Spanish 356
Designed for students who have completed at least two years of college Spanish. In each class meeting, students discuss theoretical texts concerning translation and write short reaction papers in Spanish. The first half of the semester is dedicated to translation of brief texts from various genres, selected by the professor; during the second half, students choose their own longer texts to translate. translate.

Haunted by the Ghost of Cervantes
Spanish 359
CROSS-LISTED: EXPERIMENTAL HUMANITIES, LAIS
Miguel de Cervantes's Don Quixote is intratextually attributed to a fictional Moorish author, at a time when the Moors were being expelled from Spain. Authors trapped in fiction are sometimes persecuted and then killed by their characters; others become invisible as they hide behind the lines they write. This course reflects on the notion of authorship from the birth of the modern novel in Golden Age Spain to contemporary times. Texts by Larra, Azorín, Pessoa, Martín Gaite, Buñuel, Borges, Bolaño, and others.