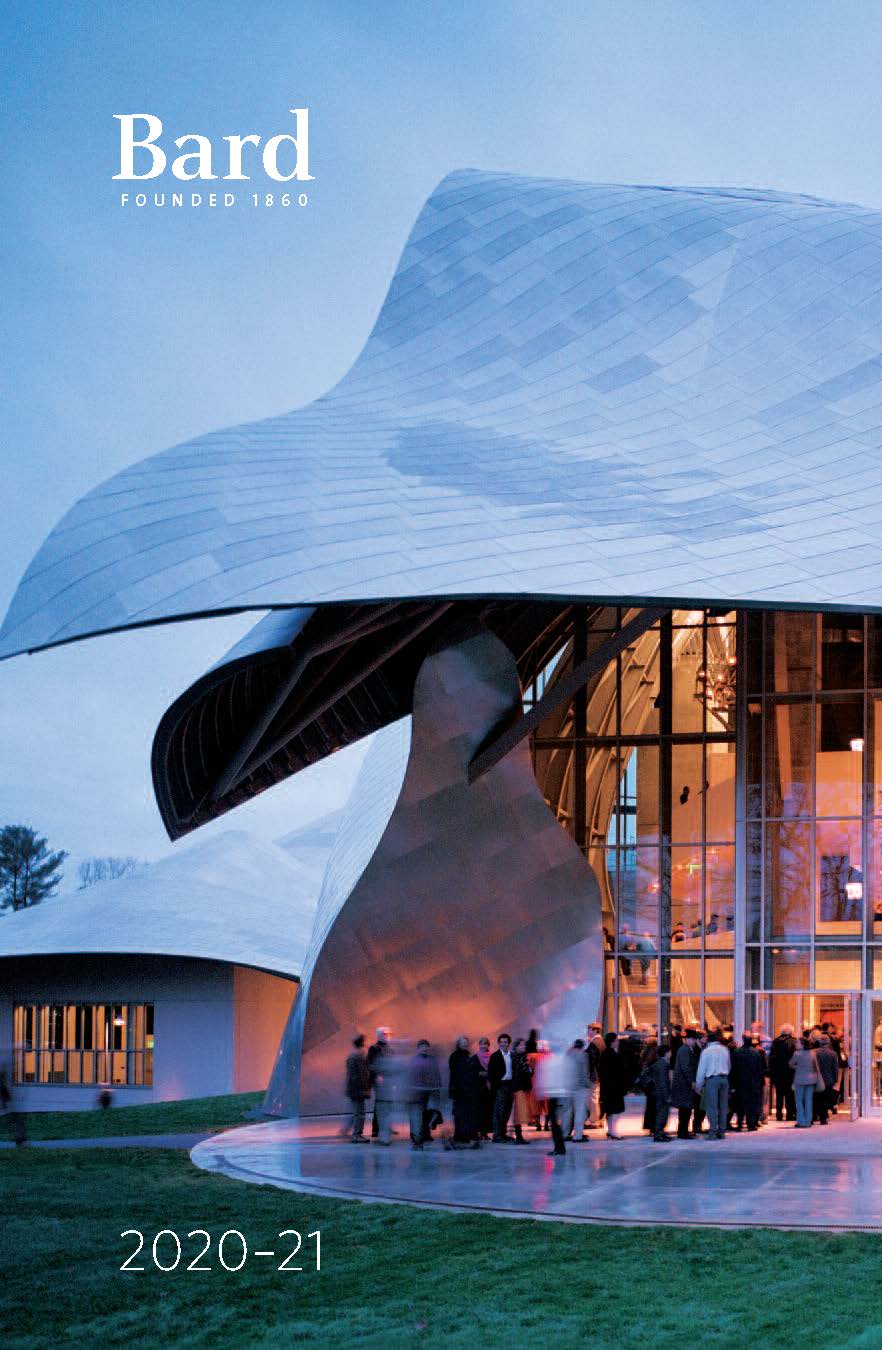 Bard College Catalogue 2020-21
Literature

Faculty
R. Cole Heinowitz (director), Jaime Alves (MAT Program), Franco Baldasso, Thomas Bartscherer, Alex Benson, Jonathan Brent, Mary Caponegro, Nicole Caso, Maria Sachiko Cecire, Robert L. Cioffi, Lauren Curtis, Deirdre d'Albertis, Mark Danner, Adhaar Noor Desai, Nuruddin Farah, Peter Filkins, Elizabeth Frank, Derek Furr (MAT Program), Stephen Graham, Donna Ford Grover, Elizabeth N. Holt, Michael Ives, Thomas Keenan, Robert Kelly, Franz R. Kempf, Marina Kostalevsky, Lu Kou, Ann Lauterbach, Marisa Libbon, Peter L'Official, Patricia López-Gay, Joseph Luzzi, Daniel Mendelsohn, Alys Moody, Bradford Morrow, Matthew Mutter, Melanie Nicholson, Joseph O'Neill, Francine Prose, Dina Ramadan, Susan Fox Rogers, James Romm, Justus Rosenberg (emeritus), Nathan Shockey, Karen Sullivan, Wakako Suzuki, Éric Trudel, David Ungvary, Marina van Zuylen, Olga Voronina, Thomas Wild, Daniel Williams, Li-Hua Ying
Overview
The Literature Program at Bard is free from the disciplinary barriers that are often set up between different national literatures and forms of media, between the study of language and the study of literature, and between scholarship and creative expression. In addition to training students in a wide range of analytic and interpretive methodologies, the Literature Program at Bard helps students connect the practices of critical writing and reading with other areas of cultural, intellectual, and artistic inquiry—from philosophy to environmental and urban studies, and from gender studies to the performing arts.
Requirements
Prior to moderating into the Literature Program, students must take Literature 201,
Narrative/Poetics/Representation
, and at least one of the sequence courses in English, U.S., or comparative literature. To moderate, students must also take at least three additional courses in the Division of Languages and Literature. One of these courses may be a Written Arts course and one may be a language instruction course. No more than one writing workshop and one language instruction course can count toward the Moderation requirements.
For Moderation, the student submits a 10- to 12-page critical essay based on work for one of the sequence courses, along with the two short Moderation papers required of all students. The first short paper reflects on the process that has led the student to this point in their studies; the second reflects on the student's aspirations for work in the Upper College. The papers are evaluated by a board composed of the student's adviser and two other members of the Literature Program faculty.
After Moderation, students must take a second sequence course from the same sequence as the first, although it need not be consecutive (for example,
English Literature III
may be taken before
English Literature I
). The second sequence course must be taken prior to the start of the senior year. Students must also take at least one course that focuses on literature written before 1800 and one course that focuses on literature written after 1800 (this requirement is in addition to the two sequence courses described above). Moderated students are also expected to enroll in 300-level seminars and are strongly encouraged to take at least one world literature course. All students must complete a Senior Project and enroll in Literature 405, the yearlong
Senior Colloquium
, in order to graduate.
Recent Senior Projects in Literature:
"Agony and Ajax: Investigation into Divinity in Antiquity"
"Crickets Chirping Hallelujah: Mystery and Everyday Life in the Short Stories of Chekhov and O'Connor"
"Inside the Fault Lines of the Heart: The Poetics of Exile in the Works of Theresa Hak Kyung Cha and Etel Adnan"
"Textuality and Historical Crisis in John Edgar Wideman's Philadelphia Fire"
Courses
Most writing-intensive courses and workshops in fiction, nonfiction, and poetry are listed under the Written Arts Program.

The descriptions below are a sampling of courses from the past four years.
Who Is Joaquin Murieta?
Literature 127
CROSS-LISTED: AMERICAN STUDIES, LAIS
This 2-credit course centers on 1854's The Life and Adventures of Joaquín Murieta: The Celebrated California Bandit by John Rollin Ridge, the first novel published by a Native American author and one of the first printed in California. The class also considers historical documents (treaties, speech transcripts, legal statutes) that help trace the novel's connections to the Cherokee displacements of the 1830s and labor politics of the Mexico-U.S. border, as well as to afterlives of Ridge's bandit story, including the creation of Zorro and other pop culture vigilantes.

Anna Karenina
Literature 130
CROSS-LISTED: RES
An introduction to the study of fiction through a semester devoted to the close reading of two translations of this major Russian novel. In addition to comparing the texts, discussion includes such topics as genre; narrative voice; the representation of character and time; 19th-century French, English, and Russian realism; and the play of psychological analysis and social observation. A special focus is on the construction of the novel—what Tolstoy himself referred to as its "architecture"—particularly its parallel plots.
Women and Leadership
Literature 131
DESIGNATED: ELAS COURSE
This 2-credit course explores some of the stories that circulate around women and power, from both academic and real-world perspectives. What does it mean to lead? How do we use a language of empowerment? Why has the United States embraced certain narratives of gender equity and success as opposed to those being created in other countries and cultures? The class engages with stories from across disciplines (the military, higher education, STEM, the arts) and from a broad range of perspectives.

The Joke as Literature
Literature 134
Like poems, jokes often rely on the precise use of language. Like plays, they are meant to be performed, and so depend on context, audience, and actors' bodies. Like stories, they frequently feature characters, conflicts, and resolutions. This course examines intersections between jokes and issues pertaining to power, race, sexuality, gender, and class. Texts include joke books; essays by Bergson, Freud, and Gay; plays by Shakespeare and Wilde; and stand-up by Pryor, Diller, and select contemporary comedians. Student writing is analytical and creative (everyone must write at least one joke).

The Perils of Plot: Don Quixote, Madame Bovary, Northanger Abbey
Literature 141
Stories can be addictive, distracting us from our anxieties and often driving us to identify with the unlikeliest of characters. This course looks at the dangers and seductions of empathy and identification in fiction—Do we want reading to release us from our passions or let them flow unpredictably? Will we ruin the aesthetic experience if we keep our distance from character and plot?—in three novels that embody, while playing out, the causes and consequences of escapism: Cervantes's Don Quixote, Flaubert's Madame Bovary, and Austen's Northanger Abbey.
The Canterbury Tales
Literature 142
CROSS-LISTED: MEDIEVAL STUDIES
An instant classic after Chaucer's death in 1400, The Canterbury Tales inspired "fan fiction" almost immediately and has since been enshrined within the literary canon. But The Canterbury Tales is also one of the most radically experimental works written in English. By turns beautiful and dirty, politically risky and calculatedly evasive, poetry and prose, the Tales tests, negotiates, and worries over the ways in which language—written, spoken, read, overheard—constructs reality. Following Chaucer's lead, the class grapples with how literature can influence social change.
Middlemarch: The Making of a Masterpiece
Literature 2005
CROSS-LISTED: VICTORIAN STUDIES
How can personal letters, notebooks, and journals allow us into the psyche of a great writer? This course traces the stages of conception, research, and composition of George Eliot's Middlemarch, which students experience as its first readers did, reading facsimiles of the eight bimonthly "parts," complete with advertisements and other ephemera. Also considered are the politics, culture, and science of the high Victorian period, an epoch comparable to the Elizabethan era in the richness and variety of its literary production.
Narrative / Poetics / Representation
Literature 201
What does it mean to study literature today? How do poetry, fiction, creative nonfiction, and drama differ from other forms of expression? How can we read those differences—the small, unexpected ways that literature can transform everyday life and everyday language—in connection with larger cultural, political, and aesthetic questions? This course emphasizes the practice of close textual analysis, introduces foundational methods in literary studies, and lays the groundwork for further investigations across a range of literary forms, national traditions, historical moments, and social identities.
Introduction to Children's and Young Adult Literature
Literature 2026
What makes a work of children's literature a classic? Who are these texts really for? Students explore questions about what children can, do, and should read, and consider how the notion of childhood is constructed and reproduced through texts and images. Authors: J. M. Barrie, Diana Wynne Jones, C. S. Lewis, Toni Morrison, J. K. Rowling, and others.

The Rhetoric of Conquest and Contact: (De)Colonizing Narratives of Latin America
Literature 203
CROSS-LISTED: HUMAN RIGHTS, LAIS, SPANISH STUDIES
A look at the history of rhetorical strategies and recurrent tropes in the literature of Latin America, including notions such as "tabula rasa," "noble savage," "the marvelous," and "the ineffable." Topics and texts addressed include the 1550 debate of Valladolid, convened to determine whether indigenous people were human and had souls; Felipe Guamán Poma de Ayala's chronicle to the king of Spain, using European rhetorical strategies to denounce the violent excesses perpetrated in Perú in his name; and indigenous representations adapted by Spaniards and Ladinos to bring indigenous societies into the Christian fold.
Religion and the Secular in Literary Modernism
Literature 2035
CROSS-LISTED: AMERICAN STUDIES, RELIGION
The course examines how a number of writers have framed the relationship between religion and modern literature, as well as the modernist attraction to paganism and the occult, on one hand, and to mystical and ascetic attitudes and methods of renunciation, self-erasure, and apophasis, on the other. Texts by Talal Asad, James Baldwin, Willa Cather, J. M. Coetzee, Paul Celan, T. S. Eliot, Mohsin Hamid, James Joyce, Flannery O'Connor, Salman Rushdie, Wallace Stevens, Jean Toomer, Nathanael West, and Virginia Woolf.
Comparative Literature I, II, III
Literature 204A, 204B, 204C
In a celebrated passage from Plato's Republic, Socrates claims that there is "an ancient quarrel between philosophy and poetry." This course considers ways in which ancient authors (or their characters) configured the relationship between poetic production and theoretical inquiry. Readings from Homer, Sappho, Pindar, Aristophanes, Aeschylus, Euripides, Heraclitus, Plato, Aristotle, and, from the Latin corpus, Vergil, Horace, Catullus, Seneca, Cicero, and Horace. Literature 204B considers the crisis of authority in Spanish and French classical drama and the influence of commedia dell'arte on Italian theater and of idealist philosophy on the emergence of German Romanticism. Authors include Montaigne, Castiglione, Molière, Madame de La Fayette, Goldoni, Sor Juana Inés de la Cruz, Descartes, Rousseau, Schiller, and Goethe. The third part considers novelists who have diagnosed the effects of urban reality on their protagonists, prompting readers to link the transformation of traditional power structures, the rise of social mobility, and the increasing centrality of science to new literary techniques. Readings from Balzac, Baudelaire, Brecht, Chekhov, Dostoevsky, Flaubert, Gogol, Hoffman, Woolf, and Zola.

Blues, Spirituals, and the 20th-Century African American Novel
Literature 2050
CROSS-LISTED: AFRICANA STUDIES, AMERICAN STUDIES, GSS
African American spirituals and blues music share fundamental musical structures, but offer very different narratives. Spirituals detail a transitory existence, marked by suffering, that culminates in a celebratory ascendance into heaven. While the blues often feature stories of anger and hurt, earthly survival is the only cause for celebration. This course explores the influence these musical forms had on African American writers of the 20th century, including Baldwin, Morrison, Ellison, Hurston, Wright, and Mosley.
The Arabic Novel
Literature 2060
CROSS-LISTED: MES
Students read a selection of Arabic novels and short stories from Egypt, Lebanon, Libya, Morocco, Palestine, Sudan, and the wider Arab diaspora. Through this sampling of texts, in addition to accompanying critical literature, films, and lectures, students gain a broad-based understanding of the history of Arabic literature, including its formal developments, genres, and themes. Topics discussed include colonialism and postcolonialism, globalization, occupation and liberation, religion vs. secularization, Orientalism and neo-Orientalism, Islam and the West, and gender and women's issues.
Other Romanticisms
Literature 2064
It is only in recent decades that studies of Romantic poetry have looked beyond the Big Six: Blake, Coleridge, Wordsworth, Shelley, Keats, and Byron. Yet between the 1780s and the 1830s, Britain witnessed an explosion of writing by figures generally excluded from the canon, including women, proletarians, people of color, peasants, and those deemed insane. This course explores the works of this "other" Romantic tradition. Authors include George Crabbe, Robert Burns, Mary Prince, Thomas Beddoes, Letitia Elizabeth Landon, Isaac d'Israeli, and William Hazlitt.

Introduction to World Literature
Literature 207
World literature offers a framework for reading literary texts outside the confines of national or linguistic traditions. The course explores texts from across the globe and throughout history, in order to better understand the debates that have produced the concept of "world literature," how different literary traditions relate to each other, and the impact of globalization on those traditions. Readings range from canonical texts, including The Epic of Gilgamesh and The Tempest, to contemporary fiction such as Elena Ferrante's Neopolitan novels and Marjane Satrapi's graphic novel Persepolis.
Mass Culture of Postwar Japan
Literature 2081
CROSS-LISTED: ASIAN STUDIES
This course explores the literature, history, and media art of Japan since World War II, beginning with the lean years of the American occupation (1945–52) and covering the high-growth period of the 1960s and 1970s, the "bubble era" of the 1980s, and the present moment. The class examines radio drama, television, magazines, manga/comics, film, fiction, theater, folk and pop music, animation, advertising, and contemporary multimedia art, focusing on works of "low brow" and "middle brow" culture that structure the experience of everyday life.
Future Black
Literature 211
CROSS-LISTED: AFRICANA STUDIES, AMERICAN STUDIES
How do we imagine the future of Blackness? How have we done so in the past, and how might these visions be useful in our present? This course examines how African American and Black diasporic communities have used science fiction, fantasy, cosmology, and mythology as arenas in which to conjure long-lost pasts, alternate realities, and worlds yet to come. Authors and artists studied may include Octavia Butler, George Clinton, Samuel Delany, W. E. B. Du Bois, Kiese Laymon, Audre Lorde, Sun Ra, Ishmael Reed, and Tracy K. Smith.
Russian Laughter
Literature 2117
CROSS-LISTED: RES
The class examines how authors as distinct as Dostoevsky and Bulgakov create comic effects and utilize laughter for various artistic purposes. Also examined are some of the major theories of laughter developed by Hobbes, Bergson, Freud, Bakhtin, and others. Readings begin with an 18th-century satirical play by Fonvisin and end with Moscow to the End of the Line, Erofeev's contemplation on the life of a perpetually drunk philosopher in the former Soviet Union.

Kings and Queens in European History and Literature
Literature 212
CROSS-LISTED: FRENCH STUDIES, HISTORICAL STUDIES, MEDIEVAL STUDIESMERICAN STUDIES
Why was it that, for most of human history, the rule of kings and queens was seen as natural and even divinely ordained? What was it that subjects dreamed of in their ruler, and what was it they feared? What was the connection between the personal and political lives of rulers? Students read historical and fictional texts from the Middle Ages, Renaissance, and Age of Revolutions. Kings and queens considered include Charlemagne, King Arthur, Eleanor of Aquitaine, Richard the Lionheart, Henry V, Elizabeth I, and Marie Antoinette.
Domesticity and Power
Literature 2140
CROSS-LISTED: AFRICANA STUDIES, AMERICAN STUDIES, ARCHITECTURE
Many American women writers of the 19th and 20th centuries used the domestic novel to make insightful critiques of American society and ­politics. The course begins with Catharine E. Beecher and Harriet Beecher Stowe's handbook of housekeeping, The American Woman's Home (1869). Readings also include the novels and short stories of Harriet Jacobs, Frances E. W. Harper, Kate Chopin, Nella Larsen, Jessie Fauset, Edith Wharton, and Willa Cather.

Infernal Paradises: Literature of Russian Modernism
Literature 2153
CROSS-LISTED: HUMAN RIGHTS, RES
The Russian 20th century witnessed both the creation and deconstruction of many visionary projects. This course explores Russian utopia as an intellectual, aesthetic, and spiritual concept with a great capacity for social transformation. Readings by Chekhov, Bely, Blok, Mayakovsky, Tsvetaeva, Pasternak, Zamyatin, Platonov, and Bulgakov demonstrate continuity of the Russian literary tradition while revealing how innovative creative forms and resonant new voices contributed to an artistic revival, one that flourished under the harsh conditions of censorship, totalitarian oppression, and forced isolation between Russian culture and its Western counterpart.
Romantic Literature
Literature 2156
CROSS-LISTED: HUMAN RIGHTS
A critical introduction to the literature produced in Britain at the time of the Industrial and French Revolutions, and Napoleonic wars. Emphasis is placed on the historical and social contexts of the works and specific ways in which historical forces and social changes shape the formal features of literary texts. Readings include works by Blake, Wordsworth, Helen Maria Williams, Burke, Wollstonecraft, Paine, Southey, Coleridge, Percy Shelley, Mary Shelley, Keats, and Clare.
Into the Whirlwind: Literary Greatness and Gambles under Soviet Rule
Literature 2159
CROSS-LISTED: RES
This course examines the fate of the literary imagination in Russia from the time of the Revolution to the Brezhnev period. Students look at the imaginative liberation in writers such as Babel, Mayakovsky, Mandelstam, and Bulgakov; the struggle with ideology and the terror of the 1930s in the works of Olesha, Akhmatova, and Pilnyak, among others; and the hesitant thaw as reflected in Pasternak's Dr. Zhivago. Readings conclude with Solzhenitsyn's One Day in the Life of Ivan Denisovich and Erofeev's Moscow to the End of the Line.
Medieval Ireland
Literature 2175
CROSS-LISTED: ICS, MEDIEVAL STUDIES
Students consider what, if anything, is "Irish," and how the country's medieval past continues to define the present. Texts include The Táin Bó Cúailnge (The Cattle Raid of Cooley), Acallam na Senórach (Tales of the Elders of Ireland), lives of St. Patrick and St. Bridget, The Voyage of Saint Brendan, lais of Marie de France, The Romance of Tristan and Iseult, poetry of W. B. Yeats, and diaries of the hunger striker Bobby Sands.
Free Speech
Literature 218 / Human Rights 218
See Human Rights 218 for a full course description.
Madness
Literature 220 / German 220
What are the stakes of representing madness? Can we grasp madness in a rational manner? Does a certain kind of exploration of madness offer a way to think about the mass appeal of nationalism or fascism? Authors whose works spur discussion of these and other questions include Kafka ("The Judgment" and Diaries), Goethe (Faust I), Freud (The Wolf-Man), Breton (Nadja), Hölderlin (selected poems), Rimbaud ("The Drunken Boat"), Foucault (History of Madness), Beckett (Murphy), Celan (selected poems and prose), and Sebald (The Emigrants).
Balkan Voices
Literature 2203
CROSS-LISTED: HUMAN RIGHTS, RES
"The Balkans," writes journalist Robert D. Kaplan, "are a Bosch-like tapestry of interlocking ethnic rivalries, where medieval and modern history thread into each other." Indeed, the Balkan countries are often seen as "primitive," "dark," and "violent" in comparison with the "civilized" West. Maria Todorova's Imagining the Balkans and Vesna Goldsworthy's Inventing Ruritania are used to provoke discussion; additional readings from Ismail Kadare (Albania), Vladislav Todorov (Bulgaria), Miroslav Krleža (Croatia), C. P. Cavafy (Greece), Tashko Georgievski (Macedonia), Ivo Andric´ (Serbia), and Herta Müller (Romania).
Sexuality and Gender in Japanese Literature and Culture
Literature 2206
CROSS-LISTED: ASIAN STUDIES, GSS
From the classical era (The Tale of Genji) to the present (gender-bending manga), the class investigates how the shifting dynamics of sex and gender were shaped by the social and political forces of their time. Topics discussed: the classical canon and women's courtly writings, Buddhist conceptions of women, Confucian teachings on gender and the body, Edo-period male-male cultures, modernization and the nuclear family, representations of the "modern girl" of the 1920s, gender in revolutionary cultures, and 1960s feminist discourse.

Arabic Literature, World Literature, and the Untranslatable
Literature 221
CROSS-LISTED: MES
Arabic literature has primarily been received through the lens of "world literature," a category viewed by some as a means of concealing asymmetrical linguistic power relations and furthering the power of English as a literary language. This course assesses different understandings of "world literature" by pairing Arabic literary texts with a diverse selection of theoretical material, and examining the problems and politics of translation. Works by Ahmad Faris al-Shidyaq, Tayeb Salih, Naguib Mahfouz, Mohamed el-Bisatie, and theorists Emily Apter, Gayatri Spivak, Pascale Casanova, and David Damrosch.
Building Stories
Literature 2213
CROSS-LISTED: AMERICAN STUDIES, EUS
This course examines relationships between narratives and their settings by employing conceptual frameworks borrowed from architectural studies and histories of the built environment. Weekly discussions are structured around building typologies and common tropes of urban planning: the row-house brownstone, apartment building, skyscraper, and suburban or rural house. Students consider to what extent geography and landscape shape culture and identity. Authors: Nicholson Baker, Paul Beatty, Alison Bechdel, Don DeLillo, Junot Díaz, Joan Didion, Ben Lerner, Paule Marshall, D. J. Waldie, and Colson Whitehead.

Dostoevsky Presently
Literature 2227
CROSS-LISTED: RES
By looking at Dostoevsky through the lenses of poetics, philosophy, politics, and psychology, the class seeks to understand what makes this 19th-century Russian writer our contemporary—and one of the most widely read authors in the world. Texts include his novels The Idiot, Demons, and The Brothers Karamazov; shorter works, such as "Poor Folk," "The Dream of a Ridiculous Man," and "Bobok"; and journalistic pieces from A Writer's Diary (which might be considered the first ever blog). Attention is also paid to the present state of research on Dostoevsky.
American Existentialisms
Literature 224
CROSS-LISTED: AMERICAN STUDIES
The French existentialists were not impressed by Americans. Simone de Beauvoir said Americans had no "feeling for sin and remorse" and Albert Camus complained that they "lacked a sense of anguish about the problems of existence." This course challenges these assertions, unearthing a rich existentialist current in American writing from Emily Dickinson to Richard Wright, Carson McCullers, and Walker Percy.
Life in the Medieval Church
Literature 2241
CROSS-LISTED: MEDIEVAL STUDIES
The history of the Church in the Middle Ages is largely the history of changing answers to questions such as: Should one remove oneself from the corruption of the world or attempt to reform it? Should one study classical literature and philosophy, in the hope that they will strengthen one's faith, or avoid them, for fear they will weaken it? What should the role of women be in the spiritual, intellectual, and institutional fabric of Christianity? Readings are drawn from biblical, patristic, Benedictine, Cistercian, Dominican, Franciscan, and other sources.
Contemporary Russian Fiction
Literature 2245
CROSS-LISTED: RES
An examination of the diverse world of contemporary Russian literature from the late Soviet and post-Soviet periods to the present. Readings include the underground publications of samizdat and officially published texts of the first period, postmodernist works from the end of the 20th century, and literary texts of the last two decades. Discussions focus on issues of narrative strategy, a reassessment of Russian history, religion and spirituality, cultural identity, and the changing relationship between Russian literature, the state, and society.
Labor and Migration in Arabic Literature
Literature 227
CROSS-LISTED: HUMAN RIGHTS, MES
Questions of migration, exile, and displacement have been central to the (post)colonial Arabic literary tradition. Tayeb Salih's Seasons of Migration to the North, widely considered the most important Arabic novel of the last century, charts Mustafa Sa'eed's journey further and further from Sudan and the impossibility of homecoming. The course focuses on Arabic literary production from the second half of the 20th century, and asks how such works produce a language and aesthetic of displacement and estrangement that challenges the hegemony of national boundaries.
The Arab Renaissance, or Nahdah as Empire
Literature 228
CROSS-LISTED: MES
As the Ottoman empire waned, and the French and British extended their imperial presence into the Middle East and North Africa, private Arabic newspapers and journals began to publish a range of texts invoking a sense of nahdah, or rise, renaissance, and awakening. Students in this course read short stories, novels, anecdotes, and essays translated from the Arabic, alongside critical and historical work. Authors studied include Ahmad Faris al-Shidyaq, Muhammad al-Muwaylihi, Adelaide Bustani, Jurji Zaydan, and Mayy Ziyadah.
Primo Levi: Scientific Imagination and the Holocaust
Literature 229
CROSS-LISTED: HUMAN RIGHTS, ITALIAN STUDIES, JEWISH STUDIES
For his unique testimony, Primo Levi is acclaimed as the most influential writer of the Holocaust. But his works, from autobiographical accounts to sci-fi and fantastic tales, also daringly attempted to bridge scientific and literary imaginations. In addition to Levy's works, the class reads texts by others who questioned the epistemological status of scientific knowledge and its relation to power, life, and imagination, including Georges Canguilhem, Georges Perec, Italo Calvino, Giorgio Agamben, and Carlo Rovelli.
Voices of Modern Ireland
Literature 2301
CROSS-LISTED: ICS
Students in the course read the works of James Joyce, Samuel Beckett, and Edna O'Brien, as well as less familiar individuals who have written or spoken of the modern Irish experience. Through novels, poetry, diaries, music, film, and journalism, the class encounters artists, politicians, immigrants and emigrants, and "ordinary people." Themes include the individual and the nation, religion and secularity, isolation and globalization, conflict in the North, and what it means to be a part of modern Ireland.
Faulkner: Race, Text, and Southern History
Literature 2306
CROSS-LISTED: AFRICANA STUDIES, AMERICAN STUDIES
Unlike other writers of his generation who viewed America from distant shores, William Faulkner remained at home and explored his own region. From this intimate vantage point, he was able to portray the American South in all of its glory and shame. Students read Faulkner's major novels, poetry, short stories, and film scripts. Readings also include biographical material and criticism.
Art, Aesthetics, and Modernism in the Arab World
Literature 231
CROSS-LISTED: ART HISTORY, MES
Spanning the first seven decades of the 20th century, and drawing on artistic movements from Marrakesh to Khartoum, the course traces the debates and discourses that shaped the development of modern art in the Arab world. Selecting from art criticism, manifestos, artists' correspondence, diary entries, and guest-book comments, the class considers Arab artists' and critics' varied engagements with a global modernism. Readings in English; students with Arabic (or French) proficiency have the opportunity to work with documents in the original language.
Toward the Condition of Music: Poetry and Aesthetics in Victorian England
Literature 2318
CROSS-LISTED: VICTORIAN STUDIES
John Ruskin announced in Modern Painters (1843) that the greatest art must contain "the greatest number of the greatest ideas." Fifty years later, Oscar Wilde declared with equal assurance that "all art is quite useless." What happened in that intervening half century? This course follows the evolution of poetry and poetic theory, and the accompanying Victorian debate about the status of art in relation to society. Readings: Tennyson, Browning, Rossetti, Hopkins, Hardy, Yeats, Ruskin, Arnold, Pater, and Wilde.
The Art of Translation
Literature 2319
By comparing multiple translations of literary, religious, and philosophical texts, this course examines the ways in which translation shapes textual meaning and our appreciation of it. Students also read key theoretical essays and take on a short translation project of their own. Readings include translations of Homer, Sappho, Plato, the Bible, Nietzsche, Tolstoy, Baudelaire, Proust, Kafka, Babel, and Neruda.
Middle Eastern Cinemas
Literature 232
CROSS-LISTED: MES
The history of cinema in the Middle East is as old as the art form itself; films by the Lumière Brothers were shown in Cairo, Alexandria, Algiers, Tunis, Fez, and Jerusalem just months after their initial screenings. The "Orient" became the location for early productions and cinemas sprang up across the region. This course surveys the development of national cinemas in the Middle East; offers case studies of influential directors, including Chahine, Kiarostami, Amiralay, Moghrabi, and Suleiman; and presents video artworks produced by younger practitioners.
Freud for Our Times
Literature 2324
CROSS-LISTED: MBB
Sigmund Freud invented psychoanalysis as a body of theoretical knowledge and a clinical practice grounded in listening and interpretation. Freud was also deeply interested in art, literature, and the human sciences, fields that greatly influenced him and that he in turn influenced. Beginning with his work on the unconscious and sexuality, the course examines how a clinically grounded understanding of the psyche provides insights into culture, politics, philosophy, religion, and linguistics. Classes are structured around clusters of readings, each with a core text by Freud.
American Gothic
Literature 2331
CROSS-LISTED: AMERICAN STUDIES, GSS
The gothic novel—the stronghold of ghost stories, family curses, and heroines in ­distress—uses melodrama and the macabre to disguise horrifying psychological, sexual, and emotional issues. In America, the genre has often confronted topics pertinent to national identity and history. Readings include works by Hawthorne, Poe, Jacobs, James, Alcott, Gilman, Wharton, Faulkner, Jackson, and Baldwin.
Introduction to Media
Literature 235
CROSS-LISTED: EXPERIMENTAL HUMANITIES
A survey of media history and theory that aims to understand media not simply as a scholarly object but as a force in our lives. Old and new media are explored, from writing to photography to the digital landscape. Students also work with media, in order to assess their positions as users, consumers, and potential producers of media.
Revolutionary Thought and Poetry
Literature 238
CROSS-LISTED: GERMAN STUDIES, JEWISH STUDIES
An examination of revolutionary writings in European contexts and literary texts in dialogue with them. Works by Gustav Landauer, Rosa Luxemburg, Peter Kropotkin, Bertolt Brecht, René Char, and Paul Celan animate class conversations. Topics include the horizons of Jewish culture and anti-Semitism, reflections on poetic language and experience, the stakes of literary resistance, and the changing relation of literature with revolutionary thought between the end of the 19th century and the period after the great catastrophes of the 20th century.

Literary Journalism
Literature 240 / Written Arts 240
CROSS-LISTED: HUMAN RIGHTS
What makes some journalism literary and not just informative is to some extent a question of taste and subjective judgment. But the main thing is that the text has lasting value on merits unrelated to topicality. Readings include William Hazlitt's essay "The Fight" (1822), Emil Zola's "J'Accuse" (1898), and criticism, political reportage, travel essays, and war reporting by writers including H. L. Mencken, Gay Talese, V. S. Naipaul, Susan Sontag, and Zadie Smith.
Fantastic Journeys and the Modern World
Literature 2404
An examination of the "fantastic" genre in Russian and Central and East European literature from the beginning of the 20th century to World War II.
Sex, Lies, and the Renaissance
Literature 241
CROSS-LISTED: ITALIAN STUDIES
How did the Renaissance, a time of ongoing cultural experimentation and radical change, shape the world we live in today? The course reconstructs the Renaissance in all of its complexity and influence, with topics such as Machiavelli's masterpiece on the relation between deceit and power in the Prince; the work of Leonardo, Michelangelo, and Botticelli, and the birth of the modern "artist"; and new paradigms for gender and sexuality in women writers and artists, including Vittoria Colonna and Artemisia Gentileschi.

Race, Class, and Gender in Modern Japan
Literature 242
A look at how Japanese cultural productions have represented race, class, and gender, based on the premise that film and literature are never simply diversions, but instead provide us with stories, images, and scripts that enable us to understand social identities, cultural ideologies, community formations, and institutional arrangements. The class considers both old genres and new media, including works by Oe Kenzaburo, Kirino Natsuo, Ri Kaisei, Hirabayashi Taiko, Hayashi Fumiko, and Imamura Shohei.
Literature in the Digital Age
Literature 243
CROSS-LISTED: EXPERIMENTAL HUMANITIES
The proliferation of digital information and communications technologies over the past half-century has transformed how literary works are composed, produced, circulated, read, and interpreted. What is the nature, extent, and significance of these changes? This course reassesses questions and themes long central to the study of literature, including archiving, authorship, canon formation, dissemination, and narrative, among others, by pairing contemporary works with texts from and about other shifts in media from the ancient world to the modern era.

The Coming of Age Novel in the 19th Century
Literature 2433
The Bildungsroman (novel of education or formation) was a dominant genre of 19th-century literature. Tracing the lives of characters through familiar coming-of-age plots, it showcases the novel's ability to express both individual hopes and social constraints, youthful ideals and mature realizations. This seminar offers an in-depth study of several classics of the genre by Goethe, Austen, Flaubert, Hardy, and Wharton.
Palestinian Literature in Translation
Literature 244
CROSS-LISTED: HUMAN RIGHTS, MES
A survey of Palestinian literature, from the early Arabic press in Palestine to contemporary fiction. Authors: Ghassan Kanafani, Emile Habiby, Samira Azzam, Anton Shammas, Mahmoud Darwish, Sahar Khalifeh, Fadwa Tuqan, and Elias Khoury.

Poetry and Rebellion: Milton's Paradise Lost
Literature 246
The course explores questions of civil and personal responsibility, freedom of speech and thought, and good and evil through a close reading of John Milton's 17th-century epic. A polemicist, minister of government (Secretary for Foreign Tongues), and poet, Milton was also an antimonarchist who advocated the overthrow of England's king. When the monarchy was restored, Milton was cast out of government and briefly imprisoned. He wanted to write a national epic for England, like Virgil's Aeneid. He wrote instead an epic "of man's first disobedience," an attempt to "justify the ways of God to men." And perhaps to himself.

Japanese Popular Culture
Literature 247
CROSS-LISTED: ASIAN STUDIES
Popular culture is contradictory and paradoxical, by turns superficial and profound, entertaining and yet consequential and complex. This course explores concepts and models for understanding Japanese popular culture. By looking at both old genres and new media, students gain insights about power, community, democracy, and social control. Texts by Satoshi Kon, Osamu Tezuka, Natsuo Kirino, Studio Ghibli, Haruki Murakami, and Makoto Shinkai.

Strangers from a Distant Shore: The Foreign in Japanese Literature
Literature 248
CROSS-LISTED: ASIAN STUDIES
DESIGNATED: MIGRATION INITIATIVE
Japan is often depicted as a unique and remote land long detached from other regions and traditions. But nothing could be further from the truth. This course explores the role of ostensibly foreign forms of writing, thought, and representation in Japanese literature. Topics include the influence of Tang poetry on Japanese verse, inner Asian precedents for medieval folk tales, the place of Chinese ghost stories in vernacular fiction, writings by Japanese authors on their experiences overseas, and contemporary narratives by migrants from South and Southeast Asia.

James Joyce's Fiction
Literature 2485
CROSS-LISTED: ICS
Joyce was an autobiographical writer who wrote about one place: Dublin. He was also an experimental writer and a prominent modernist in tune with the literary and artistic innovations of the early 20th century. In this course, students read his short stories in Dubliners, his coming-of-age novel A Portrait of the Artist as a Young Man, and his modern epic Ulysses.
English Literature I, II, III
Literature 250, 251, 252
In the first of three independent courses, students gain experience reading, thinking, and writing about early English literature, and devise a working narrative about the development of that literature and its role in the construction of the idea of England. Readings range from the Anglo-Saxon epic Beowulf to Shakespeare's The Tempest, with attention paid to historical context and the continuum of conventions and expectations that the texts enact—and sometimes pointedly break. Texts also include Chaucer's Canterbury Tales, Geoffrey of Monmouth's History of the Kings of Britain, Spenser's Faerie Queene, early descriptions and histories of England, and several "romances"—the pop fiction about knights and their adventures that circulated widely in both Chaucer's medieval and Shakespeare's early-modern England. Literature 251 explores poetry, fiction, drama, and criticism from the 17th and 18th centuries, including works by Milton, Donne, Marvell, Defoe, and Fielding. Literature 252 explores developments in British literature from the late 18th century through the 20th century—a period marked by the effects of the French and American Revolutions, rapid industrialization, the rise and decline of empire, two world wars, and growing uncertainty about the meaning of "Britishness" in a global context. Readings include poetry, prose, essays, and plays, with attention paid to the ways in which historical forces and social changes shape and are at times shaped by the formal features of literary text.
Shakespeare
Literature 2501
Before Shakespeare was an icon, an industry, and required reading in high schools throughout the world, he was merely one of dozens of poets and playwrights working in London around the turn of the 17th century. The course offers an unfiltered view of Shakespeare's works by performing close readings grounded in attention to historical conditions. Texts include the sonnets, Richard III, Love's Labour's Lost, Macbeth, As You Like It, Othello, and Cymbeline. Philosophical texts, theater history, film, and performance work are also considered.
Telling Stories about Rights
Literature 2509 / Human Rights 2509
What difference can fiction make in the struggle for rights and justice? What can works representing injustice, suffering, or resistance tell us about fiction and literature? This course focuses on a range of fictions that tell unusual stories about the rights of individuals and communities to justice. Texts may include García Márquez's Chronicle of a Death Foretold, Guterson's Snow Falling on Cedars, Høeg's Smilla's Sense of Snow, Dai's Balzac and the Chinese Seamstress, Momaday's The Way to Rainy Mountain, and Ouologuem's Bound to Violence, among others.

After Nature: Victorian Literature and the Environment
Literature 2515
CROSS-LISTED: EUS, VICTORIAN STUDIES
With the current reality of ecological crisis as a touchstone, this course returns to a major inflection point in humanity's relationship with the natural world: 19th-century Britain. Topics include rural life after enclosure; the industrial city and its inhabitants; deforestation, resource extraction, and pollution; the sciences of geology and evolution; nature and empire; and the effects of human activity on earth systems. Students read novels (Dickens, Hardy), poetry (Wordsworth, Tennyson, the Brownings, Hopkins), scientific writing (Lyell, Darwin, Tyndall), art criticism (Ruskin), and social theory (Engels, Mayhew, Mill).
Isaac Babel and the Aesthetics of Revolution
Literature 253
CROSS-LISTED: HUMAN RIGHTS, JEWISH STUDIES, RES
Isaac Babel was one of the most perplexing geniuses of 20th-century literature. He enlisted as a Jew in the anti-Semitic Cossack division of the Red Cavalry in 1920 and soon thereafter became one of the most famous writers in Soviet Russia, and he escaped the fury of the Great Terror of 1937–38 only to be shot as a traitor in 1940. This course attempts to unravel Babel's many paradoxes through readings of Red Cavalry, 1920 Diary, and Odessa Stories, as well as critical and historical texts.
American Literature I, II, III, IV
Literature 257, 258, 259, 260
CROSS-LISTED: AMERICAN STUDIES
Early American writing is a field of myriad, unstable genres and literary forms, and class readings set gothic novels alongside political tracts, captivity narratives alongside hymn texts, and lyric poems alongside works of natural history. Authors include Charles Brockden Brown, Álvar Núñez Cabeza de Vaca, Olaudah Equiano, Cotton Mather, Mary Rowlandson, and Phillis Wheatley, among others. Literature 258 addresses American literature written from roughly 1830 to the turn of the 20th century. Intellectual and aesthetic concerns include the legacy of Puritanism, witnesses and critics of slavery, the aspiration to extricate American literature from European traditions and forge a distinctly democratic poetics, the figurations and politics of "wilderness" and "frontier," and the impact of Darwinism on the development of "naturalist" literary genres. Literature 259 focuses on the formal characteristics of literary movements such as realism, naturalism, regionalism, and modernism; historical contexts for understanding the development of American literature and culture, including debates about immigration, urbanization, industrialization, inequality, racial discrimination, and new technologies of communication and mass entertainment. In Literature 260, students explore the role of literature in articulating, galvanizing, or criticizing the various social and political upheavals between World War II and the wars in Iraq and Afghanistan. Works by John Ashbery, James Baldwin, Joan Didion, Allen Ginsberg, John Hersey, Norman Mailer, Toni Morrison, Frank O'Hara, and Philip Roth, among others.
Introduction to Literary Theory
Literature 2607
If literary theory rigorously questions things we take to be common sense—what precisely do we mean by "authors" and "texts," for instance?—it also provides a space for the critical, creative linking of the literary to the social. For example, how do questions of racial difference intersect with models of narrative voice? This course focuses on key works from 20th- and 21st-century theorists including Walter Benjamin, Judith Butler, Henry Louis Gates Jr., Edward Said, Eve Kosofsky Sedgwick, and Gayatri Spivak.
What Is a Character?
Literature 263
We have a complicated relationship with fictional characters. We are often drawn to them more than anything else in encounters with literature, theater, or film, but we also know, consciously or unconsciously, that they remain exactly what their name implies: circumscribed by typography, scriptedness, and the page or screen. This course studies the history of fictional characters in Western literature, starting in classical Greece and Rome, moving through medieval and Renaissance texts, and arriving at a discussion of character in the novel and in contemporary media.
Victorian Poverty in Paint and Print
Literature 265
CROSS-LISTED: ART HISTORY, VICTORIAN STUDIES
In Dickens's Our Mutual Friend, Mr. Podsnap quotes Jesus out of context by saying, "For ye have the poor always with you" in order to justify his own indifferent wealth. This course explores the myriad ways that Victorian writers, thinkers, politicians, and artists responded to seemingly timeless but persistently present poverty and its effect on the "Condition of England." Texts and paintings may include works by Dickens, Carlyle, Ruskin, Mill, Engels, Mayhew, Barrett Browning, Gaskell, Rossetti, Morris, and Wilkie.
Disability and Queer Aesthetics
Literature 266
CROSS-LISTED: GSS
In his seminal book Disability Aesthetics, Tobin Siebers argues that "aesthetics track the emotions that some bodies feel in the presence of other bodies." Taking this as but one definition of the aesthetic, this course considers the role of embodiment in the creation of aesthetic categories, movements, and styles. What bodies and objects have been excluded? Does the identity of the creator matter or only the form of the object? Texts by Shakespeare, Donne, Dickens, Wilde, Swinburne, Whitman, Woolf, Highsmith, Baldwin, Bechdel, and others.

Women Writing the Caribbean
Literature 2670
cross-listed: africana studies, american studies, gss
Claudia Mitchell-Kernan describes Creolization as "a mosaic of African, European, and indigenous responses to a truly novel reality." This course is concerned with how women, through fiction, interpreted that reality. Students begin by reading The History of Mary Prince, A West Indian Slave, Related by Herself (1831) and Wonderful Adventures of Mrs. Seacole in Many Lands (1857). Works by Gellhorn, Rhys, Allfrey, Kincaid, Cliff, and Danticat are also studied.
Asian American Literature
Literature 270
CROSS-LISTED: AMERICAN STUDIES, ASIAN STUDIES
This course explores a range of "Asian American" fiction, a category that ties together a wide variety of communities and cultures. The class looks at the ways in which Asian American literature is inseparable from its historical context, such as the experience of exclusion, internment, war, postcolonialism, and political activism. Authors include Miné Okubo, Carlos Bulosan, John Okada, Viet Thanh Nguyen, Elaine Castillo, Kao Kalia Yang, Thi Bui, Akhil Sharma, Krys Lee, Chang-Rae Lee, and Frank Chin.

German Literature in Seven Dates
Literature 2704
CROSS-LISTED: GERMAN STUDIES
This course offers seven relevant access points to German literature and history between the 18th and 21st centuries, beginning in January 1774, when Goethe establishes his literary fame after six somnambulant weeks of writing The Sorrows of Young Werther, and including November 1949, when Hannah Arendt first revisits Germany after the Second World War. Further readings from Kant, Kleist, Büchner, Uwe Johnson, and Herta Müller. A New History of German Literature (2004) furnishes apposite background reading.

The Fantastic in Chinese Literature
Literature 272
CROSS-LISTED: ASIAN STUDIES
Using "fantastic" literature as a critical lens, this course explores masterpieces of Chinese literature from the first millennium bce to the present. Texts range from Buddhist miracle tales to an avant-garde novel about cannibalism, and from medieval ghost stories to the creation of communist superheroes during the Cultural Revolution. Topics include shifting human/nonhuman boundaries; representations of foreign lands (and the underworld); the aestheticization of female ghosts; utopia and dystopia; and the fantastic as social criticism and national allegory.
Representing Ambition: Social (Im)mobility in the 19th-Century French Novel
Literature 274
CROSS-LISTED: FRENCH STUDIES
Marrying for money, killing for fame, renouncing love for social status—just a few of the dilemmas encountered in the great age of the French novel. Discussions include the ways in which the new self-made protagonists have internalized notions of prestige, humiliation, and recognition to the point of ruining their lives and the lives of others. Readings include Balzac's Lost Illusions, Stendhal's The Red and the Black, Flaubert's Madame Bovary, and Maupassant's Bel Ami.
Auto/Biography
Literature 275
The class investigates the ways in which authors in different periods and cultures have written about peoples' lives, whether others' or their own. Students consider the place of biography and autobiography in literature, conventions that give such works their shape, and the influence of politics, psychology, and culture. Texts by/about Suetonius, Augustine, de Pizan, Vasari, Woolf, Selassie, Patti Smith, Menchú, Satrapi, and others.
What We Know and How We Know It
Literature 276
CROSS-LISTED: HUMAN RIGHTS, PHILOSOPHY
Literature, like life, often turns on questions of understanding and misunderstanding, intuition, assumption, preconception, prejudice, first impressions, and corrections. How do we learn, how does learning change us, and when is learning beyond us? This course looks at short stories, novellas, and nonfiction in which the characters and/or readers know something or don't, learn something or don't. Writers may include Bolaño, Jane Bowles, Paul Bowles, Turgenev, Chekhov, Babel, Spark, Gallant, Baldwin, Joyce, Eisenberg, Cheever, and Malcolm.

Japanese Folklore
Literature 279
CROSS-LISTED: ASIAN STUDIES
Students explore a range of cultural expressions from premodern through contemporary Japan: epic narratives, local legends, folktales, stories of the supernatural, music, religious festivals, manga, anime, and film. The course also tackles ideas and assumptions underlying the notion of "folk." Who are the folk? From when and where does the concept of a folk people originate inside and outside of Japan? Is folk still a viable, relevant category today? Works by Kunio Yanagita, Kyoka Izumi, Shigeru Mizuki, Lafcadio Hearn, Ueda Akinari, and others.

Colossi of Pomo: Postmodernism's Biggest Books
Literature 283
Postmodernism's progress can be traced along a mountain ridge of massive paper behemoths, from William Gaddis's The Recognitions of 1955 to Joseph Heller's Catch-22 in 1961, Thomas Pynchon's Gravity's Rainbow in 1973, and David Foster Wallace's Infinite Jest of 1996. This twice-monthly seminar ascends these Colossi of Pomo, while pausing to admire glimpses of more modest peaks—Kathy Acker, John Barth, Donald Barthelme, Angela Carter—along the way.

On Friendship
Literature 284
What does it mean to think about political modes of living together through the lens of "friendship"? How is this different from political thinking that focuses on neighboring terms like solidarity, community, fraternity, family, and love? The course explores works of philosophy, poetry, essay, drama, and letters, from various languages and traditions, and asks how different forms of writing may affect our conception of friendship. Texts by Arendt, Aristotle, Baldwin, Blanchot, Butler, Derrida, Emerson, Hahn, Heine, Lauterbach, Lessing, Montaigne, Nietzsche, and Varnhagen.

The Birth of the Avant-Garde: Futurism, Metaphysics, Magical Realism
Literature 291
CROSS-LISTED: ART HISTORY AND VISUAL CULTURE, ITALIAN STUDIES
In 1909 Filippo Tommaso Marinetti, an Italian poet stationed in Milan but born in Alexandria, founded in Paris the modern avant-garde with the publishing of his first futurist manifesto. Futurism's claims of refashioning Western culture from its very foundations rapidly spread all over the world. Engaging with both the literature and art of the Italian avant-gardes, this course unravels the intricate yet fascinating knot of aesthetics and politics at the core of modernism.

Arab Future Histories
Literature 292
CROSS-LISTED: AFRICANA STUDIES, MES
Borrowing its title from Egyptian novelist Nael el-Toukhy's concept of "writing future histories," this course introduces contemporary literary and artistic production from across the Arab world. Works discussed engage in an exploration of the (not-so-distant) future, whether through the disappearance of the Palestinians, the reenactment of the Lebanese Rocket Society, or the resurrection of an Iraqi Frankenstein. The class traces historic antecedents to these approaches, questions their relationship to the aftermath of the so-called Arab Spring, and considers the role translation plays in creating or accentuating such movements.

South African Literature
Literature 294
CROSS-LISTED: AFRICANA STUDIES
An overview of South Africa's literary landscape from 19th-century colonial literature, through 20th-century writings under Apartheid, to 21st-century fiction in a new democracy. Alongside novels, plays, short stories, and films, the class considers travel writing, historical romance, legal statute, political manifesto, and journalism. Topics include the political and ethical responsibilities of literature, the relationship of fiction to history and memory, and the enduring difficulties of racial segregation and class inequality. Works by Schreiner, Plaatje, Fugard, Gordimer, Coetzee, La Guma, Wicomb, Mpe, Krog, and Ntshanga.

Hunger in World Literature
Literature 295
CROSS-LISTED: HUMAN RIGHTS
Hunger is one of the most banal experiences of existence but at its extremes it can take us to the limits of what it is to be human. This course examines how hunger has been represented in world literature. Texts range from medieval ascetics to 20th-century mystics like Simone Weil and from global hunger strikers to contemporary anorexics, and include histories of hunger imposed on whole populations, including Malthus's and Jonathan Swift's writings about poverty in the 18th and 19th centuries and contemporary accounts by Dangarembga, Marechera, and Lispector.

Victorian Twilight: Degeneration and the Culture Wars of the Fin de Siècle
Literature 297
CROSS-LISTED: VICTORIAN STUDIES
This course tracks the idea of degeneration—the nightmare offspring of Darwinian progress—from the 1857 prosecution of Baudelaire's Flowers of Evil to the trials of Oscar Wilde (for gross indecency) and Alfred Dreyfus (for treason) in the mid-1890s. Using Max Nordau's Degeneration as a focal point, the class explores the prevalent late 19th-century identification of new literary forms with madness, criminality, and perversion. Readings include works by Zola, Wilde, Conrad, Hardy, Ibsen, and Nietzsche.
Beyond the Work Ethic: The Uses and Misuses of Idleness
Literature 3013
The useful, Schiller wrote in On the Aesthetic Education of Man, divorces leisure from labor and turns life into a series of utilitarian dead ends. Yet the impulse to play, to engage in moments of being or seemingly evanescent conversation, has often been condemned as dangerously close to the decadent and idle. Readings include critiques of "pure" work and texts that explore resistance to work, the philosophical ramifications of laziness, and tensions between work and conversation as social and cultural phenomena.
Nabokov's Shorts: The Art of Conclusive Writing
Literature 3019
CROSS-LISTED: MEDIEVAL RES
This course focuses on Vladimir Nabokov's short stories, as well as his memoir Conclusive Evidence and the novel Pnin, both of which first appeared in story-length installments in the New Yorker. The class also studies Nabokov's correspondence with New Yorker editors Katherine White and William Maxwell; looks at the drafts of his stories, in an effort to understand his process of composition and revision; and traces the metaphysical streak that runs through the Nabokov oeuvre.
Soundscapes in American Literature
Literature 3028
CROSS-LISTED: AMERICAN STUDIES, EXPERIMENTAL HUMANITIES
We often describe literary form in sonic terms—voice, tone, echo—even as we set the silent, graphic medium of writing in opposition to the noisy stuff of speech and song. This paradox generates some knotty questions of aesthetics, sensation, and media. Put them in the context of 19th- and 20th-century American literature, and more questions arise. In what ways, for instance, does the representation of sound participate in the construction of race, region, and gender? Texts by Cage, Dickinson, Dunbar, Faulkner, Hurston, Keller, and Thoreau, among others.
Poetic Lineages
Literature 3036
CROSS-LISTED: WRITTEN ARTS
T. S. Eliot famously remarked, "What happens when a new work of art is created is something that happens simultaneously to all the works of art which preceded it." This seminar explores the transhistorical dialogue within Anglo-American poetry and poetics, tracing various poetic lineages from the Romantic era to the present moment. Writers considered include Coleridge, Shelley, Keats, Emerson, Dickinson, H.D., Olson, Spicer, Duncan, Coolidge, and Prynne.
Poetics of the City: The New York School of Poetry and Criticism
Literature 3041
CROSS-LISTED: WRITTEN ARTS
After World War II, American artists began to respond to a new cosmopolitan energy as the locus for creating new forms. The New York School of poetry, named after its counterpart in visual arts, drew an eclectic group that included O'Hara, Ashbery, Guest, Koch, Jones (Amiri Baraka), and Schuyler. The course asks how the urban environment affects ideas of narrative, community, domesticity, nature, and place in a poetics of the city. Second-generation poets Berrigan, Notley, Padgett, Brainard, and Waldman are also considered.
Woman as Cyborg
Literature 3046
CROSS-LISTED: EXPERIMENTAL HUMANITIES, GSS, STS
From the robot Maria in the 1927 film Metropolis to the female-voiced Siri application for iPhone, mechanized creations that perform physical, emotional, and computational labor have been routinely gendered female in both fiction and reality. This course considers how gynoids, fembots, and female-identified machinery reflect the roles of women's work and women's bodies in technologized society. Texts include writings from ancient Greece, Karel Capek's 1920 play R.U.R. (in which the word "robot" first appeared), Ira Levin's The Stepford Wives, and William Gibson's Neuromancer, among others.
Extraordinary Bodies: Disability in American Fiction and Culture
Literature 3048
CROSS-LISTED: HUMAN RIGHTS
An investigation of the histories of people with disabilities in this country and of how those histories are documented in literary and nonfiction texts across three centuries. Though the course is primarily a study of literary texts, it also considers social and medical models of disability as well as current issues in disability activism and the implications of such activism for young people in the nation's educational, social, and cultural institutions.
African American and Caribbean Neo-Slave Narratives
Literature 305
CROSS-LISTED: AFRICANA STUDIES, HUMAN RIGHTS
This course engages students in sustained literary analysis of "neo-slave narratives" while also addressing the major ideas of "critical race theory." Neo-slave narratives are texts by contemporary writers who seek to reimagine experiences of enslavement, often from multiple perspectives. The goal is to arrive at a more complex understanding of the history of slavery and race in America and its impact on our lives. Texts by Maryse Condé, Fred D'Aguiar, Caryl Phillips, James Baldwin, Richard Dyer, Ian F. Haney López, Paulo Freire, and others.
Black Feminist Theory and Practice: New Interdisciplinary Approach
Literature 306
CROSS-LISTED: AMERICAN STUDIES, GSS
This interdisciplinary seminar introduces past and contemporary expressions of Black feminist thought through works of literature, visual culture, music, and theoretical texts from a variety of disciplines. Texts by Harriet Jacobs, Ida B. Wells, Gayl Jones, Sherley Anne Williams, Suzan-Lori Parks; screenings of Monster's Ball, Girl 6, The Watermelon Woman, Without You I'm Nothing; and clips from Gone with the Wind. Students also engage with music and visual texts by Billie Holiday, Nina Simone, Cassandra Wilson, and Beyoncé.
Writing the Better Self
Literature 310
William Wordsworth's narrative poem The Prelude includes as a subtitle "Growth of a Poet's Mind." The bildungsroman—the story of personal development—reached an apex in the British Empire of the 19th century across genres and forms. This course looks at why that was so, and puzzles through the ethical stakes inherent in the form. Texts: The Prelude; The History of Mary Prince: A West Indian Slave; selections from autobiographies of factory workers; Eliot's The Mill on the Floss; Dickens's Great Expectations; and Wilde's The Picture of Dorian Gray.
A Fly in the Buttermilk: Home and Abroad with James Baldwin
Literature 312
CROSS-LISTED: AFRICANA STUDIES, AMERICAN STUDIES
During his travels as a literary expatriate, James Baldwin remarked to a friend who had urged him to settle down that "the place in which I'll fit will not exist until I make it." This course uses Baldwin's work and career to "travel" from America abroad and from region to region, exploring critical issues in the fields of American and African American literature, including race and ethnicity, gender, language, identity, technique, and questions of canon formation.
The Revenge Tragedy
Literature 3122
CROSS-LISTED: EXPERIMENTAL HUMANITIES, THEATER AND PERFORMANCE
Vindicta mini! Clandestine murders, otherworldly revenants, disguise, madness, and a final scene of brutal bloodshed: these characterize the revenge tragedy, a form of drama extremely popular in Elizabethan and Jacobean England. The class investigates the revenge tragedy's antecedent, Senecan tragedy, before considering the genre in its own context during the late 16th and early 17th centuries and modern instantiations of the genre.
Literary Responses to Totalitarianism
Literature 313
CROSS-LISTED: HUMAN RIGHTS
Students read novels, stories, memoirs, poems, and plays that describe the experience of human beings suffering—or thriving—under totalitarian regimes. Among the writers studied are Roberto Bolaño, Nadezhda Mandelstam, Peter Handke, Gitta Sereny, Primo Levi, Philip Roth, Norman Manea, Zbigniew Herbert, Wallace Shawn, Nuruddin Farah, and Jung Chang. Narrative structure and literary style are considered, as well as historical and political content.
The Geography of Unease
Literature 3139
CROSS-LISTED: GSS, HUMAN RIGHTS
Using literary and philosophical texts, this course explores the tenuous process of passing from one condition to another. Whether this integrative process involves race, country, sexuality, gender, or socioeconomics, it explodes the notion of a stable and unchanging self and focuses on border zones of culture and being. Readings from Bourdieu, Rancière, Larsen, Howells, Ernaux, Foucault, Eribon, Glissant, Fanon, and Rankine.
Women's Bodies / Women's Voices
Literature 314
CROSS-LISTED: GSS, VICTORIAN STUDIES
Explaining his own poetic ventriloquizing of Sappho, Victorian poet Algernon Charles Swinburne wrote, "It is as near as I can come; and no man can come close to her." This course interrogates what it meant to write in a woman's voice, to write of a woman's body, and to work as an embodied female artist in the years between 1840 and 1930 in Great Britain. Authors include Charlotte and Emily Brontë, Thackeray, Martineau, Robert Browning, Wilde, Woolf, Ford, Yeats, and Hall, among others.
Women on the Edge
Literature 3143
CROSS-LISTED: GSS
The class considers numerous experimental female authors and their predecessors, with an emphasis on formal innovation, especially as it intersects preoccupations of sexuality and gender. Authors may include Dorothy Richardson, Nathalie Sarraute, Djuna Barnes, Clarice Lispector, Marguerite Young, Kathy Acker, Annie Ernaux, Jacqueline Woodson, Carmen Maria Machado, Helen DeWitt, Elfriede Jelinek, Angela Carter, Rikki Ducornet, Jeanette Winterson, Jaimy Gordon, and Renata Adler, among others. Some familiarity with Virginia Woolf and Gertrude Stein is assumed but not a prerequisite.
T. S. Eliot and the Poetics of Modernity
Literature 3149
CROSS-LISTED: AMERICAN STUDIES
The poetry, philosophy, and cultural criticism of T. S. Eliot serve as a framework for exploring the multiple intellectual challenges of modernity. The course investigates the cultural contexts out of which literary modernism arose; specific influences on Eliot's early work (Baudelaire, Pound, Freud); the ongoing tensions he strived to negotiate, among them tradition versus poetic innovation and the desire for psychological and cultural integration versus the acknowledgement of fragmentation; and the vagaries of his reputation in the 20th and 21st centuries.
Proust: In Search of Lost Time
Literature 315
CROSS-LISTED: FRENCH STUDIES
Marcel Proust's In Search of Lost Time is is about an elaborate internal journey, at the end of which the narrator discovers the unifying pattern of his life both as a writer and human being. Students read Swann's Way and Time Regained in their entirety along with key excerpts from other volumes. Topics of discussion include the ways in which Proust's masterpiece reflects the temporality and new rhythms of modernity, the narrative and stylistic function of homosexuality, and the massive social disruption brought about by the Great War.
(Un)making the Canon: Texts and Contexts in English Literature
Literature 320
CROSS-LISTED: EXPERIMENTAL HUMANITIES, MEDIEVAL STUDIES
Why are some texts deemed canonical and others not? How and when and under what (or whose) auspices does this process occur? In the case of early English texts, did their contemporary readers hold them in the high regard we do? In branding these texts literary and cultural masterpieces, are we ignoring their meanings to earlier readers? This course takes a fresh look at the "must reads" of early English literature, including Beowulf, Chaucer's Canterbury Tales, and Sir Gawain and the Green Knight.
Love and Death in Dante
Literature 3205 / Italian 3205
CROSS-LISTED: ITALIAN STUDIES, MEDIEVAL STUDIES
What makes Dante's Divine Comedy so essential to our lives today, even though it was written seven centuries ago? The fascinating world of Dante's epic poem is explored in all its cultural and historical richness, as the class considers Dante's relation to his beloved hometown of Florence, his lacerating experience of exile, and his lifelong devotion to his muse Beatrice, among other issues. Course/readings in English.

Evidence
Literature 3206 / Human Rights 3206
See Human Rights 3206 for a full course description.
Writing Africa
Literature 3212
CROSS-LISTED: AFRICANA STUDIES, HUMAN RIGHTS
Africa has served as the setting for a variety of British and American authors. Grand ideas are discussed with great intensity in their works, yet the African is virtually absent because the author denies him/her the power of speech or presents him/her as not wholly present, not a full human being equal to the others. This course explores topics such as colonialism, racism, civilization, and the "construction" of the African in texts by Conrad, Waugh, Cary, Hemingway, Bellow, Naipaul, Boyd, Theroux, and Rush.
Representing the Unspeakable
Literature 322
CROSS-LISTED: GSS, HUMAN RIGHTS
What means do writers use to demonstrate conditions that defy our comprehension? This seminar focuses on how literary works find a language to describe emotions and experiences that usually cannot be translated into everyday speech; and how figurative tropes, such as description and metaphor, can evoke powerful states of physical difference and illuminate the distinction between the human and the nonhuman, success and failure. Texts include Shelley's Frankenstein; Kafka's The Metamorphosis; Haddon's The Curious Incident of the Dog in the Night-Time; and Erpenbeck's Go, Went, Gone.
Beyond Lolita: Nabokov and the Language of Desire
Literature 323
This Junior Seminar considers the eroticism of Nabokov's masterwork not only as a matter of plot, characterization, or dialogue, but also as a linguistic phenomenon. Lolita was written in English, Nabokov's adopted language. The class investigates how his complicated relationship with the language influenced his techniques and stylistic choices, as well as strategies of narrative concealment used to seduce, mislead, and even morally blind his reader.
Major Currents in American Thought
Literature 3224
CROSS-LISTED: AMERICAN STUDIES
The focus of the course is on three strains in American thought and culture: Emersonianism (individualism, self-creation, pragmatism, languages of movement and becoming); the Protestant tradition and its con­cerns (original sin and the tragic sense, transcendence of justice, imperatives of ethical reform), with Jonathan Edwards as the point of departure; and the conceptualization of American pluralism. Texts by William James, Dewey, Rorty, Cavell, Addams, Faulkner, Niebuhr, King, Stanton, Du Bois, Baldwin, Friedan, Chodorow, and others.
Innovative Novellas and Short Stories
Literature 330
An in-depth study of the difference between the short story, built on figurative techniques closely allied to those employed in poetry, and the novella, which demands the economy and exactness of a short work while at the same time allowing a fuller concentration and development of character and plot. Readings from masters in these genres, including Voltaire, de Maupassant, Tolstoy, Chekhov, Aleichem, Mann, Babel, France, Camus, Kafka, Colette, and Borges.
Translation Workshop
Literature 331
This workshop explores both the process of translation and ways in which meaning is created and shaped through words. Class time is divided between a consideration of various approaches to the translation of poetry and prose, comparisons of solutions arrived at by different translators, and the students' own translations of poetry and prose of their choosing. Prerequisite: one year of language study or permission of the instructor.
The Art of Misbehaving in Renaissance England
Literature 3315
English Renaissance literature is filled with audacious overreachers, defiant women, impertinent clowns, and deceptive tricksters—not to mention rogues, spies, murderers, and thieves. This course explores what depictions of rule-breakers and outlaws on stage can tell us about the organization of political and cultural power in the period, and interrogates our own position with respect to codes governing behavior. Readings include works by Shakespeare, Marlowe, and Jonson, as well as modern works of social theory and primary documents such as etiquette guides and political manifestos.
Renaissance Rebels
Literature 3316
The Renaissance was an age of humanism and republicanism. It was also an age of censorship, persecution, and tyranny. This course explores the relationship between literature and rebellion in early modern England. From scatological verse libel to subversive autobiography, English literature challenged the social, religious, and political norms of the day. Through literature, marginalized individuals and groups—women, religious dissidents, commoners—made their voices heard. Literary works are read in dialogue with selected texts of social and political theory.
Innovative Contemporary Fiction
Literature 333
Students have the opportunity to interact with several leading contemporary writers, who visit class to discuss their work, answer questions, and give a public reading. Time is also devoted to key novels and short story collections by innovative fiction writers of the past couple of generations, with a particular emphasis on pioneering practitioners such as Cormac McCarthy, Angela Carter, Jeanette Winterson, William Gaddis, Kazuo Ishiguro, Michael Ondaatje, Ian McEwan, and Jamaica Kincaid.
Postfantasy, Fabulism, and the New Gothic
Literature 334
In a modern world in which images of sexuality proliferate, how did the In recent decades the boundaries between literary novels and genre fiction have become increasingly ambiguous. Early gothicists framed their tales within the metaphoric scapes of ruined abbeys and diabolic grottoes, with protagonists whose inverted psyches led them to test the edges of propriety and sanity. New gothic masters, such as Carter, Gaddis, and McCarthy, have contemporized these tropes and narrative arcs, while a parallel literary phenomenon, new wave fabulism, has taken the fantasy/horror genre in a similar literary direction. Authors studied also include Crowley, Hand, Coover, Russell, and Straub.
Extinctions
Literature 336
CROSS-LISTED: ANTHROPOLOGY, EUS
"Extinction" can describe more than one kind of calamity: species death, the disappearance of ways of life, the loss of languages. When and why did this trope—suggesting some vital flame snuffed out—become key to how we talk about the realities of biological, cultural, and linguistic precarity? How does one narrate the end, not of an individual organism, but of a form of life? For answers, the class looks to early works of natural history; ethnographic studies of populations on the edge; and to literary works, from Romantic-era poetry to science fiction.

Life of the Mind: Hannah Arendt
Literature 337 / Philosophy 337
See Philosophy 337 for a full course description.
American Literature and the Reinvention of the Human
Literature 340
The 20th century saw a surge in the cultural prestige and moral authority of psychiatry, sociology, and anthropology. These disciplines, rather than religion or literature, established the principal vocabularies through which human identity and the prospects for social change were articulated. This course combines the study of American literature and American intellectual history, and explores the ways in which literature both appropriated and resisted this cultural transformation. Writers considered: Baldwin, Auden, Nabokov, Wright, O'Connor, Bellow, Heller, Dreiser, and McCarthy.
The Book before Print
Literature 341
In 1476, William Caxton set up England's first printing press at Westminster in London. Prior to this technological innovation, books were made from vellum (animal skin) and written and illuminated by hand. The course considers Anglo-Saxon and medieval English books as both cultural objects and literary artifacts, and raises questions about literacy, the history of the book, the relationship between image and text, and the proximity of anonymous preprint culture to the Internet age, among other topics.
Literature and the Apocalypse
Literature 342
Almost from the time people began using styluses on clay tablets they wrote to depict the end of the world. This course looks at apocalyptic writing from its emergence in the sacred books of the Middle East to its contemporary efflorescence in novels, poetry, and film. Texts include Gilgamesh and associated works, John's Revelation, and the Book of Daniel; Mary Shelley's The Last Man and Jefferies's After London; and more contemporary works by Beckett, DeLillo, Porter, Saramago, and Vargas Llosa, among others.
Literature Live
Literature 344
CALDERWOOD SEMINAR
The course examines culturally significant literary works produced in the United States today. Texts are explored both for their literary merit and their social impact. Students are expected to produce a body of writing in the style of the "public intellectual," the critic or commentator who is able to communicate ideas in an accessible style (no academic jargon), and maintain a weekly blog. Authors studied likely to include Jonathan Franzen, Jhumpa Lahiri, Claudia Rankine, Adelle Waldman, Leslie Jamison, and Dave Eggers.
Difficulty
Literature 345
What do we mean when we say a piece of writing is "difficult" or "easy?" In what sense is, say, a children's tale less difficult than a modernist poem? Students examine a variety of texts and think about the roles a reader might assume in order to productively receive a "difficult" or "easy" text: decoder, philologist, ideologue, psychoanalyst, aesthete, etc. In this way, the course lays a foundation for literary theory and develops strategies for engaging with writings deemed too forbidding (or simple) for our attention.
European Encounters
Literature 346
CROSS-LISTED: HUMAN RIGHTS, MEDIEVAL STUDIES
Europe was a continent of immigrants long before today. This course looks at how modern European identities and divisions were forged out of the migration of peoples in the pre-Modern period and their interaction with others. Readings are drawn from the entire medieval period and from Ireland to the Middle East. They include origin myths, Roman accounts of "barbarians," Jewish and Muslim descriptions of Christian Europe, Crusade narratives, exploration accounts, legal texts, treatises, and letters.
The Late Novels of Henry James
Literature 347
It is no exaggeration to claim that modernism in Anglo-American fiction begins with the late novels of Henry James (1843–1916). In their innovative representations of the complexities of consciousness, these novels break ground later excavated by Woolf, Joyce, Proust, and Faulkner. Students read one or two early short works and James's middle-period masterpiece, The Portrait of a Lady (1881), before plunging into his three difficult but resplendent masterworks: The Wings of the Dove (1902), The Ambassadors (1903), and The Golden Bowl (1904).

Black Skin, White Masks: Decolonization through Fanon
Literature 348
CROSS-LISTED: AFRICANA STUDIES, FRENCH STUDIES, HUMAN RIGHTS
Where does the concept of decolonization come from? What can we learn by reading the history of decolonial thought as a simultaneously literary, political, and philosophical project? This course approaches these questions through the work of Frantz Fanon, a Martinican writer, intellectual, psychiatrist, and anticolonial revolutionary. Texts include Black Skin, White Masks, his analysis of the psychopathologies produced by colonial racism, and The Wretched of the Earth, his controversial defense of anticolonial violence.

Civilization, Modernity, and the Modern Arabic Novel
Literature 350
CROSS-LISTED: MES
How was the understanding of civilization curated and redefined as a result of the shifting geopolitics of modernity, and how are these shifts refracted in Arabic literary production of the 19th and early 20th centuries? Texts from Ahmad Faris al-Shidyaq, Muhammad al-Muwaylihi, Butrus al-Bustani, Esther Moyal, Labiba Hashim, Ameen Rihani, and Muhammad Haykal. Theoretical readings by Edward Said, Emily Apter, Gayatri Spivak, Talal Asad, Aamir Mufti, and Peter Osborne
Journalism between Fact and Fiction
Literature 351
CROSS-LISTED: HUMAN RIGHTS, WRITTEN ARTS
Journalism, by definition, belongs to the here and now, to the everyday (the "jour" in journalism), while literary writing would seem to have higher aspirations. But sometimes journalism and literature converge. This course seeks to complicate the opposition between literature and reportage, fiction and fact, news and opinion, and explore what constitutes very fine writing at its most informative. Texts considered include works by Orwell, Buruma, Steinberg, Baldwin, Lindquist, Appiah, Mendes, and Boo.
Shakespeare's Comedies
Literature 352
This upper-level course takes up Shakespeare's diverse comedies as avenues for exploring different critical and theoretical approaches. Students read all the comedies—The Comedy of Errors, A Midsummer Night's Dream, The Taming of the Shrew, Much Ado about Nothing, Two Gentlemen of Verona, The Merry Wives of Windsor, As You Like It, All's Well That Ends Well, Love's Labour's Lost, Twelfth Night, Measure for Measure, Troilus and Cressida, and The Merchant of Venice—as well as exemplary works of literary criticism and theory.
Global Cultural Cold War
Literature 354
In the wake of World War II, the Americans and Soviets vied for global cultural influence as part of the decades-long Cold War, with both Cominform and the CIA's Congress for Cultural Freedom facing off in a propaganda war. Students read diplomatic history, archival documents, and recent scholarship on the cultural Cold War alongside journal excerpts and novels by Arthur Koestler, Tayeb Salih, Richard Wright, Allen Ginsberg, Ghassan Kanafani, Layla Baalbaki, Chinua Achebe, Gabriel García Márquez, Ngugi wa Thiong'o, Marlon James, and Viet Thanh Nguyen.
American Realisms
Literature 355
CROSS-LISTED: AMERICAN STUDIES
This course focuses on texts produced between (roughly) 1865 and 1914, by writers seeking to convey the "realities" of American life in this turbulent period. Realism has long been defined by the works of James, Howells, Twain, Crane, Dreiser, Wharton, and Chopin. In addition to selections from these authors, the class considers texts by writers of color, of varying ethnicities, and by greater numbers of women, in order to better understand the different realities they were striving to document and influence.

Playing in the Dark: Toni Morrison's Literary Imagination
Literature 356
CROSS-LISTED: AFRICANA STUDIES, AMERICAN STUDIES
"How is 'literary whiteness' and 'literary blackness' made?" "What happens to the writerly imagination of a Black author who is at some level always conscious of representing one's own race?" This course takes Toni Morrison's 1992 essay "Playing in the Dark" (the above quotes are drawn from its preface) as inspiration for an exploration of Morrison's fiction, nonfiction, and work as a literary editor. The class also learns how to read critically within the fields of American and African American literature.
Squaring the Circle: The Literature of Investigation
Literature 359
CALDERWOOD SEMINAR
This course circumnavigates the detective novel as a literary genre, reflecting upon class, race, and gender with readings from a wide variety of novels, stories, and theoretical essays. It offers hypothetical and practical studies in questioning, puzzling, and deducing. Through weekly writing assignments—on plot, perspective, motivation, characterization, and cultural assumptions—students translate their critical insights into a language accessible to nonacademics.

Global Modernism
Literature 362
While modernism has been considered a largely European and North American affair, new research has shown that modernism existed all over the world, from Africa and Latin America to the South Pacific and East Asia. Writers studied may include Chinweizu Ibekwe, Léopold Sédar Senghor, and Wole Soyinka (Africa); Claude McKay, Kamau Brathwaite, and Aimé and Suzanne Césaire (Caribbean); Hirato Renkichi and Chika Sagawa (Japan); Lu Xun, Eileen Zhang, and the Misty poets (China); Albert Wendt (Samoa/ New Zealand); Georges Henein, Nazik al-Malaika, and Adonis (Middle East); among others.
Memorable 19th-Century Continental Novels
Literature 3640
Through close critical reading, students in this course seek to isolate stylistic, thematic, ideological, and other possible factors that explain why the following novels have become part of the literary canon: Dostoevsky's Crime and Punishment, Stendhal's The Red and the Black, Flaubert's Madame Bovary, Balzac's Pere Goriot, Fontane's Effi Briest, and Tolstoy's War and Peace. Prior knowledge of European 19th-century general history is recommended but not required.
Bring the Pain: Black Satire and Critical Humor
Literature 367
CROSS-LISTED: AMERICAN STUDIES, THEATER AND PERFORMANCE
This seminar examines the politics of Black satire as a performative medium, and traces a genealogy of Black comedic performance practices in the tradition of African American satire and politically insurgent humor. Students explore multiple modes of satirical performance in relation to critical aesthetic movements from the 19th century to the present day. Theories of humor and signifying (by Ellison, Gates, Watkins, Freud) are placed in conversation with the performances of Williams and Walker, Simone, Pryor, Beatty, Rock, Chappelle, and others.

Prismatic Encounters: The Literary Afterlife of Russian Classics
Literature 370
How do masterworks of literature begin a new life in a different language, cultural context, and literary market? What narrative features and authorial techniques make them suitable for creative adaptation, imaginative translation, or extensive referencing by other writers? This course examines the afterlives of great Russian novels and short stories as they were appropriated, retold, and refracted by authors writing in English. Readings from Gogol, Dostoevsky, Turgenev, Chekhov, Zamyatin, Lahiri, Coetzee, Hemingway, O'Connor, Nabokov, and Orwell.
Ralph Waldo Ellison
Literature 378
CROSS-LISTED: AMERICAN STUDIES
Many Ellisons are contained within the author of Invisible Man, one of the greatest novels of the 20th century—novelist, essayist, musician, critic, mechanical tinkerer, Bard professor. Despite a wealth of other writing, Ellison published only one novel in his lifetime. This course uses Ellison's work and career to explore critical issues in American and African American literature, and the Invisible Man as a structural road map in considering the literary, philosophical, and vernacular traditions that influenced its composition.
Poetry and Attentiveness
Literature 380
CROSS-LISTED: EXPERIMENTAL HUMANITIES, WRITTEN ARTS
Poetry invites us to attend to the world, and to our experience of the world, in profound and often revelatory ways. Students in this course, which meets once a week for seven hours, read and respond to an eclectic list of poets including Basho, Hughes, Keats, Moore, O'Hara, and several poets of the Chinese Tang Dynasty. They also consider the question of attentiveness itself—what does it mean to truly "pay" attention?—through writing about their efforts to immerse themselves in what they read and experience.
Different Voices, Different Views from the Non-Western World
Literature 389
CROSS-LISTED: GIS
Significant short works by some of the most ­distinguished contemporary writers of Africa, Iran, India, Pakistan, Korea, Vietnam, and the Middle East are examined for their intrinsic literary merits and the verisimilitude with which they portray the sociopolitical conditions, spiritual belief systems, and attitudes toward women in their respective countries. Authors include Assia Djebar, Nawal El Saadawi, Ousmane Sembène, Ngugi wa Thiong'o, Chinua Achebe, Naguib Mahfouz, R. K. Narayan, Anita Desai, Nadine Gordimer, Mahasweta Devi, Mahmoud Darwish, and Tayeb Salih.
Ten Plays That Shook the World
Literature 393
CROSS-LISTED: FRENCH STUDIES, THEATER AND PERFORMANCE
A close reading of plays considered milestones in the history of theater. The class examines the artistic, social, and psychological components that made these 10 works part of the literary canon. Have they lasted because they conjure up fantasies of escape? Because they make readers face dilemmas inherent in certain social conditions or archetypal conflicts? Direction, acting, staging, and lighting are also considered.
Senior Colloquium: Literature
Literature 405
Literature majors must enroll in this yearlong colloquium, where they share working methods, knowledge, skills, and resources, and address challenges arising from research and writing on this scale. A focus on the nuts and bolts of the Senior Project is complemented with life-after-Bard skills workshops and a review of internship and grant-writing opportunities.