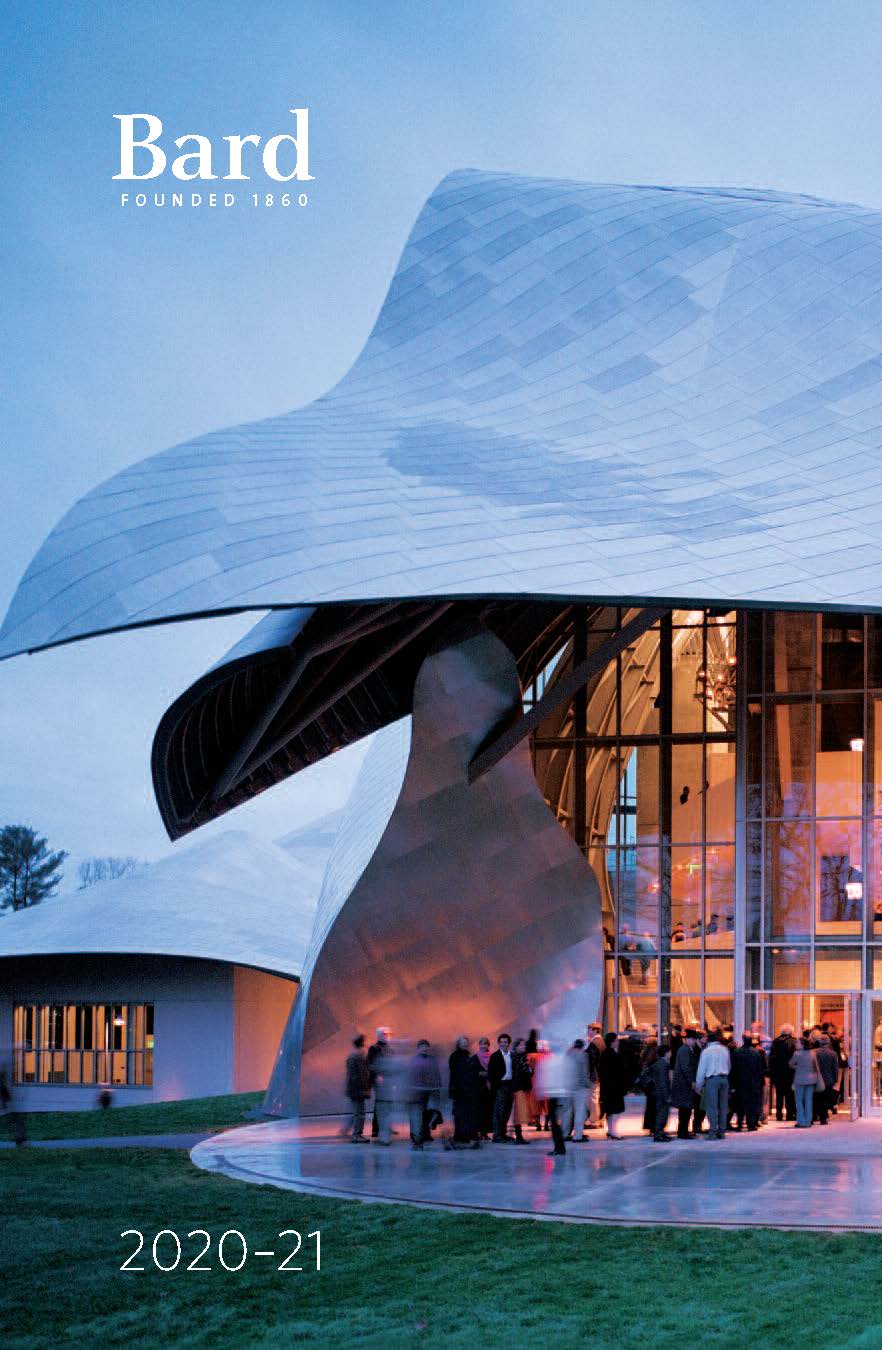 Bard College Catalogue 2020-21
Bard College: A Selective Chronology
1860—Bard College is founded as St. Stephen's College by John Bard, in association with the New York City leadership of the Episcopal Church. Bard came from a family of physicians who played significant roles in the launching of Columbia University, New York Hospital, and New York City's first free ­public library.
1866—The College grants degrees in the liberal arts and sciences, in addition to the preseminarian program.
1928—St. Stephen's becomes an undergraduate college of Columbia University.
1929—Franklin Delano Roosevelt becomes a trustee and serves until 1933.
1934—The College is renamed to honor its founder. A new educational program is adapted under President Donald Tewksbury that is based on the Oxford ­tutorial. It includes a second-year assessment (Moderation) and a Senior Project—both pillars of the Bard education today.
1944—Bard ends its affiliation with Columbia in order to become coeducational.
1947—Radio station WXBC begins as a Senior Project.
1953—The innovative Common Course, designed by Heinrich Bluecher, is inaugurated. It is the forerunner of today's First-Year Seminar.
1956—Bard welcomes 325 Hungarian refugee students to participate in the Orientation Program, which provides instruction in English and an introduction to life in the United States.
1960—The College celebrates its centennial year. Under President Reamer Kline, it undergoes a tremendous expansion in buildings, grounds, faculty and student body size, and core curricula.
1975—Leon Botstein takes office as the 14th president of the College and further expands the educational program by integrating the progressive tutorial ­system with the classical legacy of St. Stephen's.
1978—The Bard Center is founded.
1979—Bard assumes responsibility for Simon's Rock Early College in Great Barrington, Massachusetts.
1981—Bard launches its first affiliated graduate program, the Milton Avery Graduate School of the Arts, which offers a master of fine arts degree. The first Workshop in Language and Thinking is held for entering students.
1982—The Institute for Writing and Thinking is founded.
1986—The Jerome Levy Economics Institute is founded (now the Levy Economics Institute). Bard creates the Excellence and Equal Cost Scholarship Program.
1988—The Graduate School of Environmental Studies (now the Bard Center for Environmental Policy) offers a master of science in environmental studies.
1990—The Center for Curatorial Studies is founded. The literary journal Conjunctions makes its home at Bard. The Bard Music Festival, designed to illuminate the life, work, and times of an individual composer, presents its first season.
1991—The Program for International Education (PIE) brings young people from emerging democracies to Bard for a year of study.
1993—The Bard Graduate Center: Decorative Arts, Design History, Material Culture opens in New York City.
1998—The Institute for International Liberal Education is founded with a mission to advance the theory and practice of international liberal arts education.
1999—The Bard Prison Initiative is founded to bring new opportunities for higher education into the correctional system of New York State. The Bard Center for Environmental Policy is created. The Faculty of Liberal Arts and Sciences of St. Petersburg State University (Smolny College), a collaborative venture between Bard and Russia's St. Petersburg State University, enrolls its first class of students.
2001—Bard and the New York City Department of Education launch Bard High School Early College (BHSEC), a four-year alternative school in downtown Manhattan.
2002—Bard offers the first full major in human rights at a U.S. college.
2003—The Richard B. Fisher Center for the Performing Arts, designed by architect Frank Gehry, opens. Bard and the International Center of Photography join forces to offer an MFA degree in photography.
2004—The Master of Arts in Teaching (MAT) Program welcomes its first class.
2005—The Bard College Conservatory of Music opens, offering a unique five-year dual-degree (BM/BA) program.
2006—The Conservatory of Music initiates a graduate program in vocal performance (a graduate conducting program follows in 2010). The Center for Curatorial Studies inaugurates the Hessel Museum of Art. The West Point–Bard Exchange is launched. The Hannah Arendt Center for Politics and Humanities is established.
2007—The Gabrielle H. Reem and Herbert J. Kayden Center for Science and Computation, designed by Rafael Viñoly, opens. The College launches the five-year, dual-degree (BS/BA) Economics and Finance Program. The Landscape and Arboretum Program is established to preserve and enhance Bard's 540-acre campus.
2008—Bard High School Early College Queens opens in New York; Bard launches an early college program in New Orleans.
2009—Bard partners with Al-Quds University in the West Bank on the College for Arts and Sciences and a master of arts in teaching program. The Lynda and Stewart Resnick Science Laboratories is completed, as is The parliament of reality, the first permanent outdoor installation in the United States by renowned Danish-Icelandic artist Olafur Eliasson.
2010—Bard celebrates the 150th anniversary of its founding. The College establishes a partnership with American University of Central Asia.
2011—Citizen Science becomes part of the required curriculum for first-year students. The Center for Civic Engagement is established. Bard High School Early College Newark opens. Bard assumes ownership of the European College of Liberal Arts in Berlin (now Bard College Berlin: A Liberal Arts University).
2012—The Longy School of Music merges with the College. Live Arts Bard launches. Construction is completed on the Anne Cox Chambers Alumni/ae Center and an addition to the Stevenson Athletic Center. Bard inaugurates the MBA in Sustainability program and establishes the 1.25-acre Bard College Farm.
2013—The Bard Entrance Examination is introduced as an alternative application for admission. The László Z. Bitó '60 Conservatory Building opens, and Bard Works, a ­professional development program for juniors and seniors, debuts.

2014—The Center for Moving Image Arts opens. The Levy Economics Institute Master of Science in Economic Theory and Policy welcomes its first students. A fourth BHSEC campus opens in Cleveland, Ohio. Honey Field, a baseball facility, is completed. The Fisher Center's Theater Two is renamed LUMA Theater.
2015—New programs include The Orchestra Now, a preprofessional orchestra and graduate program; BHSEC Baltimore; and Bard Academy at Simon's Rock, a college preparatory program for 9th and 10th graders in Great Barrington, Massachusetts.
2016—
The 150th Anniversary Campaign, the largest fund-raising campaign in the College's history, raises more than $565 million for scholarships, new buildings and renovations, operating support, and endowment. The College acquires Montgomery Place, an adjacent 380-acre property. Bard Early College Hudson opens. Expansion and renovation projects at CCS Bard and Hessel Museum of Art include the Visible Collections Storage and Living Archive. Bard Microcollege Holyoke opens.
2017
—New Annandale House, a sustainably built multiuse space, is completed. Bard Early College New Orleans expands to a full-day program; Bard Music West inaugurates its first season, highlighting the work and world of György Ligeti. The US-China Music Institute, a partnership of the Bard College Conservatory and Central Conservatory of Music in Beijing, is established. Central European University opens an extension site on the Bard campus.
2018
—Bard Microcollege Brooklyn, a joint venture with the Brooklyn Public Library, launches. The Center for Environmental Policy and Bard Master of Arts in Teaching Program initiate an MEd program in environmental education. The Bard Graduate Center offers a 3+2 BA/MA program in decorative arts, design history, and material culture. The Levy Economics Institute's graduate programs expand to include a one-year MA in economic theory and policy. The Levy Institute and Central European University offer an Advanced Certificate in Inequality Analysis.
2019
—Bard High School Early College DC opens.
College Behind Bars
, a documentary series profiling the Bard Prison Initiative, airs on PBS.
2020
—Bard and Central European University launch the Open Society University Network (OSUN). In addition to existing partners in Germany, Lithuania, Russia, the West Bank, and Kyrgyz Republic, OSUN includes educational and research institutions in Europe, Southeast Asia, Africa, South America, and the United States. The Levy Economics Institute acquires the John Kenneth and Catherine Atwater Galbraith Library Collection. The President's Commission on Racial Equity and Justice is created.