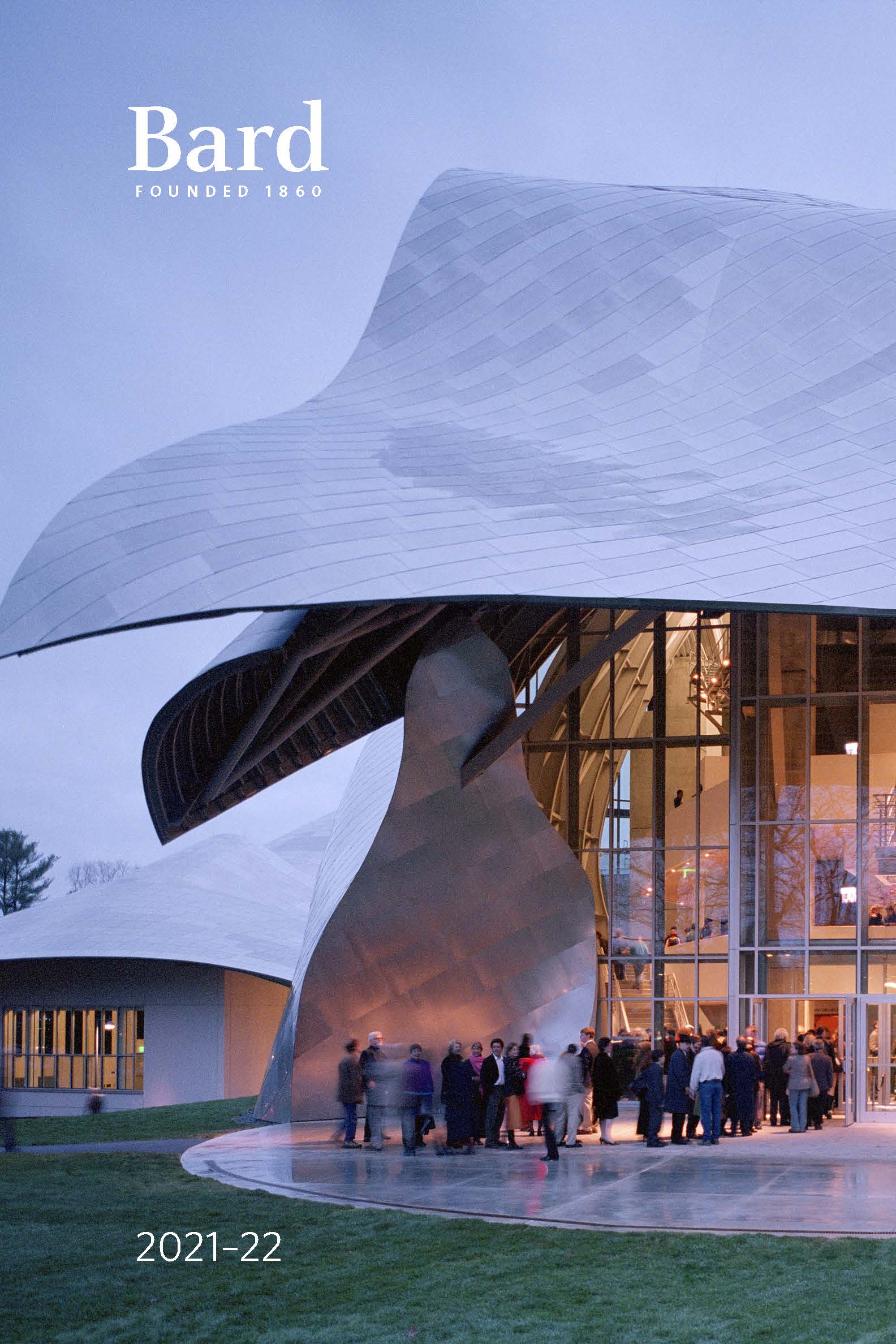 Bard College Catalogue 2021-22
Cultural Programs
Bard Music Festival
fishercenter.bard.edu/bmf
Since 1990 the Bard Music Festival (BMF) has been presented on the Bard campus each summer over two consecutive weekends in August. The festival offers an array of concerts and programs whose themes are taken from the life, work, and world of a single composer. Through a series of preconcert talks and panel discussions by eminent music scholars, composers are examined within the cultural and political contexts of their careers. The summer season also includes related opera, film, and dance programs. Venues include the Fisher Center's 800-seat Sosnoff Theater and 200-seat LUMA Theater, and 370-seat Olin Hall, offering concertgoers both the intimate communication of recital and chamber music and the excitement of full orchestral and choral sound.
In 2021, the festival's 31st season explored the life and work of French composer and conductor Nadia Boulanger (1887–1979), with concerts presented in the Sosnoff Theater and via UPSTREAMING, the Fisher Center's virtual stage. SummerScape productions were staged for limited in-person audiences both indoors and across Bard's 1,000-acre campus, including The Stage at Montgomery Place. Events included the world premiere of a dance by choreographer in residence Pam Tanowitz and Jessie Montgomery; the Black Roots Summer concert series; cabaret; and a concert version of Frank Loesser's songs for
The Most Happy Fella
.
In recent years, BMF has celebrated the composers Erich Wolfgang Korngold, Nikolai Rimsky-Korsakov, Fryderyk Chopin, Giacomo Puccini, Carlos Chávez, Franz Schubert, Igor Stravinsky, Camille Saint-Saëns, Jean Sibelius, Alban Berg, Richard Wagner, Sergey Prokofiev, Edward Elgar, Franz Liszt, Dmitrii Shostakovich, and Aaron Copland. Related articles and essays are published in a companion book edited by a major music scholar.
Lecture and Performance Series
In 2020–21, the Bard College Conservatory of Music presented master classes, chamber music, and virtual concerts by students, faculty, and guest artists. Conservatory events included the Condo Concerts, a series of concerts made possible by a gift from the artist George Condo. The debut concert featured violinist Leila Josefowicz, winner of the Avery Fisher Prize and a MacArthur Fellowship, performing a partita by J. S. Bach and a work by Matthias Pintscher, La Linea Evocativa, which was composed for her in 2020 and inspired by Condo's artwork. Josefowizc also performed as part of the Fred Sherry String Quartet in two additional concerts featuring works by Schoenberg and Schubert. The final Condo Concert of the spring was a recital by clarinetist Anthony McGill, recipient of the 2000 Avery Fisher Career Prize, principal clarinet of the New York Philharmonic, and a member of the Conservatory faculty. UPSTREAMING concerts by the Conservatory Orchestra and The Orchestra Now featured works by Richard Strauss, William Grant Still, Ellen Taaffe Zwilich, and Béla Bartók; an arrangement of orchestral music from Bizet's Carmen along with works by Vivaldi, Frank Martin, and Alvo Pärt; 1950s European String Music; Mendelssohn's "Scottish" Symphony, Bernstein's Serenade, and works by Stravinsky and Tania Léon; and a belated 250th birthday celebration of Ludwig van Beethoven.

The John Ashbery Poetry Series, named for the late Charles P. Stevenson Jr. Professor Emeritus of Languages and Literature, brings leading poets to campus for readings and discussion in an intimate setting. Artists recently featured include alums Ed Steck MFA '12 and Ann Stephenson MFA '07; 2019 Kingsley Tufts Award winner and Distinguished Writer in Residence Dawn Lundy Martin, Tamas Panitz '14, Sophie Strand '16, Hoa Nguyen, Alice Notley, Anselm Berrigan, Roberto Tejada, and Jennifer Moxley.

Hudson Valley Chamber Music Circle
Founded in 1950, the Hudson Valley Chamber Music Circle (HVCMC) has attracted a loyal regional following that has enjoyed annual June performances by some of the finest classical ensembles and soloists in the world. The 2020 June concert was canceled due to the COVID-19 pandemic, but in May HVCMC featured a livestream performance by artistic directors Sharon Robinson, cello, and Jaime Laredo, violin. For more information, visit hvcmc.org.

Conjunctions
Founded in 1981, Bard's influential literary journal Conjunctions publishes innovative fiction, poetry, translations, essays, and interviews by contemporary masters and exciting new voices from the United States and around the world. As its slogan, "Read Dangerously," suggests, the journal brings fearless writing to risk-taking readers. Edited by Bard professor and novelist Bradford Morrow, winner of PEN America's prestigious Nora Magid Award for excellence in editing a literary journal, Conjunctions appears in print biannually. The spring 2021 issue, Conjunctions:76, Fortieth Anniversary Issue, celebrates the four decades that the journal has published the work of nearly two thousand writers, some at the beginnings of their careers, some avowed masters. The issue includes works by Rick Moody, Ben Okri, Karen Russell, Samuel R. Delany, Julia Alvarez, Richard Powers, Can Xue, Jayne Anne Phillips, and Peter Orner, among others. In June, Conjunctions and Oblong Books in Rhinebeck, New York, presented an evening of readings in celebration of the 40th anniversary. The fall 2020 issue, Conjunctions:75, Dispatches from Solitude, gathered fiction, poetry, essays, and genre-bending work from writers who, despite the deficits of quarantine, self-isolation, and distancing, are bonded by a shared embrace of the written word and its powers of expression. In February, Conjunctions and the Elliott Bay Book Company presented a livestream event, moderated by Morrow and featuring readings and performances by contributors to Conjunctions:75, including Sandra Cisneros, Brandon Hobson, Nathaniel Mackey, and Barbara Tran.

Conjunctions publishes an award-winning weekly online magazine of new writing at conjunctions.com. Recent featured authors include Shane McCrae, Joanna Scott, and Jenny Xie. The website also houses an online multimedia vault of exclusive recordings of readings. The journal has a robust online following, with social communities.