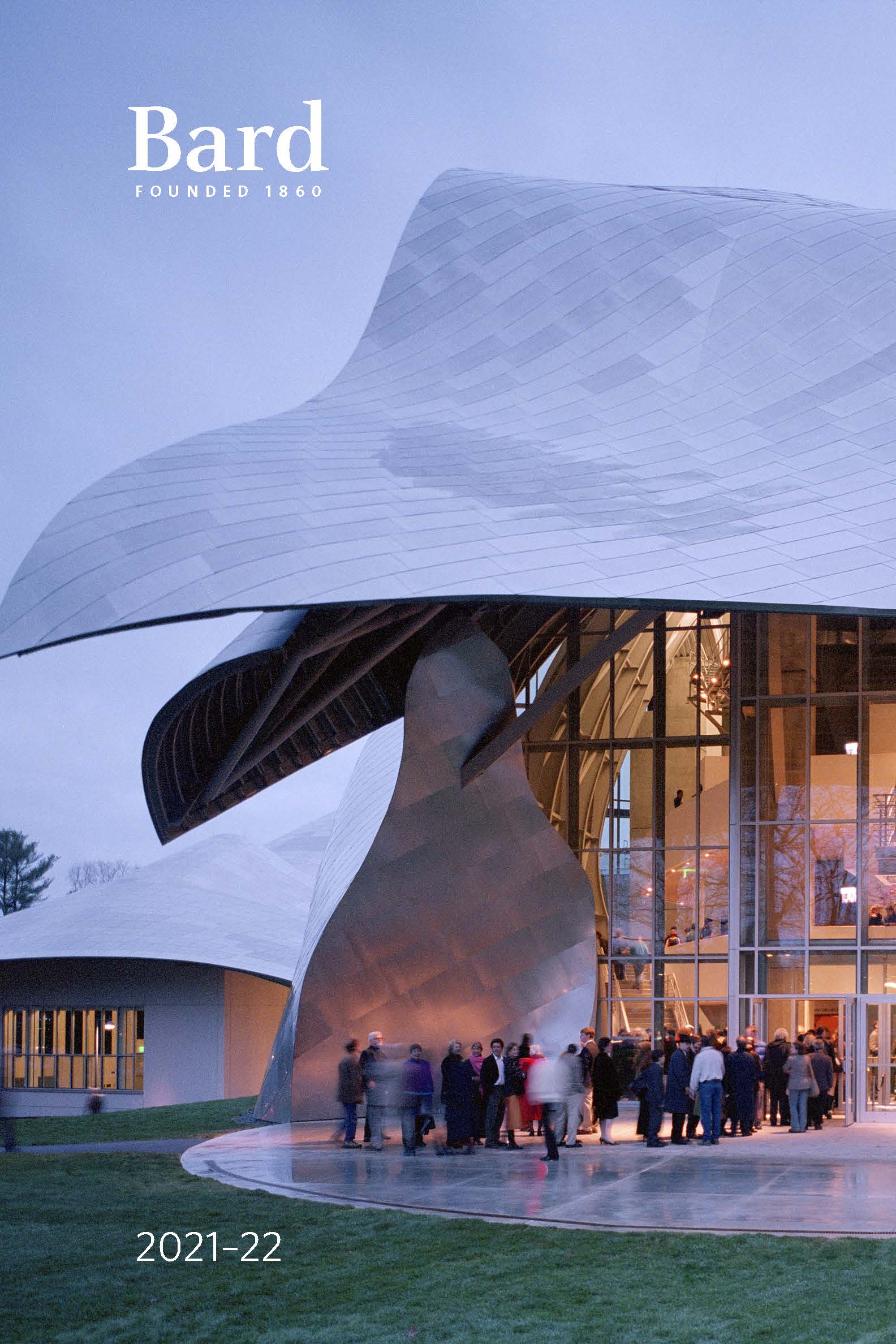 Bard College Catalogue 2021-22
Sociology

Faculty
Allison McKim (director), Karen Barkey, Yuval Elmelech, Laura Ford, Peter Klein, Joel Perlmann
Overview
Sociology at Bard aims to provide an understanding of the structure and processes of society—from everyday interactions among friends to social transformations of global magnitude. Sociology students learn to systematically examine a wide array of social phenomena, including social inequality, political and social movements, race, gender, economic systems, law, technological change, culture, media, religion, environmental risks, cities, family structures, and criminal justice. The Sociology curriculum offers students a theoretical and methodological foundation for conducting social research and thinking rigorously about important social issues. The most wide-ranging of the social sciences, sociology situates the economic, cultural, and political aspects of human communities within the complex whole of social life and its historical foundations. With its diverse array of topics, theories, and methodologies, the sociological perspective teaches people to examine the social world in a way that is both rigorous and flexible.
Requirements
Students planning to moderate in sociology are required to take a 100-level course in sociology (ideally Sociology 101, Introduction to Sociology); Sociology 205, Introduction to Research Methods; and Sociology 213, Sociological Theory, before Moderation. For Moderation, students submit the standard autobiographical outline of past and future work and a 10-page essay on a topic of their choice that has been approved by their adviser. Majors are expected to take two 300-level seminars and three additional electives. Each student must write a Senior Project based on their own original sociological research.
Recent Senior Projects in Sociology
"Beyond Their Homeland: Understanding the Experiences of Black Women in Japan"
"Exploring the Acculturation Preferences of Bangladeshi-Muslim Second-Generation American Immigrants in New York City"
"Inclusion or Exile: The Disabled Student's Experience in College"
"Taking Care: The Third Shift and the Women Covering It"
Courses
The Sociology curriculum offers students a theoretical and methodological foundation to examine important social issues. Courses in the program expose students to quantitative, qualitative, and historical research. Students learn to use research to inform policy, and they use social theory to engage profound questions about the nature of social life. Through this training, students acquire skills in conducting systematic social research.

The following descriptions represent a sampling of courses from the past four years.
Introduction to Sociology
Sociology 101
CROSS-LISTED: AMERICAN STUDIES
Sociology is the systematic study of social life, social groups, and social relations. This course explores many aspects of social life from the sociological perspective, including work, family, inequality, media, crime, gender, race, and class. Students learn how aspects of life we may take for granted are socially constructed, and how our individual choices and actions are constrained and enabled by social, economic, and cultural structures.
Inequality in America
Sociology 120
CROSS-LISTED: AMERICAN STUDIES, EUS, GSS, HUMAN RIGHTS
An examination of the ways in which socially defined categories of persons are unevenly rewarded for their social contributions. Sociological theories are used to explain how and why social inequality is produced and maintained, and how it affects the well-being of individuals and social groups. The governing themes are the structure of inequality as part of the study of the unequal distribution of material and social resources, and the processes that determine the allocation of people to positions in the stratification system.
Sociology of Gender
Sociology 135
CROSS-LISTED: ANTHROPOLOGY, GSS
This course examines how and why gender is an organizing principle of social life; how social structures and practices construct gender identity and culture; how different groups of women and men experience this gendered order; and how gender is significant within different institutional and interpersonal contexts. The course also considers the ways that gender inequality is intertwined with other axes of oppression such as sexuality, race/ethnicity, and class.
Introduction to Urban Sociology
Sociology 138
CROSS-LISTED: EUS
DESIGNATED: ELAS COURSE
More than half the world's population now lives in urban areas. Thus, the study of social and political dynamics in urban centers is crucial if we are to understand and address the pressing issues of the contemporary world. This course explores these dynamics through an introduction to urban sociology: the study of social relations, processes, and changes in the urban context as well as the diverse methods that social scientists use to understand these dynamics.
Israeli Society at the Crossroads
Sociology 140
CROSS-LISTED: GIS, JEWISH STUDIES, MES
Modern Israel is a diverse society characterized by profound tensions between contending political ideologies, ethnic groups, economic interests, and religious beliefs. This course provides students with the knowledge and analytical tools needed to understand these emerging trends. Selected topics include the "New Jew" and Israeli identity, socialism and capitalism, religiosity and secularism, militarism and democracy, immigration and integration, national identity and minority rights, inequality and the "start-up nation," gender roles, and family patterns.
Culture, Society, and Economic Life
Sociology 141
CROSS-LISTED: AMERICAN STUDIES
An introduction to sociological principles and perspectives through a focus on the economy, beginning with the question: Why would sociologists study the economy? Students explore three classical answers to this question from foundational thinkers Karl Marx, Max Weber, and Emile Durkheim. Most class time, however, is spent with contemporary authors in the developing field of economic sociology, which looks at the ways the economy is embedded in worldviews, moral frameworks, and social-relational structures.

Introduction to Research Methods
Sociology 205
CROSS-LISTED: EUS, GIS, HUMAN RIGHTS
Students are introduced to the various research methods developed in the social sciences, with an emphasis on quantitative methods. Topics ­covered include: how to formulate hypotheses and research questions, choose the appropriate research method for the problem, maximize chances for valid and reliable findings, perform simple data analysis, and interpret and present findings in a written report.

Deviance and Social Control
Sociology 207
The sociological study of deviance examines how certain people and behaviors come to be defined and labeled as deviant in certain contexts. The course explores three levels of analysis: Who or what defines and decides what is deviant? How do those responsible for identifying deviant behavior understand or explain the sources and causes of deviance? What are the consequences for deviants of being so identified and treated? Issues of class, race, gender, and cultural and historical contexts relating to deviance are discussed throughout the semester.
Sociological Theory
Sociology 213
This course traces classical and contemporary sociological theory, and introduces such enduring themes as secularization and individualism, bureaucracy and institutions, the division of labor, and the nature of authority. It considers foundational theories that emerged from the social upheavals of modernization in the 19th century, including those of Durkheim, Marx, Weber, Simmel, and Du Bois, and contemporary traditions such as functionalism, conflict theory, rational choice, and feminist theory.
Contemporary Immigration
Sociology 214
Why do immigrants come to the United States? Where do they come from, geographically and socially, and how do they handle cultural differences? What is the economic and cultural impact of immigrants on American society? This course examines U.S. immigration since the 1960s—and its effect on both the immigrants and the society they entered. Throughout, the class considers how such questions distinguish the present era from the American historical experience as "a country of immigrants." Also addressed: the issue of illegal immigrants and the balance of civil liberties and national security in immigration policy.

Finding Religion
Sociology 220
DESIGNATED: COURAGE TO BE SEMINAR
This course emphasizes sociological theories of religion and asks: Does religion remain only in traditional faith communities or has it morphed into something that is widespread and yet relatively unrecognizable? Is nationalism a form of religion? In order to answer such questions, students examine contemporary studies, historical and comparative methods, and religious cultures and practices from around the world, and consider how the institutional frameworks for religion may be changing and how courage may be manifested in this changing world.
Punishment, Prisons, and Policing
Sociology 224
CROSS-LISTED: AMERICAN STUDIES, HUMAN RIGHTS
The amount and type of punishment found in society is not a simple, direct result of crime patterns. To understand how and why we punish, it's necessary to examine the ways that historical processes, social structures, institutions, and culture shape penal practices as well as how systems of punishment shape society. This course explores the social functions of punishment, its cultural foundations and meanings, the relationship between penal practices and state power, and the role of crime control in reproducing race, gender, and class inequality.
The Environment and Society
Sociology 231
CROSS-LISTED: EUS, HUMAN RIGHTS, STS
DESIGNATED: ELAS COURSE
The world's environmental problems and their solutions are not merely technical; they are social as well. This course explores climate change, food systems, health disparities, and natural disasters to critically assess the relationship between society and the environment at local and global scales. With particular attention on environmental justice, the course also explores the ways in which scholars, citizens, and policy makers respond to racial, class, and social inequities and other contemporary environmental challenges.

Laying Down the Law: Legal Systems in Comparative Perspective
Sociology 233
CROSS-LISTED: GIS, HUMAN RIGHTS, INTERDISCIPLINARY STUDY OF RELIGIONS
This course compares ancient and modern legal systems from a sociological perspective. It begins in ancient Mesopotamia and India; moves to Israel, Athens, and Rome; travels to medieval Europe, cycling back around to the law schools of Istanbul (Constantinople) and Beirut; and concludes with the Enlightenment and modern legal systems. The comparative focus is on the differing social types who have engaged in law-giving and law-finding activity: kings, priests, and prophets; philosophers, clerics, and scholars; rhetoricians and "professionals."

Law and Society
Sociology 235
CROSS-LISTED: AMERICAN STUDIES
An introduction to the foundational roles that law has played, and continues to play, in our political communities, social institutions, and everyday lives. The focus is on American law, both in its historical development and its contemporary, lived reality. What explains variations between states in the laws of self-defense? What is "corporate personality," and why is it so controversial in today's world? Do intellectual property laws really give people property rights to abstract ideas? The course attempts to answer these and related questions.
A Changing American Racial Order? Race, Ethnicity, and Assimilation
Sociology 246
CROSS-LISTED: AMERICAN STUDIES, HUMAN RIGHTS
The changes in the racial order during the past half century have been staggering. What will it be like in the next half century? The course considers Black political, economic, and social gains since the Civil Rights era; Hispanics and Asians transforming what it means to be nonwhite; and the virtual disappearance of earlier rigid divisions among Euro-American ethnics such as Irish, Italians, Jews, and Slavs. Also explored is the meaning of contemporary race, ethnicity, and assimilation with these recent patterns in mind.

The American Family
Sociology 247
How do we choose the people we date and eventually marry? What effect does marital separation have upon the success of children later in life? Focusing primarily on family patterns in the United States, this course examines the processes of partner selection, the configuration of gender and family roles, and the interrelationships among family and household members.

Power, Politics, and Protest
Sociology 249
CROSS-LISTED: AMERICAN STUDIES, EUS, GIS, POLITICAL STUDIES
How is power produced, maintained, distributed, and transformed? How is authority supported or challenged by social structures, institutions, and collective behaviors and identities? These questions frame the field of political sociology—and guide this course. Students examine theoretical conceptions of the state, the public sphere, and governance, drawing on case studies to bring these theories to life. They also examine how individuals and groups challenge structures of power through struggles for environmental justice, urban social movements, participatory democracy, and the use of the law and legal institutions.
Sexualities
Sociology 262
CROSS-LISTED: GSS, HUMAN RIGHTS
Although sexuality is often considered to be inherently private and individual, this course examines sexuality as a social phenomenon. It asks how sexual identities and social categories of sexuality come to be and how they are maintained or changed over time. It also explores how historically specific social contexts shape the meaning of sexual experiences and how we use sexuality to define ourselves, produce social hierarchies, and mark moral boundaries. Throughout, the course considers the important role of gender in the social organization of sexuality.

Global Inequality and Development
Sociology 269 / GIS 269
See GIS 269 for a full course description.

Legal Practices and Civil Society
Sociology 305
CROSS-LISTED: HUMAN RIGHTS
DESIGNATED: ELAS COURSE
What does it mean to "practice" law? This course seeks insight into the roles that lawyers, judges, and other types of legal practitioners play in civil society; and grapples with theoretical and empirical scholarship that addresses the nature and dynamics of civil society. A primary goal is to offer students the opportunity to observe and interact in a wide range of legal settings, from sitting in a local courtroom to visiting with paralegals and attorneys in nonprofit organizations, legal aid offices, and law firms.
Hudson Valley Cities and Environmental (In)Justice
Sociology 319 / EUS 319
See EUS 319 for a full course description.
Punishment and Society: Race, Inequality, and Criminal Justice
Sociology 326
CROSS-LISTED: AFRICANA STUDIES, AMERICAN STUDIES, HUMAN RIGHTS
The United States began a world-historic transformation of its criminal justice system in the 1970s that led to the highest incarceration rate of any nation. Lesser sanctions, like probation, also expanded; policing changed form; and new modes of social control proliferated throughout social institutions. This advanced seminar delves into recent research on this punitive turn and the role of punishment in society. Prerequisite: Sociology 224 or permission of the instructor.
Seminar on Social Problems
Sociology 332
CROSS-LISTED: AMERICAN STUDIES, HUMAN RIGHTS
We often read shocking stories about children in poverty, segregated and failing schools, family dissolution, and other problems in contemporary American society. While these accounts provide a sensational and superficial treatment of various social problems, what do researchers really know about the causes of, and solutions for, these problems? This seminar ­provides a critical survey and analysis of the research on various topics, including poverty and wealth, schools and education, and gender inequality in the workplace.
Tricks of the Trade: Qualitative Research Practicum
Sociology 333
CROSS-LISTED: AMERICAN STUDIES, EUS, GIS
To study social life, researchers often turn to methods of inquiry based on observing everyday activity, talking to people, and unpacking the meanings of public discourse, such as ads and news coverage. To prepare students for this kind of qualitative research, the course focuses on ethnography (participant observation), in-depth interviewing, and discursive/content analysis. Ideal for students from various majors who plan to use these methods for their Senior Project.
Big Changes and Grand Narratives: Macrohistorical Sociology
Sociology 341
CROSS-LISTED: HISTORICAL STUDIES, POLITICAL STUDIES
Classical sociological thinkers were unapologetic about thinking big. They sought to uncover the architectonic social forces of historical and cultural change, and to peer into the future such forces might be leading toward. This course surveys the grand narrative tradition of sociological theory, beginning with exemplars such as Marx, Weber, Du Bois, and Durkheim, and including examples from outside the boundaries of canonical sociology and more contemporary works by Foucault, Bellah, Mann, Huntington, and Gorski.
Theorizing Facebook: Morality, Technology, and Social Networks
Sociology 347
DESIGNATED: COURAGE TO BE SEMINAR
The goal of the course is to understand social media as social and moral phenomena. Each week students "theorize" social media from a different perspective, seeking insights into social media-related "spaces" and the ways that morality, ethics, and politics are enacted within such spaces. Students are required to attend three evening lectures sponsored by the Hannah Arendt Center.
Writing Environmental Justice
Sociology 361
CROSS-LISTED: AMERICAN STUDIES, EUS, HUMAN RIGHTS
DESIGNATED: CALDERWOOD SEMINAR
Toxic air and water. Eviction. Gentrification. These are among the social and environmental challenges in urban areas that social scientists have shown affect people differently, based on race, class, gender, and other social indicators. How can we bring cases of environmental justice to the public's attention, in the hopes of influencing change? In this seminar, students learn to translate academic research into material for public consumption. Each student selects a case or type of environmental justice and follows it as their investigative "beat" for the semester.