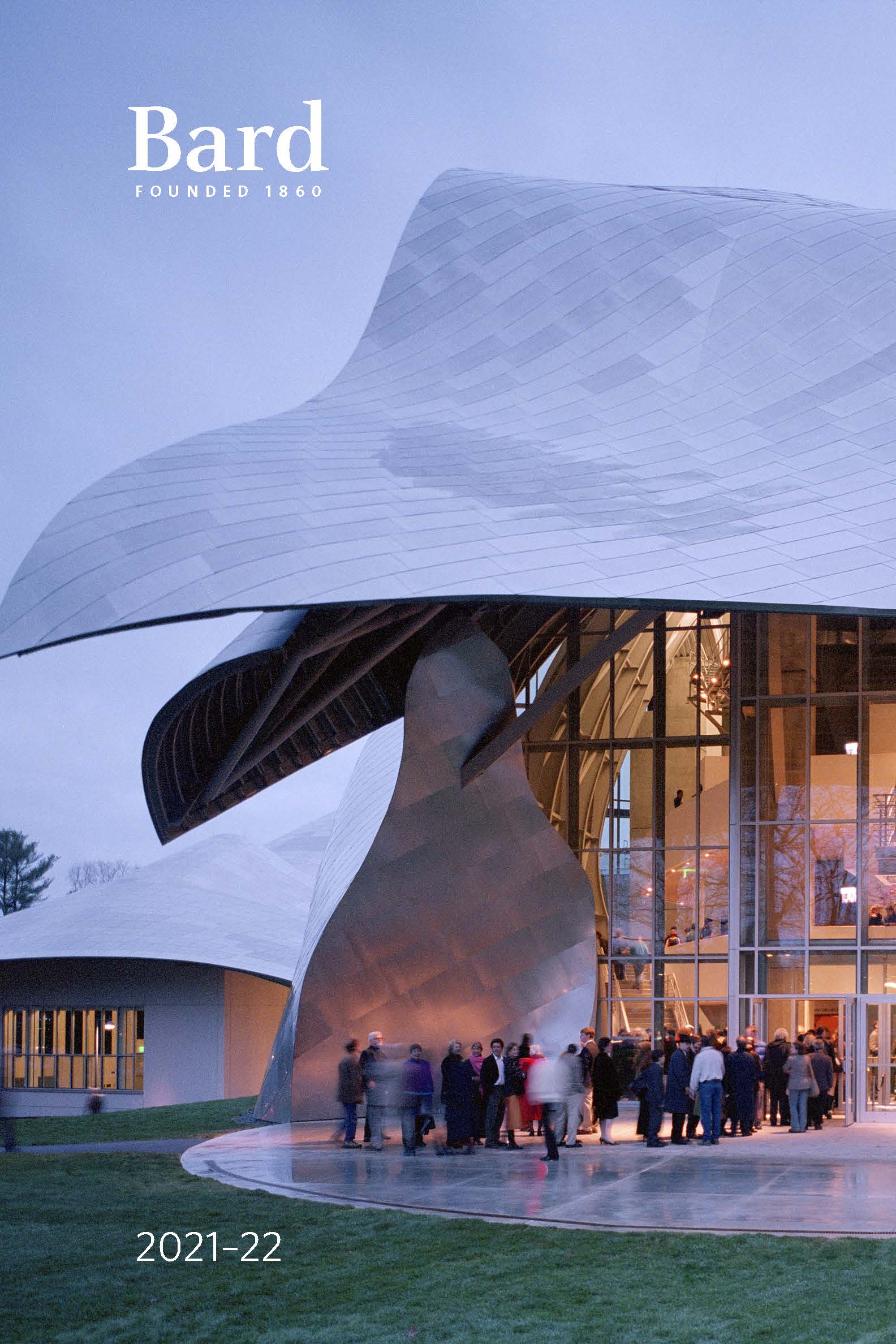 Bard College Catalogue 2021-22
Political Studies

Faculty
Michelle Murray (director), Sanjib Baruah, Jonathan Becker, Roger Berkowitz, Omar G. Encarnación, Simon Gilhooley, Frederic C. Hof, Mie Inouye, Pinar Kemerli, Christopher McIntosh, Walter Russell Meade
Overview
Politics can be understood in many ways: as a struggle for power over other people, groups, and nations; as a social process that determines who has what kinds of authority and how this affects particular communities; as a series of conversations or disputations about what counts as a "public problem" and how to address public problems; or as an art or science of institutional design, especially the design of governments and international institutions. However it is defined, politics matters. Political outcomes shape the choices we can make as individuals and the fates of communities, nations, and states.

The Political Studies Program at Bard welcomes students who care about politics and want to reason critically about political outcomes and debates at the local, national, and international levels. The program intends to inform responsible participation in American and global public affairs. It also prepares students for work and/or further study in political science, international affairs, public policy, law, cultural studies, and related fields.
Areas of Study
At Bard, six broad clusters of political studies are identified: political theory, American politics, comparative politics, political economy, public law, and international relations. The clusters overlap with one another and other fields. Students are encouraged to combine courses in political studies with relevant courses in related disciplines, such as history, economics, and sociology.
Requirements
Prior to Moderation, a student must have taken five courses in the program, including three from the core curriculum (see "Courses"). After Moderation, students are required to take three politics seminars. Depending on the interests of the student, and with the approval of the academic adviser, one of the seminars may come from another social science discipline, such as economics or sociology; from study abroad; or from Bard's Global and International Affairs (BGIA) Program in New York City. All students are required to complete a Senior Project that examines a political problem/puzzle or that synthesizes the political science literature on a major subject, such as democracy, development, or war.
Recent Senior Projects in Political Studies
"A Call for the Inclusion of Nature in Class Struggle"
"In Fear We Trust: Anxious Political Rhetoric and the Politics of Punishment, 1960s–80s"
"A Phenomenology of Homelessness: Hannah Arendt in Conversation with the Syrian Refugee Crisis"
"Securing a Seat at the Table des Grands: French Identity and the Application of Identity Management Strategies in Postwar France"
Courses
Political Studies offers a core curriculum comprising the following courses: Political Theory, Comparative Politics, American Politics: Issues and Institutions, Political Economy, The Quest for Justice: Foundations of the Law, and International Relations. The program also offers a wide range of courses in area studies (Western Europe, Latin America, and the Middle East most notably) and thematic seminars on American foreign policy, international security, democratization, terrorism, civil society, development, and political methodology, among other topics.

The following descriptions represent a sampling of courses from the past four years.
International Relations
Political Studies 104
CROSS-LISTED: GIS, HUMAN RIGHTS
An introduction to competing theories about the structure, functioning, and transformative potential of the international system. The course begins with the traditional problem of international life: maintaining order among relatively equal states in a condition of anarchy. Part two calls the assumption of anarchy into question by looking at hierarchical power relationships in a variety of issue areas. The course concludes by addressing contemporary challenges to the state's authority and the problems of governing in an increasingly global community.
Comparative Politics
Political Studies 105
CROSS-LISTED: GIS
The intellectual premise of comparative politics is that we can better understand the politics of almost any country by placing it in its larger, global context. This perspective allows us to address some of the most fundamental questions of politics. Students examine not only the key institutions of liberal democracies, but also democracies constructed after dictatorships (Germany, Japan) and federalism as an emerging trend in contemporary regional politics.
Political Economy
Political Studies 109
CROSS-LISTED: EUS, GIS, HUMAN RIGHTS
Political economy refers to the interrelationship between politics and economics. However, political scientists and economists do not always use the term in the same sense, and within these two disciplines the term has multiple meanings. This course reviews the ideas of major thinkers such as Adam Smith, Karl Marx, John Maynard Keynes, and John Kenneth Galbraith, and introduces two subfields: international political economy and the political economy of development.
Political Theory
Political Studies 115
An overview of some of the foundational thinkers and texts of the Western political tradition. The central focus is on theories of human nature and corresponding forms of social organization, with particular emphasis on the social contract. Also discussed are key political concepts such as sovereignty, freedom, individualism, property, equality, reason, and progress. Throughout the course, students consider how the issues raised by these thinkers speak to our political situation today.
American Politics: Issues and Institutions
Political Studies 122
CROSS-LISTED: AMERICAN STUDIES
This course introduces students to the basic institutions and processes of American ­government. It aims to provide students with a grasp of the fundamental dynamics of American politics and the skills to be an effective participant in and critic of the political process. During the semester, students examine how the government works, interpret current political developments and debates, and consider how to influence the government at various levels.
Contested Jerusalem
Political Studies 155
CROSS-LISTED: HUMAN RIGHTS
Held in Jerusalem in coordination with Al-Quds Bard, the January course is open to students who have taken Dictators, Democrats, and Demagogues: Comparative Politics of the Middle East and North Africa (Political Studies 237) and any other Bard and Bard network students who apply to be considered. The course explores the many overlapping and adversarial claims to this small city at the center of competing religious, political, and historical narratives, and considers how it is affected by and affects the politics in the region.
The Quest for Justice: Foundations of the Law
Political Studies 167 / Philosophy 167
CROSS-LISTED: HUMAN RIGHTS
As the novelist William Gaddis writes: "Justice? You get justice in the next world. In this world, you have the law." This course explores the apparent disconnect between law and justice. Through readings of legal cases as well as political, literary, and philosophical texts, students grapple with the problem of administering justice as it emerges in the context of contemporary legal institutions. Texts include Kant's Groundwork of the Metaphysics of Morals, Melville's Billy Budd, and selections from Dostoevsky, Twain, and Plato.
American Political Thought
Political Studies 181
CROSS-LISTED: AMERICAN STUDIES
Drawing upon material from across the entire span of American history, the course attempts to develop an understanding of concepts such as democracy, liberty, individuality, and republicanism, and to discuss how understandings of these concepts have influenced political and social choices in the United States. Readings include works by Jefferson, Lincoln, Du Bois, and Goldman.

Student as Citizen: Civic Life in America and the World
Political Studies 2010
CROSS-LISTED: AMERICAN STUDIES, HUMAN RIGHTS
DESIGNATED: ELAS COURSE
This course focuses on the study of, and engagement with, local, state, and national politics in the United States. Students learn, in part, by meeting with government officials, political organizers, and activists, and by observing and participating in governance in action through writing articles, tracking legislation, lobbying on issues, and attending open meetings. They also study how the system gives citizens agency, how they can navigate imposing structures, and how citizens and social movements can effect change.
Radical Political Thought
Political Studies 202
CROSS-LISTED: HUMAN RIGHTS
Tracing the historical development of radical thought from the German tradition of critical theory in the so-called Frankfurt School through the emergence of poststructuralism in France, students examine questions of power, critique, and reason as well as the relationship between political action and critical thinking. Readings include works by Marx, Horkheimer, Adorno, Foucault, Habermas, and Butler.

Gender and the Politics of National Security
Political Studies 206
CROSS-LISTED: GIS, GSS
An introduction to major theories and issues concerning gender and international security affairs. These theoretical frameworks are then applied to security issues such as the cultural effects of nuclear weapons, targeting of civilians during armed conflict, sexual violence in war, torture and the war on terrorism, human security and development, and postconflict societies, among others. Discussions draw from anthropology, sociology, philosophy, politics, and rhetoric in order to highlight the interconnections among states, societies, and individuals.
Global Citizenship
Political Studies 207 / GIS 207
CROSS-LISTED: HUMAN RIGHTS
What does it mean to be a global citizen? This question has gained increasing salience as the world has become more globalized, and new problems surface that cut across national borders and fall outside the jurisdiction of individual nation-states. In response, new forms of political organization have emerged that challenge the state as the primary locus of political authority and individual rights. This course critically examines the conceptual and theoretical foundations of the concept of global citizenship and investigates how the idea might work in practice.
Civic Engagement
Political Studies 209
CROSS-LISTED: AMERICAN STUDIES
DESIGNATED: ELAS COURSE
The historical, philosophical, and practical elements of civic engagement are explored, as is the underlying question of what it means to be an engaged citizen in the early 21st century. Students examine notions of personal responsibility, civic duty, political participation, and social justice, along with modes of community engagement on governmental, nonprofit, and association levels. While the focus is local, national and international issues and comparisons are considered. A fieldwork component contextualizes in-class study.
North Africa and the United States: Case Studies in Foreign Policy Challenges
Political Studies 212
CROSS-LISTED: AFRICANA STUDIES, GIS
North Africa is often neglected by U.S. policy makers until dramatic events require attention. This course examines five policy challenges that the United States has faced in the region, highlighting key aspects in the history, formula­tion, and implementation of American foreign policy, and exploring specific aspects of U.S. relationships with Morocco, Algeria, Tunisia, Libya, and Egypt. Students engage in simulations and meet with guest lecturers who have been or are currently in policy-making positions.
U.S.–Latin American Relations
Political Studies 214
CROSS-LISTED: AMERICAN STUDIES, GIS, HUMAN RIGHTS, LAIS
The course is organized in three main sections, beginning with a broad overview of patterns of political development in Latin America from the independence period to the present. The second part highlights theoretical approaches to Latin American political development drawn from cultural analysis, Marxism, and state-centric perspectives. The final section examines democratic development in six countries: Argentina, Brazil, Chile, Cuba, Mexico, and Venezuela.

The Rise of China
Political Studies 217
CROSS-LISTED: ASIAN STUDIES, GIS
This 2-credit course explores China's emergence as a global power and the implications this will have on the existing U.S.-led international order. The class addresses questions including: In what areas of global governance has Chinese leadership eclipsed that of the United States and to what effect? How is China's rise similar to and different from past rising powers? How can the existing international order—and the norms and institutions that underpin it—accommodate China's growing economic and military power?

Revolution and Protest in Hong Kong
Political Studies 219
CROSS-LISTED: ASIAN STUDIES, HUMAN RIGHTS
DESIGNATED: COURAGE TO BE SEMINAR
This course is part of a year-long project of dialogue and partnership with scholars and students at the University of Hong Kong. It presents an informed, scholarly, and humane dialogue about the Hong Kong–China relationship in light of the extradition bill controversy and concerns over the city's autonomy, as well as the larger social, cultural, and historical relationship between Hong Kong, as a Special Administrative Region, and the People's Republic of China
Latin American Politics and Society
Political Studies 222
CROSS-LISTED: GIS, HUMAN RIGHTS, LAIS
The course is organized in three main sections, beginning with a broad overview of patterns of political development in Latin America from the independence period to the present. The second part highlights theoretical approaches to Latin American political development drawn from cultural analysis, Marxism, and state-centric perspectives. The final section examines democratic development in six countries: Argentina, Brazil, Chile, Mexico, Cuba, and Venezuela.

The Politics of Climate Change
Political Studies 2220
CROSS-LISTED: EUS
This course addresses why, despite the increasing amount of information about climate change, we have failed to respond to this crisis; why it is so difficult to represent; and new ways we might represent it. Students examine scientific, philosophical, political, artistic, spiritual, and economic approaches to climate change to see the different connections each tries to forge. Through writing and discussion, they engage in critical and productive thinking on the climate crisis.

Contemporary Political Theory
Political Studies 2231
An introduction to the problems and ideas of political theory in the 20th century. The course first looks at critiques of the modern subject and society that were introduced at the turn of the century, then moves on to responses to new technological and social conditions, bureaucratized government, and more diffuse forms of political power. Finally, the class considers theories from the latter part of the century, including feminism and postcolonialism. Texts may include works by Nietzsche, Freud, Weber, Marcuse, Arendt, Foucault, hooks, Haraway, Césaire, and Lazzarato.

The National and Global in the Politics of Race
Political Studies 2250
CROSS-LISTED: AFRICANA STUDIES, AMERICAN STUDIES, HUMAN RIGHTS
DESIGNATED: RJI COURSE
How have the national and global intersected in the politics of race? The course begins with the standard of civilization once used by international lawyers to defend the rights of European nations to colonize non-European societies, and asks if this legacy still haunts the postcolonial global order. Also considered: Du Bois's formulation of the color line as "the problem of the twentieth century"; the disillusion of African American leaders in the UN as a weapon for change; and the Immigration and Nationality Act of 1965.
Dictators, Democrats, and Demagogues: Comparative Politics of the Middle East and North Africa
Political Studies 237
CROSS-LISTED: AFRICANA STUDIES, GIS, MES
An introduction to the major questions and theoretical approaches involved in the study of comparative politics as applied to the states of the Middle East and North Africa. Topics include state formation and consolidation, the persistence of authoritarianism, nationalism and identity, civil society and democratization, uprisings and revolutions, the role of oil, political economy of the state, gender, and Islamist politics. The course covers core literature in the field, relevant case studies, and pressing issues facing policy makers.
The Courage to Judge
Political Studies 240
DESIGNATED: COURAGE TO BE SEMINAR
If we are in a world, as many fear, where truth no longer matters and cultural criticism is dictated by internet mobs, how are we to judge? With the appearance of totalitarianism in the middle of the 20th century, Hannah Arendt argued that the traditional moral categories of good and bad have lost their relevance, and the inability to discern fact from fiction paves the way for the emergence of fascist propaganda and rhetoric. This course examines the concept of judgment and its evolution in the Western tradition of political theory.

The Political Life of Mourning: From Antigone to Black Lives Matter
Political Studies 2420
CROSS-LISTED: HUMAN RIGHTS
Can we transform moments of loss into an opportunity for democratic politics? How are these formative moments of loss—the death of a son, 9/11, the murder of George Floyd—constitutive of a collective politics? The class explores the political life of mourning within the tradition of Western political thought and within the African American community, from W. E. B. Du Bois to the formation of the Black Lives Matter movement. Texts from Sophocles, Freud, Derrida, Douglass, Du Bois, Morrison, Moten, others.
Constitutional Law: Theory and Comparative Practice
Political Studies 243 / Human Rights 243
An introduction to constitutional theory and practice in comparative context. The first part of the course looks at the history of the idea of constitutionalism in Ancient Greece, 18th-century England, France, and the United States; the remainder is devoted to a critical examination of the contemporary workings of constitutional law, focusing primarily on decisions of the highest courts of the United States, India, and South Africa relating to human rights issues. Beyond legal cases, readings include Aristotle, Montesquieu, Bodin, Arendt, and the Federalist Papers.

Human Rights in Global Politics
Political Studies 245
CROSS-LISTED: GIS, HUMAN RIGHTS
The course is divided into three core sections: the philosophical foundations of the notion of human rights and its contested universality; the evolution of the so-called international human rights regime; and the shifts from "first generation" human rights (political freedoms) to "second generation" human rights (social and economic rights, such as housing, employment, and education), to "third generation" rights and beyond (cultural self-determination, economic sustainability, and sexual freedoms, among others).

American Foreign Policy Traditions
Political Studies 247
An introduction to American foreign policy and its roots in the interplay of domestic politics and international events. Readings typify different approaches to the study of American foreign policy: an analytic overview, an in-depth study of an important relationship, a biographical study of leading policy makers, and a history of the Cold War. Discussions address the relevance of past foreign policy debates to current events and controversies. Students develop and present policy recommendations for contemporary problems based on their study of history.
Democratic Theory
Political Studies 252
CROSS-LISTED: HUMAN RIGHTS"Democracy" today is virtually synonymous with legitimacy, justice, and freedom. But what does democracy really mean? What kinds of authority do democracies claim, and where does this authority come from? How do ordinary people,
or "the people," create, sustain, and transform democratic authority? How might democracy be reimagined as a form of life for the 21st century? The course considers these and other controversies over the contested meanings of democracy and citizenship. Readings from Sophocles, Rousseau, Locke, Madison, Wollstonecraft, Marx, and Weber, among others.
Nations and Nationalism
Political Studies 257 / GIS 257
From the election of Donald Trump to the rise of ethnonationalist parties across Europe and beyond, nationalism has become a driving force in international politics. Nationalism, of course, is not a new phenomenon. Throughout the 20th century, it was a central factor in domestic and international politics, with the concept of the nation-state becoming the dominant ordering principle in world politics. This course examines the emergence of nations, their social and political construction, and the intersection of nationalism and race, ethnicity, culture, gender, postcoloniality, and subjectivity.

The United States and the Modern Middle East
Political Studies 264
CROSS-LISTED: GIS, MES
DESIGNATED: HSI COURSE
This course focuses on the relationship of U.S. foreign policy to the Arab states of the modern Middle East (the Arab countries of the Levant, Mesopotamia, and Arabian peninsula, plus Egypt). After putting this relationship in historical perspective, the class considers the status of the Ottoman Empire before, during, and immediately after World War I; the creation of independent Arab states; the rise of Arab nationalism; the 1967 and first Gulf wars; and the official American relationship with the Arab world from post–World War II until the present day.

Campaign 2020
Political Studies 265
CROSS-LISTED: AMERICAN STUDIES
DESIGNATED: ELAS COURSE
The U.S. Congress, particularly the House of Representatives, is the branch of the federal government most directly accountable to citizens. It is the least trusted of the major government institutions, yet its members usually win reelection. Who are the people Americans choose to make our laws, and why are we so ambivalent about them? The class considers how Congress is organized and how it has changed over time, how it is influenced by lobbying, and how it interacts with the executive and judicial branches.
All Politics Is Local
Political Studies 270
DESIGNATED: ELAS COURSE
Students meet with local, county, and state officials; attend sessions of local government bodies; and read primary and secondary sources concerning the issue of local governance. Fieldwork allows them to contextualize their in-class study. Several sessions occur at night to accommodate public meetings of local governing bodies.
Diplomacy and International Politics
Political Studies 273
This course explores the history, complexity, and changing nature of diplomacy. Students gain an understanding of the structures of diplomacy—diplomatic corps, embassies, consulates, envoys, nontraditional diplomats—and the evolution of these components as new diplomatic tools have appeared, including public diplomacy, cyber diplomacy, expeditionary (combat zone) diplomacy, and Track II diplomacy. Using case studies drawn from 70 years of diplomatic efforts to mitigate and ultimately end the Arab -Israeli conflict, the class is exposed to real-world diplomacy under complex and contentious circumstances.
(Super) Heroic Politics
Political Studies 275
DESIGNATED: COURAGE TO BE SEMINAR
Heroes have been a feature of Western culture stretching back to classical times. Yet their role in the political order is frequently not aligned with the common good. This course looks at recent superhero movies (and works of political theory) and examines their potential for or against democratic practices: Do superheroes function as good ethical and political role models? Or are they disempowering, teaching audiences to trust in the strengths of exceptional individuals (or exceptional states) instead of their own capacities?

China/Japan: Postwar Southeast Asia
Political Studies 277
CROSS-LISTED: ASIAN STUDIES
This course focuses on how Southeast Asia has shaped itself through, and been shaped by, interactions with its most powerful neighbors, Japan and China. Topics include premodern interactions and their disruption by Euro-American colonization; nationalism, Japanese occupation, postwar independence movements, and nation-building; the formation of ASEAN and other multilateral institutions, the "East Asian developmental model," and the Asian financial crisis; the role of the overseas Chinese community; and recent Chinese initiatives and the struggle for a new regional order.
American Protest: Disobedience, Dissent, and Resignation
Political Studies 284
CROSS-LISTED: HUMAN RIGHTS
DESIGNATED: COURAGE TO BE SEMINAR
What does it mean to engage in political protest? What motivates us to move into the public sphere of politics? What does it mean to act from a moral center? This course, part of the Courage to Be series, strips down conventional notions of political protest within the American context to critically inquire after what motivates us to engage or disengage with politics. Texts by Paul Tillich, Erich Fromm, Hannah Arendt, Henry David Thoreau, Theodor Adorno, Emily Dickinson, Thomas Paine, Martin Luther King, and others.
Totalitarianism
Political Studies 290
CROSS-LISTED: GIS, HUMAN RIGHTS
"Totalitarianism" is a conceptual lodestar of 20th-century politics. It is supposed to point to everything that contemporary American and European political culture is not—terroristic, homogeneous, authoritarian, ideologically manipulative, and unfree. Yet critics have used the concept to describe regimes as different as the Soviet Union, Nazi Germany, Maoist China, ISIS, and occasionally even the United States. What is totalitarianism? The class engages this question by studying specific cases—especially Nazi Germany, Vichy France, and Mussolini's Italy—alongside theoretical works.

The Art of the Question
Political Studies 292
CROSS-LISTED: PHILOSOPHY
This course examines the hypothesis that asking questions is a political activity. Departing from a parable by Leo Tolstoy, the class broadly considers questions about timing, people, and action. Authors may include Hannah Arendt, Walter Benjamin, Elias Canetti, Ta-Nehisi Coates, Frantz Fanon, Michel Foucault, Martin Heidegger, Plato, and Iris Marion Young.

Feminist Political Theory
Political Studies 299
CROSS-LISTED: GSS
Can a theory of feminism be grounded in an ontological claim of "woman"? Should it be? What are the causes of sex and gender inequality? How have these questions shifted since the women's liberation movement? The course surveys contemporary feminist issues around work, family, kinship, health, sexuality, violence, and politics. Authors may include: John Stuart Mill, Sojourner Truth, Simone de Beauvoir, Judith Butler, Angela Davis, Audre Lorde, Kimberlé Crenshaw, Catharine MacKinnon, Gayle Rubin, Saba Mahmood, and Nancy Fraser.
Political Economy of Development
Political Studies 314
This Upper College seminar examines the economic development of the "Third World" through the lens of several generations of scholars. After reading representative authors of competing theoretical traditions, students move on to concrete cases.

Global Mobilities and Borders of Exclusion
Political Studies 323
DESIGNATED: MIGRATION INITIATIVE COURSE
Mass migration has long been integral to global processes that have shaped the modern world. But while this migration occurred for a long time across imperial geographical spaces, the territorial order of formally sovereign states is, to a significant extent, premised on a disavowal of migration. Using the Rohingya crisis and several Gulf states in the Middle East as examples, the course seeks to historicize the modern territorial order and its rules governing citizenship and work.
The Death of Man: 20th-Century French Political Thought
Political Studies 325
CROSS-LISTED: FRENCH STUDIES, HUMAN RIGHTS
At the beginning of the 20th century, French thinkers believed in man as a rational, rights-bearing creature. By mid-century, that belief was dead. Two world wars, anticolonial resistance, and totalitarianism would shatter their faith in humanity's capacity for reason, self-improvement, and progress. This course surveys 20th-century French political thought from the perspective of "the death of man." Topics also include such turning points in French history as the Algerian war, May 1968, and the birth of Le Front National.
Nuclear Proliferation
Political Studies 326
In January 2018 the Bulletin of the Atomic Scientists moved its Doomsday Clock to two min­utes to midnight, reflecting the group's assessment that the danger of a nuclear catastrophe was as high as it had been during the height of the Cold War. With the possibility of nuclear war on the Korean peninsula, a new nuclear arms race between the United States and Russia, and new nuclear powers emerging, nuclear proliferation has become an increasingly urgent threat to global security. This seminar examines nuclear proliferation and various policy tools available to manage its spread.
The Crisis of Democracy
Political Studies 330
This seminar examines what is ailing democracy around the world, after decades of expansion. It begins with the so-called third wave of democratization, which brought democracy to some three dozen nations between 1974 and 1992 in Western Europe, Latin America, Central and Eastern Europe, Asia, and Africa, and then looks at the postwar economic boom, international human rights regime, globalization, the failure of democracy to reach the Middle East, the uneven legacy of the third wave, and challenges to democracy in the developed West.
The Politics of Globalization
Political Studies 334
CROSS-LISTED: GIS, HUMAN RIGHTS, SOCIOLOGY
Until the financial crisis of 2008, it was common for advocates of free markets to argue that globalization is a positive force that can generate employment and raise living standards. Critics argue that the transformations captured by the term "globalization" are best seen as a phase in the history of capitalist development. The course considers these arguments through discussion of texts by Arjun Appadurai, Eric Cazdyn, James Ferguson, Thomas Friedman, David Harvey, Karl Polanyi, Saskia Sassen, Joseph Stiglitz, Imre Szeman, and Karl Marx.
Humanism, Human Rights, and the Human Condition
Political Studies 341
CROSS-LISTED: HUMAN RIGHTS, PHILOSOPHY
In 1946, just after the defeat of the Nazis, a French schoolteacher wrote to the German philosopher Martin Heidegger, asking two questions: How are we, in the wake of the Holocaust, to restore sense to the word "humanism"? And how are we to understand the relationship between philosophy and ethics? Heidegger's response, later published as "The Letter on Humanism," is one of the great efforts to think through the ethical and philosophical significance of the human being. Texts by Heidegger, Sartre, Arendt, and Sloterdijk.
Ideology in America: From Jefferson to Trump
Political Studies 351
CROSS-LISTED: AMERICAN STUDIES
The successes of Donald Trump and Bernie Sanders during the 2016 election cycle once again brought the issue of ideology to the fore. This course looks at Jeffersonian republicanism, antebellum slavery, abolitionism, Progressivism, Cold War neoconservatism, and neoliberalism, and considers whether any of these impulses amount to an ideology and what, if any, legacy they left for subsequent American political thought.
Terrorism
Political Studies 352
The September 2001 terrorist attacks irrevocably changed U.S. politics and foreign policy, giving rise to more than a decade of war, expanded surveillance domestically and abroad, the use of torture and indefinite detention, and a targeted killing policy through the use of drone strikes around the globe. This seminar examines terrorism as a political phenomenon, the role of religion and ideology in motivating terrorist groups, the importance of state sponsorship in supporting terrorist activity, and the challenges of counterterrorism.
American Grand Strategy
Political Studies 354
The American world system that exists today is version 2.0 of the liberal capitalist system first built by Great Britain. Both the British and U.S. builders of these systems developed a distinct style of strategic thought around the needs of a maritime, global, and commercial system. This grand strategy involved domestic social organization as well as foreign policy and war. Students consider these strategies from the time of the Spanish Armada through the Cold War, and analyze contemporary U.S. policy in light of three centuries of Anglophone world power.
The Politics of Desire: From Antigone to #Metoo
Political Studies 355
From Hegel to Deleuze, many political thinkers have employed the language of desire within the tradition of Western political thought in order to think about questions of political subjectivity. This course looks at how the language of desire is embedded in the theoretical frameworks we use to approach questions of knowledge, power, and pleasure. Readings begin with Sophocles's Antigone and include works by Hegel, Deleuze, Kant, Lacan, Butler, Freud, and Foucault.
The Individual and American Democracy
Political Studies 358
Since its formation, and even before, the United States has been associated with the individual. At the same time, the assumption that the "people" govern the country has informed political life. Balancing the interests of the one against the many has therefore emerged as an important theme within American political thought. This course examines the ways in which the concept of the individual has informed thinking about American democracy and vice versa. Authors include Crèvecoeur, de Tocqueville, the abolitionists, Hayek, and Du Bois.
Radical American Democracy
Political Studies 358
CROSS-LISTED: AMERICAN STUDIES, HUMAN RIGHTS, PHILOSOPHY
This seminar explores the essence of democracy as a specifically modern way of life, rather than a form of government. To do so, it turns to great thinkers of American democracy, such as Ralph Waldo Emerson, Henry David Thoreau, Walt Whitman, Ralph Ellison, W. E. B. Du Bois, and Hannah Arendt. The course seeks to understand the democratic spirit of radical individualism that has proven so seductive and powerful since its modern birth in the American Revolution.
Times of War: Political Violence, Sovereignty, and Temporality in International Politics
Political Studies 362
CROSS-LISTED: HUMAN RIGHTS
Countless acts of political violence occur at the macro, micro, and structural levels, yet only some get linked together across time and understood as a "war." What makes a time of war different from a time of peace? How does temporality operate to allow us to see, for example, the war on terrorism as one continuous war, rather than a series of unrelated operations and assassinations? Students explore the conceptions of war and time that animate international politics and inform the practice of international relations.
Ethics and International Affairs
Political Studies 363
CROSS-LISTED: GIS, HUMAN RIGHTS
Current foreign policy debates have centered on drone strikes, civilian casualties, the targeted killing of Americans, and humanitarian intervention, with advocates on both sides citing moral and ethical justifications for their respective positions. Each of these debates begs the central question: What does it mean to be ethical in international politics? To whom are we responsible? Do ethical concerns cross borders? This course explores the issues and tensions informing these questions by engaging the underlying theoretical traditions.
Afro-Modern Political Thoughts
Political Studies 367
CROSS-LISTED: AFRICANA STUDIES, AMERICAN STUDIES
Among the traditions of modern political thought, none theorizes freedom as convincingly as Afro-modern political theory. This seminar examines the meaning of freedom in Black political thought and intellectual history. Students read both classic works and contemporary social criticism, with par­ticular attention paid to W. E. B. Du Bois, his critics, and his relation to other Black intellectuals at home and abroad. The goal is to use Afro-modern politi­cal thought as point of observation, to better see the broader shape of 20th-century radical politics.
Promoting Democracy Abroad
Political Studies 368
CROSS-LISTED: AMERICAN STUDIES, GIS
Almost alone among the world's superpowers, the United States has made promoting democracy abroad a central objective of its foreign policy. This course explores three questions about this "mission" to spread democracy: What explains the genesis and persistence of the centrality of democracy in American foreign policy? How have American administrations tried to construct policies to advance democratic development abroad? Why have these attempts to promote democracy abroad so often fallen short of their intended goals?

Environmental Political Theory
Political Studies 372
CROSS-LISTED: EUS
This course examines various theories of how relations between human society and nature become politicized. Themes addressed include the nature/culture divide, the relationship between economy and ecology, technology and the management of nature, climate change, and the role nature plays in social power constellations, particularly with regard to women and Indigenous groups. Readings may include Latour, Shiva, Connelly, Heidegger, Leopold, Bennett, Abbey, Bookchin, Daly, Guha, and Haraway.
Grand Strategy from Sun Tzu to Clausewitz
Political Studies 377
CROSS-LISTED: GIS
The question of what war is and how wars can be won has exercised great minds from the dawn of recorded history. Students in this advanced seminar examine classic texts on conflict, from ancient China to modern Europe. Issues addressed include the nature of conflict, the role of chance in human affairs, the definition of power, and the development of strategic thought.
The American Presidency
Political Studies 378
CROSS-LISTED: AMERICAN STUDIES, HISTORICAL STUDIES
An examination of the development of the U.S. presidency from the founding until the present day, with special attention given to the Jeffersonian and Progressive Eras; the expansion of executive power under Franklin Roosevelt; how modern presidents contend with multiple and, at times, conflicting roles and responsibilities (party leader, chief executive, commander in chief, media celebrity); and the problem of contemporary presidential power. Also considered is what role presidential power and leadership should play in the life of contemporary U.S. democracy.

The Crisis of Expert Rule
Political Studies 386
CROSS-LISTED: HUMAN RIGHTS, PHILOSOPHY
Today it is almost unthinkable to imagine regulators and political leaders who lack university and technical training. And yet, much of the populist anger rising around the world can be understood as a rejection of expert rule. COVID-19 further exposed the radical distrust in expert-driven governance. While this rejection of scientific knowledge is shocking, there are problems with expert governance. The course explores how expert discourses drive us to abandon fundamental human connections that make human life meaningful. Texts by Arendt, Hayek, Agamben, others.

The Politics of Historical Injustices
Political Studies 388
CROSS-LISTED: AMERICAN STUDIES, GIS, HUMAN RIGHTS
The current national reckoning with racial injustice has awakened interest in "historical injustices," the subject of this seminar. Questions explored include: Why are historical injustices at the forefront of contemporary global politics? What are the legal and political approaches being employed for confronting historical injustices? Why are some countries more successful than others at settling a painful history? At the heart of these questions are three global approaches for confronting historical injustices: "retribution" (political trials), "reparations" (official apologies and compensation), and "reconciliation" (truth commissions and memorials).

Hannah Arendt's Human Condition
Political Studies 389
Hannah Arendt's The Human Condition investigates the vita activa (activities of human life) in order to think about the distinction between the vita activa and the vita contemplativa (life of the mind). Students read the entirety of the treatise, considering the relationships between scientific advancement, earthliness, and worldliness as they explore questions such as: In what ways do science and technology both facilitate and undermine the possibilities of human life? Can love be political? Can we find a home in the world? What would it mean to do so?