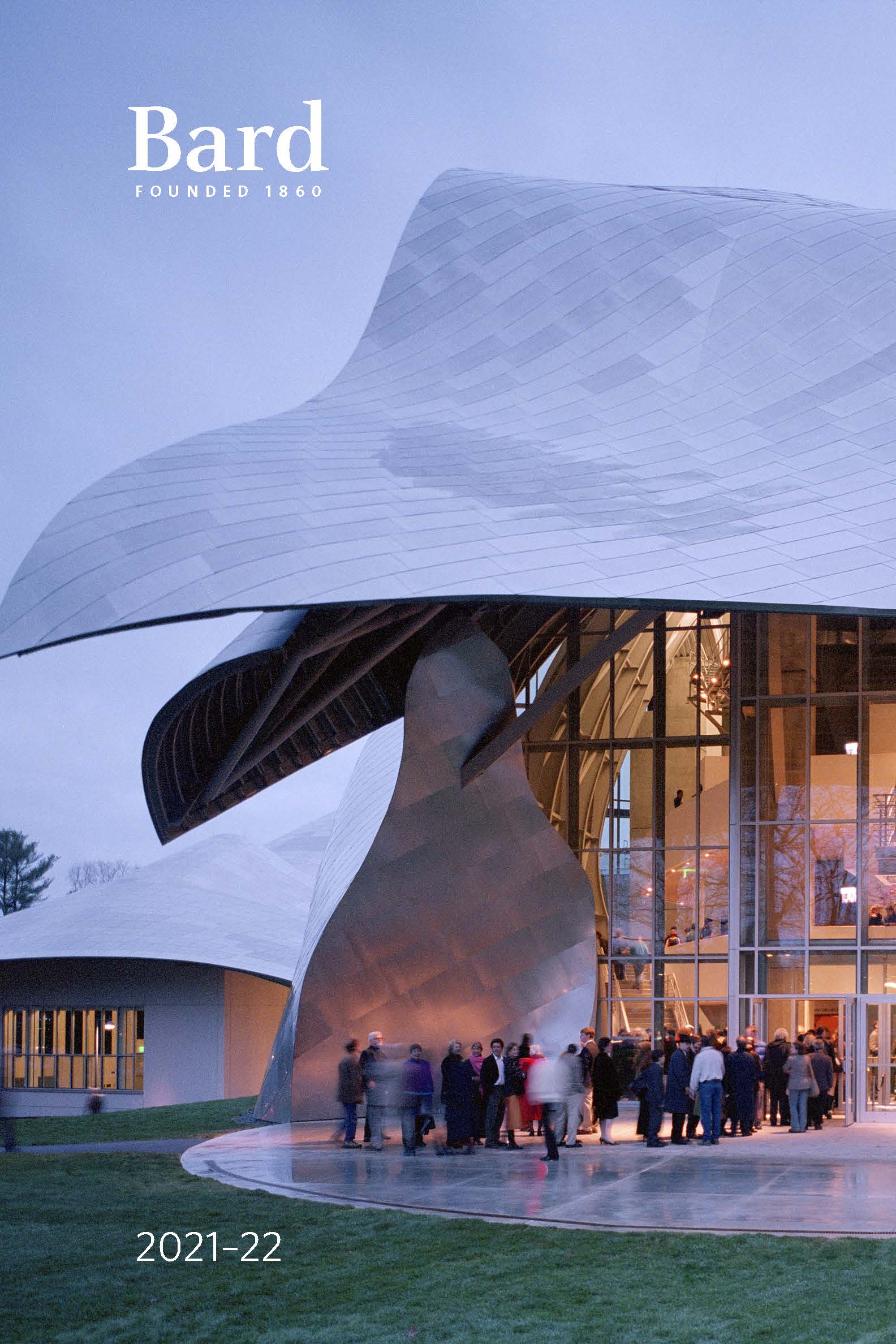 Bard College Catalogue 2021-22
Philosophy
Faculty
Jay Elliott (director), Thomas Bartscherer, Norton Batkin, Roger Berkowitz, Daniel Berthold, James Brudvig, Garry L. Hagberg, Michelle Hoffman, David Shein, Kathryn Tabb, Robert Tully, Zachary Weinstein, Ruth Zisman
Overview
The philosophy curriculum is designed to provide students in any field a general understanding of the nature and history of philosophical inquiry. Students who major in philosophy have access to more specialized courses, which can serve as the foundation for graduate study.
Areas of Study
The core of the program consists of courses in the history of philosophy and such traditional areas of philosophic study as ethics, political philosophy, metaphysics, epistemology, logic, philosophy of mind, philosophy of language, and aesthetics. Several seminars each year are devoted to the work of one philosopher, for example, Plato, Aristotle, Kant, Hegel, Kierkegaard, Nietzsche, Heidegger, Wittgenstein, or Sartre.
Requirements
Students who want to moderate in philosophy are expected to take three courses in philosophy in the Lower College. Students are strongly encouraged to take two of the "histories" courses in their sophomore year. Most students also take one of the Introduction to Philosophy courses prior to Moderation; these courses provide an orientation to philosophic methodologies, styles of inquiry, and common themes of philosophical concern in texts ranging from Platonic dialogues to contemporary works. Majors are expected to take at least seven philosophy courses altogether, at least four during their studies in the Upper College.

Juniors take the writing-intensive Philosophy Research Seminar (for details, see Philosophy 302) as well as a 300-level junior seminar. Students intending to apply to graduate schools in philosophy are encouraged to take at least one course in ancient philosophy, at least two courses in modern philosophy (17th through 19th centuries), at least one course in 20th-century philosophy, symbolic logic, and at least one course in ethics or political philosophy. Each philosophy major determines the topic of his or her Senior Project in consultation with a faculty adviser.
Recent Senior Projects in Philosophy
"Art and Self-Creation: An Encounter of Nietzsche and John Cage"
"'As Natural as Earth Turning': An Analysis of the Relationship between Self and Other in Improvised Music"
"An Epistemic Epidemic: The Role of Risk in the Crisis of Scientific Authority"
"Saving Aristotle's Dispositional Ethics from the Threat of Legalism"
Courses
Introductory courses are numbered in the 100s. Courses numbered in the 200s, while more specialized in content, are also generally appropriate as first courses in philosophy. Courses numbered in the 300s are more advanced and require previous courses in philosophy and permission of the instructor. Tutorials may also be taken; recent subjects include Hume, Kant's second and third Critiques, Hegel, Heidegger, Kierkegaard, and Quine.
The following descriptions represent a sampling of courses from the past four years.
Introduction to Philosophy: Multicultural Perspectives
Philosophy 104
Themes covered include the nature of reality and our capacity to know it, ethics and justice, and conceptions of how one should live. Readings from a diverse range of traditions, including Western, Hindu, Buddhist, Chinese, African, Native American, and feminist texts.
Introduction to Philosophy
Philosophy 108
Western philosophers address questions that most of us find puzzling. Do we have free will? Do we know what the world around us is really like? Does God exist? How should we treat one another? The class examines historical and contemporary texts that address these and other central themes of the philosophical tradition.
Introduction to Ancient Philosophy
Philosophy 109
CROSS-LISTED: CLASSICAL STUDIES
In ancient Greece and Rome, philosophy was more than an academic study: it was a way of life, focused on the achievement of happiness through training in wisdom. This course introduces students to the practice of philosophy, beginning with Socrates and his disavowal of knowledge, method of dialogue, public trial, and exemplary death. Attention then turns to Plato and Aristotle, and finally to the critiques of classical philosophy developed by the major philosophical schools in postclassical Greece and Rome, including cynicism, epicureanism, stoicism, and skepticism.
Introduction to the History and Philosophy of Science
Philosophy 120
CROSS-LISTED: STS
Investigations of the natural world have long circled around the same questions: What is causation? What is evidence? How should science be demarcated from other forms of inquiry? This course first looks at various scientific conflicts in order to understand what has, historically, been considered as the right way to discover the truth about the natural world. It then turns to attempts by philosophers to make sense of these different recipes for scientific success.
Thoughts for the Times
Philosophy 125
Nietzsche's Untimely Meditations suggests that the author's thoughts are "untimely" precisely because he questions the values and practices of his time. In "Thoughts for the Times on War and Death," Freud suggests there are certain events in human history that demand our thinking. To what extent should we understand the task of philosophy as a task of thinking for our times? Is this role better served by politicians, journalists, or poets? The course explores the work of philosophers who have addressed these and related questions.

Philosophy of Experiment
Philosophy 127
CROSS-LISTED: EXPERIMENTAL HUMANITIES
What does it mean to experiment? How does experiment differ from everyday experience, and what does it mean to gain expertise? This course considers a range of methods that fall under the label "experimental"—in the arts, politics, and especially science—and what they have in common. Topics include moments in history when the turn toward experiment has been most pronounced; moments where experimentalism has been most resisted; the role of experiment in philosophy; and the trendiness of x-phi, or experimental philosophy, today.

Philosophy of Slavery
Philosophy 129
CROSS-LISTED: CLASSICAL STUDIES, HUMAN RIGHTS
While many today regard slavery as the ultimate example of evil, we live in a society shaped by the institution and its aftereffects. There have only been two major slave societies in history: Greco-Roman antiquity and the modern Atlantic. This course looks at slavery and its enduring effects through those societies, with special focus on the connection between philosophy and slavery. Many of the founding figures of Western political thought—Aristotle, Locke, Hegel—produced justifications of slavery that raise profound questions about the legacies of these canonical thinkers.
Philosophy and Human Rights
Philosophy 130
CROSS-LISTED: HUMAN RIGHTS
From the right to life, liberty, and the pursuit of happiness to freedom of expression and peaceful assembly, the language of rights permeates our understanding of political life, citizenship, and personhood itself. Yet the foundation, function, and limits of human rights remain deeply puzzling and highly contested. What is the relationship between human rights and human nature? Between human rights and morality? Can any human right truly be universal? This course attempts to answer such questions by exploring the philosophical underpinnings, justifications, and criticisms of human rights.

Arguing about Ethics
Philosophy 132
Students learn how to construct and respond to arguments about philosophical issues, with a focus on contemporary, real-world ethical dilemmas such as 23andMe, Standing Rock, corporate responsibility, #metoo, and fractioning of social movements. Specific issues are chosen from cases for the 2019–20 Collegiate Ethics Bowl. Students who take the class for credit are eligible to participate in the regional Ethics Bowl and, if they win, represent Bard in the national competition.
Theory of Knowledge
Philosophy 135
What characteristics make it appropriate or ­desirable to believe certain things—reliability, our belief that something is likely to be true, or something else? What should we do when our beliefs conflict with others'? How does member­ship in a cultural group impair or facilitate our having or sharing knowledge? How is transmission of knowledge affected by bias? This introduction to current topics in epistemology considers these and other questions.
Other Animals
Philosophy 140
CROSS-LISTED: EUS
DESIGNATED: THINKING ANIMALS INITIATIVE
We humans have learned to think of ourselves as animals, and to think of our pets, laboratory subjects, wild animals, and those we slaughter for meat as "other animals." Yet the lives of these other animals remain profoundly mysterious to us. Can we understand their thoughts, desires, and lives? What do we owe them by way of justice, love, or sympathy? This course, part of the Thinking Animals Initiative, approaches these questions through works of philosophy, poetry, fiction, and history.
Introduction to Feminist Ethics
Philosophy 153
CROSS-LISTED: GSS
Feminist movements and theories suggest that difference matters when it comes to ethical life, and that attending to the question of a good life requires engaging with the realities of sexism and other forms of oppression. Feminist ethics thus redresses some blind spots of traditional moral theory, and develops its own concepts of ethical agency, moral responsibility, and how to live well. This course maps the contributions of feminist ethics, with special attention paid to issues of gendered embodiment, sexuality, and power as they impact ethical theory and practice.
History of Philosophy I
Philosophy 203
The course closely examines selected texts, emphasizing historical connections and developments from ancient Greece to 18th-century Great Britain. Readings from Plato (Republic), Aristotle (Nicomachean Ethics), Epictetus, Augustine (Confessions), Aquinas, Descartes (Meditations), Spinoza, Locke (Essay Concerning Human Understanding), Berkeley (Three Dialogues between Hylas and Philonous), and Hume.
History of Philosophy II
Philosophy 2044
The basic perspective of the course is that the history of philosophy does not exist; there are only different histories, depending on the interpretive narrative one constructs. The class focuses on such questions as: What is knowledge, and to what extent are we capable of achieving it? What is the origin and nature of morality? What sort of political and social arrangements best promise human flourishing and justice? What is the wisdom that philosophy (philo-sophia, "the love of wisdom") invites us to love?

Existentialism
Philosophy 215
CROSS-LISTED: FRENCH STUDIES
Existentialism is a philosophic, literary, artistic, and social movement that emerged during WWII in France, but had roots in the 19th-century works of Danish philosopher Søren Kierkegaard and German atheist philosopher Friedrich Nietzsche. The class considers selected writings by Kierkegaard, Nietzsche, Sartre, Beauvoir, Camus, and Heidegger, focusing on existentialist preoccupations such as the rebellion against rationalism, the corresponding emphasis on subjectivity and perspectivism, the perception of the human predicament as absurd, and the necessity of anxiety and suffering for authentic existence.

Body and World: Selves and Social Sense-Making
Philosophy 219
DESIGNATED: DASI COURSE
Our everyday accounts of action, social norms, language, and even intelligence take conceptual rationality as the essential feature of human life. A good deal of recent philosophy, though, explores the possibility that we might not be "rational all the way out" and that we use concepts to supplement other, embodied ways of knowing, being, and being with others. Students examine conceptual and nonconceptual ways that we make sense of reality. Texts by Dreyfus, Merleau-Ponty, Butler, Kristeva, Foucault, Todes, others.
History and Philosophy of Evolutionary Biology
Philosophy 221
CROSS-LISTED: HISTORICAL STUDIES, STS
In this survey of evolutionary theory from the 18th century to the 20th, topics include the earth sciences, classification of life, pre-Darwinian concepts of biological evolution, Darwin and Wallace's theory of evolution by natural selection, the problem of inheritance, and the modern synthesis. Philosophical debates surrounding questions on adaptationism, genetic determinism, evolutionary ethics, and evolutionary progress are also considered. A recurring theme is the reception of Darwinian e volution, both among scientists and the broader public.
Chinese Philosophy
Philosophy 225
CROSS-LISTED: ASIAN STUDIES
An overview of pre-Qin philosophical thought in China. Texts from the major schools—not only Confucianism and Daoism, but also "Legalism," Mohism, and the School of Names. Discussion includes questions in ethical and political philosophy, as well as questions about the nature of the world, the self, and language.

Philosophy of Psychiatry
Philosophy 229
CROSS-LISTED: HUMAN RIGHTS, STS
Philosophers have long been interested in rationality and its absence, but mental illness has recently become an especially hot topic due to the release of a new edition of the Diagnostic and Statistical Manual of Mental Disorders and breakthroughs in neuroimaging and molecular genetics. This course gives an overview of recent writings about psychiatry by philosophers, scientists, clinicians, and the people in their care. Readings also include criticisms from the antipsychiatry and neurodiversity movements.
Philosophy and the Arts
Philosophy 230
Are serious (or "high") and popular (or "low") art to be understood and evaluated differently? How do we evaluate works of art and what, if anything, do the various items and activities classified as "art" have in common? This course explores the ways that philosophers have approached issues concerning the nature and value of art. Readings from Hume and Kant on taste, Stanley Cavell on the moving image, and Theodor Adorno and Walter Benjamin on mass culture.

Philosophy, Art, and the Culture of Democracy
Philosophy 234
How have philosophical conceptions of liberty, equality, freedom of expression, and representation defined our conception of American political democracy? How have they shaped our conceptions of individuality, education, and social engagement? How do the arts contribute to our political culture? Texts include works by Locke, Mill, Emerson, Cavell; Hollywood films of the 1930s and 1940s; works of feminist philosophy; and works of art and criticism by Baldwin, Ligon, and Rankine, among others.
Symbolic Logic
Philosophy 237
CROSS-LISTED: MBB
Symbolic logic is really just good reasoning (logic) that uses some formal definitions and systems (the symbolic part) to evaluate the reasoning. Students learn the power of using formal systems to clarify ordinary language arguments. The class also connects logical thinking with mathematical thinking using Jordan Ellenberg's How Not To Be Wrong: The Power of Mathematical Thinking, in which, says Steven Pinker, Ellenberg "shows that mathematical thinking should be in the tool kit of . . . everyone who wants to avoid fallacies, superstitions, and other ways of being wrong."
Philosophy and Literature
Philosophy 238 / Literature 238
In Plato's Republic, Socrates defends his exile of the poets from the city by explaining, "reason constrained us to do so . . . for there is an ancient quarrel between philosophy and poetry." What were the grounds for this philosophical exile of poetry and how do we make sense of Socrates's defense thereof? This course attempts to answer these questions by reading canonical philosophical and literary texts side by side. Readings from Plato, Aristotle, Kant, Hegel, Kierkegaard, Freud, Sartre, Homer, Sophocles, Shakespeare, Goethe, Blake, Kafka, Woolf, and others.
Rhetoric versus Reason
Philosophy 240
This course navigates the choppy waters between natural language, the medium in which we speak, write, and reveal our feelings, and the analysis of language offered by formal logic. Where arguments are concerned, rhetoric and reason coexist in eternal tension. From the standpoint of formal logic, an argument aims to prove that its conclusion is true; rhetoric aims to persuade people to accept the conclusion. Students gain an appreciation of the richness of natural language and a grasp of the working parts of arguments on which their logical strength depends.
Relativism
Philosophy 242
This course explores relativism as a philosophical position. The first half of the semester focuses on epistemic relativism and the second half on moral/cultural relativism. The class introduces several fundamental modes of philosophical inquiry, among them metaphysics, epistemology, philosophy of language, and metaethics. Authors read include Richard Rorty, W. V. Quine, Thomas Kuhn, Bernard Williams, and Peter Winch. A prior course in philosophy is desirable but not necessary.
Marx, Nietzsche, Freud
Philosophy 245
CROSS-LISTED: GERMAN STUDIES, HUMAN RIGHTS
A comprehensive introduction to the works of Karl Marx, Friedrich Nietzsche, and Sigmund Freud, three German-language thinkers who revolutionized modern philosophy. Writing from the mid-19th century through the 1930s, Marx, Nietzsche, and Freud each worked to reformulate notions of selfhood and subjectivity, history and politics, God and religion, art and interpretation. The course brings these thinkers into conversation with one another and examines the ways in which their writings form the basis of contemporary critical thought.
Philosophy of Mind
Philosophy 247
CROSS-LISTED: MBB
This course examines the nature of the mind, including the relationship between the mental and the physical; consciousness; and mental abilities, like perception, memory, and intention. Readings begin with texts from the early modern period, but emphasize more contemporary philosophical work. Recent relevant work in the sciences is also considered.

Medieval Philosophy in the Latin and Arabic Worlds
Philosophy 250
CROSS-LISTED: CLASSICAL STUDIES, MEDIEVAL STUDIES, MES
Medieval thinkers in the Latin and Arabic traditions undertook an outrageous project: to jointly inherit the spiritual, literary and intellectual legacy of two radically different cultures, Greco-Roman paganism and the Semitic monotheism of Judaism, Christianity, and Islam. For these thinkers, philosophy was the name of a specific set of arguments, practices, and attitudes derived from pagan antiquity. Themes of inquiry: the diverse contexts of medieval philosophical activity; the role of philosophy in dialogue within and between religious traditions; and connections between philosophy, poetry, science, and the arts.
Darwinism and Its Discontents
Philosophy 257
CROSS-LISTED: EUS, HISTORICAL STUDIES, STS
Darwin's theory of evolution by natural selection has been revolutionary, not just for scientists but for everyone who reflects on human nature and human destiny. The first aim of this course is to separate Darwin's theory from its scientific, religious, and cultural aftershocks, and consider how its influence developed and changed over the century and a half since On the Origin of Species was published in 1859.
Science and Social Values
Philosophy 258
CROSS-LISTED: STS
When and how did the concept of objectivity arise in science? Is science value-free? If social values cannot be eliminated from science, how do we adjudicate between competing values and determine which are beneficial or harmful to science? How do we accommodate different perspectives? Students use historical and present-day case studies in science, technology, and public health to illustrate the dilemmas that arise.
Philosophical Research Seminar
Philosophy 302
An intensive advanced seminar required of all philosophy majors in their junior year. A problem in contemporary philosophy is carefully selected, exactingly defined, and thoroughly researched; an essay or article is written addressing the problem; the article is formally presented to the group, followed by discussion and debate; and the article in its completed form is submitted to an undergraduate or professional journal of philosophy, or to an undergraduate conference in philosophy.
Philosophers of Christianity
Philosophy 327
CROSS-LISTED: THEOLOGY
Key contributors to the development of theology crafted their thought in active dialogue with philosophical traditions of their eras. Examples include Origen the Platonist, Augustine the Stoic, Aquinas the Aristotelian, Friess the Kantian, Whitehead the Hegelian, and Marion the Wittgensteinian. The seminar investigates how such theologians were influenced by, and influenced, the philosophical discourse of their times, while shaping the articulation of faith.
Spinoza's Ethics
Philosophy 335
Spinoza's notorious Ethics, published posthumously and banned upon its release in 1677, methodically addresses classical philosophical questions, including the nature of God, human knowledge, and how one might live well. However, his conclusions are far from orthodox, as he famously identifies nature with God and reinserts humanity firmly within the laws of nature. This seminar pays special attention to Spinoza's ethical theory: What makes an ethics, and what roles do the affects, passions, and conatus (or striving) play in this unique ethical system?
Philosophy of Mathematics
Philosophy 336 / Mathematics 336
Students in the course explore various attempts to identify the conceptual underpinnings of mathematics. Topics include logicism, formalism, intuitionism, the concept of a formal procedure, the distinction between naive and axiomatic set theory, the set-theoretic characterization of the real number system, the theory of types, and, time permitting, different attempts to solve Zeno's paradoxes. Texts by Galileo, Bolzano, Frege, Russell, Gödel, Turing, and Putnam, among others. Prerequisite: Philosophy 237 or Mathematics 261.

Life of the Mind: Hannah Arendt
Philosophy 337 / German 337
What is the life of the mind? What makes us think and where are we when we think? What is the relationship between thinking and willing, between thought and action? What is the history and meaning of the concept of a "free will"? Hannah Arendt engaged these and related questions intensively in the last several years of her life, in conversation with a wide array of predecessors, including Plato, Aristotle, Augustine, Duns Scotus, Descartes, Kant, Heidegger, Nietzsche, and Kafka. This course presents a careful study of that engagement.

Thinking about Thinking from Locke to James
Philosophy 339
Modern epistemology is occupied with what it means to know things and how we justify our beliefs about morality, the natural world, and other areas of inquiry. But long before the advent of neuroscience, philosophers asked questions like: What are the basic building blocks of thought and how are they assembled in the mind? Are ideas born with us or do we generate them throughout our lives? This course considers ideas of the idea in modern philosophy, with a focus on Locke, Hume, and William James.

Philosophy of Sigmund Freud
Philosophy 341
CROSS-LISTED: GERMAN STUDIES
Philosophers such as Michel Foucault and Paul Ricoeur place Freud alongside Karl Marx and Friedrich Nietzsche as one of the "three masters" of modern thought, arguing that Freud's work presents a "new possibility of interpretation" and clears the horizon for a "new reign of Truth." This course approaches Freud as a thinker who grappled first and foremost with the nature of the mind. In addition to reading Freud's major works, the class considers the philosophical legacy of, and objections to, Freudian psychoanalysis.

Pragmatism
Philosophy 350
This detailed examination of the content and methods of a number of classic works of American philosophy emphasizes issues in epistemology. Philosophical movements discussed include transcendentalism, pragmatism, empiricism, and realism. Texts by Peirce, William James, Royce, Dewey, Santayana, Mead, and more recent writers. The investigation of these works involves problems in the philosophy of religion, ethics, aesthetics, the philosophy of language, the philosophy of education, and social and political philosophy.
Lost in Translation? Daoism and Philosophy of Language
Philosophy 352
CROSS-LISTED: ASIAN STUDIES
With a focus on the Dao De Jing and Zhuangzi, this course tackles questions of understanding others, theoretical concepts in different systems of thought, whether it is possible to say something in one language that it is not possible to say in another, and the ineffability of certain philosophical ideas. Many of these ideas are presented through analytic philosophy and the reflections of those who work on Chinese thought.
Introduction to Caribbean Philosophy
Philosophy 361
CROSS-LISTED: LAIS
The aim of the course is doing philosophy and not just knowing philosophers, an important distinction in areas with a legacy of epistemological colonialism. Threads of analysis unique to this geography include the idea that philosophy is a contextual project rooted in a specific place rather than an abstract, ideal theory; the effect of colonialism on culture and education; and the analysis of "modernity" as a European project. Texts by Édouard Glissant, Wilson Harris, Eugenio María de Hostos, Julia de Burgos, and Frantz Fanon.
Plato's Writing: Dialogue and Dialectic
Philosophy 362
CROSS-LISTED: CLASSICAL STUDIES, LITERATURE
Interpreters of Plato have often asked why he wrote in dialogue form, and the answers proposed have frequently appealed to Plato's conception of dialectic, although the meaning of that term in his texts is a matter of considerable debate. This course examines Plato's writings from philosophical and literary perspectives. Readings include Euthyphro, Euthydemus, Meno, Phaedrus, Republic, and Sophist. Primary texts are complemented with secondary scholarship that illustrates the range of modern approaches to Plato.

Aristotle's Ethics
Philosophy 363
CROSS-LISTED: CLASSICAL STUDIES
Aristotle's The Nicomachean Ethics is one of the earliest attempts to think systematically about ethical questions. It is also the subject of some of today's most heated philosophical debates. In this seminar, students analyze Aristotle's arguments in detail. Topics of special interest include Aristotle's concept of happiness, theory of moral development, philosophy of action, account of love and friendship, and his distinction between "active" and "contemplative" lives.
The Philosophy of Nietzsche
Philosophy 375
The course tackles several of Nietzsche's most famous works: Human, All Too Human (selections), The Gay Science, Thus Spoke Zarathustra, Beyond Good and Evil, On a Genealogy of Morals, Twilight of the Idols, and Ecce Homo. While trying to do justice to the particularities of these works the class addresses what issues, if any, are central to his thinking. Those of an ethical or metaethical nature receive the most attention, but issues of metaphysics, epistemology, and philosophy of language are also considered.

The Philosophy of Wittgenstein
Philosophy 385
This course features the major works of one of the most influential philosophers of the 20th century, Ludwig Wittgenstein. Readings include Tractatus Logico-Philosophicus, The Blue Book, and The Philosophical Investigations.

The Philosophy and Literature of Jean-Paul Sartre
Philosophy 389
CROSS-LISTED: FRENCH STUDIES
DESIGNATED: HSI COURSE
Readings from a variety of Sartre's philosophic texts, including Existentialism, Anti-Semite and Jew, Essays in Aesthetics, and Being and Nothingness, and a number of his novels and plays, including Nausea, The Wall, No Exit, The Flies, The Respectful Prostitute, Dirty Hands, and The Devil and the Good Lord. The relation between the two genres of Sartre's writing is explored, including the extent to which the philosophic and literary productions complement each other.

Feminist Epistemology
Philosophy 395
CROSS-LISTED: GSS
An introduction to the rationale and motivations behind late 20th-century movements within feminist epistemology and philosophy of science. Questions considered: to what extent, if any, is rationality gendered, and in what ways have female perspectives been excluded in the history of knowledge production? Also examined: the role of gender in philosophical investigations of the natural world and feminist responses to traditional stances in environmental and biomedical ethics.
Søren Kierkegaard
Philosophy 399
An examination of Søren Kierkegaard's aesthetic, psychological, and theological texts. Readings are drawn from such pseudonymous works as Either/Or (Victor Eremita), Repetition (Constantine Constantius), Fear and Trembling (Johannes de Silentio), Concluding Unscientific Postscript (Johannes Climacus), and Training in Christianity and The Sickness unto Death (Anti-Climacus), as well as some of the sermons written under Kierkegaard's own name. Additional texts by Sartre, Derrida, Levinas, Ricoeur, and Agacinski.