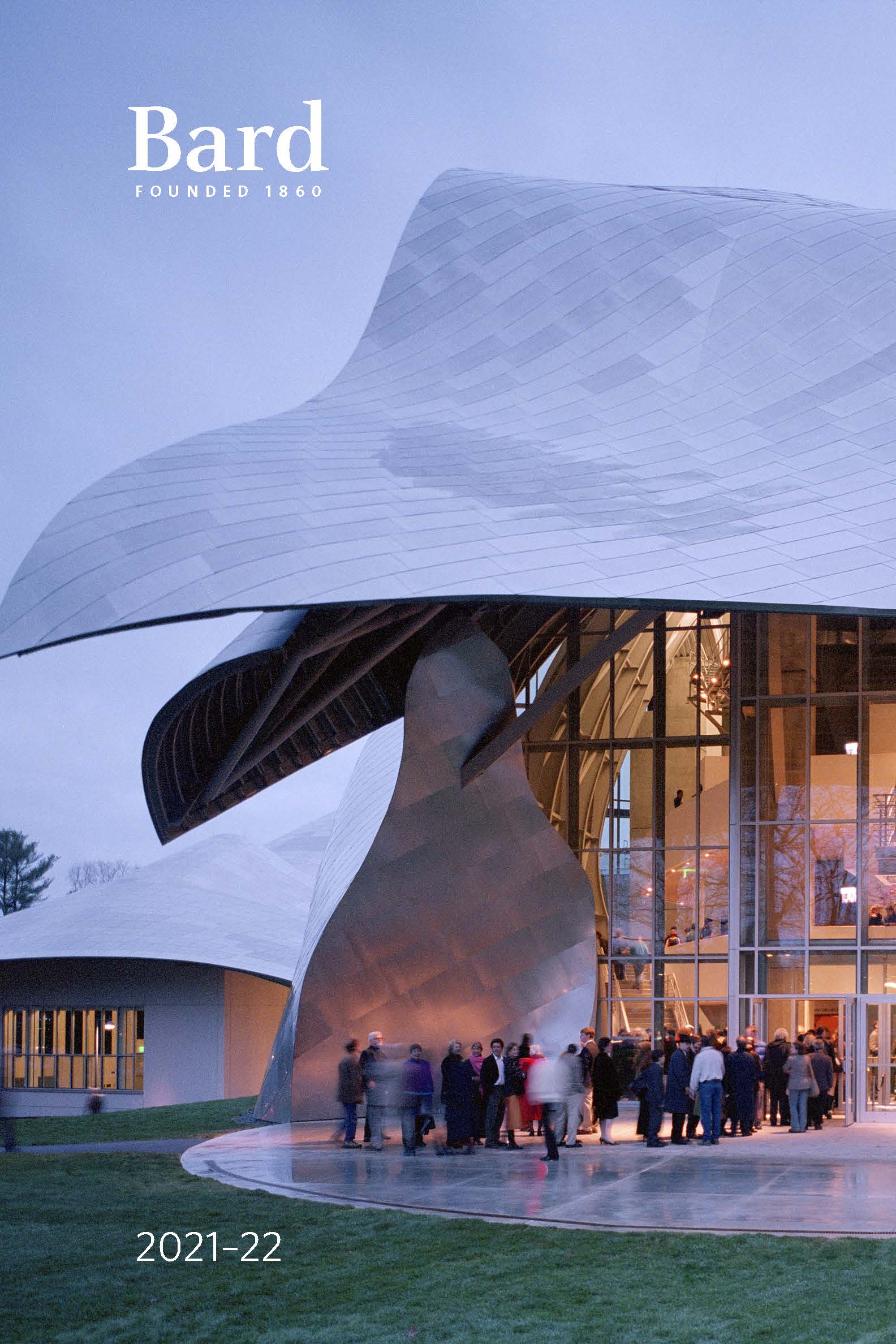 Bard College Catalogue 2021-22
History of Bard
Bard College has always been a place to think, critically and creatively.

Founding of the College: Bard was founded as St. Stephen's College in 1860, a time of national crisis. While we have no written records of the founders' attitude toward the Civil War, a passage from the College's 1943 catalogue applies also to the institution's beginnings: "While the immediate demands in education are for the training of men for the war effort, liberal education in America must be preserved as an important value in the civilization for which the War is being fought. . . . Since education, like life itself, is a continuous process of growth and effort, the student has to be trained to comprehend and foster his own growth and direct his own efforts." This philosophy molded the College during its early years and continues to inform its academic aims.

St. Stephen's College was established by John (1819–99) and Margaret Johnston Bard (1825–75) in association with leaders of the Episcopal Church in New York City. For its first 60 years, St. Stephen's offered young men a classical curriculum in preparation for their entrance into the seminary. But even as a theologically oriented institution, St. Stephen's challenged its students to be active participants in charting their intellectual paths over their four years of study. In support of this venture, the Bards donated part of their riverside estate, Annandale, to the College, along with the Chapel of the Holy Innocents, which is still in use.

Acknowledging Bard's Origins: Bard College acknowledges that its origins are intertwined with the systems of racial injustice that have been a part of this nation's history from its founding. In December 2020, the Stockbridge Munsee Band of Mohican Indians approved the following text of Bard's land acknowledgment (also known as a territorial acknowledgment): In the spirit of truth and equity, it is with gratitude and humility that we acknowledge that we are gathered on the sacred homelands of the Munsee and Muhheaconneok people, who are the original stewards of the land. Today, due to forced removal, the community resides in Northeast Wisconsin and is known as the Stockbridge-Munsee Community. We honor and pay respect to their ancestors past and present, as well as to future generations, and we recognize their continuing presence in their homelands. We understand that our acknowledgment requires those of us who are settlers to recognize our own place in and responsibilities toward addressing inequity, and that this ongoing and challenging work requires that we commit to real engagement with the Munsee and Mohican communities to build an inclusive and equitable space for all.

The College also acknowledges that the families of founders John and Margaret Bard had ties to slavery. The insurance company founded by John's father, William Bard (1778–1853), had direct ties and his grandfather, Samuel Bard (1742–1821), owned slaves. Margaret's family fortune derived from the success of her father's firm, Boorman & Johnston, which sold tobacco, sugar, and cotton produced by slave labor. These family resources, in part ill-gotten, enabled John and Margaret to act upon their shared faith by devoting themselves to philanthropic and civic endeavors. Bard further acknowledges that Montgomery Place, on the southernmost end of campus, was an estate run with slave labor.

Early Years: With the appointment in 1919 of Dr. Bernard Iddings Bell as warden, the College began to move toward a broader and more secular mission. Social and natural sciences augmented the classical curriculum, and the student body was recruited from a more diverse population. In 1928, a time of increasing financial uncertainty, St. Stephen's became an undergraduate school of Columbia University. Over the next decade, under the leadership of Dean Donald G. Tewksbury, Bard further integrated the classical and progressive educational traditions, in the process becoming one of the first colleges in the nation to give full academic status to the study of the creative and performing arts. In 1934, the name of the College was changed to Bard in honor of its founders.

1930s–1960s: Beginning in the mid-1930s and throughout World War II and the postwar years, the College was a haven for distinguished writers, artists, intellectuals, and scientists fleeing Europe. Among these émigrés were philosopher Heinrich Bluecher and his wife, the social critic Hannah Arendt; violinist Emil Hauser, founder of the Budapest String Quartet; precisionist painter Stefan Hirsch; labor economist Adolf Sturmthal; and psychologist Werner Wolff. Bard's international outlook was reflected in a variety of programs and initiatives, as well as in its faculty. During the war, the College welcomed an elite group of soldiers who were trained in the French and German languages and cultures, and in the late 1940s Eleanor Roosevelt was a frequent participant in Bard's international student conferences.

Bard underwent another redefining moment in 1944, when it opened its doors to women. The decision to become coeducational required the College to end its association with Columbia, paving the way to Bard's current status as an independent liberal arts college. The same year marked the arrival of the first female faculty members. The faculty of the postwar years included Mary McCarthy, Saul Bellow, Ralph Ellison, Anthony Hecht '44, William Humphrey, and Theodore Weiss. This partial list indicates that Bard had assumed a place of eminence in the teaching of literature and writing and was attracting leading thinkers in the social sciences. The College also continued to demonstrate its commitment to global issues of education and democracy. In 1956, Bard provided a haven for 325 Hungarian student refugees after their participation in that country's revolt against its Stalinist government.

The 1960s marked a period of significant growth. Under the stewardship of Reamer Kline, who served for 14 years as president of the College, the number of students and faculty increased, as did campus facilities, and the curriculum was expanded, particularly in science and the visual arts. Bard also demonstrated an early commitment to civil rights. In 1962, Bard was among the first colleges to award an honorary degree to Rev. Martin Luther King Jr.

1975 to Present: Leon Botstein became Bard's 14th president in 1975. Under Botstein, Bard has continued to innovate, take risks, and broaden its global outlook. He has overseen curricular innovation—including the nation's first human rights major; the Language and Thinking Program, a presemester workshop for first-year students; and Citizen Science, a hands-on program that introduces all first-year students to natural science and the ideas of the scientific method—and the development of a new model for the liberal arts college as a central body surrounded by affiliated institutes and programs that strengthen core academic offerings. This model is flexible enough to include programs for research, graduate study, and community outreach, yet each affiliate is designed to enhance the undergraduate experience by offering students the opportunity to interact with leading artists, scientists, and scholars.

A number of these initiatives developed within the Bard Center, established in 1978 to present artistic and intellectual programs. These include the Distinguished Scientist Lecture Series, which has brought 46 Nobel laureates to Bard, and the Bard Fiction Prize, awarded to emerging writers who spend a semester in residence at the College. Other programs developed under Bard Center auspices include the Institute for Writing and Thinking, which has had a major impact on the teaching of writing in high schools and colleges around the country and internationally; the Bard Music Festival, which debuted in 1990 and each year illuminates the work and era of a specific composer; and the literary journal Conjunctions, which celebrated its 40th anniversary in 2021.

Bard has been a leader in early college education since 1979, when it acquired Simon's Rock, the nation's first early college. The College has since partnered with public school systems across the country to establish tuition-free early college programs that allow young scholars to earn up to 60 college credits and an associate in arts degree along with their high school diploma. The first Bard High School Early College opened in 2001 in Manhattan. Bard now operates early college campuses in Queens (2008); Newark (2011); New Orleans (2011); Cleveland (2014); Baltimore (2015); Hudson, New York (2016); Washington, D.C. (2019);
and Poughkeepsie, New York (2021).

The College has developed a number of additional initiatives to address the educational needs of underserved communities. These include the Bard Prison Initiative (BPI), founded by Max Kenner '01 as a student project to bring higher education into New York State prisons. The program is the subject of a 2019 PBS documentary series, College Behind Bars. Building on the success of BPI, the College partnered with community-based institutions to create Bard Microcollege campuses at the Holyoke (Massachusetts) Care Center, Brooklyn Public Library, and Countee Cullen public library in Harlem. These programs, which lead to an AA degree, feature the elements of an Annadale education. The Clemente Course, currently in its 25th year, provides college-level instruction, for college credits, to economically disadvantaged students aged 17 and older at 30 sites around the country.

Affiliated programs also include the Milton Avery Graduate School of the Arts (1981); Levy Economics Institute of Bard College (1986); Center for Curatorial Studies (1990); Bard Graduate Center (1993); Bard Center for Environmental Policy (1999); Bard Globalization and International Affairs Program (2001); International Center of Photography–Bard Program in Advanced Photographic Studies (2003); Master of Arts in Teaching Program (2004); Bard College Conservatory of Music (2005); Hannah Arendt Center for Politics and Humanities (2006); Center for Civic Engagement (2011); Bard MBA in Sustainability (2012); Longy School of Music of Bard College (2012) in Cambridge, Massachusetts; and The Orchestra Now, which offers experiential training to postgraduate musicians (2015).

Bard has continued to further its efforts to promote freedom of inquiry internationally. In 1991, under the Program in International Education (PIE), the College began bringing students from emerging democracies in Eastern and Central Europe, Central Asia, and the Middle East to Bard for one semester of study. This program is one of many overseen by the Institute for International Liberal Education, which was founded in 1998 to develop long-term collaborations between Bard and other leading institutions around the world. These partner campuses include Al-Quds University in East Jerusalem, which collaborated with Bard in 2009 to create the Al-Quds Bard College for Arts and Sciences and a master of arts in teaching program; American University of Central Asia in Bishkek, Kyrgyzstan, where Bard established a dual-degree program in 2010; Bard College Berlin: A Liberal Arts University, a partner institution since 2011; and Central European University (CEU), a graduate-level institution based in Budapest and Vienna. In 2020 Bard and CEU, with support from the Open Society Foundations, launched an international network of higher education, research, and cultural institutions committed to addressing today's global challenges. The Open Society University Network (OSUN) includes more than 35 institutions in Europe and the United Kingdom; Africa; East, Central, and Southeast Asia; South America; the Middle East; the Caribbean; and the United States.

Bard's faculty has also grown in range and distinction, and today boasts nine recipients of MacArthur fellowships: poet Ann Lauterbach; artists Jeffrey Gibson, An-My Lê, and Judy Pfaff; journalist Mark Danner; filmmaker Charles Burnett; and novelists Valeria Luiselli, Norman Manea (emeritus), and Dinaw Mengestu. Other distinguished and award-winning faculty members include writers Nuruddin Farah, Neil Gaiman, Masha Gessen, Daniel Mendelsohn, Bradford Morrow, Jenny Offill, Joseph O'Neill, Francine Prose, Luc Sante, and Mona Simpson; poet Robert Kelly; composers Joan Tower and George Tsontakis; anthropologist John Ryle; sociologist Karen Barkey; art historian Kobena Mercer; photographers Gilles Peress and Stephen Shore; filmmaker Kelly Reichardt; journalist Ian Buruma; mezzo-soprano Stephanie Blythe; and Pulitzer Prize–winning biographer Elizabeth Frank. Academy and Grammy Award–winning composer and conductor Tan Dun leads the Conservatory of Music as dean.

Noted writers and artists who spent time at Bard in recent years include the late Chinua Achebe, widely revered as the founding father of African fiction; John Ashbery, considered one of America's most influential 20th-century poets; Nobel laureates Orhan Pamuk, José Saramago, and Mario Vargas Llosa; and soprano Dawn Upshaw, who developed Bard's graduate program in vocal arts.

Bard alumni/ae have also been an influential force in the arts and in the physical, social, and political sciences—and in the life of the College. A short list includes actors Blythe Danner '65, Adrian Grenier '98, Gaby Hoffmann '04, and Patrick Vaill '07; comedians Chevy Chase '68, Christopher Guest '70, Ali Wentworth '88, and Adam Conover '04; filmmaker Gia Coppola '09 and film editor Jinmo Yang '03; screenwriter, actor, and producer Raphael Bob-Waksberg '06; playwrights Sherman Yellen '52, Nick Jones '01, and Thomas Bradshaw '02; dancer Arthur Aviles '87; visual artists Tschabalala Self '12 and Xaviera Simmons '05; sculptor Rita McBride '82; groundbreaking artist Carolee Schneemann '59; musicians Donald Fagen '69 and Walter Becker '71 (founders of Steely Dan), Billy Steinberg '72, and Adam Yauch '86 (a founder of the Beastie Boys); scientist László Z. Bitó '60, who was instrumental in developing a drug used to combat glaucoma; Fredric S. Maxik '86, a leader in environmentally innovative lighting technologies; environmental writer Elizabeth Royte '81; financial entrepreneur and investor Mostafiz ShahMohammed '97; poet and translator Pierre Joris '69; and journalists William Sherman '68, Matt Taibbi '92, and Ronan Farrow '04, 2018 Pulitzer Prize winner for public service.

The campus itself expanded in 2016, when Bard purchased Montgomery Place, a neighboring 380-acre property that features a 19th-century mansion, coach house, greenhouse, farm, gardens, walking trails, and outbuildings. To date, activities at Montgomery Place have included lectures, exhibitions, guided walks by Bard horticultural staff, a SummerScape gala and events, and a salon series presented with Hudson River Heritage. Several undergraduate courses have been inspired by the history of the property.

Recent Initiatives: In 2015, SummerScape originated a bold new staging of Oklahoma! that opened on Broadway in April 2019 and won the Tony Award for Best Revival of a Musical. The US-China Music Institute, a partnership between the Bard College Conservatory and the Central Conservatory of Music in Beijing, launched in 2018, offering a degree program in Chinese instruments. In January 2020, Conservatory dean Tan Dun led the Bard Philharmonic Orchestra in a performance marking the opening of China's Haikou Bay Performing Arts Center; and the Open Society University Network (OSUN), created with support from George Soros's Open Society Foundations, launched with the goal of integrating teaching and research across higher education institutions worldwide. The network is anchored by Bard and Central European University and includes dozens of educational and research institutions both nationally and internationally. Also in 2020, Bard introduced a stand-alone undergraduate program in architecture; the Bard Baccalaureate, a full-scholarship program for adult learners in the Hudson Valley region; and a suite of interdisciplinary Common Courses that engage with themes of the contemporary moment, such as epidemics and society, and local, national, and global citizenship. In response to recent events and in the belief that colleges and universities must play a part in creating fundamental change, President Botstein established the President's Commission on Racial Equity and Justice to assess the College's past, analyze its present practices, and produce a plan for the future. And in response to the coronavirus pandemic the Fisher Center created UPSTREAMING, a virtual stage featuring new commissions and archived theater, dance, and music performances: and expanded its performance opportunities with a new stage at Montgomery Place.

Looking Ahead: Within the framework of the Open Society University Network, Bard's Human Rights Project, the Fisher Center, and CEU have developed a graduate program in human rights and the arts, which launches in fall 2021. Also making debuts in 2021–22: a bachelor of music program in vocal performance, offered through the Bard College Conservatory of Music; and a master of arts in global studies that begins at CEU's Vienna campus and continues with study at Bard's Globalization and International Affairs Program in New York City. Also in 2021, Bard launched Camden Reach, a partnership with Camden, New Jersey's public school system, that will allow high school juniors to take college classes in addition to their regular coursework. A new graduate program in Chinese music and culture, a collaboration of the Conservatory of Music and the Asian Studies Program will launch in 2022.

In 2021, Bard College received a transformational $500 million endowment from philanthropist and long-time Bard supporter George Soros. This challenge grant—among the largest ever made to higher education in the United States—will facilitate and strengthen Bard's exemplary educational and social initiatives, establish the College's most substantial endowment ever, and set the stage for a $1 billion endowment drive. In response to Mr. Soros's generous challenge grant, the college has raised an additional $320 million from supporters, including trustees, alumni/ae, and friends, and will raise another $180 million over the next five years.