During the Bard CEP Oaxaca course trip I learned about a new technology that I've been fixated on since: dry toilets! I've always specialized in waste management, but I've never had much exposure to human waste management.
When we visited the community of Cieneguilla, our hosts mentioned dry toilets as a part of their water management plans, but it wasn't until we reached the secondary school in San Miguel Suchixtepec that we saw them in action.
How do Dry Toilets Work?
Simply explained, dry toilets have the same shape as the toilets we use here, but there's a basin at the front to catch urine, and an open hole in the rest of the seat for feces. They require no water, but after you do your business you shovel a scoop of sawdust over your waste. The solid waste section is then removed and enters into a larger storage unit so it can dry. After a year of drying, the mixture is ready to be used as compost. The urine is piped into a giant vat for storage, but only for three months, after which it gets used as a fertilizer. The smells of both are surprisingly undetectable, proving how much less daunting these systems are when handled with care and knowledge.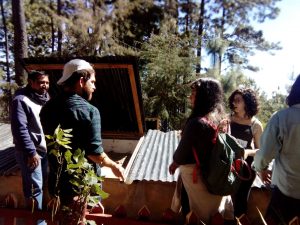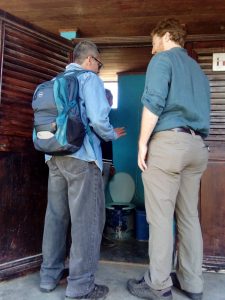 Students Close the Loop
What I loved the most about this school was the connectivity of its environmental projects: the dry toilets are emptied and managed by the students, and then the fertilizer and compost is used in the gardens that the students also tend. According to the representatives of Mbiz Bin, a local NGO, traditional flush toilets use roughly six liters per flush, so these toilets have saved hundreds of thousands of liters of water per school year.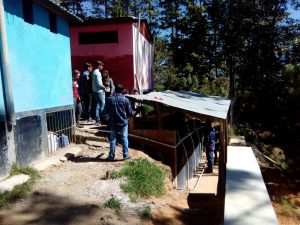 Besides the obvious financial and convenience benefits of these toilets to communities that must conserve water, I find value in the relationship between waste and the students. As a born and raised New Yorker, my water has always appeared as if by magic, and my trash has disappeared the same way.  
Having children close that loop, and truly understand the processes of eating, going to the bathroom, and then using that waste to create new plants and life, is missing from US urban life. Environmentalism for me was learned; for these students, though, it's their way of life. Maybe I don't wish my school had made me transport human waste, but I do wish there were more demonstration of how to close these loops.
Transcending the "Ick" Factor in the US
As a transferable practice, I see the limitations of dry toilets in urban living. But I do hope that technologies like this can transcend the "ick" factor around waste pervasive in the United States–and perhaps they could be used in more rural locations where gardening and farming is prevalent. I was truly inspired by the actions of this school, and I hope that my career can help me bring a similar sense of responsibility to waste management in urban areas.