World Health Organization: A world of diplomacy and science
So after seven years of studying in the US, I am finally back to my continent—Europe. And not only any place, but Germany. In order to get ready for the strict and proper German lifestyle, first I had to forget about the American laid back approach that I got used to and put on a more serious "game face".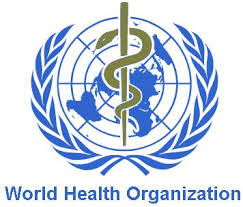 Photo source: newsinfo.inquirer.net
I am located in Bonn, a former capital of West Germany. Nowadays, it is a city mostly of students and diplomats. I am doing my internship at the World Health Organization (WHO)— the branch of the United Nations responsible for international public health. The mission of the organization is to protect overall public health, be a leader in public health, network and collaborate with other WHO offices globally as well as other government and non-government organizations, and provide support and guidelines for human well-being. The office in Germany, called the European Centre for the Environment and Health, covers the European region and includes topics such as  climate change and health, water and sanitation, nanotechnology, food safety, air quality and noise, and health economics.Working for such an organization has always been my wish, and I am grateful for the experience I get while being here.
So what is it like to work here? This entire building resembles the entire world in one—every day I hear multiple languages spoken, English spoken with different dialects, and I encounter people from different countries. Interestingly, our Program Manager is from Serbia, our Program Coordinator is from Croatia and one of my unofficial thesis advisors is Macedonian—we all get to speak "our" language occasionally. Together with an intern from Australia, I get to practice German with two German interns, and review my knowledge of Italian and learn bits of Russian with other technical officers and administration staff.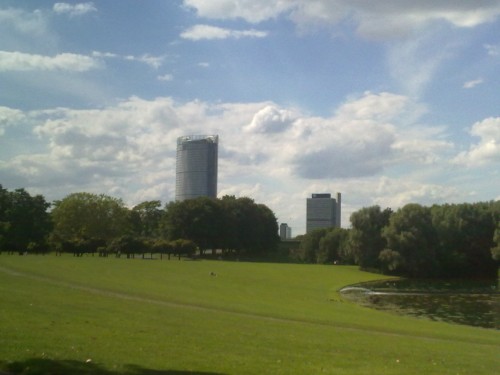 Deutsche Post and the United Nations buildings–view from my apartment
I specifically work in the process of updating WHO Guidelines for Community Noise in the European Region along with my supervisor, a technical officer for air quality and noise Marie-Eve Heroux from Canada, and public health doctor Jonathan Dubnov originally from Russia (his permanent positions is at the Ministry of Health in Israel). As I was reading the WHO material on noise and health prior to coming to Germany, I realized I don't know much about the insides of the project as the topic was fairly new to me. But now I am intensively working on it by researching literature on various health effects (cardiovascular, mortality/morbidity, tinnitus, hearing impairment, cognitive disturbance) of environmental noise from traffic, aircraft, personal electronic devices, toys… and wind turbines! What would our program say about the latter?
Previously published WHO Guidelines on Community Noise explored short-term effects of noise on human health. However, several new studies are now showing health effects from long-term exposure to environmental noise, and this has to be taken into consideration. My job is to review the current literature on noise exposure and health effects and determine whether recent evidence exists of new health outcomes, and whether health outcomes appear at lower sound levels than those presented in the old guidelines. I am also creating a detailed table of the literature review with references and working on editing the scoping document which we will present to the Guideline Development Group (GDG) at an expert meeting in November. The GDG is a group of experts providing advice to the WHO for the development of the health-based recommendations on environmental noise. Aside from the science, it is interesting to see the process of making this important document and getting it published—which is very bureaucratic.
From time to time I stop by the Climate Change and Health section of the office and chat with technical officers about topics related to the Bard CEP graduate program.  I am also scheduled to participate in the training workshop organized by the WHO which will look at different health fields, and multiple exposures and risks along with a conference on environmental health economics— both will be held in mid-October. Then, in mid-November, we have a meeting with the GDG for updating noise guidelines where we will discuss our scoping document which includes our proposed sections, additions, changes. The GDG will be composed of scientists (experts on the issue of noise exposure and health) and it will be interesting to meet the authors of all the articles I went though during the literature review process.
I also had a chance to participate in the WHO meeting on Greening Health Services (from which I developed my thesis idea…the day when it was due) which included experts from different non-profit and international organizations around the world. Another UN/WHO meeting on Green Procurement of Health Services also took place here, where the main topic was how to make health systems sustainable for the bettering of our people and planet. Along with networking, it was an enriching experience to have all the world's experts and great speakers in one room presenting their ideas. So I must say it is a very special group of people I am working with, all of them coming from various backgrounds with an extensive international experience.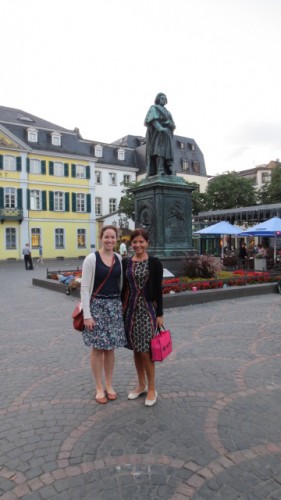 With another WHO intern from Australia in front of Beethoven's monument (Bonn is his birthplace)
Tennis and food as a universal language
Aside from the diplomatic-scientific part of my days, I am playing tennis in the German tennis league for the club called BTHV and during some weekends I work in a tennis camp as a coach for another tennis club. And, as my goal is to be able to speak German in a few months I am also taking German classes. Currently I live in a student dorm but soon I will move into an apartment. The student dorm has a lot of Middle Eastern and South Asian students from the University of Bonn (mainly computer science, bioinformatics and medicine). This is a real cultural experience of the united nations outside the United Nations—from learning bits of different languages to cooking national food.
I will stay with the WHO until the end of January as I want to fully experience working in an international organization such as this one. During my stay I am planning a few trips to Stockholm, Frankfurt, Paris and Brussels…
For now, tschüss!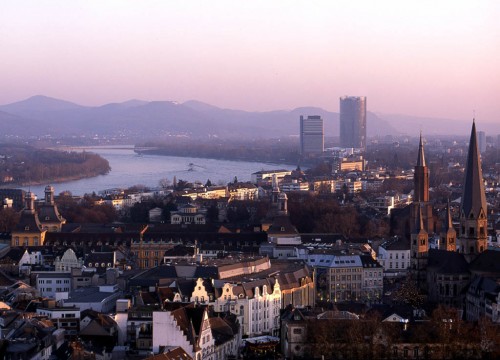 Photo source: orangesmile.com