Thomas Edison established the first direct current power system in 1882.  It distributed electricity to 59 customers on Wall Street in New York City.  Today, the electric grid includes more than 6 million miles of transmission and distribution lines designed primarily with centralized controls, supplying over 143 million residential, commercial, and industrial customers.
The expansion of the grid was noted as one of the most remarkable achievements of the 20th century, and contributed to the rapid economic and industrial growth of the United States. However, in the late 20th century, the grid began to be connected in popular thought with concerns about increasing electricity prices and climate change.
Recently, technological advances in renewable energy, including solar power and energy storage systems, have offered extraordinary opportunities to revolutionize electricity distribution once again.  Moving from centralized generation to distributed generation and storage could enable less polluting and more flexible electricity systems, with greater local control.
---
CEG and CESA
Organizations like Clean Energy Group (CEG) and Clean Energy States Alliance (CESA) are playing a prominent role in this transitional period.  CEG, a leading national non-profit based in Montpelier, Vermont, works with governments at the local, state, and national levels on developing clean energy markets, policy programs and public finance tools.  It also assists in securing funding for clean energy projects.  CESA, a non-profit managed under CEG, is a coalition of state clean energy funds.  It also works to promote clean energy technologies and markets.  Both non-profits provide various tools to help members understand the complexity of emerging technologies and vendors.  CEG and CESA host webinars, publish monthly newsletters, and create opportunities for state actors to meet and create partnerships.
This past summer, I had the opportunity to work both with CEG, on its Resilient Power Project (RPP), and with CESA, on an assessment of residential Property Assessed Clean Energy (PACE) financing programs.
---

Working With Clean Energy Group
CEG's RPP recognizes an increased interest by states in building power systems that are more resilient than our current, centralized grid.  This interest emerged after a series of storms, most famously Hurricane Sandy, caused severe devastation in the Northeast, resulting in widespread electricity outages and costing billions of dollars.
The RPP project works with states on developing programs that focus on building resilient power systems to support critical infrastructure and services. These programs support technologies ranging from microgrids to solar + storage to CHP and fuel cells.  Such programs have been developed rapidly in the Northeast, and many target critical facilities such as hospitals, schools, and emergency centers.  Focusing on these areas can help better serve the needs of a city during a disaster.  The RPP also has a focus on low income and vulnerable communities, which tend to be most severely affected by natural disasters and their accompanying power outages.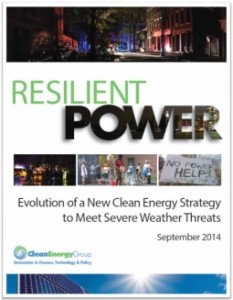 Through my work with CEG, I was in direct contact with policymakers and state actors across the nation, discussing their roles in preparing for extreme weather and responding to power outages. During this time, CESA states developed and deployed a number of innovative RPP programs, projects, and initiatives including:
    New Jersey's $200 million Energy Resilience Bank
    Connecticut's solicitation for the second round of their $45 million Microgrid Grant Program
    New York's $40 million Microgrid Prize
    Massachusetts' $40 million community resiliency program
    Vermont's Solar + Storage Microgrid in Rutland
    California's $25 million Microgrid Program
On the federal level, President Obama also lent support for resilient power programs under initiatives led by the Climate Action Plan.
I compiled the information I collected into three interactive maps, soon to be available on the CEG website, that included state initiatives, solar + storage vendors, and global storage + storage projects.   Additionally, I continued to keep track of the projects, initiatives, and programs taking shape throughout the nation. I noted any actors and vendors involved in the resilient power and solar + storage discussion from battery vendors to analytic software developers.  This information will be useful for CEG and potential state members looking for best practices in order to plan for future resilient power projects.
---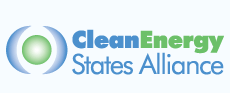 Working With CESA
My work with CESA was also tied to the conversation on deploying clean energy and solar power through the development of state programs.  CESA had been contracted by Connecticut's green bank, the Clean Energy Finance and Investment Authority (CEFIA), to assess the feasibility of implementing a residential PACE program.
PACE financing programs have taken off across the nation, particularly in California, as an effective way of to reduce the barriers associated with high capital cost when investing in clean energy technology.  PACE allows residential and commercial building owners to borrow from a municipal fund established to promote clean energy improvements; repayment is made through a small add-on to their monthly property tax bill. These loans are transferable with property ownership.
I gathered information on PACE programs from their origins in Berkeley, California, to where they are today.  I also assessed and wrote an analysis on Connecticut's existing clean energy financing programs.  My supervisor and I conducted several interviews and remained in contact with CEFIA on bi-weekly calls throughout our research period.
As my time with CESA and CEG came to a close, the dialogue between CEFIA and CESA is continuing.  Whether CEFIA moves forward with a residential PACE program will be significantly influenced by the information gathered through this assessment.
---
Skills acquired at Bard CEP
During the three months I spent working with CEG on the RPP, and with CESA on the PACE assessment, I used the interdisciplinary knowledge I had gained from Bard Center for Environmental Policy (CEP) as a Climate Science and Policy student.  Engaging with state actors, researching a range of clean energy topics, and writing in various formats required skills learned in my classes on economics, policy, science, and climate solutions.  It took some time to understand the complexity of designing successful state programs, but resilient power initiatives and residential PACE programs are relatively nascent.  It also took time to understand the audience I was writing for.  Both CEG and CESA had different expectations than the academic community.  I was glad to have gained valuable research and writing skills at Bard CEP that were further enhanced while working in Vermont.
---
Moving onto a second internship
My experience with CEG and CESA was positive and I found it valuable to be able to work with actors from several sectors in an emerging field.  As my internship came to an end I headed off to Geneva to pursue a second internship, with the United Nations Environment Programme (UNEP), working on energy and water security and conflict.  I am already using knowledge I gained working with CEG and CESA for a project UNEP is implementing in Central Asia (CA).  The project focuses on building a green economy in CA and is exploring different clean energy financing mechanisms for the developing region, a subject I will highlight in my next blog.  In addition, I also had the opportunity to participate in a conference at the UN headquarters on urban growth and responsible electrical power, and felt confident based on the knowledge I had gained with CEG engaging in a conversation with the ambassador of Fiji on clean energy development.