Excerpted from the Spring 2015 issue of The Bardian.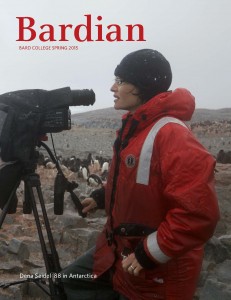 Since its founding in 1999, Bard CEP has promoted a science- based, holistic approach to environmental policy. Through a combination of theoretical study and empirical work, Bard CEP graduate students gain a deep firsthand understanding of how numerous academic disciplines and forces (law, politics, policy studies, science, culture, ethics) intersect in the arena of environmental policy making. In addition to course work, the Bard CEP graduate program requires an extensive internship of 30 hours per week, for at least four months, during the summer and fall semester of the second year. "Our goal is to get students into leadership careers to start changing the world, soon." Eban Goodstein Director of Bard CEP and Bard MBA.
Bartek Starodaj '12 set a goal as a freshman to complete the Bard CEP 3+2 program to specialize in a field. "Coming to Bard enabled me to make a smooth transition from an undergraduate program to a graduate program, saving both time and money without moving to a new school.  "We learn about environmental policy, in a program tailored toward career development."
Rachel Savain '12, entered Bard CEP after earning an undergraduate degree in French studies, with a concentration in environmental studies, from Williams College. At Bard CEP she specialized in integrated waste and water management, which is a significant infrastructure problem in developing countries. After completing her first year of study, she interned at WASTE: Advisers on Urban Environment and Development, a Dutch international nongovernmental organization (NGO) working in Haiti. Savain was a program assistant from June to December 2011, and returned in February 2012.
Read the complete feature on the Bard CEP careers page here.