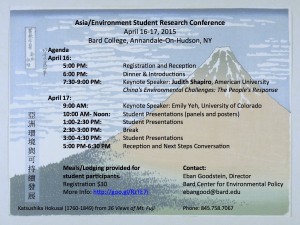 Continuing with our focus on Asia and the Environment, the Bard CEP hosted a Student Research conference in April 2015. This is our second blog post detailing the event, the first can be found here.
The Student Research Conference was a great addition to our continuing focus on Asia. As we wrote previously, "Today it is impossible to think seriously about the challenges of sustainable development and the environment without understanding the local and global environmental footprint of rapid economic growth in Asia—and the Asian response. At the same time, Asian Studies students increasingly require familiarity with the scientific, cultural and political dimensions of environmental crises and sustainable development. "
Our goal is to support a pedagogy workshop focused on transboundary resource issues, funded graduate students, and undergraduate research on Asia and the environment across the region. Therefore, this conference will be held annually to further these aims.
We some great photos that we would like to share with you. Check them out!