The Pope's visit to the U.S. last week focused the nation on a moral challenge of biblical scale. Like Noah, we are called now to build an ark. But our ark will be the entire earth itself—a world rewired soon with clean energy.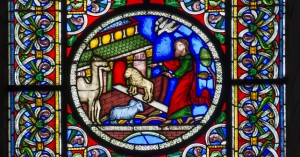 Global political leaders will propose half an ark when they convene in Paris in December. If their anticipated commitments to cut global warming pollution are met, the planet will still heat up well beyond the 3.6 F degree threshold set by the international community.
Beyond 3.6 F, the risks of triggering runaway, catastrophic global warming impacts rise dramatically. Collapsing Greenland and Antarctic ice sheets will drive dozens of feet of sea-level rise. The burning of the earth's great forests will release billions of additional tons of CO2 into the atmosphere. Melting northern tundra will emit vast quantities of frozen methane and CO2. Devastating ocean acidification, mass extinctions, and a planet of environmental refugees become inevitable.
The Paris agreement will not be enough, but half an ark is an important first step. These initial commitments are critical to bend the emissions curve towards the deeper reductions we need to stabilize the climate by mid-century. Whether those future reductions will in fact come to pass depends on whether a new kind of power coalesces beyond Paris.
Recently, Ta-Nehisi Coates said that the moral arc of the universe bends—not towards justice—but towards chaos. Our broken politics make it seem as if chaos is our likely destiny. Yet between chaos and justice lies human agency—our work together that either builds or destroys.
Politics as usual, in the U.S. and globally, cannot overcome the power of the fossil fuel industry to delay and weaken the vital work of rewiring the world. In America at least, we can and need to do what our forebears have done again and again: reclaim the power of the people. From abolition to women's suffrage, from labor rights to civil rights to gay rights, when Washington is gridlocked, Americans build a morally-based social movement that sweeps the country, changes hearts and minds, and drives far-reaching change.
Pope Francis is calling his billion-plus community, and us all, to rise to the extraordinary moment in which we are living, to build an ark of the earth in order to bend the arc of the universe towards justice. Here are three ways to start reclaiming the power to do so.
The Road Through Paris. The team at 350.org including Bill McKibben is organizing a series of movement-building actions, leading to a call for widespread direct action next April. Things kicked off this weekend with Power Through Paris Workshops: find one near you.
The People's Climate March is the coalition of organizations behind last year's march that brought over 400,000 climate hawks to the streets of NYC. Click here to find climate actions close to your community on 10.14.
The Power Dialog is organizing 10,000 college and university students in every state, in their state capitols, to meet in face-to-face dialog with officials charged with cutting global warming pollution. Sponsored by the Bard Center for Environmental Policy, which I direct, the Power Dialog is set for 4.4.16, and already has teams of faculty, students and staff forming in a dozen states.
The arc that appeared at the end of Noah's journey was the rainbow: the symbol that binds humans with every living creature of all flesh that is upon the earth. This connection, from the deep beginning of our collective story, is threatened once again by floods and droughts of unprecedented scope and scale. The future can only be changed through our collective power, the work of each of us together, to envision and to build an ark of the earth.
Eban Goodstein is an economist and is Director of the MBA in Sustainability and the Center for Environmental Policy at Bard College in Annandale-on-Hudson, NY.