The city of Oaxaca de Juarez in southern Mexico and the surrounding communities in the Central Valleys are facing a serious water crisis. As a result of sprawling urban development and the degradation of mountain forests, croplands, and pasture, rainy season precipitation has become fast water, washing away topsoil, flooding roads, failing to replenish groundwater, and flowing quickly out of the region.  This has resulted in serious water shortages and declining water quality for both urban and rural communities.
In 2011 the Government of Oaxaca signed a multi-year agreement with the World Bank to reform the water sector through a package of Bank provided knowledge management and financial services.  Knowledge management includes the strategy to link state agencies with private and non-profit organizations working across sectors that impact water management, from urban planning to forestry projects and sustainable agriculture.
Bard CEP has a unique opportunity to evaluate the progress of water reform in Oaxaca. It has a longstanding partnership with the Institute for Nature and Society of Oaxaca (INSO), an organization that has been working on water management issues for more than a decade. INSO has pioneered a collaborative approach to water management in the region, forming the multi-stakeholder Water Forum in 2007, creating a permaculture demonstration site and small holder production of non-certified organic produce, and more recently by working with both the state and city governments in watershed planning. The purpose of this multi-pronged approach is to create a holistic and sustainable approach to watershed policy.
This January, a two-week course taught abroad will provide Bard graduate students with an overview of the challenges of water management in a developing country and those specific to Mexico and Oaxaca. Students will participate in:
Discussions with INSO personnel
A field visit to follow a river from its relatively pristine source to its polluted urban endpoint
Meeting with the State Water Commission
Writing assignments analyzing water reform efforts and documenting the students' experiences
Field visits to El Pedregal and La Mesita to observe conservation projects in Oaxaca
Students will learn key methods in professional project evaluation and simulate the field experience of an evaluation team. Students will have the chance to meet with a range of water management stakeholders, including state and non-state actors, whose views often differ over the most appropriate solutions to solve Oaxaca's water problems.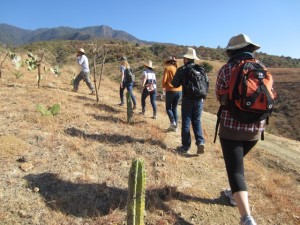 Blog posts from the students in Oaxaca will be posted frequently during their stay from January 25 – February 5. We hope you will follow along with us on our blog and Facebook album as Bard CEP students embark on this exciting adventure!