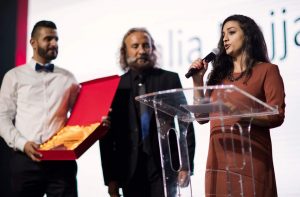 Bard CEP's Dalia Najjar, who graduated in May 2017, has joined Farouk Systems Palestine as its Executive Manager.  Farouk Systems, Inc. is a Houston-based company that manufactures high quality hair care products.  It has 144 branches worldwide, and Najjar is the youngest Executive Manager in company history.
Najjar drew on the public speaking skills she learned at CEP to deliver a talk about her education and career experience to an audience of 4000 at the company's international conference.
Although she acknowledges that her current position seems far afield of the research she did at CEP–her Master's thesis focused on smallholder farmers and their battle against the leaf folder pest in the Solomon Islands–Najjar is excited to put her skills to work in her new position.  With her guidance, Farouk Systems Palestine is launching an environmental department that will consult with Palestinian factories on how to discharge waste in an environmentally responsible manner.