West Point Faculty Attend Writing and Teaching Workshops at Bard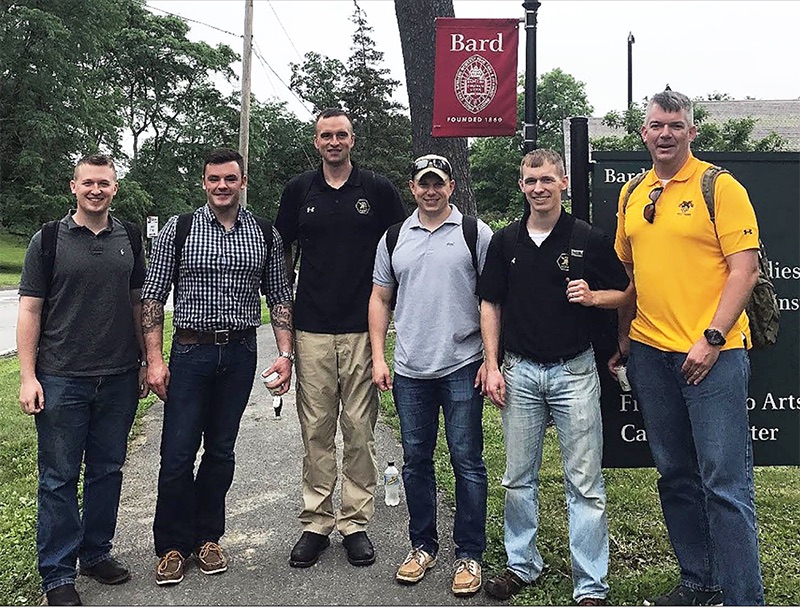 Nine U.S. Military Academy instructors from several departments attended weeklong workshops at the Bard College Institute for Writing and Thinking, July 9–14. The West Point Writing Program, directed by Dr. Jason Hoppe, sponsored attendance at the workshops as part of an ongoing faculty development initiatives to strengthen the culture of writing and writing instruction at the Academy.
The participants, a mix of new and experienced instructors, learned useful teaching methods to apply in programs ranging from first-year composition to upper-level courses in mechanical engineering or officer leadership.
Attendees included six personnel from the Simon Center for the Professional Military Ethic, Lt. Col. Charles Faint, Capt. Matthew Clark, Capt. Jamin Williamson, Capt. Nicholas Kalitka, Capt. Joshua Martin, and 2nd Lt. Carson Warnberg; two instructors in the Department of Civil and Mechanical Engineering, Lt. Col. Seth Norberg and Dr. Carolann Koleci; and one instructor from the Department of English and Philosophy, Capt. Rebecca McGilley.
New faculty appreciated the opportunity to learn from seasoned writing instructors and fellow participants, many of whom represented institutions from around the United States and across the globe. One instructor, Capt. Joshua S. Martin— assistant course director for the USMA Superintendent's capstone course, MX400 (Officership)—said that he appreciated "the exposure to experienced educators, and learning from their teaching methods."
Even experienced instructors benefited from the workshops. For instance, Lt. Col. Charles Faint, deputy director of the Simon Center and course director of MX400, commented, "The IWT was the first time I've ever done structured free writing. I'm specifically going to use this in my teaching, for example: 'For the next five minutes, write what the word "Officership" means to you.' I also like the 'dialogical feedback' method of writing and response."
Another MX400 instructor, Capt. Nicholas Kalitka, learned a handy and effective method for analyzing written evidence.
"I thoroughly enjoyed the exercise where teams analyzed text and created supporting and counter arguments using the mindset of 'beliefs and doubts,'" Katitka said. "I believe this was a beneficial exercise, which will be useful in peer editing of papers, as well as the interactive challenge exercise in MX400. It is easy to teach, quick to implement, and a new approach on a common technique."
Attendees also picked up other techniques for teaching their subject material more effectively by incorporating "writing-to- learn activities," such as when students write short, informal responses to think through key ideas. One participant from the Civil and Mechanical Engineering Department, Lt. Col. Seth A. Norberg, commented: "Two specific techniques will work well for my capstone group—dialogical notebooks for discussion of individual literature reviews and 'writing in the zones' to build the final report."
A "dialogical notebook," divided in two columns, allows students to write ideas and contrasting ideas in parallel—points and counterpoints. For the "writing in the zones" technique, a student divides a blank sheet of paper into several sections,
and in each "zone" the student writes a response to a prompt or question. Depending on the instructor's intent, different zones might focus on transcribing evidence from a source, summarizing or analyzing a reading, drawing inferences from a source, or making connections between different texts. Such framework could also be used during peer collaboration in which cadets respond to one another's written comments.
McGilley, instructor and operations officer in the Department of English and Philosophy, was glad to be in "a group of like-minded professionals who wanted to be there as much as I did."
McGilley said that the experience gave her a needed reminder of the students' point of view. "The workshop was framed around us as students, and putting myself back in the shoes of a student, but with teaching in mind, allowed me to have a much more comprehensive idea about what will and will not work in my own classroom."
McGilley confirmed the workshop will inform her teaching in numerous ways.
"First, I am going to incorporate the writing exercises into all my classes," she said. "I will never teach another class in which my students do not write. I now understand the vital importance of keeping a notebook. I learned how to make collaborative work effective and will use it in my own classes."
Based on such feedback, Dr. Hoppe plans to continue work with Bard, even as the West Point Writing Program begins offering its own internal workshops for faculty.
"Conversation and collaboration," he noted, "go to the heart of what effective writing and effective teaching of writing require. The more we can do to enable our faculty to exchange ideas with other experts, the better off we and our cadets will be."
Author Murray Shugars teaches in the department of English and philosophy at West Point.
Originally published in
Pointer View
, August 3, 2017.
Post Date:
08-03-2017