The Orchestra Now Starts Its 2021 Season with Two Livestreamed Concerts on February 7 and 21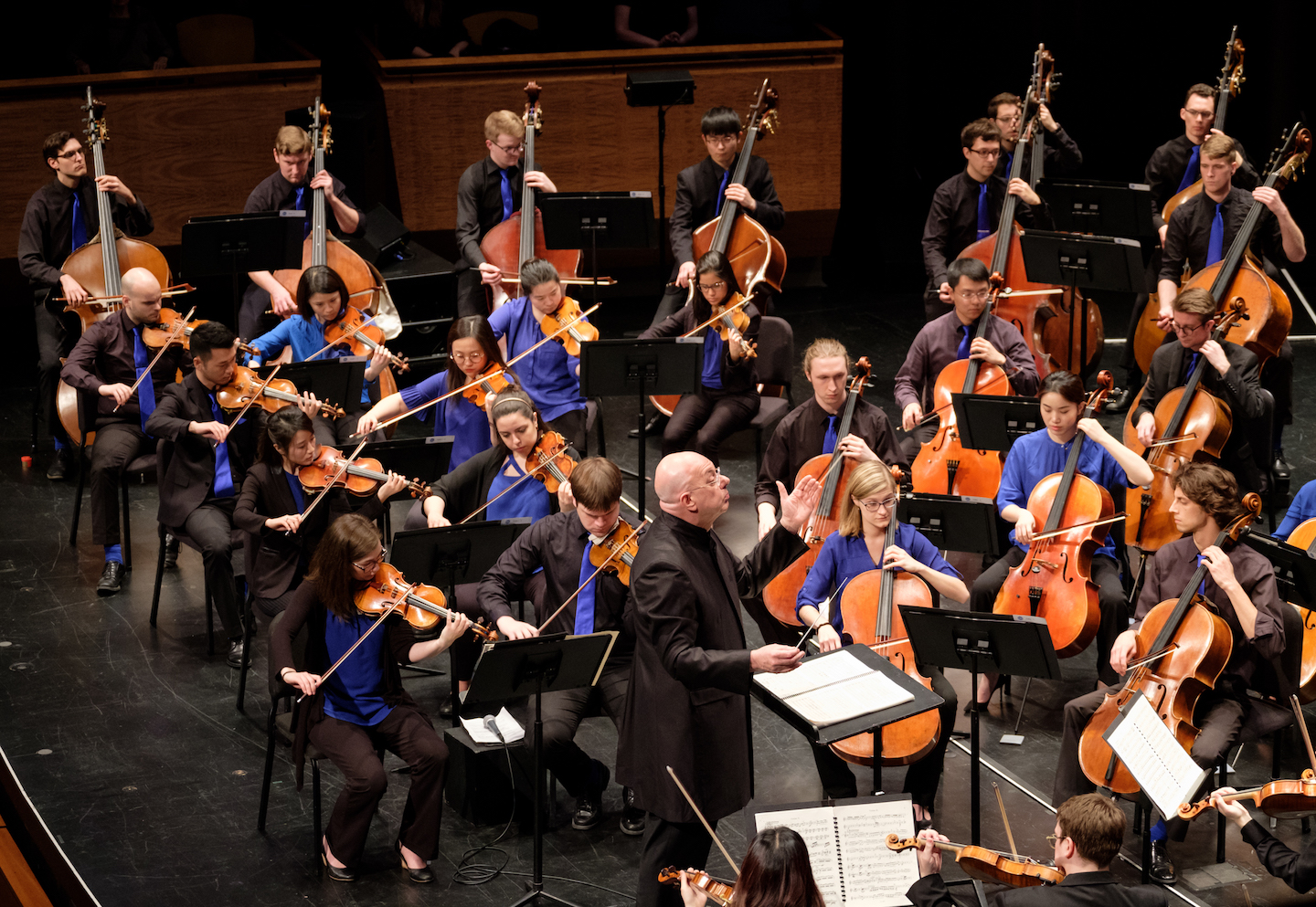 Programs Feature a World Premiere by Sarah Hennies and Popcorn Superhet Receiver by Radiohead Band Member Jonny Greenwood
The Orchestra Now (TŌN) will begin its 2021 season with two concerts to be livestreamed from the Fisher Center at Bard on February 7 and 21, led by
Leon Botstein
and
James Bagwell
respectively. Both programs for string orchestra will offer pieces by underrepresented composers, including a new work by composer/percussionist
Sarah Hennies
written for the Orchestra and the Bard Music Program, where she is on faculty. Her work is concerned with a variety of musical, sociopolitical, and psychological issues including queer and trans identity, love, intimacy, and psychoacoustics. She was recently profiled in
The
New York Times
about her eclectic musical style, "rife with psychological effects and emotional undercurrents." Additional rarely-heard music will showcase
Popcorn Superhet Receiver
, a work by English composer
Jonny Greenwood
, the lead guitarist and keyboard player of the alternative rock band Radiohead; and Serenade for Strings by the Venezuelan composer, pianist, and singer
Teresa Carreño
, who played for Abraham Lincoln at the White House in 1863.
Upcoming highlights
in the 2021 season are a concert led by assistant conductor Andrés Rivas (March 7), a performance with resident conductor Zachary Schwartzman (March 20), and two concerts led by music director
Leon Botstein
(April 10 and May 1).
Schoenberg & BachSunday February 7 at 2 pmLeon Botstein, conductor
Bach:
Brandenburg
Concerto No. 3
Lutosławski: Funeral Music
Teresa Carreño: Serenade for Strings
Schoenberg:
Verklärte Nacht
(
Transfigured Night
)
Access:
RSVP at
theorchestranow.org
starting on January 27 to receive a direct link to the livestream on the day of the concert. This concert will be available for delayed streaming on TŌN's digital portal
STAY TŌNED
, starting on February 11.
New & Classic Works for StringsSunday February 21 at 2 pmJames Bagwell, conductor
Sarah Hennies: New Work (
World Premiere
)
Jonny Greenwood:
Popcorn Superhet Receiver
Vaughan Williams: Fantasia on a Theme by Thomas Tallis
Grieg:
Holberg
Suite
Access:
RSVP at
theorchestranow.org
starting on January 27 to receive a direct link to the livestream on the day of the concert. This concert will be available for delayed streaming on
STAY TŌNED
starting on February 25.
STAY TŌNED
Since March 2020, TŌN has presented more than 100 audio and video streams on
STAY TŌNED
,
its new portal regrouping of all digital initiatives
.
Audio content is offered every Tuesday and videos every Thursday. The events feature weekly new and archived audio and video recordings that comprise recitals, chamber music, and symphonic programs, including collaborations with the Bard Music Festival that are also available on the Fisher Center at Bard's virtual stage,
UPSTREAMING
. Much of the content is also available on
YouTube
,
Facebook
,
Twitter
, and
Instagram
.
Bard College Covid-19 Measures and Safety
To adapt to current circumstances, Bard College created detailed protocols for testing and screening, daily monitoring of symptoms, contact tracing, quarantine practices, and physical distancing in the classroom and across the Bard campus. This includes specific protocols for musicians campus-wide in both its undergraduate and graduate programs.
The Orchestra Now
The Orchestra Now (TŌN) is a group of 72 vibrant young musicians from 14 different countries across the globe: Bulgaria, China, Costa Rica, Hungary, Indonesia, Japan, Korea, Mongolia, Peru, Spain, Taiwan, Thailand, the U.K., and the U.S. All share a mission to make orchestral music relevant to 21st-century audiences by sharing their unique personal insights in a welcoming environment. Hand-picked from the world's leading conservatories—including The Juilliard School, Shanghai Conservatory of Music, Royal Conservatory of Brussels, and the Curtis Institute of Music—the members of TŌN are enlightening curious minds by giving on-stage introductions and demonstrations, writing concert notes from the musicians' perspective, and having one-on-one discussions with patrons during intermissions.
Conductor, educator, and music historian Leon Botstein, whom
The New York Times
said "draws rich, expressive playing from the orchestra," founded TŌN in 2015 as a graduate program at Bard College, where he is also president. TŌN offers both a three-year master's degree in Curatorial, Critical, and Performance Studies and a two-year advanced certificate in Orchestra Studies. The Orchestra's home base is the Frank Gehry-designed Fisher Center at Bard, where it performs multiple concerts each season and takes part in the annual Bard Music Festival. It also performs regularly at the finest venues in New York, including Carnegie Hall, Lincoln Center, The Metropolitan Museum of Art, and others across NYC and beyond.
HuffPost
, who has called TŌN's performances "dramatic and intense," praises these concerts as "an opportunity to see talented musicians early in their careers."
The Orchestra has performed with many distinguished guest conductors and soloists, including Hans Graf, Neeme Järvi, Vadim Repin, Fabio Luisi, Peter Serkin, Gerard Schwarz, Tan Dun, Zuill Bailey, and JoAnn Falletta. Recordings featuring The Orchestra Now include two albums of piano concertos with Piers Lane on Hyperion Records, and a Sorel Classics concert recording of pianist Anna Shelest performing works by Anton Rubinstein with TŌN and conductor Neeme Järvi.
Buried Alive
with baritone Michael Nagy, released on Bridge Records in August 2020, includes the first recording in almost 60 years—and only the second recording ever—of Othmar Schoeck's song-cycle
Lebendig begraben
. Upcoming releases include an album of piano concertos with Orion Weiss on Bridge Records. Recordings of TŌN's live concerts from the Fisher Center can be heard on Classical WMHT-FM and WWFM The Classical Network, and are featured regularly on
Performance Today
, broadcast nationwide.
For upcoming activities and more detailed information about the musicians, visit
theorchestranow.org
.
Leon Botstein
Leon Botstein
brings a renowned career as both a conductor and educator to his role as music director of The Orchestra Now. He has been music director of the American Symphony Orchestra since 1992, artistic co-director of Bard SummerScape and the Bard Music Festival since their creation, and president of Bard College since 1975. He was the music director of the Jerusalem Symphony Orchestra from 2003–11 and is now conductor laureate. In 2018, he assumed artistic directorship of Campus Grafenegg and Grafenegg Academy in Austria. Mr. Botstein is also a frequent guest conductor with orchestras around the globe, has made numerous recordings, and is a prolific author and music historian. He is editor of the prestigious
The Musical Quarterly
and has received many honors for his contributions to music. More info online at
LeonBotstein.com
.
# # #
Post Date:
01-11-2021