Spreading the Word: The Bard College Food Pantry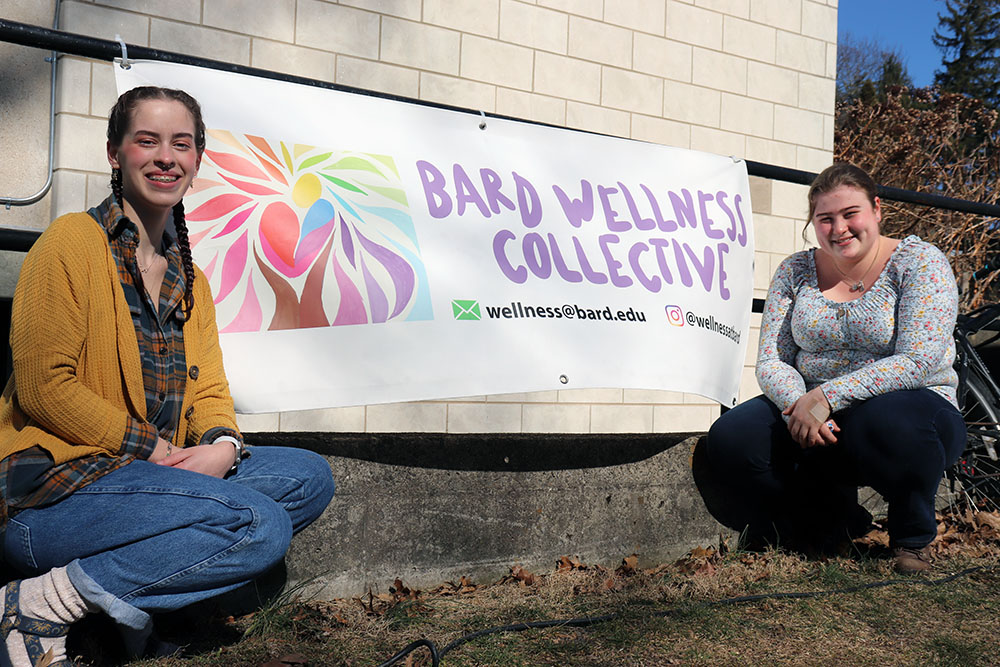 By Sophie Kautenburger '23
with reporting from Sonita Alizada '23
Picture this: you are a college student who struggles to pay for and access food, while many of your peers don't have to worry about spending extra money on meals or being able to drive to the nearest grocery store. Food insecurity is a major issue in the United States, and the National Coalition Building Institute estimates that before the COVID-19 pandemic, approximately one in three college students experienced food insecurity at some point. Now, over a year into the pandemic, food insecurity has spiked among college students due to factors like increased unemployment rates and mandatory self-isolations. At Bard, a team of students and staff is working hard to combat this insecurity.
In the fall of 2019, Bard director of health and wellness education Annia Reyes was approached by student Isabel Ballard —now a senior—who recognized food insecurity on campus and felt that starting a food pantry would help many of her peers. By January 2020, the Bard Food Pantry was in full swing. Students who had previously encountered barriers to accessing food were now able to select a variety of food items in person without having to worry about costs or transportation. "Some students, especially international students, need food options on break," Reyes says. "If you don't have a car, it's difficult. The food pantry allows for food options during breaks and different times when there aren't food options available through dining halls. This was the initial plan, then it blew up!" Despite the success of their new enterprise, the Food Pantry Club members were quickly met with the challenge of keeping the pantry safe and running in the face of the pandemic. With "beautiful team effort," Reyes says, the Pantry Club was able to adapt to the difficult circumstances.
Jamie Hoelzel—Bard senior, head of the Wellness Club, and comanager of the food pantry—spoke about pivoting during the pandemic, saying, "When we first opened the pantry, students could pick out their food in person. Fifty people might go in at a time and get food. Then everything went virtual." The pantry operates out of a small room in Tewskbury, and can't safely accommodate groups of students while adhering COVID restrictions. Within a short period, Hoelzel created an inventory and a Google order form, so that students are able to virtually select a package of contents. Bard junior and pantry worker Alberto Arias Flores logs and packs the orders. Then students are notified to arrange contactless pick-up.

While still determining how to best run the new system last spring, Hoelzel estimates that there were 60 to 80 orders per week, which made staying on top of business a challenge. "For the system to work, we all have to be organized because each person has a specific step to do," she says. "You have to trust in the team to help out. For instance, some weeks I might need to focus more on my Senior Project and others might need to step in to help."

Despite the demands of the work, the Pantry Club members don't find it too difficult to manage their time. Flores says working with the team is "working with a group of friends." Over the past year, he and the other club members have kept the pantry running continuously, even during the summer and over breaks. The demand has been so great that the pantry has expanded its offerings to include toiletries, first-aid supplies, and dime-store products. Hoelzel explains, "at first, especially over summer, many people wanted fresh produce, which is how we got in touch with Bard Farm. First aid supplies were also in demand, so we reached out to EMS. Instant meals like ramen are huge, too. The pantry has even given out masks and can openers. The CCE helped out during the summer as well and TLS provided masks. It was a major community effort."

"A big milestone for the club was to become Food Bank of the Hudson Valley members," Hoelzel says. "Now we have access to a wider range and reduced prices of products that allows us to do a lot more with the money we use. Before we were going to places like Sam's Club, so it was a pretty big achievement. We just want to continue to take it semester by semester and help students." In order to keep up a proper inventory, the club carefully manages its funds and stays in close contact with the Food Bank, which is the job of club cohead Leia Rodriguez. Rodriguez regularly puts hours into maintaining the relationship with the Food Bank, keeping the pantry stocked, managing club budgets, and purchasing items. The club also manages donations made to the Food Pantry, which are crucial for its success. The club members express gratitude to all the individuals and organizations that have made donations, and they keep spreading the word about the Bard Food Pantry to people who need it. "Thank you to everyone who helps the pantry," Flores says, "whether that is through donations or work in the club family. We're here, we can help you!"

________________________________________________________________________

To request Food Pantry items, complete the form here. The form opens and closes every week. Students should keep an eye on their email for the weekly wellness email from Annia Reyes, where she will note when they will begin and stop accepting orders for the week.

If you would like to make a donation to the Bard Food Pantry, please contact

[email protected]

.
Post Date:
03-15-2021