Fisher Center and Hannah Arendt Center at Bard College Present The Gauntlet by Artists Sxip Shirey and Coco Karol, October 15–17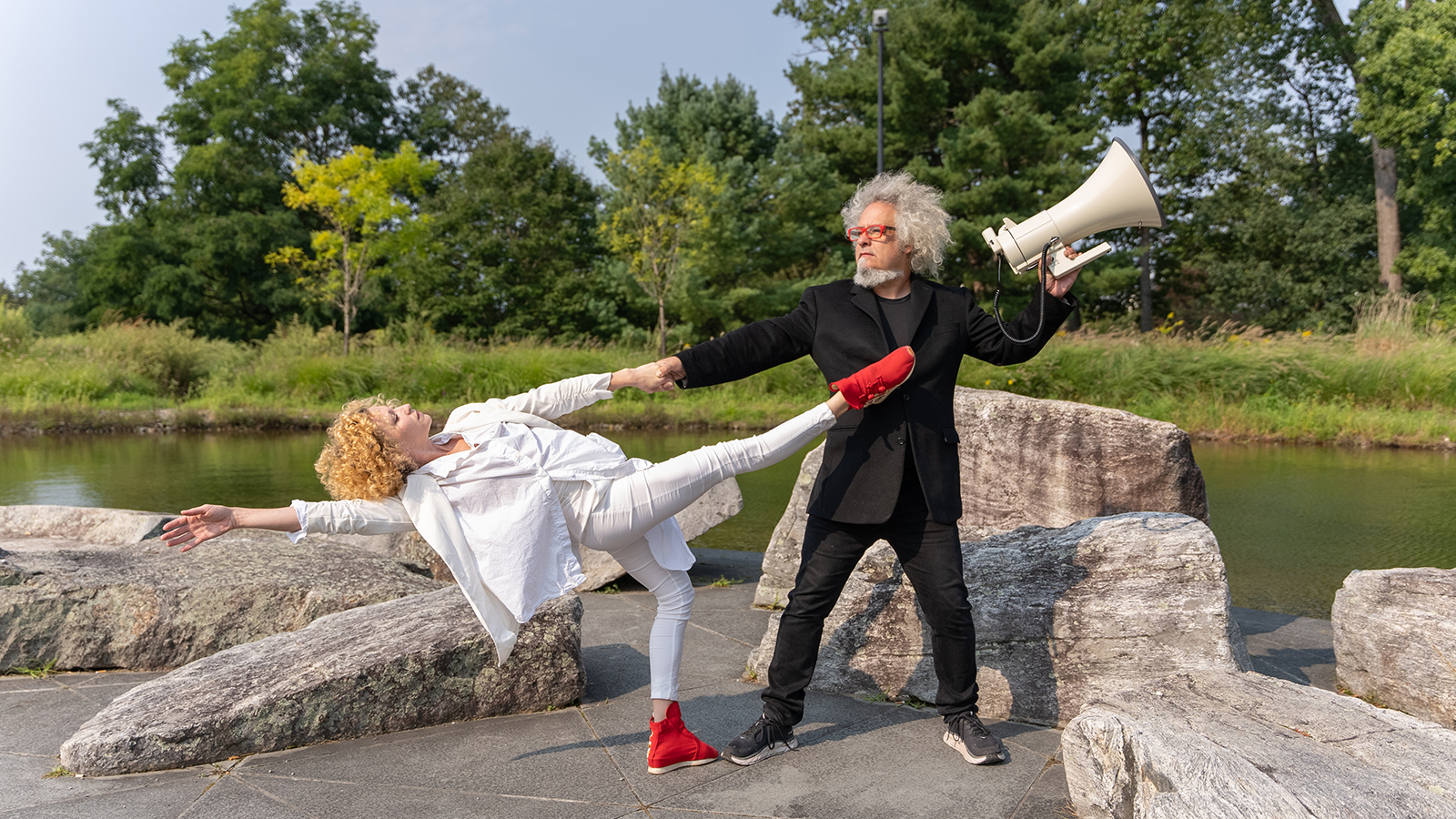 An Immersive Experience of Harmony, Poetry and Gesture, Featuring 50 Singers
ANNANDALE-ON-HUDSON, NY—The Fisher Center LAB (Fisher Center at Bard's residency and commissioning program) and the Hannah Arendt Center for Politics and Humanities have teamed up to develop and present a new iteration of
The Gauntlet
, an immersive, community-inclusive choral work from artists
Sxip Shirey
and
Coco
Karol
. Performed on and around the lawn of the Fisher Center for the Performing Arts, including on the Olafur Eliasson installation "
the parliament of reality
," performances will take place on
Friday, October 15 at 5:30 pm
;
Saturday, October 16 at 1 pm and 3 pm
; and
Sunday, October 17 at 5:30pm
. Tickets are $25. Bard students may access tickets for $5 made possible by the Passloff Pass. To purchase or reserve tickets visit
fishercenter.bard.edu
, call 845-758-7900 (Mon–Fri 10am – 5pm), or email
boxoffice@bard.edu
.
An intimate, personal experience utilizing the exterior landscapes of the Fisher Center, audiences will be led through musical corridors of sonic architecture formed by the human voice.
The Gauntlet
is site-specific and bespoke. Each time it is performed, it takes on a new personality that reflects the performers, community, and location in which it is experienced. This iteration explores the theme "Spaces of Freedom," in conjunction with the Hannah Arendt Center's annual conference "
Revitalizing Democracy: Sortition, Citizen Power, and Spaces of Freedom
."
"Freedom in the sense of the power to act and speak in public spaces is at the heart of Hannah Arendt's political thinking," said Roger Berkowitz, Founder and Director of the Hannah Arendt Center. "For Arendt, freedom happens in a public space.
The Gauntlet
is so exciting because it brings people together to experience thinking about freedom in a collective space. And the setting in Olafur Eliasson's 'parliament of reality' provides a context of democratic spaces in which to experience thinking about freedom to act in the practice of self-government. I can't think of a better way to conclude the Arendt Center's conference on 'Revitalizing Democracy and Spaces of Freedom.'"
The libretto, written by Shirey and Karol, is comprised of text generated from 20 "movement interviews" with local activists, organizers, artists, scholars, elected officials, and citizens, conducted by Karol as a way to explore individual and collective experiences on the theme of freedom. The Gauntlet will bathe audiences in waves of harmony, poetry and gesture, sung by a choir of 50 singers, assembled from all corners of the Bard College and Hudson Valley community. Audiences are led through the performance by four dancers (Karol, Miguel Angel Guzmán, Effy Grey, and Remi Harris).
Shirey composes the score utilizing melodies and harmonies that are passed from singer to singer in a chain of exchange, creating a "gauntlet" of sound and story, exchanged through the immersive performance as audience members flow through the pathways of sound. Says Shirey about the process, "I am constantly imagining how the audience will hear these stories as a rush of words flowing by, in exchange from singer to singer. The hope is to write grounded phrases and fractile melodies that bloom the minds of the listener."
Post Date:
09-23-2021