Latest Issue of Bard College's Celebrated Literary Magazine Conjunctions Explores the Complex Nature of Games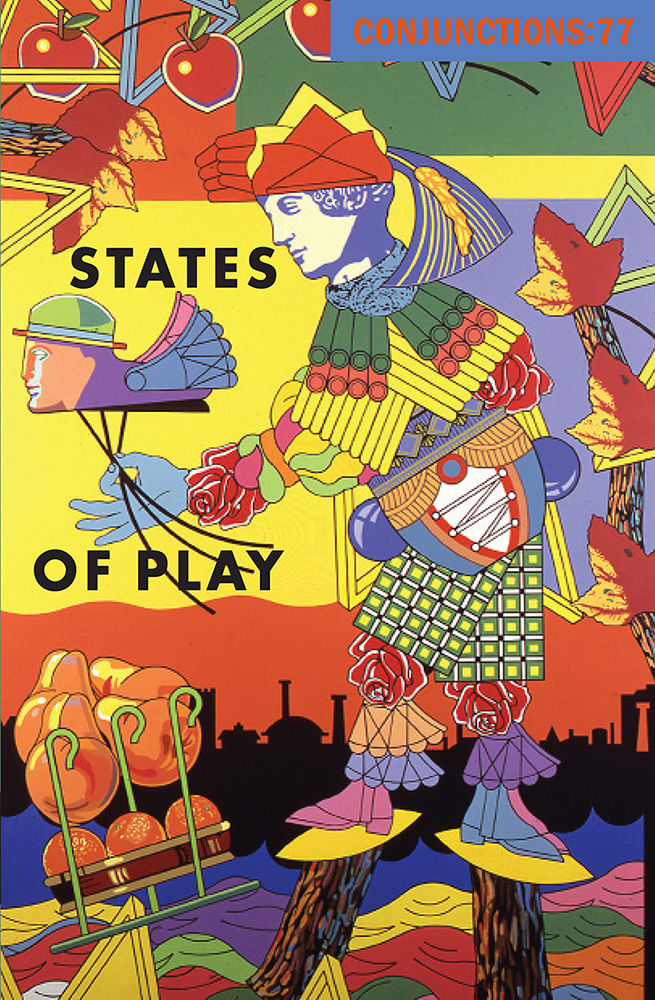 Conjunctions:77, States of Play Features New Work from Ranjit Hoskote, David Shields, Nam Le, Joyce Carol Oates, Arthur Sze, Nathaniel Mackey, Shelley Jackson, Charles Bernstein, Tracie Morris, and Many Others
"The invitation to join in games," proposes
Conjunctions
editor Bradford Morrow, "be they fun word games or lethal war games, games of chance or games of dexterity, umpired games or games in which the rules morph and cheaters prevail—is one we face, however joyfully, however subtly, however violently, every day of our lives."
Conjunctions:77, States of Play
—the latest issue of the innovative literary magazine published by Bard College, which is now celebrating its Fortieth Anniversary of continuous publication—gathers fiction, poetry, essays, and genre-bending work from writers who are willing, through their writing, to invoke one of the oldest, most audacious questions one mortal can put to another: "Do you want to play a game?" Edited by novelist and Bard literature professor Morrow,
States of Play
features a collection of poems by celebrated Indian poet Ranjit Hoskote, a short story by international bestseller David Shields, poems by PEN/Malamud Award winner Nam Le, a new short story by Jerusalem Prize winner Joyce Carol Oates, new poems from National Book Award winner Arthur Sze, a new series of genre-bending work from cross-genre experimental writer Shelley Jackson, a new poem from National Book Award and Bollingen Prize winner Nathaniel Mackey, and a collaborative duet between Charles Bernstein and Tracie Morris, two of the most revered voices in American poetry.
Sometimes we're compelled to play whether we want to or not. Now and then we end up playing solitaire. But even when we are sidelined and have no clear way to participate, the games go on without us and as often as not affect us in ways difficult to predict or define. Writes Morrow, "For those looking for fun and games in
States of Play
, be warned that the losses pile up as fast as the wins."
Additional contributors to
States of Play
include Joanna Scott, John Darcy, Heather Altfeld, Kyoko Mori, James Morrow, Catherine Imbriglio, Pierre Reverdy, Robin Hemley, Anelise Chen, S. P. Tenhoff, Lowry Pressly, Cole Swensen, Rae Armantrout, Lucas Southworth, Kelsey Peterson, John Dimitroff, Alyssa Pelish, Tim Raymond, Justin Noga, Brian Evenson, and Kate Colby.
The
Washington Post
says, "
Conjunctions
offers a showplace for some of the most exciting and demanding writers now at work."
Edited by Bradford Morrow and published twice yearly by Bard College,
Conjunctions
publishes innovative fiction, poetry, and creative nonfiction by emerging voices and contemporary masters. For four decades,
Conjunctions
has challenged accepted forms and styles, with equal emphasis on groundbreaking experimentation and rigorous execution. In 2020,
Conjunctions
received the prestigious Whiting Literary Magazine Prize. The judges noted, "Every issue of
Conjunctions
is a feat of curatorial invention, continuing the Modernist project of dense, economical writing, formal innovation, and an openness to history and the world." Named a "Top Literary Magazine 2019" by Reedsy, the journal was a finalist for the 2018, 2019, and 2021 ASME Award for Fiction and the 2018 CLMP Firecracker Award for General Excellence. In addition, contributions to recent issues have been selected for
The Best American Essays
(2018, 2019),
The Pushcart Prize XLIV: Best of the Small Presses
,
Best American Experimental Writing 2020
,
Best Small Fictions 2019
,
The Year's Best Dark Fantasy & Horror: 2019
, and
The Best American Short Stories 2021
.
Post Date:
10-18-2021