Seven Bard College Graduates Win 2023 Fulbright Awards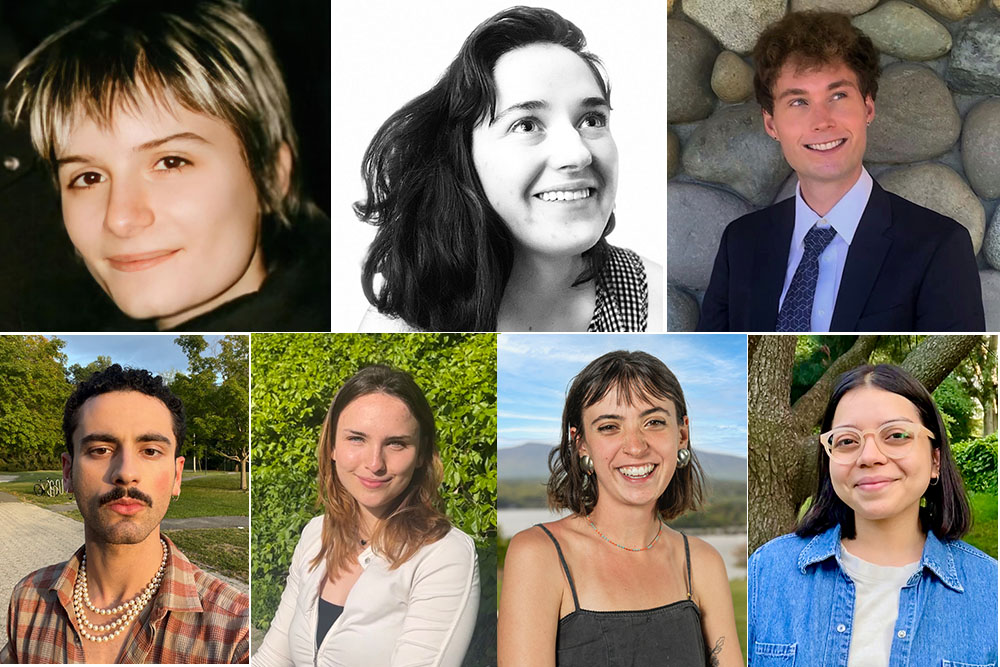 Seven Bard College graduates have won 2023–24 Fulbright Awards for individually designed research projects, graduate study, and English teaching assistantships. During their grants, Fulbrighters meet, work, live with, and learn from the people of the host country, sharing daily experiences. The Fulbright program facilitates cultural exchange through direct interaction on an individual basis in the classroom, field, home, and in routine tasks, allowing the grantee to gain an appreciation of others' viewpoints and beliefs, the way they do things, and the way they think. Bard College is a Fulbright top producing institution.
Juliana Maitenaz '22,
who graduated with a BA in Global and International Studies and a BM in Classical Percussion Performance, has been selected for an independent study–research Fulbright scholarship to Brazil for the 2023–24 academic year. Her project, "Rhythm and Statecraft," seeks to identify Brazilian percussion and rhythms as a method of cultural communication. Maitenaz aims to conduct her research in São Paulo and will focus on how percussional elements in the Brazilian traditions of Carnival and Samba School performances are instrumental to the country's statecraft and national identity. The goal of her research is to examine international communication and collaboration through cultural and musical diplomacy. "I'm thrilled to have the opportunity to learn more about the role Brazilian percussion plays as an inspiring means of cultural communication," Maitenaz said.
Evan Tims '19
, who was a joint major in Written Arts and Human Rights with a focus on anthropology at Bard, has been selected for a Fulbright-Nehru independent study–research scholarship to India for the 2023–24 academic year. His project, "From the River to Tomorrow: Perceptions of Kolkata's Water Future," studies the perceptions of Kolkata's water future among urban planners, infrastructure experts, and communities—such as those who work in river transport, fishing, and who live in housing along the banks—most vulnerable to water changes along the Hooghly River. He will analyze the dominant narratives of the city and river's future and reference scientific and planning literature in understanding the points of confluence and divergence between scientific and colloquial understandings of the river, particularly as different stakeholder communities approach an uncertain water future. "In light of urban development and climate change, Kolkata's water is facing significant change over the coming decades," said Tims. "It is crucial to understand the complex, layered relationships between stakeholder communities as they seek to negotiate an increasingly uncertain water future." While in India, Tims also plans to teach a climate fiction writing workshop. In 2021-2022, he was Bard's first recipient of the yearlong Henry J. Luce Scholarship, which enabled him to conduct ethnographic research on Himalayan water futures and lead a climate writing workshop in Nepal and, later, in Bangladesh. Earlier this academic year, Tims won the prestigious Schwarzman Scholarship to China. As an undergraduate at Bard, Tims also won two Critical Language Scholarships to study Bangla in Kolkata during the summers of 2018 and 2019.
Elias Ephron '23
, a joint major in Political Studies and Spanish Studies, has been selected as a Fulbright English Teaching Assistant (ETA) to Spain for the 2023–24 academic year. While in Spain, Ephron hopes to engage with his host community through food, sharing recipes, hosting dinner parties, and cooking together; take part in Spain's unique and visually stunning cultural events, like flamenco performances, and Semana Santa processions; visit the hometown of the great poet and playwright Federico García Lorca; and, as a queer individual, meet other queer people. "Having learned Spanish, French, and German to fluency or near-fluency, I understand that language learning requires many approaches. Some are more commonly thought of as 'fun' or 'nascent' modes of learning, while others more clearly resemble work. I hope to marry this divide, showing students that language learning is both labor and recreation; they may have to work hard, but it can be a great deal of fun, too," said Ephron. In addition to his work as a writing tutor in the Bard Learning Commons, Ephron has received multiple awards, including the PEN America Fellowship and the Bard Center for the Study of Hate Internship Scholarship.
Eleanor Tappen '23
, a Spanish Studies major, has been selected as a Fulbright ETA to Mexico for the 2023–24 academic year. Tappen has studied abroad in Granada, Spain, received her TESOL certification (which involved 40 hours of training), volunteered in a local elementary school in the fall of 2022, and works as an ESL tutor at the Learning Commons. For Tappen, a Fulbright teaching assistantship in Mexico is an intersection of her academic interest in Mexican literature and her passion for accessible and equitable language learning. During her Fulbright year, Tappen intends to volunteer at a local community garden, a setting she found ideal for cross-cultural exchange and friendship during her time at the Bard Farm. She also hopes to learn about pre-Colombian farming practices, whose revival is currently being led by indigenous movements in Mexico seeking to confront issues presented by unsustainable industrial agricultural practices. "I'm thrilled by the opportunity to live in the country whose literature and culture have served as such positive and significant points in both my academic and personal life. During my time as an ETA in Mexico, I hope to inspire in my students the same love of language-learning I found at Bard."
Biology major
Macy Jenks '23
has been selected as an ETA to Taiwan for the 2023–24 academic year. Jenks is an advanced Mandarin language speaker having attended a Chinese immersion elementary school and continuing her Mandarin language studies through high school and college, including three weeks spent in China living with host family in 2015. She has tutored students in English at Bard's Annandale campus, as well as through the Bard Prison Initiative at both Woodbourne Correctional Facility and Eastern New York Correctional Facility. She also has worked with the Bard Center for Civic Engagement to develop curricula and provide STEM programming to local middle and high school students. "As a Fulbright ETA, I hope to equip students with the tools necessary to hone their English language and cultural skills while encouraging them to develop their own voices," says Jenks. While in Taiwain, she plans to volunteer with the Taiwan Root Medical Peace Corps, which offers medical care to rural communities, or with the Taipei Medical University in a more urban setting to further engage with the community and learn more about Taiwan's healthcare systems and settings. With her love of hiking, Jenks also hopes to explore various cultural sites including the cave temples of Lion's Head Mountain and Fo Guang Shan monastery and enjoy the natural beauty of Taiwan.
Bard Conservatory alumna
Avery Morris '18
, who graduated with a BA in Mathematics and a BM in Violin Performance, has been selected for a prestigious Fulbright Study Research Award for 2023–24. Her project, "Gideon Klein's Lost Works and the Legacy of Czech Musical Modernism," aims to bring to light the early works of Czech composer and Holocaust victim Gideon Klein (1919–1945), which were lost until they were discovered in a suitcase in the attic of a house in Prague in the 1990s. She will live in Prague for the upcoming academic year and continue her research on Klein, which has been a focus of her studies at Stony Brook University, where she is pursuing a Doctorate of Musical Arts in Violin Performance.
Getzamany "Many" Correa '21
, a Global and International Studies major, has been selected as an ETA to Spain for the 2023–24 academic year. Correa was an international student in Bosnia and Herzegovina and Hungary. As an international student in high school, she started an initiative called English Conversation Buddies with the State Department-sponsored American Corner in Mostar, Bosnia and Herzegovina. She has received her TESOL certification (which involved 40 hours of training) and worked as an ESL tutor at the Learning Commons. In Spain, Correa hopes to create a book club that introduces students to diverse authors writing in English, study Spanish literature, and host dinners with the locals she meets. She also plans to volunteer with EducationUSA and support students applying to colleges and universities in the U.S. "A year-long ETA in Spain will allow me to experience a culture and language central to my academic and personal interests, leverage my background in education while furthering my teaching experience, and make meaningful connections through cross-cultural engagement," says Correa.
The Fulbright US Student Program expands perspectives through academic and professional advancement and cross-cultural dialogue. Fulbright creates connections in a complex and changing world. In partnership with more than 140 countries worldwide, the Fulbright US Student Program offers unparalleled opportunities in all academic disciplines to passionate and accomplished graduating college seniors, graduate students, and young professionals from all backgrounds. Program participants pursue graduate study, conduct research, or teach English abroad.
us.fulbrightonline.org
.
Post Date:
05-30-2023