New Annandale House Wins 2018 New York Design Gold Award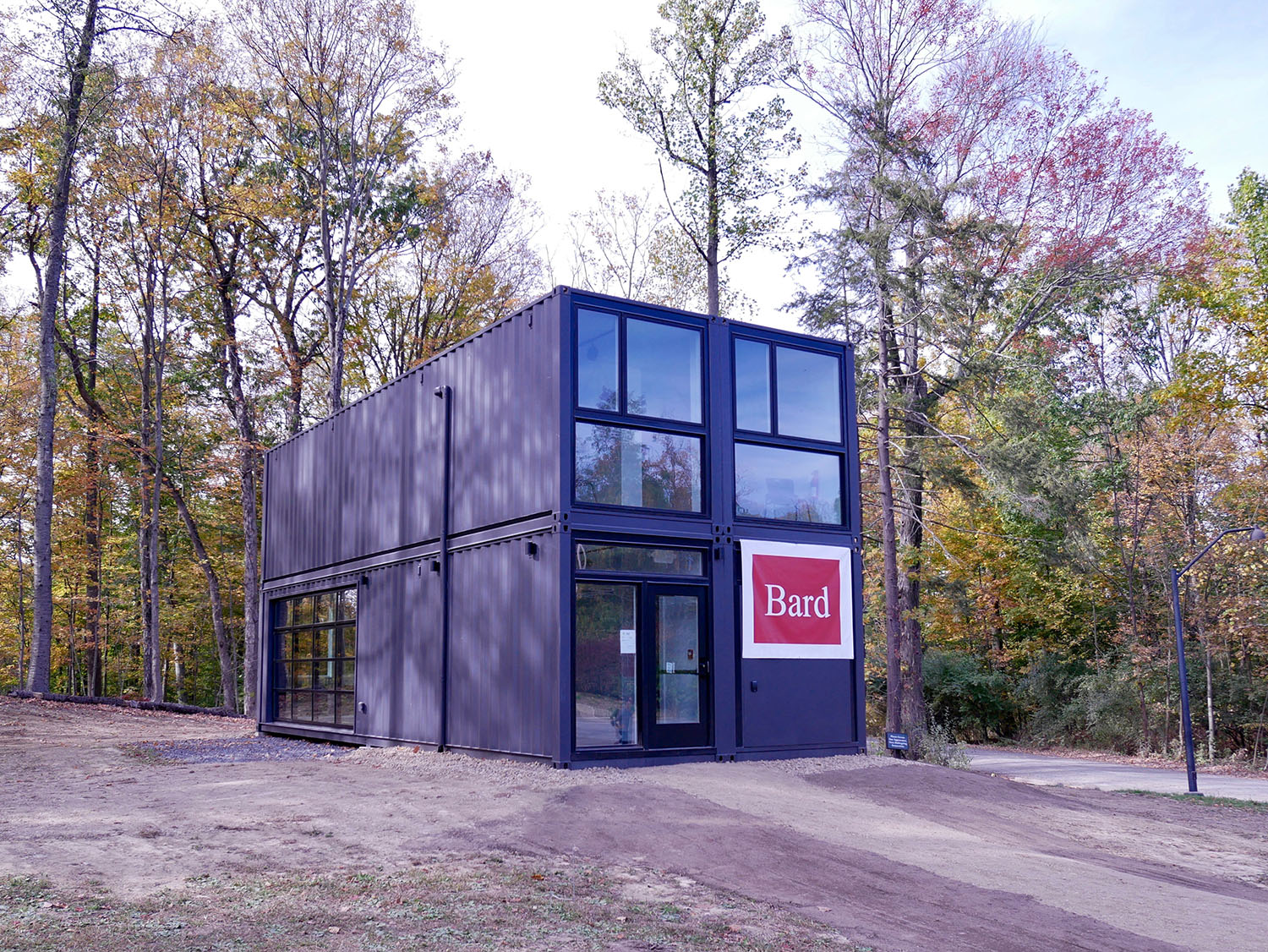 New Annandale House, the two-story multipurpose media studio that houses the
Center for Experimental Humanities at Bard College
, has won a 2018 New York Design Gold Award from
DRIVENxDESIGN
, which represents 75,000 members, 5,000 brands, and 1,500 studios, and celebrates the role of design in enriching the human experience.
Located at the intersection of Woods Avenue and Annandale Road near the center of Bard's main campus, New Annandale House is a 945-square-foot building made of four 40-by-8-foot Corten steel shipping containers, originally manufactured in Hong Kong in 2003. The building, installed in 2017, was designed by Maziar Behrooz of MB Architecture in Manhattan and fabricated by SnapSpace Solutions in Brewer, Maine. The ends of the containers were transformed into 8-by-8-foot glass walls. The main floor is a double-height space with an adjoining 20-by-8-foot space. Designed with versatility and flow in mind, the main classroom becomes an indoor/outdoor space with a 16-foot garage door opening onto an adjacent outdoor gathering space on the south side.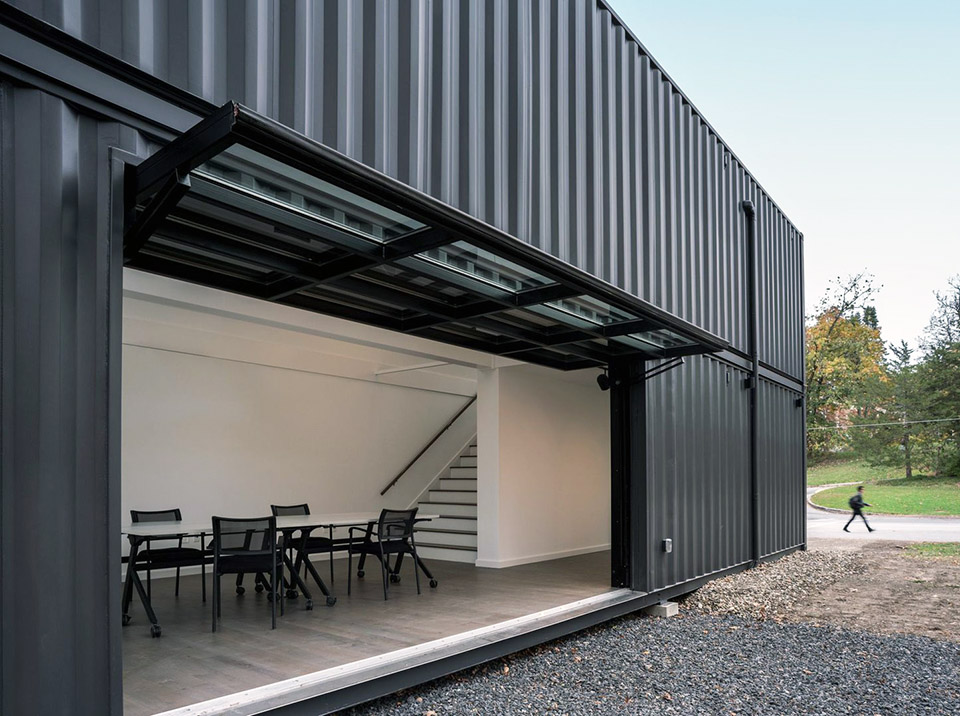 "This beautiful building has been an inspirational home for the work we do at the Center for Experimental Humanities," says Maria Sachiko Cecire, assistant professor of literature and coordinator of experimental humanities at Bard. "It echoes our own values in its flexibility, foundations in social consciousness, and balance of the classic and cutting-edge. We have loved experimenting with its many possibilities as we've used it for digital workshops, interdisciplinary student presentations, VR demos, musical performances, art installations, miniconferences, a space for public-facing local history research, and more."
An advisory panel praised New Annandale House as an exemplary project in DRIVENxDESIGN's Public and Institutional category, which celebrates the process of planning, designing, and constructing form and space that reflect functional, technical, social, and aesthetic considerations.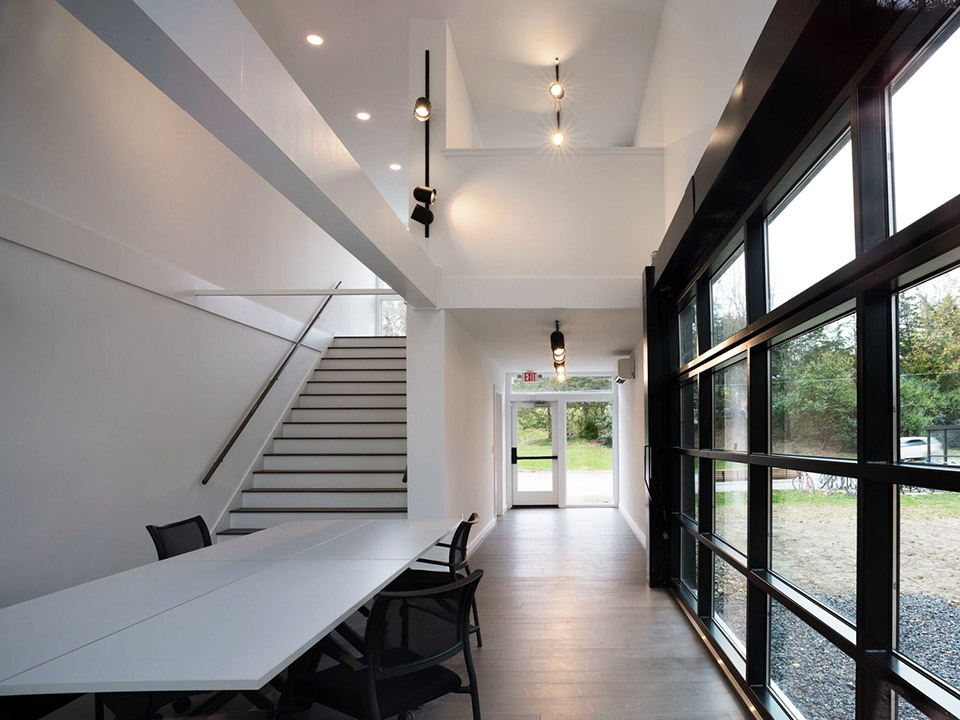 Center for Experimental Humanities at Bard College
How does technology mediate what it means to be human? The Experimental Humanities (EH) concentration is Bard's liberal arts–driven answer to the digital humanities. Digital humanities is an evolving field that typically employs digital tools and research methods to investigate humanities subjects. In addition, EH engages with media and technology forms from across historical periods, combining experimental research methods with critical thinking about how such forms function as a part of cultural, social, and political inquiry. We encourage the reconsideration of older media in light of today's technologies and look ahead to the developments on the horizon. The Center for Experimental Humanities at New Annandale House hosts regular EH events, workshops, and meetings for EH projects and courses. Members of the Bard community can also apply to reserve the downstairs space for other activities, especially those that share EH's interests in how technology and media intersect with the arts, humanities, and culture.
eh.bard.edu
For more information:
drivenxdesign.com/NYC18/project.asp?ID=17813
Post Date:
12-02-2018