Bard Debate Union Hosts Online Debate Between Schools in Hudson Valley and West Bank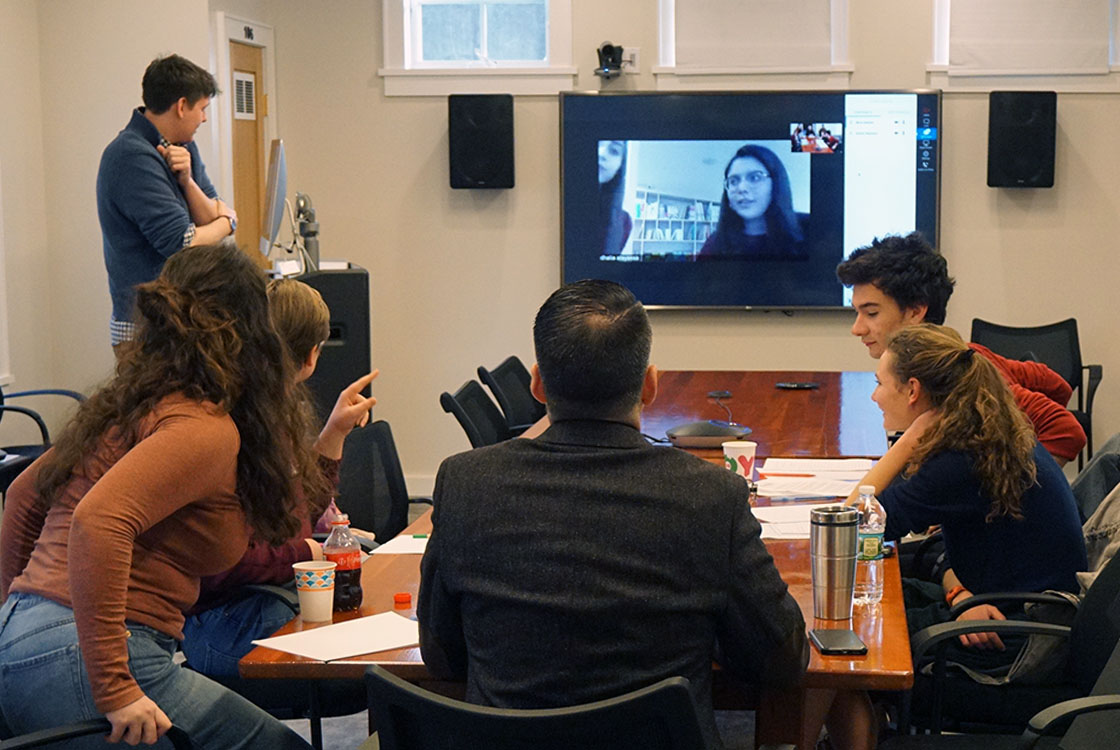 On Saturday, December 8, the Bard Debate Union hosted an online debate between Red Hook High School (in New York's Hudson Valley) and the Good Shepherd's Swedish School (in the West Bank) in the Barringer House Global Classroom at Bard College.
The debate was organized by Bard College senior Templeton Kay and Al-Quds Bard sophomore Dalia Alayassa. Templeton, a Red Hook High School alumnus, is an active member of the Bard Debate Union, soon to represent Bard at the World Universities Debating Championship in Cape Town, South Africa. Dalia, an alumna of the Good Shepherd's school and a decorated high school debater, is currently a leading member of the Al-Quds Bard Debate Union. Both Templeton and Dalia are alumni of Bard's annual
Get Engaged Student Leadership Conference
.
The topic of the debate was "This house regrets the Arab Spring." The Good Shepherd's team argued in favor of the topic and Red Hook argued against. With the help of Templeton and Dalia, the teams had spent spent over a month researching and preparing. Bard Debate Union Codirector David Register, along with Bard Debate Union members Estrella Frankenfeld '20 and Miranda Kerrigan '21, judged the debate. Several other members of the Bard Debate Union attended. Red Hook was pronounced the winner after a close contest.
"The debate was a fantastic example of the power of student leadership and outreach," says David Register. "Through this debate, not only were Bard students able to collaborate with Al-Quds Bard students, but the communities of each were able to join into conversation as well, discussing a topic of tremendous political significance."
"We could not be more proud of these students—from Bard, Al-Quds Bard, Red Hook, and Good Shepherd's," says Codirector Ruth Zisman. "Events like this only strengthen our commitment to both local and global engagement and reaffirm the need to make debate, dialogue, and public discourse about difficult topics accessible to communities that might not otherwise have access to it."
This concludes the Bard Debate Union's programming for the fall 2018 semester. Their spring events include the Annual Middle School and High School Debate Tournament and the Annual International Bard Network Debate Conference in Budapest, Hungary. Visit
debate.bard.edu
for a full list of events.
Post Date:
12-08-2018