Five Bard College Students Win Prestigious Fulbright Awards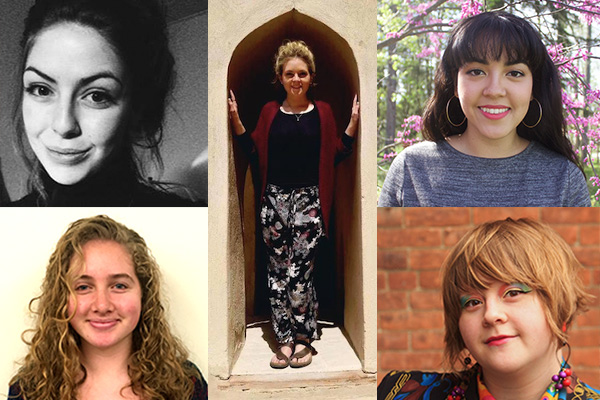 Five Bard College students won prestigious Fulbright Awards for individually designed study/research projects or English Teaching Assistant Programs. During their grants, Fulbrighters meet, work, live with, and learn from the people of the host country, sharing daily experiences. The program facilitates cultural exchange through direct interaction on an individual basis in the classroom, field, home, and in routine tasks, allowing the grantee to gain an appreciation of others' viewpoints and beliefs, the way they do things, and the way they think. Bard College is a Fulbright top-producing institution.
Marion Adams '19, a German studies and philosophy major, won a Fulbright Study/Research Award to Austria. She will teach English and study how Jewish museums there negotiate their country's role in commemorating traditional and stimulating contemporary Austrian-Jewish culture. Alexa Frank '15, who graduated with a dual degree in film and Asian studies, won a Fulbright Study/Research Award to pursue her graduate studies at Waseda University in Tokyo. Economics and human rights major Sofia Hardt '18 won a Fulbright Study/Research Award to Argentina, where she will conduct a study of labor market choices and incentives in relation to Argentina's Universal Child Allowance. Tonery Rogers '19 is an alternate for a Fulbright Award to Morocco.
Asian studies majors Corrina Gross '19 and Kerri Anne Bigornia '19 both won Fulbright English Teaching Assistant Awards to Taiwan, where they will teach English to primary and middle school students. Olivia Donahue '19 has been awarded a Fulbright to Germany, where she will spend next year teaching English.
The
Fulbright U.S. Student Program
is the largest U.S. exchange program offering opportunities for students and young professionals to undertake international graduate study, advanced research, university teaching, and primary and secondary school teaching worldwide. The program currently awards approximately 2,000 grants annually in all fields of study, and operates in more than 140 countries worldwide. Fulbright U.S. Student alumni populate a range of professions and include ambassadors, members of Congress, judges, heads of corporations, university presidents, journalists, artists, professors, and teachers. Bose Corporation founder Amar Bose, actor John Lithgow, composer Philip Glass, opera singer Renee Fleming, and economist Joseph Stiglitz are among notable former grantees.
Post Date:
04-30-2019