New Bard College Posse Arts Scholars Welcomed by President Leon Botstein, Lin-Manuel Miranda, Luis A. Miranda Jr., and Secretary of Education Miguel Cardona at Virtual Awards Ceremony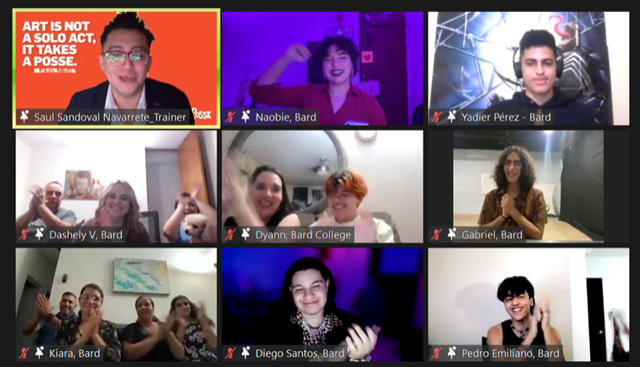 The Posse Arts Program celebrated its inaugural class of scholars, including a cohort from Puerto Rico that will attend Bard College this coming fall, at a virtual awards ceremony on January 24. Yadier Perez, one of 10 Posse Arts Scholars who will attend Bard, reflected on the significance of the award for his family. "I am thankful to Bard. You have given me the opportunity to show my brothers, my siblings, that pushing and fighting for your dreams can make them a reality. … We've all gone through hardships, but we're here to succeed. We've earned this. So thank you, Bard, for giving me the opportunity to make my mom proud."
The program included remarks from songwriter, actor, and director Lin-Manuel Miranda, his father and political strategist Luis A. Miranda Jr., and U.S. Secretary of Education Dr. Miguel Cardona. President of the College Leon Botstein greeted the incoming Bardians with a message underscoring the importance of community. "To succeed, you can't do it alone—you're only as good as the people who help you and collaborate and share and support you," President Botstein said. "It's terribly important, the Posse idea."
Addressing the new Posse Arts cohorts at the recent awards ceremony, Lin-Manuel Miranda said, "This really is an extraordinary moment. We are believers in the Posse process. Your time in school is a time for you to find your voice, find what you are passionate about. You're going in with a squad and with a group of like-minded artists and you're going to be able to lean on each other for support. You're going to have an instant set of potential collaborators. Take advantage of your time and sink your teeth into the school. Get to know your Posse cohorts. And we are excited to be a step in your journey and to be able to say, 'We knew you when.'"
Representing Bard, the first institution to partner with Posse to recruit students from Puerto Rico, President Botstein spoke about the outsized role the arts play in society. "We believe that the arts are not a separate way of life," he said. "The arts are not decoration; they're not ornament. They're essential to any notion of freedom or autonomy or community, especially in a democracy. They are on the same level as physics, or mathematics, or economics or history and literature. And it's a wonderful addition to our student body, to have students from Puerto Rico."
Twenty-seven high school seniors will attend college on full-tuition art scholarships totaling $5.2 million as participants in the new Posse Arts Program, an initiative of
the Posse Foundation
—a leading college success and youth leadership development organization. Selected from public high schools in Puerto Rico, New York, and cities across the country, the program's inaugural class will matriculate this fall at Bard College, California Institute for the Arts (CalArts), and University of North Carolina School of the Arts (UNCSA), respectively.
The Posse Arts initiative was conceived in collaboration with
Lin-Manuel
and the Miranda Family Fund. The program seeks to create a diverse pipeline of leaders in the creative arts by connecting promising art students from diverse backgrounds to top colleges and universities, where they attend as members of a cohort. Last spring, former
First Lady Michelle Obama
joined Lin-Manuel and Posse in announcing the launch of the program.
BARD COLLEGE POSSE ARTS SCHOLARSHIPS AWARDEES
Ariana Sofia Diaz
Naobie Angeline Garcia
Jadiel Omar Gómez Marín
Dashely Valeria Juliá Ramírez
Dyann Malpica Santiago
Gabriel Antonio Medina Maldonado
Kiara Arlene Peña González
Yadier M. Pérez Pagán
Diego Andrés Santos
Pedro Emiliano Vázquez Colón
Post Date:
01-25-2022