The Orchestra Now Begins Spring 2022 Season at the Fisher Center at Bard College February 5 – May 8, 2022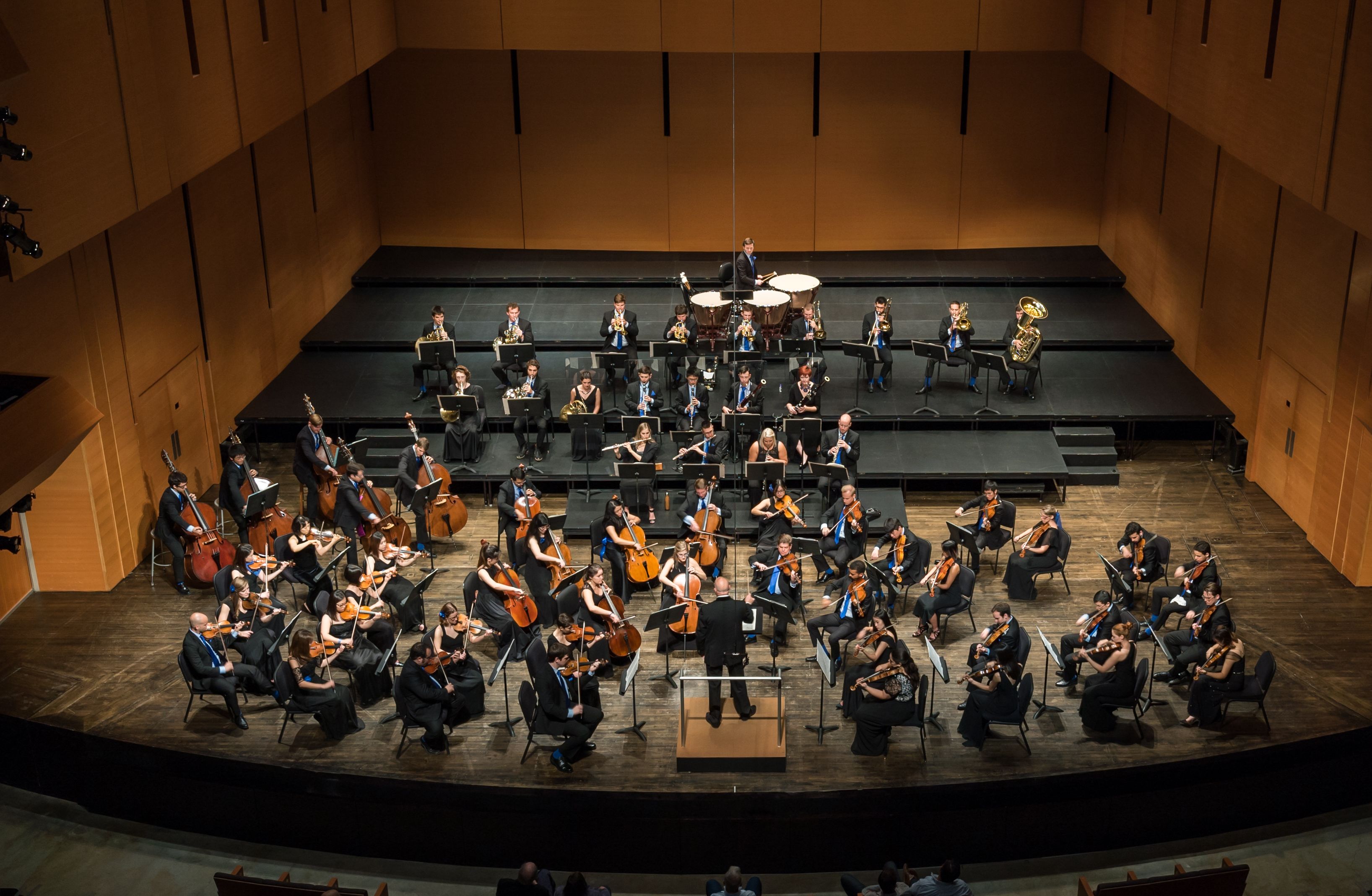 Guest Artists Feature Conductor Joseph Young, Pianists Lara Downes, Anna Polonsky, Gilles Vonsattel, and Frank Corliss
The Orchestra Now (TŌN), the far-sighted orchestra and master's degree program founded by Bard College president, conductor, educator, and music historian Leon Botstein, continues the seventh season of its residency at Bard College's Fisher Center this spring with four concerts, beginning on February 5 with a selection of audience favorites by Rossini, Tchaikovsky, and Zemlinsky. Notable spring season
highlights
comprise
seldom-heard performances
of
Dismal Swamp
, William Grant Still's
portrait of enslaved people taking sanctuary while seeking freedom, and Karl Amadeus Hartmann's Symphony No. 1, the composer's response to conditions under the Nazi regime (May 7-8); a performance of Rachmaninoff's Symphony No. 3 led by guest conductor
Joseph Young
, Resident Conductor of the National Youth Orchestra–USA at Carnegie Hall (April 23-24); and a concert offering Brahms's
German Requiem
and Clara Schumann's Piano Concerto with soloist
Anna Polonsky
(April 2-3).
THE SPRING FISHER CENTER SERIES AT BARD, Sosnoff Theater
Tchaikovsky, William Tell & The Mermaid
Saturday, February 5, 2022 at 8 PMSunday, February 6, 2022 at 2 PMLeon Botstein
, conductor
Rossini
:
William Tell
Overture
Alexander Zemlinsky
:
The Mermaid
Tchaikovsky
: Symphony No. 6,
Pathétique
The spring 2022 season unfolds with a concert of such popular works as Rossini's iconic
William Tell
Overture and Hans Christian Andersen's fairy tale
The Little Mermaid
, richly orchestrated by Austrian composer Alexander Zemlinsky. The program closes with Tchaikovsky's final completed symphony, the
Pathétique
, which the composer called his "Passionate Symphony."
Clara Schumann & Brahms' German Requiem
Saturday April 2, 2022 at 8 PMSunday, April 3, 2022 at 2 PMLeon Botstein
, conductor
Anna Polonsky
, piano
Vocal soloists
from Bard's Graduate Vocal Arts Program
Bard Festival Chorale, Bard College Chamber SingersJames Bagwell
, choral director
Clara Schumann
: Piano Concerto
Brahms
:
A German Requiem
Clara Schumann began writing her memorable Piano Concerto when she was just 14 years old, already a prodigy on the instrument. This virtuoso work will be performed by acclaimed pianist Anna Polonsky. Schumann was close friends with Johannes Brahms later in life. She said his
German Requiem
"is an immense piece that takes hold of one's whole being like very little else."
Rachmaninoff & Joseph Young
Saturday, April 23, 2022 at 8 PMSunday, April 24, 2022 at 2 PMJoseph Young
, conductor
Lara Downes
, piano
Julia Perry
: A Short Piece for Orchestra
Florence Price:
Piano Concerto in One Movement
Rachmaninoff
: Symphony No. 3
Guest conductor
Joseph Young
, Music Director of the Berkeley Symphony and Resident Conductor of the National Youth Orchestra–USA at Carnegie Hall, leads the Orchestra. The performance features Julia Perry's riotous Short Work for Orchestra, which was recorded by the New York Philharmonic in 1965. While much of her work has been neglected, she won the Boulanger Grand Prix for her Viola Sonata. Also on the program is the Piano Concerto by Florence Price, the first Black woman to have a symphony performed by a major American orchestra (Chicago Symphony Orchestra, 1933). While her Piano Concerto is described as being in one movement, it actually has three defined sections played without a break. The soloist is pianist, recording artist, producer, curator, activist, and arts advocate
Lara Downes
, praised by NPR as "a delightful artist with a unique blend of musicianship and showmanship." Rachmaninoff's rhythmically expressive Symphony No. 3 concludes the concert.
New Voices from the 1930s
Saturday, May 7, 2022 at 8 PMSunday, May 8, 2022 at 2 PMLeon Botstein
, conductor
Gilles Vonsattel
, piano
Frank Corliss
, piano
William Grant Still
:
Dismal Swamp
Carlos Chávez
: Piano Concerto
Witold Lutosławski
: Symphonic Variations
Karl Amadeus Hartmann
: Symphony No. 1,
Essay for a Requiem
The rarely-heard masterpieces in this concert spotlight works from the late 1930s, including
William Grant Still
's evocative portrait of enslaved people taking refuge while seeking freedom, and
Karl Amadeus
Hartmann
's commentary on conditions under the Nazi regime. The concert also offers Mexican Symphonic Music Director and composer
Carlos Chávez
's virtuosic Piano Concerto, called "imaginatively scored" and praised for its "elemental strength" and the "originality of its orchestral coloring" by
The New York Times
at its 1942 premiere. Leading progressive Polish music composer
Witold Lutosławski
's adventurous Symphonic Variations was written while he was still a student at Warsaw University. His first substantial orchestral work, the Variations contain many folk-like themes.
Tickets
, priced at $25–$40, are available online at
fishercenter.bard.edu
, or by calling the Fisher Center at 845.758.7900. Ticket holders will need to comply with the venue's health and safety requirements, which can be found
here
.
The performances on Sunday February 6, April 3, and May 8 will be
livestreamed
on TŌN's
website
and at
fishercenter.bard.edu
, with
suggested RSVP
available on each of the respective concert webpages listed above.
Post Date:
01-11-2022