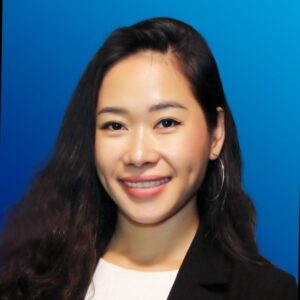 Anh Mai Thi Nguyet's journey to her current role as an Impact & ESG Services Manager at KPMG has been shaped by her passion for contributing to society. As Anh shared with me in a recent interview, although her background was in finance and banking, she discovered her true calling while working at an oil company. It was there that she stumbled upon a job posting related to corporate social responsibility (CSR), and she knew it was the perfect opportunity for her.

In the past, the field of sustainability was often overlooked and regarded as mere charity work. But Anh saw its potential and decided to delve into it headfirst, despite not having an academic background in sustainability. She learned everything she could through hands-on experience and has gathered knowledge throughout her career.

When an opening for an ESG (Environmental, Social, and Governance) role appeared at her company, Anh jumped at the chance. The emergence of the COVID-19 pandemic further highlighted the importance of health issues, amplifying the value of her work. For over a year, she worked as an ESG Analyst, but her desire to make an even greater impact led her to transition to KPMG.

At KPMG, Anh has found herself in a supportive and collaborative environment, working closely with her supervisor to develop crucial ESG strategies for the operator company. She proudly mentioned that KPMG Vietnam prioritizes empowering women, with a remarkable 60% female staff and 90% female leaders.

However, Anh acknowledged that working in the ESG field is not without its challenges. While ESG has become a global trend and major companies, including KPMG, are required to produce ESG reports, the concept is still not deeply understood in Vietnam, and ESG practices in Vietnam remain in their early stages. 
To navigate these uncharted waters, Anh has taken it upon herself to understand the intricacies of both the global and Vietnamese contexts, enabling her to assess her company's needs, identify areas for improvement, and determine actionable steps forward.
As additional challenges, Anh also pointed out a gender divide within the field, with the "environment" aspect being more male dominated, while the "social" aspect tends to be more female dominated. Moreover, only large companies have established dedicated ESG offices, and there is a strong focus on reporting and compliance rather than a clear roadmap. 

Despite these challenges, Anh considers herself fortunate to be part of a field that creates positive impacts. In addition to her work in ESG, for example, Anh places utmost importance on gender equality and the empowerment of the LGBTQ+ community. In our conversation, she noted that diversity and inclusion are deeply ingrained in KPMG's policies and recruitment practices. Anh commended KPMG for its understanding of the specific needs of the LGBTQ+ community and its provision of comprehensive healthcare support.
She also highlighted KPMG's unwavering commitment to achieving net-zero operations by 2030—an audacious goal that demonstrates the company's dedication to environmental sustainability.

Anh's story is a testament to her pioneering spirit and unwavering determination to make a positive impact. She has been instrumental in transforming performative Corporate Social Responsibility (CSR) into tangible and meaningful actions throughout her tenure at the companies she has worked for, as well as in her current role. Her journey showcases the challenges of spearheading ESG efforts in Vietnam while exemplifying the importance of fostering inclusivity and sustainability within the corporate landscape.
By fearlessly championing these causes and leading by example, Anh is shaping a brighter, more responsible future for Vietnam's business environment.