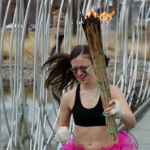 Sunday March 3rd was not a typical afternoon at Bard College's Parliament of Reality. While Mother Earth was content to peacefully dust herself in snow, more than thirty Bardians (faculty and students alike) plopped right into the icy waters at the pond surrounding the Parliament. Why, you ask? Because of climate change, of course.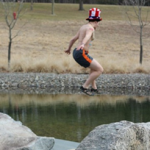 We, the graduate students of Bard's Center for Environmental Policy, gathered donations to support our first ever Plunge 4 People & Planet, raising money for:
Internship stipends for the class of 2014
A tuition scholarship for an incoming BCEP (class of 2015) student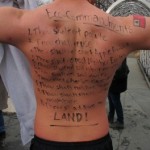 Was it a success? Over $4,300.00 was raised collectively by faculty and students for the Plunge, with over 100 unique contributors donating to our collective future. Lauren Frisch, Tomy Alarcon, and Jada Garofalo each received a $700.00 internship stipend to support their work at the Ocean Acidification Research Center in Alaska, at INSO in Mexico, and at the CDC in Colorado, respectively. An incoming 2015 CEP student will be eligible for the remaining tuition stipend of $2100.00.
The perks—both our director Eban Goodstein and our (sweet as pie) writing professor Caroline Ramaley plunged right in with us. The contests (for best costume and most creative water entry method) were a highlight of the event from start to finish. Danielle Salisbury (class of 2014) opened the ceremony with a torch-lit sprint down Manor Avenue, followed closely by costumes including but not limited to:
A Barbie
A disco biker
A YOLO swimmer
The eco-commandments
A shark
Best costume and water entry prizes went to Margaux Granat (60's love child) and Kyle Rorah (Mountain disco biker), demonstrating their valiant entry readiness.
Sad you missed it? Join us next year as BCEP continues our newest tradition…
Plunge for you. Plunge for the planet. Plunge 4 People & Planet!