Whether you come from a tightly packed urban neighborhood or from the rural rolling hills, you've probably seen a barren, possibly trashed area that's lain dormant for decades. It could be an old, derelict industrial site or a landfill that's full to the brim with your community's waste. These are called "brownfield" sites.
According to the Environmental Protection Agency, brownfield sites are lands that have been previously built upon, whose redevelopment is complicated by the presence or possibility of hazardous pollutants. While there are government initiatives to support cleaning up these lands for redevelopment, the uncertainty about what's actually in the ground and the amount of work needed to clean it up means these brownfields are expensive to build on and therefore often lay idle for years.
A bright new idea to put solar farms on these brownfields is quickly gaining momentum. These sites can provide ideal, low cost spaces for developers while avoiding some of the contentious aspects of building new solar farms.
Tight Spaces for Solar
Solar energy provides a clean source of electricity, but large solar farms can require significant land space. As demand for renewable energies continue to grow in the United Sates, disputes about where to locate solar and wind farms grow more common as well.
Large-scale utility farms raise concerns over public land use and transmission loss. Opponents of community scale projects are concerned with visual aesthetics, noise, and property values. Many rural interests would rather see good land being used for agricultural farming than solar farming.
If renewables want to maintain a positive reputation, they clearly must look for a way to get around these concerns.
Brightfields: A Solution
The more than 450,000 brownfield sites across the nation present a major opportunity to put unwanted, unproductive, dirty land back into use by producing clean electricity. Doing so can even avoid the major concerns various communities have over installing solar farms. Combining solar with brownfields has been given the optimistic name of "brightfields."
Brownfield sites provide ideal locations for solar arrays because they are: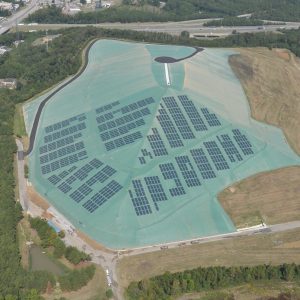 Near established infrastructure, like roads
On flat, shade-free surfaces (good for solar productivity)
Generally cheap land to lease
Supported by government incentives
Usually in industrial zones and removed from residential areas
Easily connected to transmission wires
Close to the consumers of energy, mitigating transmission loss
Despite these benefits, some opponents say the added administrative and construction costs of building on a brownfield site are prohibitive. However, numerous success stories shine a positive light on future brightfield development.
The Shining Stars of Brightfields
New Jersey – A 3 MW solar farm was installed on a capped landfill in Kearny, NJ. Capable of powering about 450 homes, it's even visible from the New Jersey turnpike.
The success of Kearny project led to the New Jersey Board of Public Utilities approving a program in 2009 called "Solar 4 All" that allows the state's major utility to invest in installing solar on landfills and brownfield sites. After two extensions, the program has resulted in 45MW of solar on eight total closed landfills or brownfield sites that power about 7,500 homes annually.
Indianapolis – Superfund sites (brownfields with known levels of high contamination) pose even greater costs to developers because of the extra testing and construction precautions caused by the contamination.
However, Hanwha Q CELLS, a solar manufacturer and installer, made history in 2014 by completing a 10.8MW solar farm on a Superfund site without using any additional grant money. Hanwha did this by pioneering a new construction technique that moves 93% less soil than normal, reducing the possibility of spreading the contaminants. This landmark event proves that building solar on contaminated sites can be competitive without government funding and paves the way for more brightfields.
A Bright Future
An EPA report shows that there are at least 80,000 brownfield and other contaminated sites suitable for solar. Additionally, the National Renewable Energy Laboratory has estimated that brownfields and landfills cover around 15 million acres across the nation.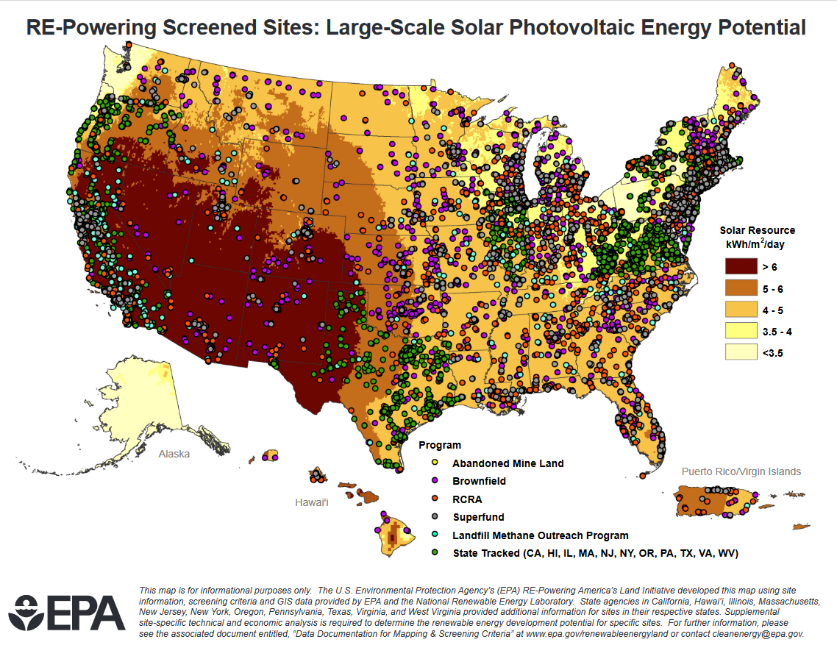 Companies like Hanwha, Brightfields Development, LLC, and others are paving the way in this exciting new industry. Clearly, there are ample brownfields out there to brighten, and innovative first movers are capitalizing on this win-win opportunity.
Are there suitable sites near your community? Learn more at the EPA's RE-Powering America's Land website, and contact your local officials and solar companies to let them know how they can transform contaminated lands into job producing, climate change fighting, household powering engines!