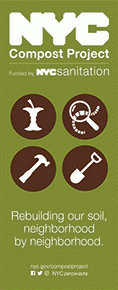 The NYC Compost Project, created by the NYC Department of Sanitation (DSNY) in 1993, works to rebuild NYC's soils by providing New Yorkers with the knowledge, skills, and opportunities they need to make and use compost locally.
NYC Compost Project programs are implemented by DSNY-funded teams at seven host organizations, including Earth Matter NY.
Marisa DeDominicis is the Executive Director of Earth Matter NY, a 501(c)(3) nonprofit organization that strives to address the dual problems of resource recovery and healthy soils with a single solution: promoting the local composting of organic waste into a healthy soil amendment. The staff is passionate about resource recovery and healthy soil as primary goals of a 21st century urban environment.
I had the pleasure, recently, to speak with Marisa and hear her thoughts on leadership.
Marisa has a BA in Business and Organizational Communications from Emerson College, Boston. She worked for the Trust for Public Land as an environmental educator and site coordinator for 18 years before founding Earth Matter NY with Kendall Morrison and Charlie Bayrer in 2009.
Q. Could you give a little insight into what it's like being the Executive Director of Earth Matter on a day-to-day basis?
Marisa's role as Executive Director is currently focused on 3 areas:
Maintaining DSNY funding through the Compost Project and overseeing the 6 employees in Compost Project Manager roles, budgeting, and working out plan goals with DSNY.
Overseeing the organization's Compost Learning Center on Governors Island, which showcases numerous devices and methods for making compost and cares for upwards of 60 animals. In partnership with the Trust for Governors Island, the organization is implementing a zero-waste initiative to create best practices for large events and serve as an outward facing model of sustainability.
Demonstrating the application of compost at Earth Matter's farm cooperative. Overseeing 10 farm apprentices, cultivating salad and herbs to sale.
Q. How do you view leadership in the context of your role at Earth Matter?
Regarding her role as a leader, Marisa sees herself as a facilitator of ideas, which others are better at putting into action. She is there to supervise, review, and nudge her employees when necessary.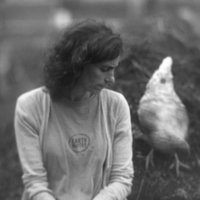 Q. What is your style of leadership, and what makes a good leader in your opinion?
Marisa believes that clear, outlined, regular communication is very important. She also says that it is important to be the example, understand the small steps it takes to build something bigger, and be realistic about how to get from step A to step B. Keep your goals modest and validate positive progress along the way.
Q. Do you have any tips for first time leaders on how to build leadership?
Being a good leader is being a good listener and seeing what motivates people and supporting it. Validate those who work for you, highlight the positives of people, be realistic with what you have, and treat your team as a "we." Make sure you have clarity in expectations and understand how to build morale with the resources you have available.