"When you reap your harvest in your field and have forgotten a sheaf in the field, you shall not go back to get it; it shall be for the alien, for the orphan, and for the widow…" –Deuteronomy 24:19-21
With 40 million Americans currently dealing with food insecurity and 30-40% of the food supply going to waste each year, the Biblical tradition of gleaning, or collecting leftover crop after a farmer has completed his or her commercial harvest, still exists as a means to supplement the emergency food system with fresh fruits and veggies. This practice also significantly reduces the amount of edible food waste on farms while strengthening the link between food growers and eaters in the same region.
My CEP coursework unexpectedly ignited my curiosity about the interactions between food systems and unequal distribution of resources; with such an ample food supply, it seems almost ridiculous that so many people go hungry. To explore this relationship at the ground level, and to fulfill my Bard CEP internship requirement, I took a seasonal position on the Cornell Cooperative Extension (CCE) Orange County's Gleaning/Food Access team to better understand the Hudson Valley's emergency food system.

My first day of work with the Gleaning/Food Access team started with a blueberry glean early on a warm summer morning at the Hudson Valley Farm Hub in Hurley, NY. I worked with a group of 15 UlsterCorps volunteers to glean about 50 lbs of perfectly ripe blueberries to donate across Orange and Ulster Counties. After meeting my supervisor and coworker at another area farm to pick up more produce, we trekked to Poughkeepsie for a meeting with my supervisor's associate, a team-member of Dutchess Outreach, regarding a grant-funded project they are working on to research food insecurity at the regional scale. By the end of my first day, it was clear that alleviating regional hunger is a monolith of a job, and it takes a vast network of nonprofits, volunteers, financial donors, and farmers to even begin to make a dent.
Since then, every day looks a little different, but in short, we partner with farms to pick up excess or unmarketable produce and take it in our refrigerated truck to Emergency Food Resource Providers like food pantries, soup kitchens, and community centers spread through the Hudson Valley.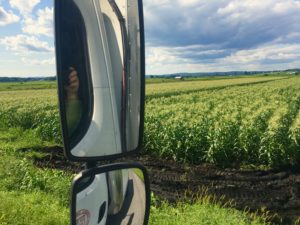 Donor farms vary in all aspects; mid to large-sized family farms in the mucky black dirt region of Orange County provide hefty onion donations, while educational and research farm centers may grow and donate organic or other certified produce. Small community gardens also provide tasty heirloom variety vegetable donations.
We coordinate regularly with all farms and all Emergency Food Resource Providers individually to fit their particular schedules. To ensure this program meets the needs of everyone involved, we need to be extremely flexible so that the local emergency food system is getting the freshest available produce.
Ugly Food Needs Love, Too!
Why do farmers have produce to donate at all?
"The market"–if produce is too small or oddly-shaped, donor farms will donate it or invite us to bring volunteers to glean the crop directly from the field. Additionally, a tough weekend at the farmers' market may mean farmers have produce for donation.
Bad weather can ruin one crop while nourishing another. For example, extreme heat and lots of rain in the Hudson Valley this summer has been detrimental to crops everywhere-except eggplant. An excess of eggplant in the fields means lots of eggplant for donation!
Battles over immigration policy at the national level have caused labor shortages on farms locally, leaving whole fields unharvested. Rather than let the crop go waste, farmers will allow gleaners to harvest.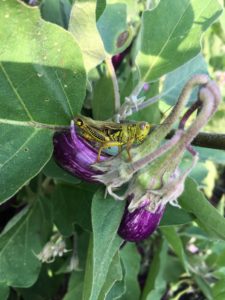 How Can You Help?
Do you spend time in the Hudson Valley and want to volunteer for area gleanings/food delivery to emergency food providers? Check out this list of gleaning and organizations!
Low on time or energy? Most programs, including CCE Orange County, accept monetary donations towards necessities like packaging and transportation and fuel.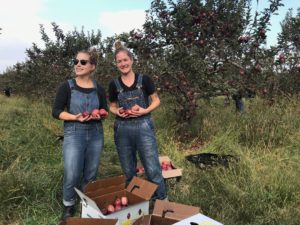 Gleanings are fun and family friendly. Your work will increase the availability of nutritional fruits and veggies for food insecure people in the Hudson Valley while helping farms reduce their waste. There is always a shortage of fresh fruits and vegetables at emergency food resource provider locations, and there is always an opportunity to lend a hand.