Think about a time when, in your town, everyone is an innovator, planner, or decision-maker for the energy that you consume. Your voice and knowledge are put to use. You might not want to depend on foreign fuel, you might seek lower energy rates, or you might just want to have clean power coming into your house.
No matter what your concerns are, your vote matters, and you use it against the big polluters across the street. At a town meeting, the votes are counted, and the entire community democratically decides in favor of healthy, low cost-high performance sources of power.
The role of microgrids in energy democracy
This scenario is close to one of many definitions of "energy democracy" out there in the literature. Basically, the scenario highlights how citizens should be able to take part in planning and deciding what energy sources they want to consume. Allowing citizens to be active in energy issues is first and foremost an expression of freedom. That is why the concept of energy democracy should be a common ground between ideologies that value freedom but hold other differences.
One way that communities can manifest energy democracy is through construction of their microgrid. In essence, a microgrid has the exact same elements as the bigger grid but the energy sources are closer to the grid and the control center is localized. Bringing energy sources closer to the demand also brings the attention of citizens to the pros and cons of having a certain energy source. For example, a polluting coal-fired power plant will receive resistance but sustainable sources such as solar photovoltaics of lower energy cost will be favorable to the eyes of the public.
The microgrid has a defined electrical boundary and it acts as a single controllable entity with respect to the main grid. In fact, if a major problem occurs for the main grid, then the respective microgrid of a small area can switch into the "island mode" to operate independently. However, a microgrid is not completely disconnected from the main grid. The details of a microgrid can vary due to rules and regulations of different states. Nonetheless, a localized microgrid always leans toward benefits for the community. The locality aspect of it makes it easier for citizens to invest in solar distributed generation or even cooperative wind farms. The opportunities are endless and the designs of a microgrid range by the creativity of engineers. 
Figure 1. Microgrids can decrease urban pollution, fossil fuel usage and provide room for wind power, e-cars, solar power and other sources of clean power that consequently make communities more resilient. The control center controls the microgrid and enables it to communicate with the main grid. Microgrids vary in spatial size and offer energy security for communities in risk or institutions such as hospitals.
Microgrids bring multiple advantages
Increased Resilience: Cordova is a small town located near the mouth of Copper River in the Valdez-Cordova area in Alaska. The town has 1,566 consumers, 18 MW substations and 78 miles of distribution lines. Until recently, Cordova relied on hydropower and imported expensive diesel generation for power. A federal grant allowed Cordova to add battery storage and renewable energy sources to rely less on imported diesel. Their developed microgrid came with the Resilient Alaskan Distribution System Improvements using Automation, Network Analysis, Control and Energy Storage (RADIANCE). That system enables Cordova to integrate other renewables such as solar, wind or biomass into the microgrid. It also allows the town's microgrid to communicate with other microgrids. The 'communication' potential of microgrids can help make remote places such as Cordova more resilient in case of a catastrophic event or cyber-attack. Moreover, the potential diversification of the microgrid with local and sustainable sources of energy results in lower costs for consumers because of lower diesel importation.
Economic Benefits: Because microgrids cover a small area, they bring sources of electricity generation closer to demand. If the distance between generation and end-users is short, then transmission losses are lower. Moreover, a shorter transmission distance means less transmission costs, and these savings are passed on to the consumer. This advantage makes microgrids especially convenient for islands that depend on underwater interconnection electricity cables. In 2017, a construction company drove a steel casing into the interconnection cable between mainland and the Island of Ocracoke in North Carolina. As a result, 10,000 tourists were evacuated from the island in the midst of peak season. However, the locals of Ocracoke kept the lights on through the island's microgrid. The citizens of the island and the respective utility company seeks to make the microgrid more efficient in order to prevent future economic losses during the tourist season. They hoped to have a microgrid that sustains the high influx of tourists during summer, therefore, they added a 500 kW Tesla Battery Bank.
Smart Grids: The integration of smart meters in end users enables microgrid operators to receive more accurate data for their area. Given that microgrids cover a small area, this makes demand projections more accurate. Our energy systems runs on the supply meets demand model. In an unexpected peak demand the consumers are the ones who get to pay the higher energy rates. If machine learning or AI is developed for the control center of the microgrid, then the small area covered leaves less room for errors in projections of demand. Less errors not only results in avoidance of peak-demand charges but it also makes sure that backup polluting diesel generators do not get switched on. In the worst-case scenario, a microgrid can always utilize batteries to back up supply and if all the options are exhausted, operators can still switch on the microgrid's connection to the central grid.
The perfect scenario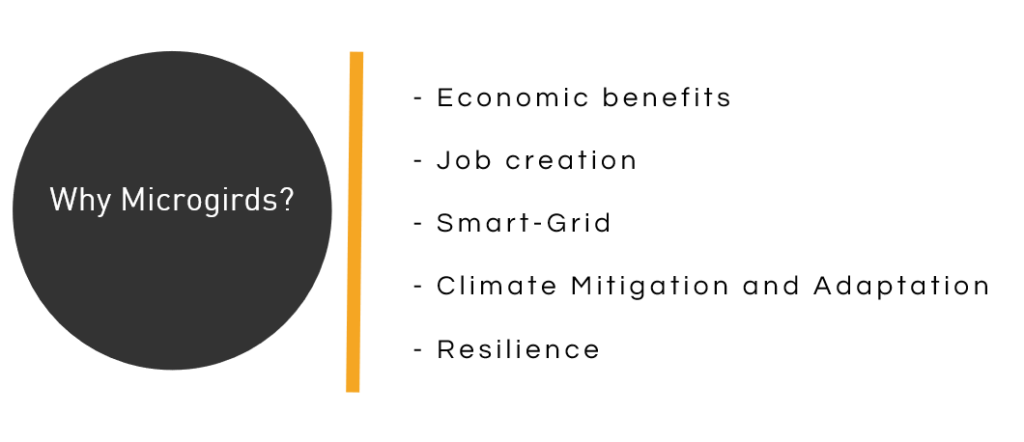 Microgrids will have it hard to replace large utilities and large dirty power plants. Nonetheless, if the central grid becomes a grid of microgrids then local decision makers come a step closer to diversifying the central grid into a clean, resilient and affordable energy system. In addition, microgrids carry the potential for an enormous number of jobs that vary from engineering to construction and maintenance.
We discuss how microgrids benefit communities and that they should be free to manifest energy democracy. Nevertheless, manifestation of energy democracy is valid only when communities choose energy sources that do not hinder other's health and right to a clean environment. Unfortunately, many microgrids today heavily rely on usage of polluting diesel generators and that is indeed a misinterpretation of freedom to exercise energy democracy. Democracy is self-determination of the whole and not the few. The choice to consume energy, even within boundaries of a microgrid, must not hinder one's right to a sustainable human ecosystem.
That said, next time you are at a town meeting, speak up and be a decision maker. You don't have to imagine a time for energy democracy anymore. That time is now.