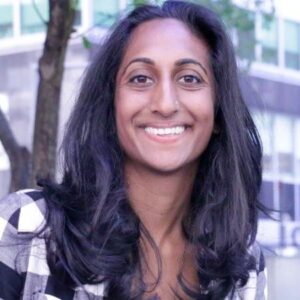 Recent college graduates are increasingly valuing innovation, social justice, and sustainability in their professional goals.
Like many other ambitious, problem solving, social justice and environmentally minded young people, I joined the U.S. Peace Corps, dedicating two years of my early professional life to international development.
Any RPCV (Returned Peace Corps Volunteer) will tell you countless stories about how the experience shaped their world view and professional drive. They'll also tell you that one of the best parts of being an RPCV is the enormous passionate network of leaders who are also RPCVs, like Suma Reddy.
Suma's the Co-Founder and COO  of Farmshelf, which produces smart indoor farms for homes and businesses. I was lucky enough to chat with her about professional leadership, start-ups, sustainability, and personal passion.
The Journey
Suma's an entrepreneur by nature.
After completing her Peace Corps service in Mali, West Africa, she moved to India to work for what would later become the world's largest micro-finance company, Bharat Financial Inclusion Limited (formerly known as SKS Microfinance Limited). There, she focused on developing new initiatives for populations too poor to qualify for traditional micro-finance, in addition to providing loans and insurance to unbanked women in India.
After two years in India, Suma moved to New York City to work in clean-tech and renewable energy. She became a Managing Partner of Akula Energy Ventures (AEV), a fund that developed greenfield utility-scale renewable energy projects, such as solar, small hydro and biogas. Through AEV, she co-founded Spectrum BioEnergy (SBE) a company that aimed to generate renewable energy (biogas) from organic waste. In 2015, she decided to shift gears again and go into tech. She co-founded Waddle, a mobile app.
Taking that tech, innovation, and sustainability-centered energy, in 2017 Suma joined Farmshelf as a co-founder.
Farmshelf—Growing Fresh, Healthy Food in Big Cities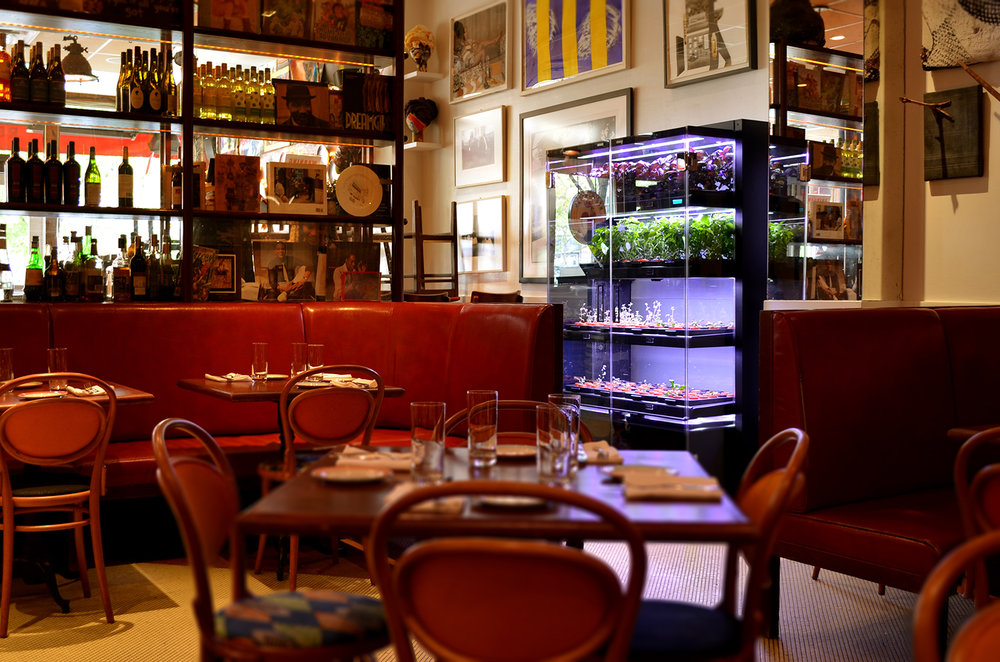 As Suma describes it, Farmshelf allows anyone to grow healthy fresh food, regardless of where they are. The company's indoor hydroponics growing system is attractive and easily integrated into restaurants, hotels, schools or corporate settings.
In urban food systems hydroponics are often credited as the solution to providing food hyper locally to residents. Using 90% less water and minimizing the travel of the produce to nearly zero (and nearly zero carbon emissions from transport), it is arguably the best solution for getting fresh healthy food in big cities.
Farmshelf focuses on creating access to fresh food and holistic wellness for people in all contexts and environments. It has systems operating everywhere from Red Rooster restaurant  to Brooklyn Democracy Academy in Brownsville, Brooklyn, where it's training dozens of young people in ag-technology, engineering, environmental design, and leadership.
Moving forward in the age of COVID-19
Suma, like other leaders across the renewable energy and sustainable food systems industries, is thinking critically about how the economic and social changes driven by COVID-19 can provide space for a greener future.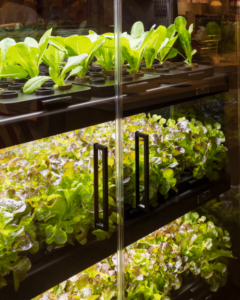 As many restaurants, schools, and corporate offices that are Farmshelf partners are closed for the time being, Farmshelf has accelerated the development of Farmshelf Home, a smart indoor hydroponics farm fully automated to make growing plants at home easy.
My personal favorite feature is that your Farmshelf is constantly collecting data about your plants with cameras and sensors that you can access any time with the Farmshelf app. This acts as your "green thumb in the cloud." I really want to know what's up with my green friends' nitrogen and dissolved oxygen levels.
Conventional food systems and the current political climate
Although at the moment there is enthusiastic support by state governments and private investors for ag-tech and sustainable foods, Suma sees an opportunity for policy improvements in food system management regulations. Our current food system operates on a global level, with a focus on insuring low food costs.
Yet, as COVID has made very apparent, the conventional food system is both inflexible and fragile—which is one of the main motivators for a cultural shift towards local food production.
Suma and I agree: bringing about sustainable food systems will be a product of youth activism and motivated individuals voting with their dollars for better quality and less environmentally harmful goods!
Inspiring diverse leadership in sustainability and start-up spaces
One of the main takeaways from my conversation with Suma is to let your intuition drive and guide you, and to stay grounded in your values during each step of your journey.
Suma's been recognized as a leader in diversity in tech. As a self-identified queer brown woman, she takes an active interest in supporting underrepresented communities, including women, people of color, and LGBTQ+ people not just to be included, but to THRIVE in innovation spaces.
Suma suggests that the best ways to support your own professional development and leadership are:
To look for examples of who you want to become and model them

For me, connecting with people on LinkedIn whom I admire and seeing their professional journey has been immensely helpful

To develop your advisory circle, finding friends and mentors to lean on for different things—a professional and personal support network

To recognize when you need a push and ask for help when you need to be 'unstuck'
Creating systems change and innovating sustainable solutions are possible with confidence in one's own leadership abilities.
The world is changing fast, and the tech industry in some ways can provide a pathway of innovation as we are at a moment of rethinking our food systems, local sovereignty, diversity, equity, and creativity.
—
An additional amazing talk by Suma Reddy about food access, ag-tech, and Farmshelf  at Core77 can be found here!