Some of my most vivid outdoor memories revolve around the campfire. Whether I was sitting in the laps of my parents with a steaming mug of hot cocoa or wielding sticks with marshmallows, through all these memories there is always one constant: food.
As your kids grow up, you might want to teach them how to be competent in the outdoors. Cooking together over a campfire is one of the best ways to share that knowledge. Whether you're in your backyard, a park, or the great outdoors, it's a great way to give your kids a positive experience in nature!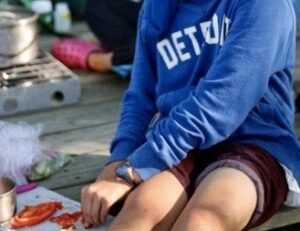 Why Should I Teach My Kids Outdoor Cooking Skills?
Cooking and eating a meal outdoors provides an opportunity to help your kids develop practical and transferable skills that are applicable to everyday life. They can also gain useful qualities that are reached just outside their comfort zone:
Resourcefulness:

trying something for the first time is an invaluable experience for kids. While they may draw on pre-existing skills, chances are they will have to be flexible in order to problem solve for unexpected changes.

Responsibility:

when your family decides to take on the challenge of outdoor cooking, give your kids specific tasks to complete. Teach them knife skills, fire building skills, or have them help shop for the meal. Doing so will show them you believe they can contribute in a meaningful way to the family.

Creativity:

many consider cooking as an art form and it can foster creative thinking in kids. Have them design the menu with you! Add or substitute ingredients to put a whole new twist on a favorite dish.

Self-sufficiency:

equipping your kids with outdoor cooking skills gives them the ability to satisfy one of life's basic needs – food. With little and eventually no help from others, they can feel strongly supported and competent in their new culinary skills.

Interdisciplinary Education:

cooking is not just for sustenance, but is also an art and a science. Following directions and understanding a recipe is reading comprehension. Measuring involves math concepts. The process of cooking is an applied science – chemistry!
Trail Spice: Meal Planning
There's something about outdoor cooking that adds a new flavor to and appreciation of food. As long as you're enthusiastic about outdoor cooking, your kids will pick up on your energy. If the thought of cooking over an open fire is intimidating, preparation can take a lot of that anxiety away.
If you're worried about picky eaters, there are tons of recipes that amend traditional kid ingredients and meals into an outdoor dish. Check out these 25 easy campfire recipes for breakfast, lunch, and dinner plus snacks and desserts using five ingredients or fewer. Here are also 35 fun and easy camping meals for kids.
First, involve your kids in the meal planning! If you have kids of different ages, have the younger ones pick snacks and encourage the older ones to cook a full meal with you. Cookbooks are a great tool to provide ideas and make the process more interactive. Cooking outside also provides the opportunity to forage for wild edibles with kids.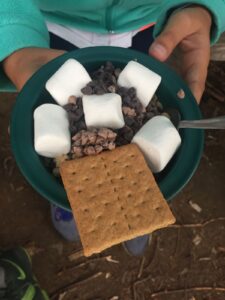 Next, write down a list of all the ingredients needed for your meals. Take a family trip to the grocery store. With older kids, you can send them off in search of a few ingredients.
Finally, prep work is key. Depending on your outdoor cooking location, consider pre-cooking meats. One suggestion is to designate a plastic bin as an "essentials bin" with common ingredients such as olive oil, salt, and pepper. REI has a great camp kitchen checklist to help with planning. 
A Few Bites of Dirt Never Hurt
 When you have arrived at your outdoor kitchen, don't ask kids if they want to help, rather tell them you need their help. Kids will feel more grown up and excited about campfire cooking knowing that they contributed towards a meal. Realize that messes and mistakes will happen. Cooking with aluminum foil is a great way to keep everything contained.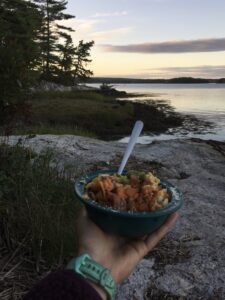 Younger kids can wash, set up ingredients, measure, and pour. Older kids can dice, chop, peel, grate, and slice. This is also a great opportunity to teach kids knife safety skills. If you're worried, the Curious Chef has a fantastic line of kid-friendly cooking tools.
Be sure to involve kids in the serving of the food. This allows them the opportunity to plate and serve their dish!
Below are my favorite recipes for each meal!
Leave No Trace (LNT) Principles and Fire Building
Depending on your outdoor kitchen location, you may choose to involve your children in the actual lighting of the fire. If you struggle to build a fire, pretreated wood can help to get the flames going.
Leave No Trace Center for Outdoor Ethics has designed seven principles for sustainable outdoor living. Campfire building is a necessary skill for open flame cooking. The fifth principle is "Minimize Campfire Impacts." Make sure to explain to your kids the importance of fire safety rules and etiquette.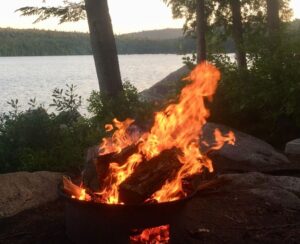 Kitchen clean-up is also an essential part of meals. The third principle is "Dispose of Waste Properly." Make sure that waste and recycling is collected to avoid unwanted wildlife. Set up a mobile dishwashing system with portable plastic bins.
Fun for the Entire Family
Whether you're completely off the grid or in your backyard, there are ways to include your whole family with easy, outdoor-cooking concoctions! These experiences in the outdoors are ones your kids will remember throughout their lives. You'll be amazed at how much they enjoy it, how much they learn, and the pride they take in eating something they made with their own hands.