Sustainability isn't about the science – it's about communication. 
Or at least that's what Jeffrey Domanski, Executive Director of the Center for Environmental and Economic Partnership, Director of Hudson Valley Energy, and organizer of Hudson Valley Green Drinks, tells me. Domanski's beginning in the field of sustainability is one I've heard before from friends and coworkers: he had other dreams, artistic ambitions, before he became aware of the climate crisis, and it derailed them.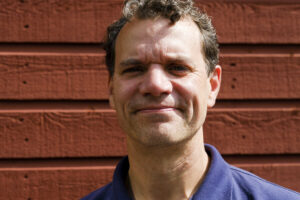 Fortunately, for Domanski, like for many of us, the climate crisis became not only a problem, but a purpose.
Biography
Jeff Domanski graduated high school shortly after James Hansen gave his 1988 Congressional testimony on the hazards of climate change—the speech that truly started the climate movement. It was also the speech that changed the course of Jeff's life. 
His interest in pursuing a career as an illustrator was replaced by a growing sense of urgency: that the climate crisis—and the ozone hole, which deeply impacted Jeff's imagination—was the big problem facing the world, and that it needed fixing. 
Domanski enrolled in the SUNY College of Environmental Sciences and Forestry in Syracuse, New York and spent his undergraduate years learning environmental chemistry. At the time, he thought that after becoming a technical expert, communicating the science would be simple and persuasive enough to lead to climate action.
Learned Perspective
Of course, the late 90s was when the environmental movement that Jeff had joined learned the very opposite: that technical expertise was rarely the issue in generating climate action. Jeff came to learn that what the climate and environmental sphere needed was communicators: translators, gap-fillers, bridge builders. That's why he started his MA in Public Affairs at Princeton, and why he went on to pursue a PhD in applying behavioral science to the climate crisis. 
I'm telling you this story—and Jeff told me this story—because the conclusion that Jeff came to is the same one that I, and the generation of experts that the climate crisis has generated, have come to. 
In the face of devastating climate news, what the world needs is not just reiteration of the science, but communication, reaching to the heart of people's needs and figuring out how to answer them sustainably. Sustainability is about "a listening process, learning what people's priorities are and working with those priorities."
CCAs: Hudson Valley Impact and Behavioral Science
Jeff and his team's impact in the Hudson Valley has been significant. By coordinating Hudson Valley Community Power and Rockland Community Power, Hudson Valley Energy and Joule Assets have managed to convert Beacon, New Paltz, the Town of Red Hook and several other communities to 100% renewable energy through community choice aggregation. 
But for Domanski, the exciting thing about these programs isn't just clean energy: it's behavioral science. CCA models, which he calls "a relatively simple and beautiful design," change the default strategy, converting more than 80% of a community's energy to renewables without extra cost—often even with savings. Instead of making sustainability a significant, daily effort on the part of energy consumers with little time or money to invest, CCA programs change the choices that are available to consumers, asking them to opt-out of renewables rather than opt-in. 
This speaks to the power of the default option: which for Jeff, is the beauty of behavioral science. In contrast to just asking consumers to make better choices (without support), sustainability professionals like Jeff offer them better choices, and make those choices easy to accept. 
Maintaining Optimism
Communicating climate science, however, runs up against stark realities. Climate news is frequently dark, often depressing, and hard to handle at the macro level. So I asked Jeff the perennial last question for climate professionals: how do you maintain motivation to continue your work despite all the bad news? 
His answer was something I hadn't heard before. People focus too much on finding technical solutions, he says. "Science will save the day, but it is cognitive and behavioral science that will save the day." To deal with this immense problem, we have to focus on the individual, and change the options they're presented with.  
So if you're a sustainability professional, remember to look at this crisis with the same optimism Jeff does, and throw your all into communicating solutions, creating connections, and rewriting the script.